Maxim Kovtun: "At some point, I realized, the feeling of being unfulfilled would simply devour me!"
January 23, 2019
By Oxana Shkrebtienko (LMDJ)
Photos © Oxana Shkrebtienko (LMDJ)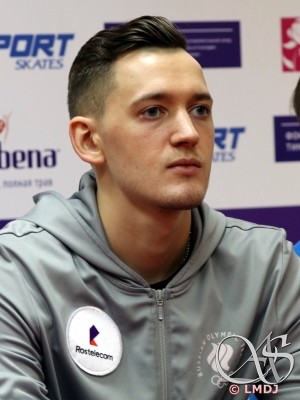 Maxim Kovtun is 23 years old, the three-time Russian champion, the winner of three European medals, and he has everything for world success - a famous coach, excellent programs, complex technical content, everything ... except stability. At the World Championships over the years, he has finished in 4th to 18th places. Last year, Maxim decided to withdraw from Nationals before the free program. He needed time to determine his future plans.
A year later, he returned from the shadows to win his fourth title as Russian champion. After that, he talked openly with journalists about his difficult comeback.
Maxim, the competitions ended for you yesterday. What were your first thoughts this morning after the victory?
My emotions went down; I watched my skating and there are many things to work on. After the championship, we will return to Moscow, and practice until the New Year holidays. Then, after 2-3 days of rest we will begin preparations for the European Championships. It is obvious now that there will be a lot of work as I can see which points in the programs require special attention.
You know that you're in the national team again?
Yes, I am aware of this. I started my mental preparation to reach the main events of the season in the best possible condition. It is necessary to take into consideration all my mistakes here, analyze why they happened and correct them. We are not talking about the complexity of programs, despite the fact that the upcoming competitions are very important and the opponents are strong enough. We will work on what we have, so that each element is at its optimum.
How much have you changed, Maxim?
The most important change is that I realized that I should not dissipate my energy. My main occupation is figure skating, and I need to be fully devoted to this. I cannot be distracted by extraneous things, including social networks, and so on. Yes, it may not bother some people. But in my case, I need to extract myself away completely from the whole world when preparing for competitions and at the competitions themselves; to concentrate all my power, all my emotion onto the ice. My schedule is: ice, sleep, ice, sleep, and nothing else. I am already used to it over the last 7-8 months. From the moment of my reunion with Elena Buyanova, I immediately started this lifestyle. I went there purposefully and was ready for it. Now I'm used to it, and even more than that, it is better to live like this, especially while you are a sportsperson.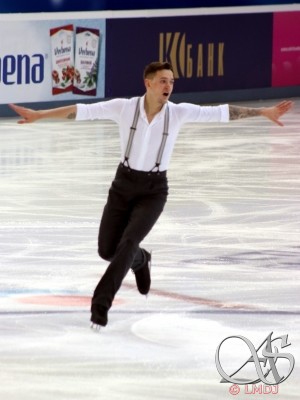 For the last six months, I have been keeping a training diary, where I write down all the elements performed during the training. I also write comments such as what was done well and how I felt. I also write down what I overcame if I didn't feel very well that day. I write down my weight. After that, I can analyze my work and plan it better. All this helps to stabilize the execution of my elements.
Last week before the Nationals, I did not make a single mistake in practice with the quadruple Salchow and toe loop from Monday to Friday; even though I did two quads every morning and three in the evening, I didn't have a single mistake for the whole week. We went a long way to achieve this. This allows me, when at the competition, when I feel excited, to plunge into a training state, as everything has been worked out a thousand times. Even if you are full of adrenaline and emotions, you can overcome it and execute the program well.
Whose idea was it to keep a training diary?
When I was preparing my diploma project at the institute, I was told: "Try to write down everything in a diary." From that moment I began to do this and after completing the diploma project, I realized that the diary helped me to keep my head in order, so we have not abandoned this technique. Together with Alexander Uspensky (the coach), after each practice we write down the completed and non-completed elements; we analyze and comment on them and after a while, we can evaluate how I have improved my skills. The goal is - do not make any mistakes.
Who spends more practice time with you - Alexander Uspensky or Elena Buyanova?
Of course, Buyanova. She spends every practice with me. Alexander is an assistant, the second coach, but he also gives me a lot. In the warm-up, he is always with me. We train in the same way every day, on and off the ice.
Do you warm up in a new way?
 Now I have a clear method. Every day we have a very fruitful session compared to the one before. Now I have a definite procedure. I do the same thing every day. Like a robot.
Even if it is very difficult for me on one day, I carry out this method, and it helps me to prepare for action. After this I am ready to train. It was necessary to get used to this routine, but now I can do everything with my eyes closed.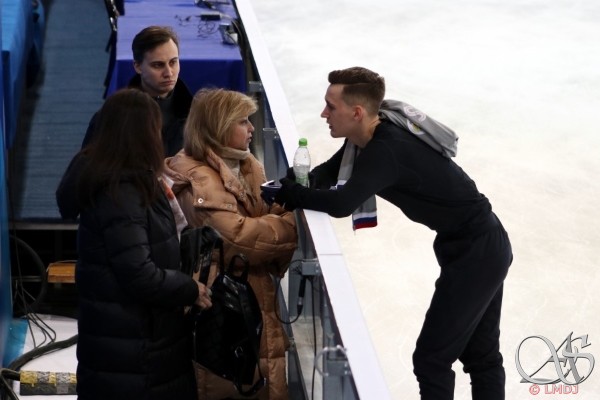 Do you plan to practice new quads?
At this stage of the season it is hard to do. We need to fulfill our tactical tasks. It was very important to be included in the Russian national team, because support, also financial, is necessary in order to acquire costumes and pay for trips. It all is very difficult if you are not a member of the team. We are working on the existing content to reach maximum levels. When you prepare for the main competitions, adding a new complex jump is out of the equation. Our sport is physically demanding so we plan the increasing content complexity at the beginning of the next season. I tried to jump a quad Lutz, but it needs time. Now I cannot say when we will do this, we must choose the right moment.
When you returned to Elena Buyanova, did she stipulate any conditions?
Yes, it was immediately stipulated that I bring my weight down to 70 kg in three weeks. By the time I came to her, I had already begun the procedure of losing weight - I lost about three kilograms. I needed to lose another 11. For three weeks I've been working hard on it. You can imagine how hard... I had diet food. I'm lucky, I have a very fast metabolism, I easily lose weight. I had a goal. If I had not fulfilled the condition, they would not have taken me to the training camp. I wanted to show the seriousness of my intentions.
My friend - a nutritionist - gave me a nutrition program so that I lost weight,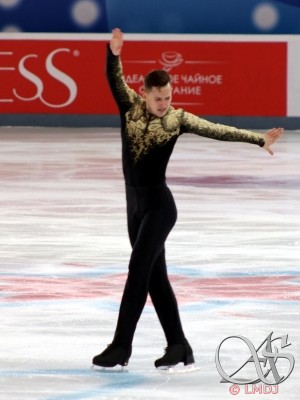 but at the same time I didn't lose strength. Every day I had crosses, workouts, a bath, a perfect diet, no food after six o'clock.
Where did the extra weight come from?
It was not muscle weight that I gained. I did not skate, I had no physical exercise. My lifestyle did not fit the athlete. Therefore, this extra weight was lost as quickly as gained. But I would not say it was easy.
How difficult was it for you to return to training from a psychological point of view?
Again, all this came from the period when very bad things happened in my life. I had a complete mess in my head, I did not understand what to do. At some point I sat down and realized that I could not accept the fact that my life was going nowhere, to the bottom.
For the first time ever, I felt what real life was. I have always been in sports and when something did not work, I thought: "Well, I won't be lost. They will call me, I and everything will be fine." Faced with real life, I realized that everything was completely opposite. Everywhere, people fight for their place, in fact, everybody fights for himself.
At some point, I realized that the feeling of being unfulfilled would simply devour me. If I felt bitter that day, then in a few years I would start hating myself for the rest of my life for not doing everything I could do. Then I understood how to build the necessary foundation and this time I do not want to lose my chance.
Now you are talking about an ordered training regime and life. Have you become a less emotional person?
That's the point. Emotions play no role in our working ethic now. Before I came to the practice in a great mood and executed everything perfectly. Another time, I came in a bad mood and ruined the training. Now I will come in any mood, but the training will take place clearly in all stages. Is it necessary to climb ten steps - I climb and after this I can complete it .In this regard, I work more productively, because it does not depend on my mood. No matter how I feel, I need to do everything clean. Now, anyone can come to my practice without informing me. It doesn't matter how I feel about them, but they are a witness to the internal details of the workout. It is always a stressful situation. This keeps me in a zone of discomfort so that this state becomes the norm for me. I do not care if someone comes or not, I will skate cleanly. I have realized myself that this is correct. You can be prepared for competitions, but nothing will work if you prepared on emotions, and not according to plan.

There are training sessions that are easy to do, but I have less pleasure from them, unlike those days when I surpassed myself and I did everything I set out to achieve. This is a step forward. At competitions you are constantly under stress and discomfort. There is no comfort, and I do not expect it. Something always hurts, something hinders. I need to learn not to pay attention to it.
Did you have moments when you wanted to quit?
No, never. When I was on a test skate in Novogorsk, I just went on the ice after an injury, before that I walked with crutches. No one knew about this, that I could not walk, but I kept my inner spirit. We started going forward according our plan, step by step, even with an injured leg.
Did you have additional choreography lessons? This season your choreography dramatically improved.
No, we constantly work with choreographer Irina Tagaeva on the ice. She is present at all training. The choreographer of my programs, Peter Tchernyshev, comes sometimes to improve the program. I have a classical choreography lesson on the floor once a week. As far as I know, this is a normal amount for singles.
What is your role in your "Carmen" program? Don Jose or Escamillo?
We mixed everything there. Nobody asks for perfect believability. It is more important how I feel it myself. I am a bullfighter, I express the music how I feel it, without any reference to the book itself.
You communicate with Mikhail Kolyada, but in a sporting way you are competitors. What did you think when you found out that he also had "Carmen" music?
This is a very funny story. He says: "So, the both of us are bullfighters?" I say to him: "Yes, I have a Carmen program." He replies: "And I have a bullfighter program." But finally we realized we have the same music. He did not even know that it was "Carmen." This situation happened, yes.
Is it difficult when your rival has the same music?
It does not matter, someone always is compared with someone else. I have a personal task, and it doesn't matter what happens. It's no secret that crazy things happen in the backstage of figure skating. If you pay attention to everything, then you will waste energy in the wrong direction. Whatever happens, the result proves everything. If you are successful, it doesn't matter what they say, with whom they compare you.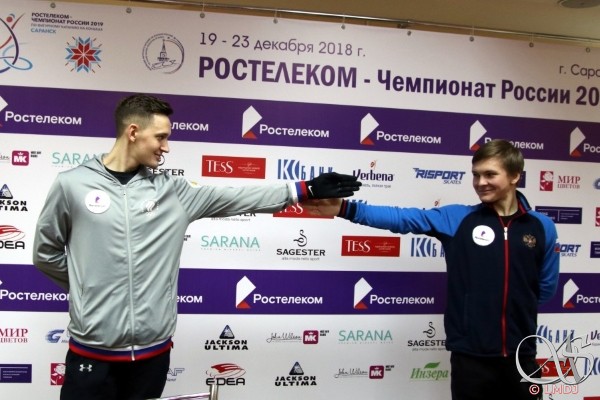 When choosing a costume, you refused the classic red and black color. Whose decision was it?
This was our joint decision. Everyone expressed their ideas and thoughts.
How did you react to the new rules of the ISU this season?
They did not change anything dramatically. Figure skating is not broken. Everything remains the same; but is focused on quality.
How noticeable is the time decrease in the free program?
This is not very noticeable. If the spin were removed, it would be more noticeable. They shorten 30 seconds of the program and one jump, which takes two or three seconds. In fact, they made our task even more difficult. Now the tempo of the program is even higher. We must do everything quickly and it pushes skaters to learn jumps with very little preparation. It is also beautiful. Skaters no longer prepare for jumps, as before. I do not mean here quads, I'm talking about triples. I like the direction that figure skating is developing. There is nothing that does not suit me.
How do you feel about progress in women's skating? Some juniors successfully jump male content.
I think it's good. Development cannot be stopped. But they understand perfectly - if the girls are small, they can jump. But now the judging has changed.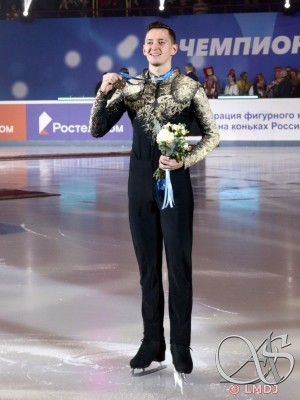 It, as I understand, is aimed at a more feminine, mature skating and this should now pay off too. But I do not consider carefully in this topic. This does not concern me.
You said that before your mom came to you in Moscow a week before the competition. Did she come to this Nationals?
Yes, before my parents came to my competitions if their schedule allowed. Now, even if there is an opportunity to come, we do not do that. My parents did not even watch my performances in Saransk. They have a vacation now. When I start a competition, they go for a walk without phones and do not know what is going on. They see the results only after returning home in the evening. They do not watch any live broadcasts. Simply, they are very worried, and I worry about them. As far as I know, Evgenia Medvedeva has the same situation. Her mother even leaves the venue during her skating.
You began to limit yourself in social networks; how did you manage that?
Frankly speaking, there are only a few close people - my family, the friend, the girlfriend, that's all. They are literally counted on my fingers; in Moscow there are four of them. There are more in Yekaterinburg, but now I am not there. People who really love and appreciate me, know where I am and what I do. They will always understand why I do not answer calls. Now my phone is ringing day and night, people congratulate me, but only my relatives are in the know. There are just friends, close and not so close. Now it is not the moment to forge relationships, there is simply no time for that.
Was it difficult to change your lifestyle, to abandon social networks?
No, it became easy, and immediately everything came to order. I've got a perfect order in my apartment, in my training, everything is recorded in a diary. I have complete order in my head. I'd like everything to be good, like that of perfectionists. As for communicating with people, there are people that I trust one hundred percent. And I don't communicate with others at all.
Now there is such a thing as haters on the Internet. Do these people annoy you?
I will say one thing: I do not see any haters, I am blind. I'm closed.
Maxim, thank you very much for the frank conversation and let all your tasks be accomplished! Good luck in the European Championship!