Meet Nikolaj Majorov: Fire artist, photographer and of course, skater!
November 14, 2019
By Eva Maria Jangbro
Photos © Eva Maria Jangbro and Nikolaj Majorov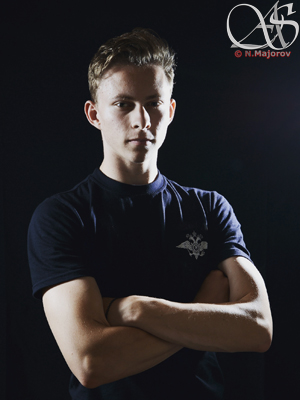 The European Championships in Minsk, Belarus, earlier this year was special in two ways for the Majorovs of Sweden: It was the last Europeans for 28-year old Alexander and the first one for his nine years younger brother Nikolaj. Even if Nikolaj didn't make the final, he made a clear mark with his intensive step sequence in the short program, and was loudly cheered on by the enthusiastic crowd of 15000. I met up with Nikolaj in Oberstdorf (at the Nebelhorn Trophy) to talk about this experience and find out about his plans for the new season.
How was your debut at The European Championships?
It was so much fun, the audience was amazing, simply fantastic, and even if I didn't qualify for the final, this was for sure the most fun thing I've done so far.
Did it feel different at Euros, did you feel any pressure?
Well, for sure there was more pressure than usual; of course, it was my debut at a big championship. I thought about mentally "erasing" the audience and everything else around me, but that didn't work out since there was way more cheering than I expected. But right before my skate I managed to relax some.
You had competed in two Grand Prix events; one was in Canada so I'd imagine there was quite a crowd there too.
Well, the venue was not very big, but yes, it was full. But only about 1000 people so compared to the 15000 in Minsk, there was quite a difference!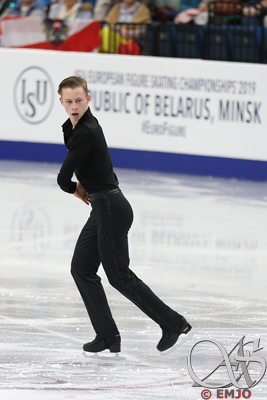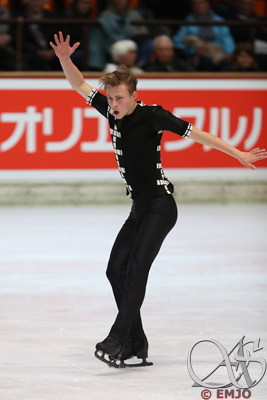 You suddenly got to commentate your brother's skate during the Men's frees at Europeans for TV4 (Swedish), how did that come about?
It was actually my idea. I asked them (TV4) if it wouldn't be fun for the viewers to hear me commenting my brother's performance. It was fun!
How far in advance do you know your competition schedule of the season?
It depends, I found out about Europeans right after the Swedish Nationals in December. Sometimes they tell me only 2 weeks before a competition.
Looking back at the competitions of last seasons, which one was the most rewarding?
The Elitserie final (a Swedish Grand prix). It was my first competition scoring over 200 points (217), and that gave me incentive to go for even more.
Nikolaj, your interests are kind of unusual, or rather one of them is, your love for fire!
Yes, I'm a fire artist. (Big smile.) We've had fire artists perform in our annual club Christmas show in Luleå, and I though it looked like so much fun and it made me curious about it. I had pyro on my skates one year and I have been juggling with fire for about a year. I learned these tricks from Youtube, like how to spin and then I add my own choreography. I'm on skates doing it, of course.
It's something special, honestly! I noticed on Instagram (@nikolaj_majorov) you were invited to Boden and their 100 years celebration, where you did your show on natural ice.
Yes, they didn't really expect anything but I got very positive feedback.
And then there is your photography... (The headshot in this interview was taken by Nikolaj in his studio.)
That is my extra job along with my fire artist gigs. During the season it's really hard to find time for photographing, but I mostly do advertising, or animals,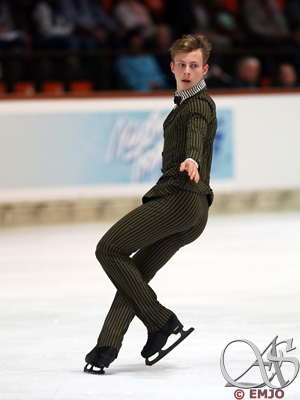 I even have my own studio. I like playing with the light and making creative photos.
Ok, those are jobs, how about education?
I'm in my last year (4th) of junior college. My majors are social science and national sports, in my case figure skating, including training and competing. It helps me tremendously; I train twice a day on-ice, sometimes even 3 times. But I also do the regular school stuff; I only have geography, math and psychology left before graduation. After that I plan on joining the Police academy, it'll take 3 years.
Back to skating, when you choose music for your programs, what do you prefer?
Most of the time we choose the music together. I prefer skating to upbeat music, like an entertaining kind of music, to get the audience going and into the music and program.
This season I have a new short program to "Run Boy Run" by Woodkid. I chose and cut the music myself. The choreography was made by parents and the Russian ice dance coach Anna Postrybailo. The music is a bit difficult, so she helped us with the beginning and to get some moves to match the mood and beat of the music.
Have you added any extra difficulties this season, such as a quad?
The triple Axel has been ok, but after I fell pretty bad, or rather really bad, in Russia I got kind of scared of it. I couldn't sit for 2 days and had to eat standing up. What happened was a bit unnerving and I don't want to go through that again, so jumps have been a bit up and down since then. Lately though I've done lots of Axels in the harness, which has boosted my confidence, so now the triple Axel is ok again. And the quad, yes, it's about time and I'm working on a Salchow. But training quads takes a toll on your body, not only mentally, but also physically;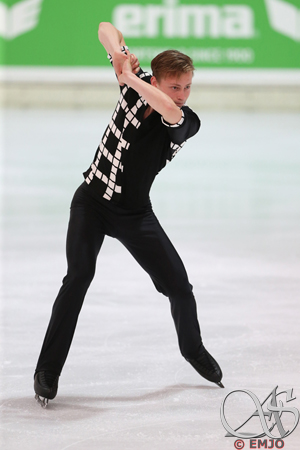 it involves more height, strength and rotation. I've done it with the harness and it works fine and now I land it in practice too.
Are you satisfied with the first competition this season, the Nebelhorn Trophy?
Yes and no. In the short program, spins and presentation were ok, but the jumps were not. The free program I'm actually really ok with, but at the same time frustrated; I was only 2 points from making the technical requirements for Worlds! I'm competing in Warsaw next so I hope to make it there.
You usually attend summer camp in St Petersburg during the summer, how did you prepare for this season?
Well, I was in St Petersburg 3 times this past summer, but I didn't join any camps. My parents were coaching and I just tagged along hoping to get some advice from others. It's also nice with a change of scenery.
Did you train by yourselves then, or?
Yes, my parents know some people and could arrange some ice time for me.
Do you watch any other disciplines, like Pairs or Ice dance?
Yes, I do, both actually. Pairs are crazy cool and something I would love to try; it gives you an adrenalin kick and is scary all in one. The things they can do, from the pair placing first to last, it's crazy and totally amazing! It's also something we don't really have in Sweden so I wouldn't mind giving it a try.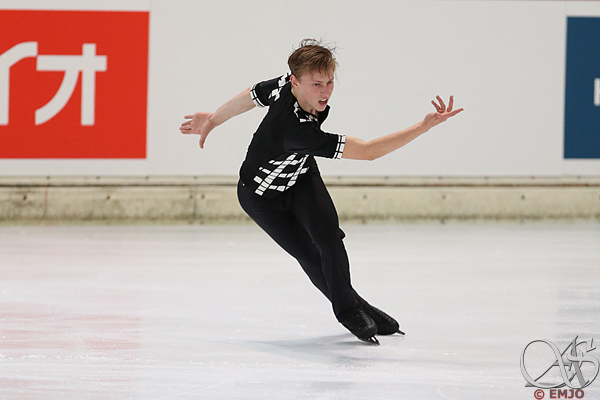 Well, whether it'll be in the capacity of a pair skater, single skater, photographer, fire artist or a police man, we wish Nikolaj the best of luck in whatever he takes on. If you want to watch him perform as a fire artist and figure skater, don't miss this year's Christmas on Ice show in Luleå, Sweden, on December 21.