Meet Alexia Paganini
March 16, 2019
By Reut Golinsky
Photo © Reut Golinsky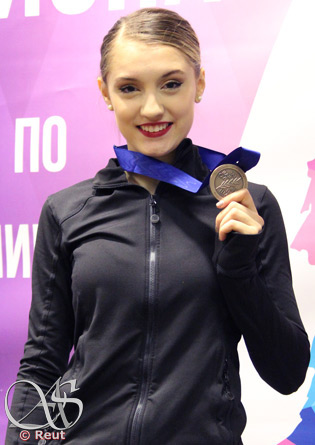 Two-time Swiss national champion Alexia Paganini made her senior international debut and her first appearance for Switzerland last season in August 2017. She immediately caught everyone's eye when in late September she won bronze at the 2017 Nebelhorn Trophy and earned an Olympic spot. Eventually she was the one to represent Switzerland in PyeongChang. She also finished at a surprising seventh place at her first Europeans in Moscow.
She started this season on a high note - at her first Grand Prix event, she was third after the short program. Although she dropped later to fourth overall, it was still a very decent result for the Grand Prix debut. We met with Alexia at her second Grand Prix event, in Grenoble, where she finished tenth overall. After her free skate we discussed her skating, her season so far, and she also took a small "non-skating questionnaire" for you to know her a little bit better as a person.
Let's start from the very beginning, why and how did you choose to become a skater?
I started skating when I was two years old, so I didn't really choose it myself. It was because of my older brother; he was at some birthday party and then decided he wanted to try skating. My mother proposed: "Why won't she go on skates too?" Ever since then I have been skating, and my brother still plays hockey.
I know that your family is from Switzerland but moved to States, so all this happened in States already?
Yes, I was born in the US. My older brother was born in Switzerland, and they moved after that.
So all this happened in New Jersey?
No, actually in New York, but really close to New Jersey. I still live in New York and we just drive to my rink in New Jersey every day.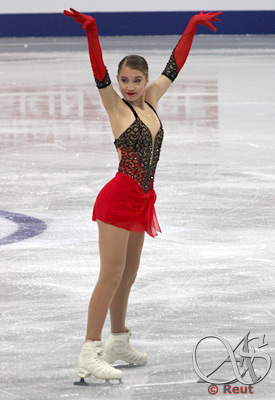 And for how many years have you been training at your current rink in Hackensack?
This is going to be three years, I think.
This is a "home base" for Team Israel and I heard from them you have a lovely "international family" there.
Yeah, it's nice to be training with a lot of people, especially the Israeli team who are all going to Europeans and Worlds, so we're all working together and motivating each other.
Tell me a little bit more about your programs, let's start from the short. My first association with your music choice, "Yo Soy Maria" by Piazzolla, was of course a program skated by Kaitlyn Weaver and Andrew Poje.
Yes, they did their free dance to this music. We actually wanted something strong for the short program and we were going through different musical pieces and then Nikolai Morozov proposed this one; we liked it and started working on it. As for the long program, I always liked "La La Land", I loved the soundtrack a lot. Last year I was playing it during my training sessions because I just liked this music so much and then this year we said: "Why not make a program to it?"
You had your Grand Prix events one after another (Rostelecom and IDF), it was probably a bit tough for you...
Yeah... it was very tiring... In Russia I did my short and long programs and then I also did the exhibition - and we didn't think I would be at the exhibition. So ever since before I left for Russia, for three weeks now, I'm skating every day and it's mentally tiring a little bit. On Wednesday we travelled, took two flights, skated in Switzerland and then drove here. It's not so tiring physically, but to be away from what you're used to for so long throws you off a little bit mentally.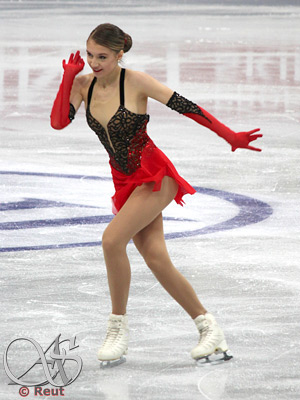 You did exceptionally well in Moscow. How did it feel, share some impressions from your first event.
Moscow was really good for me because it gave me confidence. Now I know that I can get higher scores and I can build upon the scores I got in Moscow. I showed that I can be competitive with the other girls and I don't think I really showed that so much before.
I think you already showed that at Europeans 2018 and people noticed you, don't you think?
Yes, but I think now I have more confidence.
What do you think happened here that it didn't go as well as a week before?
I didn't do my regular training. I was training as normal before Russia and I was ready for the Rostelecom Cup, but of course, I didn't do my free program every day for two weeks, I lost the feeling for my programs a little bit over the time.
But you couldn't really change your Grand Prix slots...
No. Also, I was already happy I got one Grand Prix, and then it was like: "oh, I got another one!"
Did you set any goals for the first half of the season?
Nothing really like points- or placement-wise, we didn't really set many goals because we didn't know so much what to expect at these events, I'm kind of new still. But for my first Grand Prix event we set the goal to do a clean short program, to make sure my jumps and my programs are as solid as possible, just to try and see how far I can end up. That was the most important - to see how far I can go with two clean programs.
I have a set of rapid-fire questions, which are not about skating but will let your fans know you a little bit better as a person. Are you ready?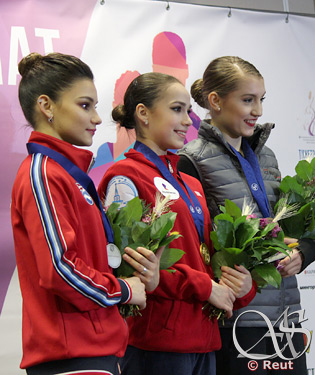 Yes!
Answer the first thing which comes to your mind.
When or where are you the happiest?
Probably on the ice, just skating around with the music on when I can just do whatever I want, this is when I'm probably the happiest.
What is your greatest fear?
Mmm... Spiders.
What would your superpower be?
I want to be able to pause time and fast-forward time, rewind time so I can change things.
Especially in skating?
(laughs) Yeah.
In Kiss&Cry you just say...
Yes, "let's rewind and try again!" (laughs)
What turns you on creatively or emotionally?
Probably music.
Any music or some favourite songs like "La La Land"?
I like Broadway shows and stuff from movies a lot, but I think everything, any music.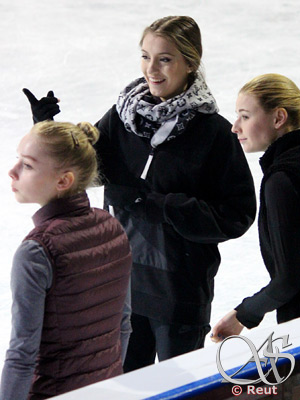 What would you do if not skating?
Probably still something artistic like dancing, or maybe cooking.
Do you cook already and you want to improve or..?
I can make spaghetti. (laughs) But I want to be better!
What sound or noise do you hate?
Oh my God, the sound of an alarm clock! I hate it even when it's not my alarm! (laughs)
What do you consider your greatest achievement so far in your life, not only in sport?
I don't really do much outside of skating... Going to the Olympics, I guess.
If you could go back in time, to any time, where would you go?
1980s or 60s, yeah... I think so.
What is the worst job that you've ever done?
This is going to sound bad... I teach skating and sometimes when I'm teaching kids - and they're very young so if they fall they might start crying - so if six or seven of them are crying at the same time... it's very stressful! If all of them start having emotional breakdowns that's when I start feeling that I'm going to cry too. (laughs)
To whom would you most like to say sorry and why?
Sometimes I get a little moody, teenager what can I say. (smiles) And sometimes I get a little mean to my mom so I just want to apologize to her: you don't deserve that! I just get a little stressed and I snap really fast; nothing too awful, but I shouldn't do that.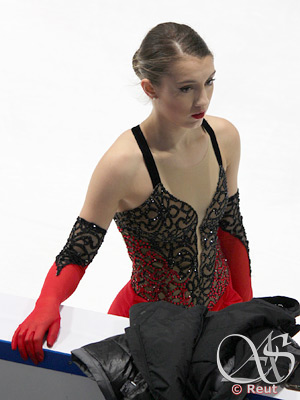 What is your recipe for recharging your batteries, if you're tired or upset?
I just lay in my bed and play music or go on my phone and play "Candy Crush" or I'm on Instagram or I watch "Friends" on Netflix. I also like to play Sudoku, everyone calls me grandma because of it but I really like playing it!
At the 2019 European Championships in Minsk Alexia came third in the short program, the highest achievement for a Swiss lady since Sarah Meier. She admitted that she was nervous but tried not to show it and to focus instead on little things she needed to remember to perform a program properly. The result - new personal best and 65.64 points - and the placement towards the free skate came as a surprise for her, just like earlier this season at the Rostelecom Cup. But her free skate with a few under-rotated jumps went less well, she dropped to the seventh place and finished sixth overall. "I didn't skate to the best of my ability, but I fought all the way through. I'm happy about that and I'm looking forward to Worlds," she said afterwards.
We're looking forward to her performances at Worlds and wish her a lot of luck.