Gabriella Papadakis and Guillaume Cizeron: "We are perfectionists!"
November 2, 2019
By Titanilla Bőd (Új Szó)
Photos © Wilma Alberti
Five European gold medals, four World gold medals and an Olympic silver. Gabriella Papadakis and Guillaume Cizeron are the most decorated ice dancers of the current field but they still feel there is room for improvement.
At the Europeans in Minsk we had a chat about getting used to winning, the choreography process and also the future of French figure skating.
In Minsk you won your fifth European title. Do you still celebrate it, or do you just take it as "Okay, one more, check"?
Gabriella: For sure there is a lot less surprise than there was the first time, but we are still very happy to have delivered two good performances that we are proud of. Whoever we compete against, it's always a battle against ourselves and it's always hard to do our job technically and artistically. Everytime we do it, we are very proud, so there is always something to celebrate.
How hard is it to aim for this perfection again and again?
Guillaume: We were are perfectionists and even when we watch our videos, we see a lot of things we would like to improve. There is always room for improvement.
In the 2018/2019 season you missed your first Grand Prix because of an injury. Did it affect your season?
Gabriella: We wanted to approach this season differently than we did the past seasons. We wanted to take this season to recover from the Olympics. At first we were not sure if we wanted to do the GP series, but then we started to work on our programs and we decided to do the Grand Prix. Then Guillaume hurt his back so we withdrew from the NHK but it didn't change much. We wanted to do the championships and the Grand Prix was just a bonus, and we did one, so we are happy about that.
Was it a serious injury? Did you have to miss lot of training?
Guillaume: It's okay, it's not too severe. I have had lower back issues for quite a long time, but it's like a cold, you have to take care of it. It's better now.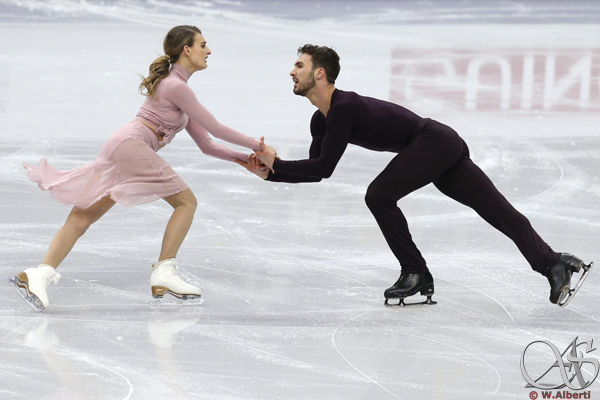 You said you needed time to recover from the Olympics. How did you cope with what happened there? You were gold medal contenders but a costume malfunction affected your short program. We see such a thing once in a century...
Gabriella: The performance was very hard. It was something we did not anticipate to deal with. We missed the gold medal by a few points. It was bad luck but we just kept on doing what we wanted to do, skating, training. We had Worlds right away, which was an amazing competition, and helped us move on. Then we had the summer to recover and we worked on new projects and new programs. It's one of those things that can happen. We are doing a sport where you can get injured, you could miss a competition for some reason, anything could happen. It's part of the game somehow and everything happens for a reason...
After this experience do you design your costumes in a different way?
Guillaume: Of course we are being more careful now. There is always a possibility, it is just fabric, so it can break any time, but we train in the costumes and we are very careful.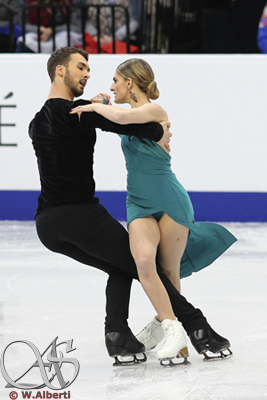 Your free program to Rachael Yamagata's music pieces enchanted the public in Minsk. Is there any story behind this program?
Gabriella: We actually had these music pieces in our playlists for a couple of years. We liked them very much, but we didn't feel like the time before. We listened to them in the summer again and it just felt like exactly the direction we wanted to go this year. It was interesting to do the choreography and to work on the interpretation. It's more bluesy, more folk, it's still soft but there are lot of other colours that are new for us. Especially the relationship between Guillaume and I on the ice in the program, which is usually more about the duality between us, but this is a clear love story. I guess it is a little bit less abstract than in the previous years. So just for that it was very interesting to work on it.
Can you tell us a bit more about this choreography process?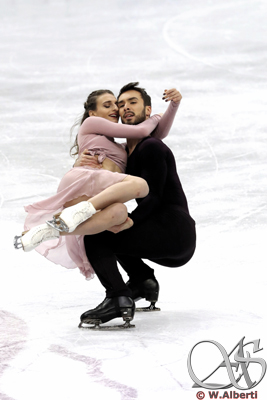 Guillaume: It's always very cool, the process of creating a new program. We've been learning so much from Marie-France [Dubreuil], we've been choreographing our programs for five years now, she's really shaped the way we work. She's really helped us to find our style and develop our own way to move. She doesn't just give us moves to do, she is pointing at the direction and gives options, she kind of guides through a path. It is very interesting, it makes us evolve. We create our own way instead of executing somebody else's moves. We learn a lot from that. I think it is the best way to work with dancers. We all have our qualities and things we feel more comfortable doing, so it's always better to choose a direction where you feel it's natural and has flow, instead of doing something that is not close to you.
When you compete you are always aiming for gold and you are huge favourites. Are you still nervous before competitions or are you used to that position already?
Gabriella: No, there is always a pressure, whoever are the competitors, there is always a battle with ourselves. We always want to try to do the perfect performance, so it's always hard. It doesn't matter if it's Nationals or Worlds, there is always pressure. Like Guillaume said we are perfectionists and we never want to make mistakes. So it's stressful but we still do what we love to do.
In Minsk France won two gold medals, in pairs and in dance, and in singles there were also some great results. How do you see the future of figure skating in France?
Guillaume: It was a really great championship for the French team, we couldn't be more proud about the performances. Everybody is going in a really great direction and I think there is a lots of potential for the future. There is lots of very young talents and everybody is pushing each other forward. There is a really great spirit in the team and pushing everybody is making the whole thing rise up.