Victoria Sinitsina and Nikita Katsalapov: "We are ready to 'bite' the French"
January 20, 2019
By Oxana Shkrebtienko (LMDJ)
Photos © Oxana Shkrebtienko (LMDJ)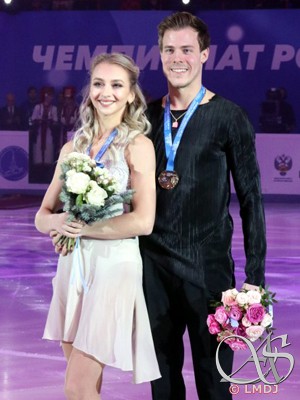 The dance duo Victoria Sinitsina and Nikita Katsalapov have skated together for the last five years, since the spring of 2014. The couple has overcome a difficult journey through many trials, setbacks and disappointments and they've changed coaches several times. After two years in America, they returned to Moscow, where they finally found themselves, their base and their "own" coach. Under the leadership of Alexander Zhulin, Victoria and Nikita won a long-awaited silver medal for Russia in the Grand Prix final and won the Russian championship in Saransk.
After the winning skate, the guys met with journalists and shared their experiences and thoughts.
When you first paired up together, did you imagine that it would take as long to adapt or did you expect a quicker result?
Nikita: I will say for myself, at some point I thought that everything would be faster. But, unfortunately, it turned out to be impossible. The root cause of this is that we have different skating schools and different bases. This was the main difficulty for us to meet together, because the schools differed in everything.
A year ago, after withdrawing from the Championship of Russia, did you have the feeling that it was worse than ever, and then - to sink or swim?
Victoria: No, we didn't have such a feeling, we just collected our thoughts, held each other's hands and continued to train further, as we had trained before, even harder.
Nikita: I agree, even in our thoughts there was nothing like that, no feeling of hopelessness, we were not going to finish our careers. It was very disappointing, very hard, yes. But we were not going to stop, that was for sure!
Victoria: We supported each other, our coaches supported us too. And after all these bad experiences we became even stronger.
Where did the motivation come from at that moment?
Nikita: From scratch. We met the New Year and started all over again.
Will your GPF medal motivate you, or vice versa, will it add pressure before the main competitions?
Nikita: Of course, it will motivate! Winning silver was very cool and enjoyable. But we must not forget, at the moment many couples have not made an appearance yet.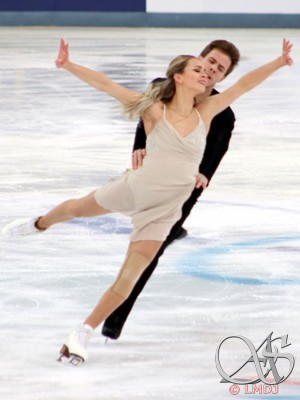 They train and prepare for the main events. And we took what we earned by our skating, we showed what we are able to do, and the judges valued us highly. It gave us strength for the struggle inside the team. We regarded it not like we had already beaten Sasha and Ivan (Alexandra Stepanova and Ivan Bukin), but as the fact that if we skated well in GPF, we could also successfully compete at Russian Nationals. Yet, I noticed before the free dance that this would be our seventh performance in this season, and it should be a happy one.
Do you believe in the magic of numbers?
Nikita: It was such a positive note before the event so I gladly believed in it!
Nikita, what has changed in you, that everyone suddenly saw a completely new Nikita?
Nikita: I calmed down. Since the time after the last Russian Nationals, I have changed a lot. I realized that no attack would happen, it was all over, I exhaled and calmed down. Again, we started from scratch. I did a full reboot. At every training I was looking for moments when everything worked out well. I woke up in the morning and began to recall the training stages, when it was comfortable to work a lot, but at the same time to feel good. I cannot specifically mention what exactly I have changed, I just tried to find positive, good moments and at the same time fully devote myself to training, because this is my entire life. I have spent all my life on skates!
Are you ready to fight with world leaders for medals at the European Championships?
Nikita: This is the competition, of course we are ready! Being athletes, we are venturesome and ready to fight with everyone!
And Victoria?
Victoria: I love to compete, to skate, as any athlete. I would never do that if I didn't want to.
Nikita: We still have time before the European Championship to fix a lot. I watched recordings of our performances on YouTube and after two days we started to work, and I already knew what we needed to work on. Before the New Year, we would try to do our best to complete this year positively. Of course, we will prepare for a serious struggle! To fight with Gabriella and Guillaume, we must do our best. We have two great programs that work out pretty well. Now we need to try to perform them beautifully and without mistakes at the main events.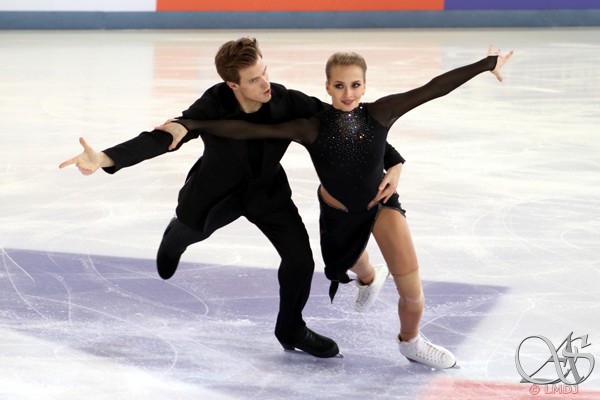 Please tell us in more detail about your programs - who found the music, who was the choreographer?
Nikita: The music for our free dance was selected by Alexander Zhulin. He said we would skate to this one. We liked the idea immediately, of course, so we agreed. And I also wanted to try a calm, light, flying program, and in this, we did not resist. It took us time, a week and a half or two, to fall in love with this program. But now we love it absolutely and forever! Alexander Zhulin choreographed the dance, then the whole team worked on it. Sergey Petukhov helped a lot. Every day we added something new into this program; found new nuances, and everyone participated in it, on the ice and on the floor. Zhulin wanted the program to be airy, light as breathing, so that the movements were not hasty, but smooth, flowing. At the same time, we needed to show all the elements, our skating skills, but so that we were calm and everyone was calm for us too.
Victoria: However, it was necessary to keep the audience on their toes as well as to keep in tune with each other, until the last second of the program, this was the main goal.
In a recent interview Zhulin said that with this free program you somewhat "get into the French's territory". Did you want to show that you also can skate in this style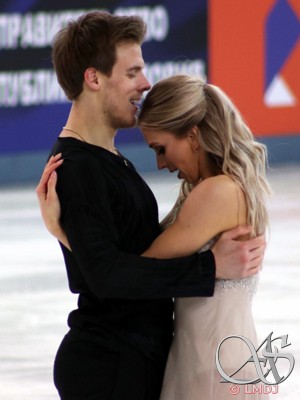 or is it an attempt to impose a fight on the French couple?
Victoria: Every year we have completely different programs. I think it's normal to try something new for yourself. We do not copy anyone, do not try to replicate others, we just look for ourselves, our images, and that's right, I think.
How did you prepare for the tango?
Nikita: When we lived in Michigan in America, our coach Marina Zueva sent us to her friend, an Argentinean dancer. The basement in his house is converted into a dance hall. And even then, 4 years ago, we began to dance tango simply for ourselves, for our general development. This is my favorite dance. I enjoy watching hip-hop and tango. Therefore, when "Tango Romantica" was announced as a rhythm dance for this season, we were very happy. Vica contacted dancers Dmitry Vasin and Sagdiana Khamzina (world champions in Argentine tango) and they agreed to give us some lessons, it was so cool for us! And since we already knew the dance, they were also a little bit surprised. We adore the result of this work, our tango!
Any ideas for next season?
Nikita: Of course, we think about it. We already have some ideas about the programs for the next season, but it's too early to talk about them, we need to finish this season at a good level. Now we are focused on our current programs.
And off-ice, in real life, do you like to dance?
Victoria: Of course! I love to dance, to move. I enjoy the emotions, this is great! It is a pity that we have the opportunity to dance so rarely. Only on vacation or after competitions at banquets, then I really like to dance.
If something went wrong during the season, if the dance did not work, did you have a plan to change the program?
Nikita: Thank God, we did not have such a situation. It seems to me that this is very annoying.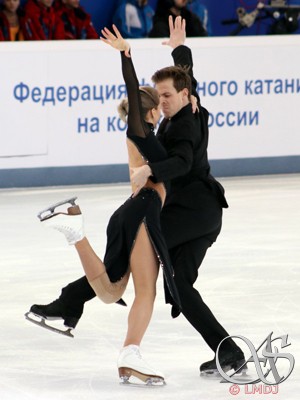 You start to get nervous, especially if the season has already begun and the competitions are going one after another. Then you simply do not have time to change the program. I would not like to skate with the idea that this program should be changed. We all have plenty of time during the off-season to invite specialists to view our new programs, so that you can fix or change something before the season starts. I think it's terrible to change the dance during the season.
Victoria: We were lucky, we always have made the right choice with our music and dancing, so nothing had to change.
And will we see your last year's dance on Rachmaninov's music? After all, you performed it so few times...
Nikita: We promise, we will surely skate it and skate it soulfully! Maybe at some exhibition gala.
How would you describe each other as partners?
Victoria: My partner is the leader, and I am his support.
Nikita: I trust Vica completely, she is a fighter, she is like a rock for me. She does everything for us, I only help her.
Can Victoria insist on her opinion? Will she defend her position to the end or will she rather support your one?
Nikita: She argues with me in everything and defends her position. But even if we argue, we will eventually come to the same conclusion.
Victoria: Of course, we support each other, we look for compromises and always come to a common opinion.
What are your strategic goals for this season?
Nikita: To continue skating like we do now - clean, stable, without my "wacky" mistakes. This is our main strategy. I really want us to finish the season like this.
Victoria: To improve from competition to competition.
Nikita: Both Russian ice dance couples, us and Sasha with Ivan (Alexandra Stepanova and Ivan Bukin) are ready to compete. Soon the European Championships will begin and we will see if we can impose a challenge for the leaders. We have a good base, we have a smart team and we are ready to "bite" the French.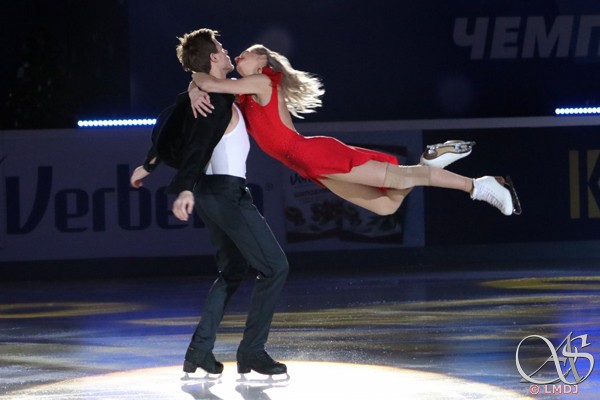 Who are your idols?
Nikita: Scott Moir! Together with Tessa (Virtue), they show real, lively ice dancing. Not a single fake movement, they are dancers from God! This is what I, as a simple viewer, want to watch and enjoy. For me, he is also a model of a partner in a pair.
Victoria: They possess natural chemistry. Their views, movements, all this is natural. As soon as Scott touched Tessa, her body literally began to tremble - they feel this much between them.
The path to success - is it given only to talents or is it achievable through hard work in training?
Nikita: Everyone has his own way. As an example, Charlie White and Meryl Davis. They trained on the same rink with Tessa and Scott, with the same coach. Scott did not need to practice so much, they already had everything naturally. The only problem was Tessa's ankles; she had an operation, this was their difficulty. But Charlie had to work for days to reach the same level. These are two completely different stories. Two of them are talented, the other are hard workers. And their rivalry incredibly raised the ice dances, brought them to a new level. They set the trends; judges changed the rules for them. So everyone has a chance. You have to go your own way. Just as someone does not know how to use his talent, there is someone is less gifted by nature, but his talent is that he can, without getting off the ice, work and work, going towards his goal.
We wish you a successful performance and may your first title of Champions of Russia be the beginning of the way up to the top of the sport and the reaching of your goals!