Miriam Ziegler and Severin Kiefer: upping their game towards home Europeans
January 19, 2020
By Reut Golinsky
Photo © Joy Geurts, Mireille Geurts, Reut Golinsky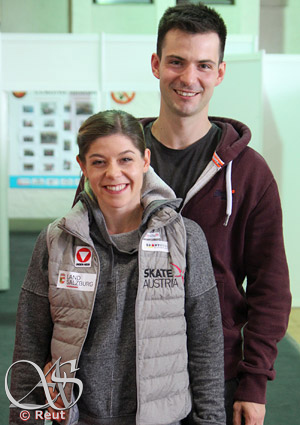 I planned to talk to Miriam and Severin, six-time Austrian national champions and one of the leading European pairs, in Minsk last year, but unfortunately they decided to withdraw before the free skate. A month and a half earlier one of their coaches, Jean-Francois Ballester, had passed away following a heart attack. Returning back to the competitive environment which they closely associated with their late coach, they felt they needed more time to process their loss and decided to withdraw, not to risk injury, as their emotional state was fragile. It proved to be the right decision as they took their time to recuperate and finished their season 2018/19 strong with silver at the Challenge Cup and a top ten finish at Worlds.

During this current season we met twice, in Oberstdorf and in Moscow, and talked a little bit about their past and how their pair was created and a lot about their present - work they did during the off season, their new programs and "the dream of every athlete" of having a big skating event at home.
Let's start from the very beginning, tell me more about how you started skating, how your pair was created. I know you both were single skaters, quite successful at the national level, and Miriam even went to the Olympic Games as a single skater.
Miriam: I started skating in Burgenland, which is the very eastern part of Austria. There is no ice rink there, no arena, just outdoor ice rinks. My grandma always drove me there and when I became a little better [in skating] I decided I want to do it professionally. So I moved to Vienna where I trained all of my singles career and in 2010 I qualified to go to Vancouver Games. But I was just 15 and it was a lot of pressure for me so I somehow lost the fun and the love for the sport and decided to stop.
So it's the Olympics that caused this?
Miriam: Not the Olympics itself, the Olympic Games was an amazing experience, but everything that came with it. The rivalry, the fight for the spot was really tough. I didn't skate well at the Olympics and a lot of nasty things happened afterwards.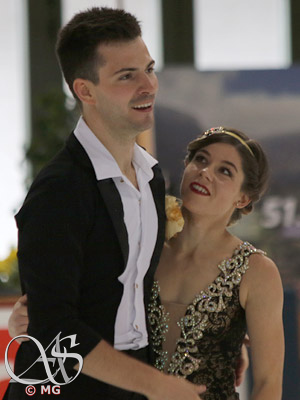 I just didn't want to do it anymore. So I kept going for one year and a half but not really enjoying it and stopped in 2012. Until Severin asked me to skate with him.
Severin: For me it's started really early, I have an older sister, three and a half years older than me, who started through kindergarten. So when I was one and a half, two, three years old I was just at the rink whenever she was there. And at some point they put the skates on me and sent me out on the ice. For the first two years it was just for fun, skating around, talking to the coaches, and not really doing much. When I was four or five I began training more seriously. I wasn't very good as a kid, I started getting a little bit better when I was 12-13, got my triples fairly quickly and at 18 I tried pairs for the first time with my first partner (Stina Martini - ed).
Why did you decide to move to pairs?
Severin: I wanted to try something new. Pairs is a lot more diverse than singles, you don't have only jumps and spins, but you have lifts, throws and death spirals too. It's a lot more interesting for me, even to train. Unfortunately after a couple of years when we went to our first European and World Championships we didn't really progress anymore. In the spring of 2013, I started thinking about what I was going to do, whether I wanted to continue skating. And if I did, I needed to make a step up. Thankfully Miriam said "yes" to the idea of skating with me and I could make this big step.
Why did you think to propose to a single skater to skate with you? You probably knew each other well at that point, but still...
Severin: Yes, the Austrian skating community is not that big.
Miriam: I was actually a speaker at the Nationals the year before, in December 2012. I already stopped skating at that point, I was there just to speak. We caught up and talked to his coach. I remember at some point she asked: "Do you miss skating?" And I said: "Actually, yes, it's been a year [since I stopped], I do miss it." And I think that's how they started thinking about asking me.
Severin: I had a few ideas of people who I wanted to ask but Miriam was definitely the first choice, she was the most talented skater Austria had for the last I don't know 25 years. So it was a very easy choice, even though she never tried pairs before.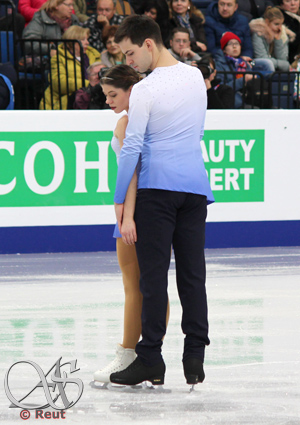 Miriam: I always wanted to but there was no such possibility, in Vienna there was no pair skating.
Miriam, weren't you afraid?
Severin: Well, that's what we wanted to try whether she felt OK in the lifts and throws. And it was fairly easy from the very start.
Miriam: Like we said I knew him for a long time, but maybe also because I had no experience, I was just going for it and trusted him to know what he's doing, he's done it for a couple of years.
Severin: Yes, by that time I was fairly experienced.
Moving to the present time, where and who are you training with now? I know that you used to train a little bit all over Europe, is it still the case?
Miriam: Our base is Berlin where we train with Knut Schubert, he's been with us since the beginning and since 2014 he's our head coach. Whenever it's possible we go to Switzerland to work with Bruno Massot. And this year, at the end of May, for the first time we went for four weeks to Tampa, to John Zimmerman and Silvia Fontana. We did our free program there and also worked a lot on technique. It was Jean Francois' idea for us to go and work with John and Silvia. It was the plan all along so we just stuck to it.
Severin: We needed to figure out something new anyway because in summer we were usually with Jean Francois, and Bruno was just starting out coaching, we weren't really sure what his plan was for the summer. And so it all came together. But, yes, Jean Francois wanted us to work with John and Silvia and to create at least one program with them, which we did and we're really happy about it.
You mentioned Bruno, what is his role in your team?
Miriam: Oh, he's doing everything.
Severin: We work on everything with everyone really because everyone sees a different aspect of an element, for example, or a movement of arms. We worked on choreography with Bruno too, and we worked a lot on twist, obviously. There's no really a separation of who's responsible for what. They trust each other, they have a very similar approach to everything.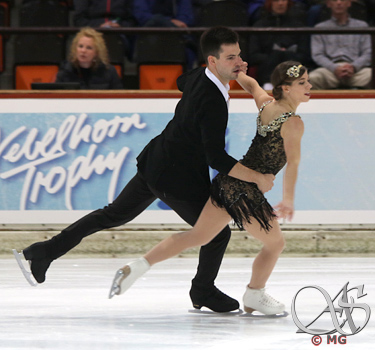 Even with John, although it was the first time working with him, it was really easy. Knut Schubert was very happy with what we came back with.
Your season so far has been more challenging than you probably expected. What happened during your short program at the Nebelhorn Trophy?
Miriam: We started [our program] well, we felt good and the performance was good too. Our first big mistake was when I fell on the throw flip. And then I did the entry into the backward inside death spiral a bit faster than I was supposed to. I don't like this death spiral to begin with, so it's always a stressful element... Severin pulled me off my blade and I touched the ice with the boot. I don't know how I managed to recover from that, but from that moment the element was "gone" anyway, we lost it. And so we landed in the first warm up group for the free skate. We expected to do a lot better and it really... confused us, and the free skate was not good either.
Because of what happened, in our next competition, the Finlandia Trophy, we were really insecure about our short program, so it didn't go well again. But the free skate was better.
In France (at the Internationaux de France) I did a little bit better but then Severin fell... Yet the free skate in France was really good and it brought us confidence to go back home and work. We felt like we were finally on the right track. So coming here, to Moscow, felt a lot better.
Severin: And we were more confident, for sure. We did a lot to feel more comfortable in our programs. We had a lot of simulation: we went on the ice, six minutes [of the warm up], we go off the ice; we even did a draw beforehand. I think that helped too. We made a planning mistake this season getting our programs later than we usually did and that gave us less time... Especially the short program being so intricate and complex, we would have needed more time.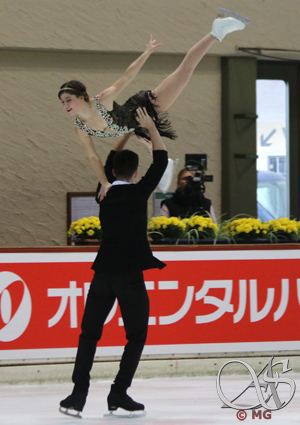 We're starting to feel more confident with it now, but in September-October it was still a little early for that program. The free skate always felt better and we also practised it longer. Here we had two not perfect but solid programs.
Miriam: It was the first competition without any falls, we didn't pop any jumps, all the lifts were there. It was the first time that we really showed the elements, they were not perfect but now we know we can do them and now we can work on improving their quality.
Let's talk indeed about your programs.
Miriam: We did our free skate with John and Silvia and it turned out really amazing, much better than we thought it would, we really love it.
Severin: We learned so much, particularly doing choreo with John. We have so many lifts in that program, little dance lifts, little things... We've really learned a lot, and it also helped us with the short program which we did with Mark Pillay afterwards. As we tried a million things that didn't make it into a long program with John, we could use some of that for the short.
Is there any story behind your programs?
Miriam: The short program is about this flirting couple but he is always being told off. At first I'm really not interested in him, it's not really working but in the end... We have this playful dynamic that is really interesting in this program.
Severin: It's a new style for us. Last year we had two very similar, slower programs. We wanted to have a bigger contrast between them, so the story, the rhythm, the tempo are very different this year which is a bit challenging for us.
But they help you to grow.
Miriam: Yes, we need to challenge ourselves, to be better and this is one of the things that we worked on the most in summer. Our elements are already at a pretty good level, although of course you can always do better. And our twist, which is not our best element, is improving. So this summer we tried to focus on something else, we worked a lot on programs and transitions...
Severin: ...and on fitness to get through the programs.
And your free skate?
Severin: It is to "Broken" by Patrick Watson, and there are two stories [behind it]. The first one is, like this song, about a tragic love.

Miriam: When it's never the right time, never the right place...
Severin: ...there are ups and downs. We're trying to show that journey in our program.
And the second story is, of course, Jean Francois, he suggested this music.
Miriam: He wanted us to skate to it last year as a short program, but we decided against it back then, in the end we found something better. But this year we said we really want it.
Severin: And the more we listened to it, the more we felt that it was a free skate rather than a short program. John and Silvia did a really amazing job with it. Maxime Rodriguez arranged the music for us. We got the finished version about a month ago, and we were blown away. It's very different from the original song, but really nice.
You also have a very unusual - for you and your style - exhibition program, tell me a little bit about it.
Miriam: While we try to be focused and beautiful during the competitions, show programs are just about having fun.
Severin: We wanted to make people laugh. We made this program with Mark Pillay, our choreographer, and we had a lot of fun doing it. The only thing is - this (shows cake in his hand and all over his face) is not the best for me, but it's a price I have to pay. (smiles)
Miriam: We're not doing many shows, so we don't have so much practice [with our EX] and it's easier to get away with something like this where you're just having fun. And then even if something goes wrong it's...
Severin: But everything went well!
You mentioned the intricacy of your programs, all those little details, the dance lifts. Maybe that's another reason why the beginning of the season was so hard for you?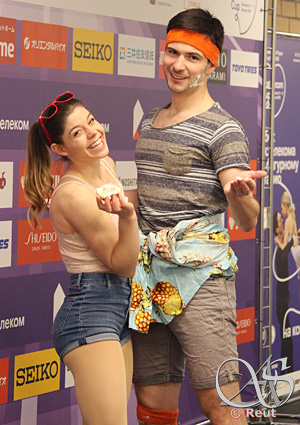 Miriam: Our bad performance of the short program at the first competition really influenced us, the way we thought about it. We knew it was hard.
Severin: We do this mental exercise: before we practise our programs, we listen to the music at home and go through the program in our mind. And even in our mind to do it with the free skate is always easier. The short program is starting to get better now, but a month ago we were struggling even with this exercise.
Miriam: It was probably difficult also because in the free skate the music really carries you, the movements are flowing, but in the short program, it was difficult to keep the focus.
So why didn't you try to make it a bit simpler?
Miriam: We changed some transitions and when we come back home now we will work a little bit more on it and figure out if it's possible to make it more comfortable.
Severin: We will talk to our coaches, our choreographer Mark, who did our short, try to get some feedback from judges, from the federation. Actually, the feedback we were getting was really positive and we like skating this program, it's just a very different style to what we used to have and we have in our free.
Miriam: The thing is, once you get stressed, this playful and fun music doesn't work anymore, and it takes away from the performance.
Severin: Here it was the first time at a competition that we felt really good about it.
Update as of 19.01.2020: After the Grand Prix Events, taking some time to think about it and considering how important European championships are for them this season, the duo decided to replace their new short program with an adapted version of the 2018 Olympic season's short - with new transitions, elements and costumes - for the rest of the season.
I understand that all those changes you made to up your game were also because this season you have Europeans at home. Is it exciting? Or frightening?
Miriam: It's mostly exciting.
Severin: Well, for now. (smiles) For sure we'll get more nervous [closer to the event], but it's OK, we're really happy. Me particularly, I lived in Graz for four-five years, I have a lot of friends there who I hope will come to watch. No, for sure they will! We'll have a beautiful atmosphere.
Miriam: It's just an amazing opportunity to have such a big event in your home country. I think besides [getting to] the Olympics it's a big dream of every athlete. So for us this is really special.

Severin: And we just want to take that feeling, have a beautiful time competing, performing there and being in front of our friends and family.
Miriam: We want to take all the positive [emotions] that we can.
You mentioned twist as something you still need to work on. What would be your signature element?
Miriam: We used to say it's our jumps because in comparison to other teams they're really safe.
Severin: And they still are but our pair elements improved over the last two or three years, the lifts became a lot better, we've also got good feedback on our throws which are now bigger and nicer and more consistent.
Miriam: I think my favourite pair element is the throw flip. I'm not sure if it's my very best pair element but it's the one I like most.
You were at almost all the Grand Prix countries except China and you tried I think all the possible European challengers.
(both laugh) Severin: I don't think we did Riga and Warsaw.
So which of all those competitions is your favourite?
Miriam: It's hard to say, I really loved being in Finland last year, the organization was really good.
Severin: I really liked Tallinn.
Miriam: Usually in Eastern European countries you can feel that the audience is much more engaged and that's why we like to go there. Also, when we don't have to travel so far it's comfortable. But we never had a really bad experience anywhere, so for us it's just nice to come back to familiar places.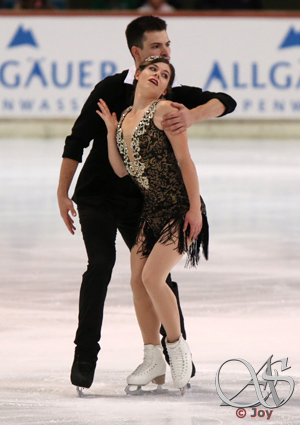 I want to finish our talk with a few off ice questions. I saw your photo in military outfits and I understand that it was a part of your army service. Is it similar to what they have for some athletes in Germany?
Miriam: Yes, pretty much the same.
Severin: We had to do basic training when we first started with the army, for me back in the day it was seven weeks, it was a long time ago for me, and it was a little bit shorter for Miriam.
Miriam: Around six weeks.
Severin: All men in Austria have to do military or another type of service unless you have a medical condition, women can volunteer. And there is this "sports group" in the army, like you said, similar to what there is in Germany. We are lucky enough that the army is funding us, without it it would be very hard to keep going. We're employed by the army so every week we have to send them our plan for the week.
Miriam: Our training schedule for each day.
Severin: And they are making an exception for us, because we need to go to Berlin a lot for training which they understand, they understand we cannot progress...
Miriam: ...to be on this level if we train in Austria.
Do you study something? Do you do it online?
Severin: We both study for bachelor's degree in FernUniversit├Ąt in Hagen, it's a [distance education] German university, fairly big actually. I'm doing political science.
Miriam: I study cultural science.
Impressive, and it's so different from figure skating and sports.
Severin: It's something that interests us and keeps us sometimes distracted - in a good way - from skating. You need to do something else, you can't be focused on skating your whole day. It helps us to recover, it helps us to be motivated and it also will help in life later hopefully.
I will end with a few "rapid fire" questions, just answer the first thing which comes to your mind, don't overthink it. Your most memorable win or memorable skating event.
Miriam: European Youth Olympic Festival in 2009.
Severin: Olympics in Sochi and Tallinn Trophy last year.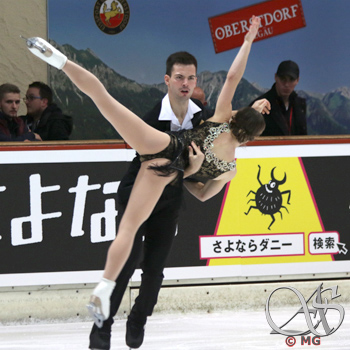 "I never tried ___"
Miriam: A backflip.
And you want to?
Miriam: No! (laughs)
Severin: Oysters. I haven't heard good things about them. Some of my friends love them but those friends who have similar taste with me don't really.
Something new that you would want to try.
Miriam: Paragliding is something I've wanted to try for a long time. If would be even possible to do it in Oberstdorf!
Severin: I was always interested in getting a pilot's license.
"I can't live without ___"
Miriam: My dog. It's a beagle, his name is Kenny and he is also here in Oberstdorf now.
Severin: I was also going to say that!
Three things which are always with you.
Miriam: My phone - but not my keys and not my money, because I keep losing them - tissues and hair band.
Severin: It would probably be my phone. Maybe headphones? I like to listen to podcasts - either soccer or some news - when I walk our dog. And other than that? Maybe a scarf when it's colder.
"I'll be back to this place for sure."
Miriam: Oh, Thailand! Last year we went there and it was amazing.
Severin: I would probably say Graz, because I have a lot of friends there and always have a good time.
Any role models you have in sports, in life? Someone you admire, want to be like.
Miriam: I would say Bruno (Massot), because he's achieved so much and we know him so well, he's always kept his feet on the ground, he is humble. He is a really good person.
Severin: And he really showed how much you can develop in a fairly short amount of time. He is probably the closest to the role model.
Yes, his was like a "skating Cinderella story" in a way.
Severin: And we saw what was behind that story. I've known him since we were 12-13 years old, I know how he was before, how he's changed.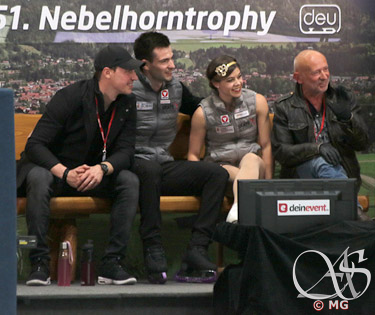 Wow, that's interesting. So how do you keep a distance now when he is your coach? Or you don't?
Severin: With all our coaches we have a very familiar relationship, with Jean Francois it was the same. We would make fun of him or make fun of Bruno and it was fine, five minutes afterwards he'll be saying: "No, you're doing this wrong!" We don't like "authoritarian" coaches, it's really a problem for us.
Miriam: We have our own strong voice and we need someone who understands us...
Severin: ...and who is with us.
We're wishing Miriam and Severin lots of luck at Europeans next weekend, to enjoy every minute of this unique experience and to use the excitement and positive energy from their home crowd to perform well.