Aleksandra Boikova and Dmitrii Kozlovskii: "We like to speak from our hearts"
February 3, 2020
By Titanilla Bőd
Photos © Joy, Mireille Geurts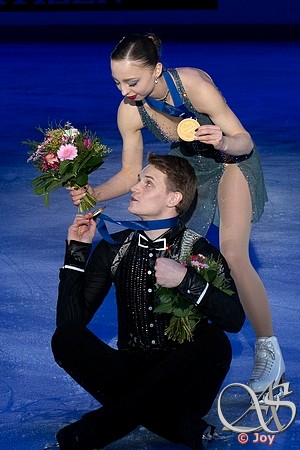 It was a short talk after the gala practice in Graz, just slightly longer than a short program and a free skate together. But time spent with Aleksandra Boikova and Dmitrii Kozlovskii was as thought-provoking and as entertaining as watching them on the ice. Just as during their skating, they are always there for each other, finishing a sentence, correcting a word or just adding a nod of agreement. For some questions they answer in perfect unison, underlining why this partnership is so fruitful – they respect each other, they look up to each other and they have fun together. Meet the new pairs European champions.
You have won your first major gold medal. What does this European title mean to you?
Dmitrii: For this moment we are so happy and so excited. But for our nearest future…
Aleksandra: ...it was just a little step.
Dmitrii: Yes, it was just a little step onwards in our career. But when we are back in our home town, St. Petersburg, we will start to think about our future, about our preparation for the next competition.
Was it hard for you to recover after the Grand Prix Final, which didn't go as you planned and you placed only 4th there?
Aleksandra: Maybe it was a little bit difficult in a mental way, but it's always like this, after the falls you need to work harder, so…
Dmitrii: …we tried to give support for each other, and this helps us. This is our safety.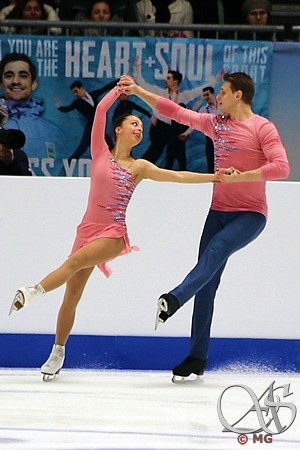 This season you are skating to very characteristic and iconic music pieces. Everybody has some connection to "My Way" and James Bond.
Dmitrii: Our short program is an interesting interpretation of the famous, great, classic song, "My Way", but it is a violin interpretation. This program is so soft…
Aleksandra: ...and so kind…
Dmitrii: Yes, so kind, and full of love…
Aleksandra: It's love in the air.
Dmitrii: Love in the air! Yeah.
Aleksandra: In this program we skate our own way, and the way of…
Dmitrii: Our souls.
Aleksandra: And not only ours, maybe also our team's. Big team's.
Dmitrii: We don't try to find our love in this program, but we try to find the right way of our souls.
And what about James Bond?
Dmitrii: James Bond? (gives a triumphant look) James Bond is a very cool and lovely program for us.
Aleksandra: Yeah.
Dmitrii: Because we understand these characters, we understand this style, we understand this pressure in the program. We like it.
Aleksandra: We like it so much!
Dmitrii (points at his partner): Look at her, please, she is a beautiful girl, really. She is a beautiful girl. Like a girl of James Bond.
Aleksandra (smiles): And you are a real James Bond!
Dmitrii: Okay!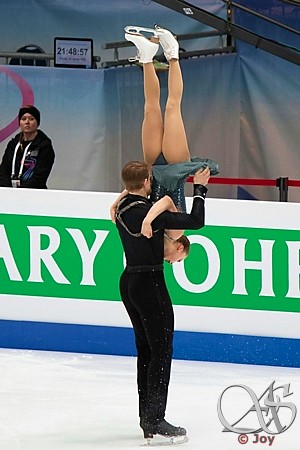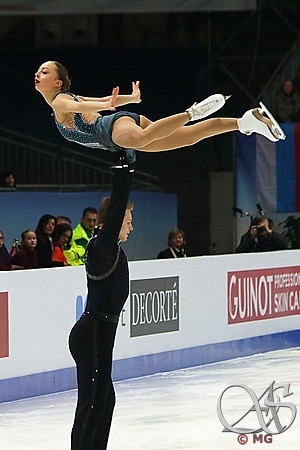 So do you enjoy interpreting James Bond as a character?
Dmitrii: He is a character of a beautiful killer. Because first of all, James Bond is a beautiful killer. You know, James Bond is like a shark. He's a person without emotions. But he is beautiful.
Aleksandra: Handsome. Not beautiful.
Dmitrii: Handsome. Beautiful, handsome. And he is a real man. I suppose if you ask any girl: "What is your idol in men?", I think a lot of them can say: James Bond. Because James Bond is an idol, he is an ideal.
When you are skating, do you also try to be without emotions, thinking only about your elements, or do you try to feel the program?
Aleksandra: Of course we try to feel the program and to interpret it as much as we can, but in our minds we are focused on our elements. Because without it you can't do your job well.
Dmitrii: It's so easy to lose concentration for your elements if you start to interpret…
Aleksandra and Dmitrii in unison: …all your emotions.
Dmitrii: We work on the interpretation, because we really want to interpret all our emotions. But we need to concentrate on the elements.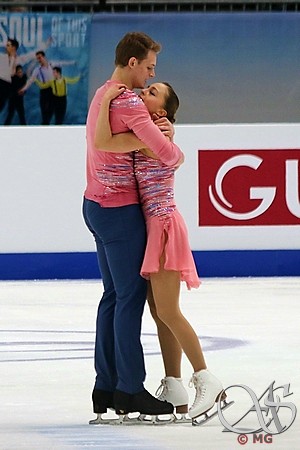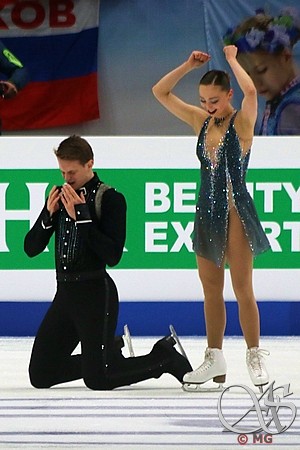 Before this Europeans did you expect that you might be the winners? Were you thinking about the gold medal, or just about two good performances?
Aleksandra: Of course we were thinking only about our job, our programs, because if you concentrate on your results, nothing good will happen.
Dmitrii: We try to concentrate on ourselves. It's important for us.
Aleksandra: Yes.
I asked this because after your victory you gave such a collected and professional thank-you speech that it looked as if it had been prepared in advance.
Dmitrii: No! We never prepare our speech, because I like and Aleksandra likes, we like to speak…
Aleksandra and Dmitrii in unison: ...from our hearts.
Dmitrii: From our souls. Let's speak with our emotions.
I like how you complete each other's sentences also during an interview!
Dmitrii: Thank you so much. I'm so happy to have such a beautiful partner.
At the victory ceremony, when the Russian anthem was played, you called the other two Russian pairs up to the top of the podium. Why did you do that?
Dmitrii: It was cool [to stand on the podium]. I wanted to catch the moment when first place, second place and third place are Russia. This was a victory not only for our couple, it was a victory for our whole country. I did it because I want to remember this moment for all my life. And I wanted the other [pairs] to remember those spectacular moments, too.
Russia won all the gold medals in Graz, what does it mean for Russian figure skating?
Aleksandra: I think it's a big improvement in our figure skating. It means that everyone can win. In every situation, you can win. If you work hard enough, you will get your medal, your points or anything you are working for.