Catching up with Lukáš Csölley
February 9, 2020
By Reut Golinsky
Photo © Reut Golinsky, Keiko Kasai, Mireille Geurts, Lukáš Csölley
It's always exciting to see former skaters - those you remember competing just yesterday - back at the competitions in a new capacity, as team leaders, coaches or choreographers. We met with Slovak ice dancer Lukáš Csölley at the Malley rink after his students, Denisa Cimlová and Vilém Hlavsa, finished their free dance at the Youth Olympic Games 2020.
Nice surprise to see you here in Lausanne, Lukáš.
I'm here with the Czech couple, Denisa Cimlová and Vilém Hlavsa. A different Czech team, Natálie Taschlerová and Filip Taschler, qualified their country for the Youth Games, but they are not age eligible, hence Denisa and Vilém are participating instead. This whole week they worked really well and finished eighth overall. We are very happy with their performances.
I'm glad we did a good job in the short time we had together since they came to us in October. And, of course, their coach Barbora Silná did a great job with them too! At the time, Barbora was pregnant so she was trying to find them a place where they could continue training; she asked for our help with that and also to be with them at the Youth Olympics. I'm coaching with Barbara Fusar-Poli and Roberto Pelizzola. And, as they are preparing now towards Europeans with our two senior couples, they sent me here as a coach for Denisa and Vilém.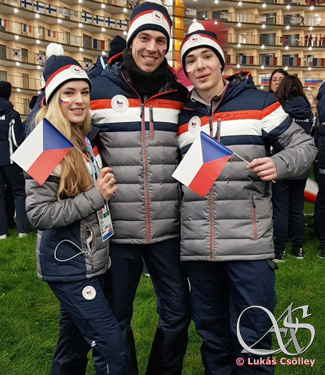 You yourself were an Olympian in PyeongChang. What did you tell them about the Games? How did you prepare them? What advice did you give?
First of all, to enjoy this whole experience. Of course, it's a little different from the "real" Olympics but it's actually really close. So I told them: "Just enjoy every moment of it, try to skate with heart and try to give a nice feeling to the audience and judges."
In what ways are these Games similar to the "grown up" Games and how are they different?
Well, first of all they are still kids, you can see their reactions, how they are happy about something like kids are. And, of course, here there are less couples, less skaters in every category. But the atmosphere of the Olympic Games - of fair play and "all together" - is different from any other competition. And I think they loved it.
So does this atmosphere here remind you of the "real" Olympics?
Absolutely!
Tell me a little bit about yourself, you were in PyeongChang, participated at Worlds in Milan and then in summer your partner, Lucie Myslivečková, announced that she has finished her career. What about you?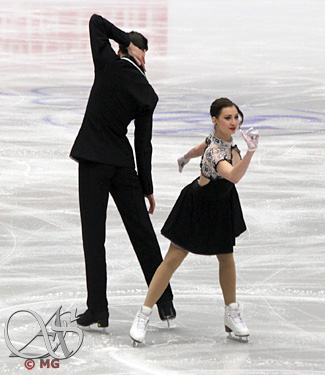 Actually I've never announced it officially, but I stopped skating, I don't plan to continue. I was already coaching a little bit before, when I was still competing, was doing choreography for the single skaters. So when the offer from Barbara and Roberto came to start working with them, with their ice dancers, of course, for me it was a great opportunity. And, of course, it was a pleasure too, because I was working with them as an athlete for a long time, so I know how they work, I know how passionate they are for the sport and for their athletes. I'm very happy to work with the people that I trusted as an athlete and now I can trust as a coach.
I'm learning from them every day and I still have a lot to learn, of course. I always try to listen to what they say and try to really implement everything on the ice. That was maybe the reason why Barbara and Roberto thought I might become a good addition to their team. I'm very happy to be there and to learn from them.
Is this young ice dance couple your first work with the Czech federation or have you worked for them before?
We work with teams from many different countries. Like I mentioned before, we started with the Czech couple just recently and we will see how this collaboration develops. I'm also trying to be in contact with the Slovak federation which I represented. I also continue to work with the single skaters as a choreographer, because I like that kind of work. I'm a very creative person, I like to create new things.
Can you mention some names? Are there any skaters at international level you have choreographed for?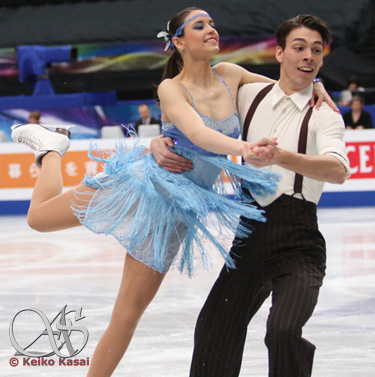 My first big collaboration was with Roberta Rodeghiero; we started working together when I was still competing. But I'm trying to help everybody who asks me for choreography. I'm working a lot with the guys from Turin, they have many single skaters, really good little kids who I hope will make a name for themselves at senior level too.
You always had really fun and memorable dances, and it didn't matter which placements you got, everybody noticed you, always. So I would've expected to see you in shows. Although, of course, you need a new partner for that...
Yes, the ending of my career was probably not the happiest one. Federica (Testa) decided to retire and chose a different path and Lucie had real problems with her shoulder. So, yes, I didn't get to explore this other, nice part of the skating career.
And to find someone else to skate with in shows?
It was not easy... And it was not easy to stop like this because of course you always want more, you want to continue, to move forward. But things turned out as they did. I had an opportunity to start working, to be in a good team, so now I'm trying to bring something to the next generation of athletes, to give them a possibility of something I didn't have.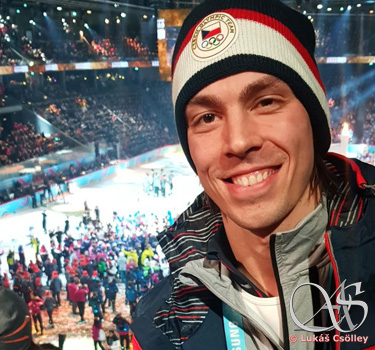 Still you had a wonderful career, with Federica you medalled at various competitions, were top ten at Euros. I remember how you and Federica were the first alternates for the 2014 Winter Olympics but didn't go and how I was really rooting for you and Lucie to get to the Games in 2018, which you eventually did...
Absolutely. That's why now with this Czech couple, although we're together for a rather short period of time, I really see myself in them, the way I was many years ago when I moved to another country and my parents were helping us, and how we tried to become good skaters, to grow. So I really try to be with them, because I still remember how hard it was. But if there is something you really want and you continue to believe in it, you can do it.