Deniss Vasiljevs: "My mindset is my biggest friend and my biggest enemy"
September 18, 2020
By Judith Dombrowski
Photos © Judith Dombrowski, Joy, Mireille Geurts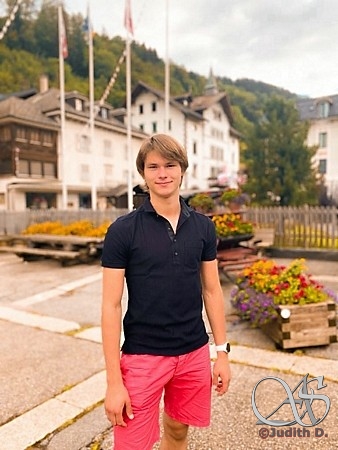 I met with Deniss early in the morning in mid-August on the main square in Champéry. A location with a nice view over the village, the valley, and the mountains, with some beautiful flower arrangements and a few benches to sit down and talk. A location he had chosen himself for our interview. An ideal location for a long and deep conversation with a really special and impressive young man and skater.
Deniss, how would you describe your current training situation?
Right now I'm trying to find the right motivation for myself. It is a bit difficult for me without really knowing what will happen this season. I am trying my best to push forward, to push myself to develop the skills that are necessary for my performance. And I'm really, really, really hoping that this season will start.
What are the concrete plans then? What events would you like to attend soon?
I personally really miss the feeling of performing, the energy of the people, so any big competition will make me infinitely happy and euphoric. So, wherever I get the opportunity, I would love to go. Even if I'm not completely ready, it doesn't matter. I just want to feel that energy and get back into the game. I miss that feeling so much.
At the recent showcase in Champéry you skated to "Romeo and Juliette" by Prokofiev. How did you decide on this piece of music?
Initially we had planned a different program, but a ballet dancer, Kateryna Shalkina, from the Béjart Ballet company in Lausanne, assisted us with the choreography. Her input made us choose this music. I love that it's not Tchaikovsky. Prokofiev's version is also very well known, but maybe a little bit less popular in the figure skating world. I think this music contains a lot of drama. Some of the pieces are breathtaking. They changed the personal image of "Romeo and Juliet" that I had had before. Right now we are still working on this program. I would say we are in the process of tuning it. I can tell already that I really enjoy skating the program and I look forward to developing it into some art.
Recently a new coach, Angelo Dolfini, joined the Skating School of Switzerland. What specifically do you work on with him?
We are mainly working on jumps, but sometimes also on skating skills. He reminds me of my previous coach, Mr. Urmanov, in his style of skating. I am honestly pretty glad that he came because he brought new blood, new experience and new knowledge to the Skating School. I really enjoy working with him.
In a recent interview you said you want to introduce quadruple jumps into your programs next season. How would you describe your working process on quads right now?
A few weeks ago I was landing at least the toe loop. We recently had the summer camp here in Champéry, which was very good and the energy was truly there. But then I was struggling a bit physically because I worked really, really hard. Especially after the longest time I had ever had without skating. Although I came back to the ice very ready, there are certain things you cannot prepare off the ice that I'm usually working on constantly on the ice. So this long absence brought out some discomfort with my body, mainly my back. Since I was struggling a bit with it and after all the hard work I did, it was going a bit worse, but right now I'm on my way to push myself back. It's definitely my biggest focus right now. I like to invest a lot, sometimes maybe even too much for my own good. I really want it so much. It's a great feeling when you land a quad. Maybe it had been going better recently because I finally did a bit less. Less force. Controlling my own power is my biggest challenge.
The coronavirus pandemic led to a prolonged absence from the ice. How does the current situation still have an impact on your everyday life right now?
Of course, masks can be uncomfortable, but I'm very aware they are necessary. I'm also aware I'm lucky in many ways to be in an isolated village right now, where I still really have the chance to work and improve myself in many ways. Plus, since we have the internet, a lot of education is working without the necessity to see people. I try to get something positive from this unfortunate challenge. It makes me discover new things about myself and the world. Normally, when everything goes in the regular rhythm, you are always busy with something, and you stop valuing and noticing what is there. Now, being less reliant on certain things, gives some room for self-improvement, and I want to take this as an opportunity to grow as a person. It is definitely a big tragedy for the world, also for the economy. Overall I expect the culture of sport to suffer, but as athletes we have to try to become stronger. Maybe you just have to sit this through. So maybe it will fine-tune the society of any sport. Overall, I had the opportunity to discover so many different things.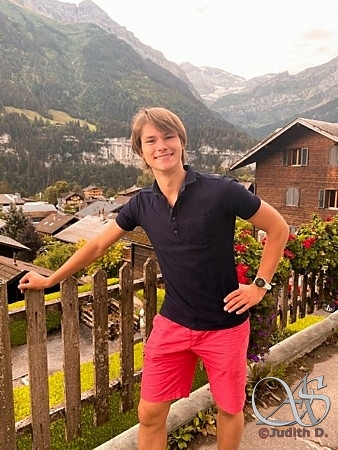 What new things did you discover during this off-season?
I got into martial arts, the Wushu stick. I also got some inspiration from acupuncture, I've discovered cupping. I tried more things in cooking and baking, and I was quite impressed with how well they turned out. I also had fun reading a lot; I assembled a few models. I made some new drawings and had some time to play my favorite video game "Anno 1800" with a ton of calculations. I organized stuff—I love management. I had time to educate myself for university, I finished my second year there. I'm pretty happy about that. I could invest a lot more in it than last year, as I had more time because of coronavirus basically. I also had time to think a lot about my life. I would say I could clear up some goals of mine that I had set last year. I went through the thoughts I had written down last year. Some things that I read made me super happy, some made me super sad. So I had mixed feelings going through that, but it was necessary. I also would say that during the lockdown I spent more time outside than inside ironically; I went into the nature, so I now basically know all the surroundings, the environment here around Champéry, pretty much by heart.
Can I ask what kind of goals did you create or change for yourself?
I do have a lot of side projects for myself. For example, I want to draw something, or I want to bake something. So, I cleared out the slack a little bit and tried to focus because by the end of the year I had around 200 different things that I wanted to cook which would never fit into the time I have. Same with books that I wanted to read. So I was clearing out some of those things. I also started to create short summaries for myself of some of the books I read. I realized that I forgot a lot of good books that I read. I did have a fun and positive image of these books in my head, but I have no clue anymore what happened there or at least only a very limited memory. So, I started to personalize the books I read. I also had my place decluttered and got new furniture. That really spiced up my life. And about my goals: you know, there are these things that I want to have by the end of this year, by five years, ten years… so I roughly aimed. But this rough aim feels pretty clear and achievable, so I will do my best to actually do that. And since I spent so much time outside and I love architecture of Swiss chalets, I almost managed to collect all ideas for my dream chalet that I would want to build and have in the future.
Does that mean that you can imagine settling here in Switzerland in the future?
Yes, I definitely want to have a connection with Switzerland, Latvia, and Portugal.
When you came to Switzerland, now more than three years ago, to train with Stéphane Lambiel, you were kind of alone here as the only international skater. Now many elite skaters have joined the team, for example, Shoma Uno. How did that affect your situation?
Simply meeting new people, new cultures, different ways of working. My sometimes over-analytical mind can't help but learn from them. It's inspiring in many ways. It's very challenging to not get affected in a negative way as well and it's all a learning process, a learning curve. I am deeply grateful for such an opportunity.
To see things developing, to see things growing, it's so different from the experience I had at previous schools. Their traditions were already so deep that it felt like the tree already losing its leaves or the trunk starting to rotten. But when the tree is still young and growing, it has the most energy and beauty. Being a part of this and the input I get makes me very happy.
As you have been living in Switzerland now for a while, what would you say is the biggest cultural difference between your home country, Latvia, and here?
Because I am so passionate about food and cooking, the difference in eating culture comes to my mind first. Both countries have a good number of dairy dishes, but I'm unfortunately not that educated in Latvian dairy products. In Switzerland, I try to stay away from cheese fondue, Raclette, and some other dairy. As for home food, in Switzerland I couldn't find the special grey peas that we eat in Latvia as a special dish with bacon.
Thinking of other aspects: Switzerland seems more organized in general. A lot of people here are time-management freaks. I personally really love punctuality. That's—I think—a very big difference in the way people treat things. People try to maintain things rather than acquiring new ones. This kind of clarity in simplicity is something I deeply admire about Switzerland.
Recently you took part in the One-Million-Run, a Swiss project where the whole country of Switzerland achieved to run one million kilometers within 48 hours. How was that experience for you?
This was a really spontaneous thing. Chris (Trevisan) basically told us the day before that we were going to run for some project. It was a cardio class in fact. We were running all together at the beginning and then at some point I was running alone. Then I switched off the App on my phone and continued running. And I was like: Yes, I did 11k, but then in the end I was told: Only seven of them counted as I had switched off the App. We were running laps around the village and they are around 5,4 km long, at least the laps I am running. And I did two full laps but only 1 1/2 counted. But well, in the end it was quite a lot of running and it was a fun time. It's interesting to see how far people can push themselves to keep running. That was interesting for me because back then I, for example, had just met Alexia (Paganini) and other new people who came here to train in Champéry. I didn't know them at all, and this running together showed a little bit of their character and that was a really interesting discovery for me.
You also took part in several ISU online Keep Training sessions with your coach Stéphane Lambiel, but also with Aljona Savchenko during the Olympic day. How was that experience for you?
I am personally not the biggest fan of Zoom classes. It is perhaps a good thing when you are well educated in body culture and movement. But even if you have a coach, that coach cannot really correct and see you. Of course, during this time these things are great to keep social and to keep moving. However, it does not feel so focused towards developing a very strict culture of body movement. And, as much as I enjoyed it, and it was a great way to see friends and colleagues and stay in touch with the world, I kind of hated to be constantly staring at the screen. I want to see it for real. It's the same feeling that I mentioned earlier about arenas. I want to feel the presence of the people around. It's the same with watching competitions on the screen. I never get that feeling via a monitor. That's why I like living in the present and feeling that energy boiling around so much.
But besides that I had a lot of fun actually. We worked on some of the programs that we keep rotating through all these years, added some things, changed some things. We actually did a very old routine that used to recover me from my injury (in summer 2016). It was a big joy to remember those old days where I had just started in the skating school here in Switzerland.
And working with Aljona was actually fun. After her class I was like "Oh boy! What have I done to myself?"
Oh yes, I heard that from some friends who tried to participate. It was super hard, right?
Oh yes. At the beginning I was a bit cautious. But I really admire her spirit, her energy to push. And she gave me positive energy and emotion to keep going on and pushing myself. When we were doing the workout, I had some technical issues, but we somehow managed till the end and it was a miracle that we still did it, and I am just grateful for her presence. I would definitely do it again.
You have a lot of fans from all around the world. Wherever you perform, there is usually a big group and community supporting you. How does that affect or help your performance on the ice?
Well, this is literally what keeps me performing. I love the great energy, the treatment and the support that I always receive from the fans. It inspires me to actually give something extra. There are different stages: the bare minimum, then there is my standard, and then, when I get this kind of kick from the side, it usually really, really pushes me up. It truly helps me and—what is the most important—it gives me the positive vibes and after I'm done, I don't think: "Okay, done," but instead feel this energy of: "Okay, amazing! Done! Let's do more!" That feeling pushes me further. It makes me want to come back and push myself even more. Personally, that is super important to me. Because that's the way I function best—being positively motivated and willing to break my roof. That is one of the biggest inputs in my career in general. Especially in earlier years when I was skating, my ex-coach said: "Deniss, you never skated your program with that much choreography and energy as during competitions." Now the programs are maybe more precisely choreographed but still, when you know me really well, you will notice that my skating changes a lot depending on my mood. And then, when I re-watch my own videos I can tell when I need to fix something. I do aim towards more consistency. But really, my mood influences me like crazy. And half of the time I'm not even aware that it goes that way. It does makes me improve though. I notice that I naturally did something a certain way and I will try to keep it and do it that way from now on. For example, throughout last season I had accumulated a lot of things. For Worlds I had basically changed my program. I had added so much and I was ready. In top shape and peak and really ready to show off. I took a lot of time to optimize the program. I filled every gap, changed some things, so it was extremely fine-tuned. It was something I was very proud to go for but unfortunately it didn't happen. Just some videos survived.
You mentioned earlier that you had more time for your studies and finished your second year of university. Can you explain a little bit what exactly you're studying and why you chose this field?
I'm studying social skills and management. I do have a good inspiration in this field from the school, looking at Chris and Stéph. In their work I see a connection to my studies, how the real world flows. So that gives me good insights and inspiration about what to write and what to argue about with teachers. The teachers who are coordinating my studies luckily give me a lot of freedom concerning timing and work. They give me the opportunity to work and focus on things that really matter to me. So I can work on things I can benefit from in my current life. For example, first aid, when someone is hurt, you will have to know what to do. To know about this kind of things is very beneficial because the world of sports is full of injuries. Before I had never paid too much attention to these things, but suddenly, being almost forced to learn this, it opened my eyes: "Deniss, why didn't you learn that earlier?" I found out that I could have acted a little bit different at certain points in my life.
Can you maybe give an example for such a moment? Where you could have acted different?
Yeah, once I had an injury where I didn't really get twisted, but I had pain. I believed then that you should not strain the muscle after injury, even though I wanted to heat it up.
But the way the body works, the more you keep moving and staying active, the more it helps your muscles heal. If you stay motionless, it will hurt more at the end. So maintaining normal physical activity is something that—with moderation—could actually shorten time to heal. And I was not following that and over-froze my muscles sometimes. So that's one of the examples where I could have acted differently. Now I actually think I know how to deal with it and hopefully the results will show soon.
How is the long-term plan concerning your studies? Will you have a bachelor's degree after a certain amount of time?
Honestly, I haven't looked that far. Because I have a lot of things going on, I initially didn't even want to study. But since I now kind of got into it, I'm literally doing task-at-hand in order not to get discouraged. Because, if you look far and you see the long road you'll have to take, while your main road is going in another direction, it's tempting to keep it all for later. That's why I decided, I will take only one step at a time and then continue. Maybe I will have to take a detour. But then continue again. So, I'm told what to do, I do my best, get over it, bring good results—I'm pretty proud of my marks—and then keep going.
You also mentioned you were active again in the kitchen and you posted some great-looking cakes on your Instagram recently. Tell us a bit about your latest discoveries and adventures from Deniss, the chef.
Oh, just yesterday I was trying to amaze my dear manager for his birthday. I was trying to make an Imperial Star Destroyer from Star Wars. I had to make a few attempts because I tried to work with ganache to fully cover it with chocolate. Like for Sachertorte. It was my first time trying to cover something fully with chocolate ganache, working with the hot liquid. I was surprised to discover that whipped cream doesn't hold the layers, so I had to improvise since I had no recipe. It was based on my own calculations and I tried to adjust it to my taste. And as usual there apparently was not enough sugar for my dear manager. My way of cooking is trying to do it healthier and it's difficult to please someone with such a delicate taste as Chris.
(He shares some smiles and laughs with Chris who is sitting a few meters from us working on his computer.)
That can be a challenge. Almost everything—not enough sugar, not sweet enough.
And then there was my birthday cake that I made. The medovik cake. (This is a traditional Russian honey tart, Deniss shared a picture of it on his Instagram page.) It took a lot of time to make it. It took me three days: I made it in the evening, I left it overnight; the next day I baked it, I let it rest again until the evening; then I prepared the filling, assembled it overnight; and then it was standing until we ate it the next day in the evening. That was a whole process. And, because I let the dough rest overnight, it became much stronger and more mature and it was easier to work with it. And because I let it stay for such a long time the dough got very hard, basically like cookies. The idea was, the longer I let it stay, just like a good Tiramisu, it becomes softer. In the end the cake turned out well. I was impressed with the result. Because the first time I had tried medovik I had used lactose-free yogurt and it became a real mess. This time I used quark. But well, it was too healthy for certain people again, not enough sugar. I mean, I love sugar. But this cake contains a lot of honey, and I was really afraid to add sugar, because the honey itself gives a strong taste. So, I tried to knock almost all of sugar and sugar powder out in the favor of honey.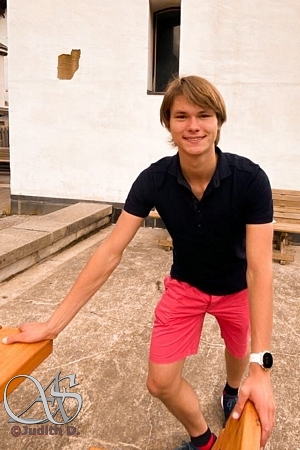 But honey is super-sweet itself, isn't it?
Yes, it actually has more sweetness than sugar. But still, the recipes I saw as initial reference contained three times more sugar, flour, sugar and more sugar, than what I did and still the cake ended up pretty, pretty big. So I was happy about how it turned out. And some people didn't believe that I made the whole thing myself. Because on top there were crumbs that I had to cook extra.
But you're a perfectionist when it comes to baking, everyone should know that by now.
Yes, I do aim for it. If I set my eyes on something, I'm really determined, I will move mountains. I wish that would also be true in certain ways in figure skating. I haven't found the strong enough purpose yet. I'm still in the deciding process on what my acknowledgment of this Corona isolation will be. It's just like this: cooking feels so easy. It's almost effortless. It takes some time, but it's simple. And the tasks that are simple usually are so easy for me. Perhaps only in my mind. Figure skating is far more complex.
Maybe it's because in cooking you see the result faster?
I think it's more in my mindset. That's my biggest friend and my biggest enemy. I hope I will at some point befriend it, and that it will match my desires in figure skating. I believe the results themselves will speak very loudly.
Good luck on that and hopefully we can all see the results soon.
As a last question: Many fans all over the world are sad that they can't travel right now, and they don't know when they will be able to see you or other skaters live again. Do you have a message to these fans who are waiting so desperately?
I know sometimes it's hard to wait when the desire is so strong. But when that moment we are waiting for finally comes, all our patience makes it even more valuable. All the extra time we invest in something difficult pays off in the end. This is my philosophy. Don't go for the quick result, set a long-term goal. You might encounter some unpleasant things along the way, but if you have the power to go through this "swamp" and get to the "dry land", it will feel so much better. So here's my message to all of you: be patient, and the final result will be bigger and more satisfying.
Deniss, thank you so much! We wish you the very, very best for the upcoming season, tons of energy from your fans, a loving relationship with your own mind, and a lot of pleasure and happiness from your various hobbies and interests.