Remembering Denis...
July 19, 2020
Photo © Denis Ten, Anna Bertoloni, Reut Golinsky
"I love life exactly for this - for this fascinating journey, for the opportunity to try out things and not being afraid to take risks. While I'm still young I want to unlock my creative potential... I love stepping into the unknown."
Denis Ten. July 6, 2018
Throughout his skating career Absolute Skating did three very long interviews with Denis, interesting, thought provoking, insightful, and he is definitely the one who should be credited for that. In those 25 years of his unfairly short life he managed to accomplish, feel, think, live through so much more than many of us do...
Denis Ten is growing up
Denis Ten, the leading Kazakhstani figure skater, and I agreed to do this interview before Worlds in Moscow, but since then he was always very busy: competition, shows, work with his choreographer on the new programs, vacation at home to see all his friends and relatives. "In turned out that I travelled around the whole world," he laughs. "From Los Angeles to Moscow, from Moscow to Korea, from Korea to Toronto, from Toronto to Kazakhstan and now back to Los Angeles".
Read about last season and the upcoming one, old and new programs, Stéphane Lambiel, Evan Lysacek and Daisuke Takahashi in our talk, which eventually worked out.
http://absoluteskating.com/interviews/2011denisten.html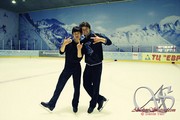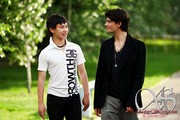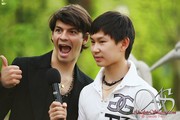 It's an Artist's season for Denis Ten
This time the leading skater of Kazakhstan, Denis Ten, came to the Nebelhorn Trophy in Oberstdorf not with his coach, Frank Carroll, but with his friend and choreographer, two-time World champion, Stéphane Lambiel. As in previous seasons we talked a lot with Denis about Stéphane and with Stéphane about Denis, I jumped at this opportunity to talk to them together. During the practice session both looked very serious and concentrated on their work, but ten minutes later during our interview they were all jokes and laughter, interrupting each other and finishing each other's sentences. You could feel how comfortable they are with each other; and it's always fun to talk to people who are on the same wavelength.
http://absoluteskating.com/interviews/2012denisten.html
Denis Ten: putting everything together
Sometimes you forget that he is only 21. He has been around for so long, he has Worlds and Olympic medals, but more importantly he is such a deep, thoughtful, wise young man that you completely forget how young he actually is. We met with Denis Ten twice this season. First at his home rink in Los Angeles, where I had a chance to glimpse his new programs, still works in progress back then. And then during the rehearsals of the "Ice Legends" show in Geneva, when the season was already in full swing.
This article is a collection of his thoughts, practically a monologue about the Sochi Olympics, his new programs, his own show, his off ice "extracurricular" activities and... the answer to the meaning of life? Perhaps that too.
http://absoluteskating.com/interviews/2015denisten.html