Catching up with Donovan Carrillo
June 10, 2020
By Judith Dombrowski
Photo © Polymnia, Judith Dombrowski, Joy Geurts
Special thanks to Charlie di Oliver for the help with this interview.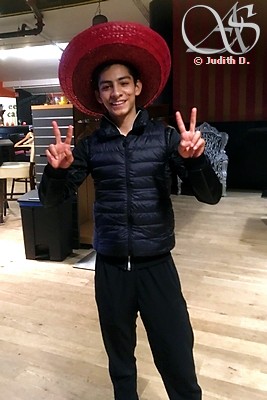 He is one of the shiniest figures in the figure skating world - Mexico's Donovan Carrillo. Always a smile on his face he spreads positivity all over the globe and he raises the number of his fans and supporters every time he steps out on stage. I spoke with him right after his last competition of the season - the Challenge Cup in the Hague - about the season, new goals, the rising popularity of figure skating in Mexico and his favorite gifts from fans.
Donovan, congratulations on making it through the competition with a great short program - and the entire long season. What has it been like for you?
The season was kind of hard. There were some factors last season that weren't helping but in the end I tried to do my best with my whole team, with my coach, with my psychologist, with my therapist, with everyone who helps me to be in the optimal condition to train and to compete. I feel like I accomplished some goals that we made at the beginning of the season. It's hard to always be at your best during the whole season. But that's okay. Sometimes you fall when you need to fall, to try to really evaluate what you are doing wrong and what is not helping you to move forward. So I think now is the time to start thinking, try to figure out the problem and fix it. To have better results for next season.
Despite it being a challenging season, I think the Four Continents went really well…
Yes, it was good. I was not in my best physical condition though and it was hard to perform without the energy that this sport requires. So after the Four Continents I tried to work harder on that to be better here at the Challenge Cup. And I do feel better here; more energy. There was just something wrong in my mind during the competition that didn't let me perform as I would have liked.
Even though you don't seem too pleased, many people are really enchanted by your performances and you made lots of people happy.
Your programs from last season are very contrasting, and still both suit your personality. Did you choose the music and were you involved in the choreography?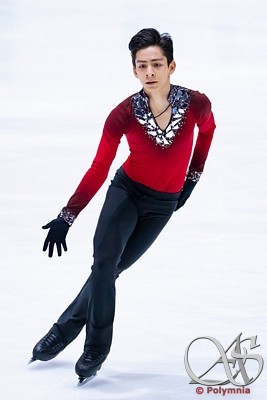 Yes. We always try to find music I match with and I really wanted to skate to this music - my free skate music, "Aranjuez". We found this particular piece two years ago but I preferred to wait until I was really ready to perform to it. Because this music is about love and about passion. I needed to live more, have more experience to perform to this music, so I waited. And now I skate to it and I really enjoy it. I think it's one of my favorite pieces I have ever skated to. But I think it's always good to have new adventures to work with and yes, usually my coach and I choreograph the program and try to do our best. Sometimes we get a little help from some choreographers but we do most parts of the choreo ourselves.
Wow, that's amazing. Your programs really reach the fans and you've become a huge crowd favorite. Can you hear that support while performing?
Yes, yes and it helps me a lot. Because you know when you have mistakes it is sometimes really tough to handle your mind but when the people are supporting you it gives you a lot of power to keep fighting and to do everything you can to do your best even after you have had mistakes.
So as you are clearly very musical and really connected to the music you skate to. Did you always have that within you? Or did you have to take some dance lessons?
Well, yes I took some dance lessons but I think it is something that I am born with. So even before I started to skate - my sister started skating before me - so I watched her from outside and then I started to play some music at home and improvised some figure skating movements. I mean it was nothing but it was just like dancing and I really enjoyed that. So that is really something I connect with the sport because I always liked to dance and to perform and I think this is something that you need to have in this sport.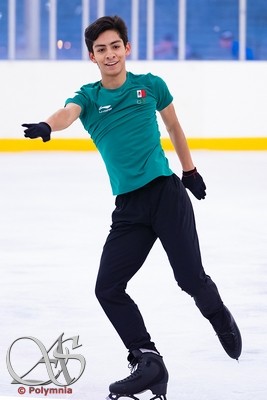 Yes, you definitely have it. What music do you listen to and dance to in your free time then?
I listen to everything. Sometimes classical music, sometimes it's pop, sometimes Latin music. It really depends on my mood.
You are the first Mexican skater with such good results. Do you see an increase of interest in figure skating in your country?
I think it's getting there. I am happy to see I motivate more people to practice the sport even though Mexico is clearly not a winter sports country where it's uncommon to practice skating or similar sports. But I think it's getting there. The media is also helping a lot with interviews and tries to cover the sport more and I think this helps to motivate the younger generation.
Yes, that's great. I can tell from my own experience on the internet, that there are a lot of Mexican figure skating fans that are really passionate about the sport…
Yes, yes, they are really investigating the sport and they investigate the system and just how everything works and now they are big fans. I think if it continues that way figure skating can in some years be very popular even if we don't have many ice rinks or places to practice.
So, going back to the circumstances of you starting skating ..you and your sister were both in the sport, right?
Yeah, but she started before me. I was still in gymnastics at this point and in diving so it took me one year before I also tried it and once I tried it, I loved it.
And then once into the sport, did you both follow figure skating when growing up? On TV? Did you have any idols?
It was actually hard to follow it because in Mexico there aren't channels broadcasting so we always needed to find videos on YouTube. At that time it was Plushenko, Patrick Chan and many others… also Sasha Cohen… these videos really motivated us to practice more and train more.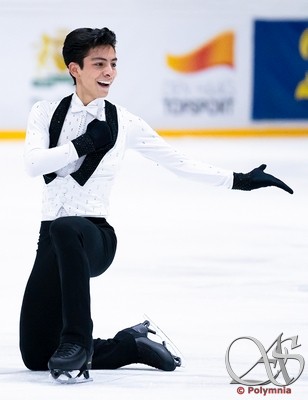 I read that you also said once you looked up to Javier Fernandez…
Yes, he is one of my biggest idols because he also came from a country where the sport is not that popular and he accomplished big goals and big things and he made Spain really proud, so yes, he is one of my biggest inspirations.
At your last interview with Absolute Skating you had yet to meet him. Did you have the opportunity?
Yes, yes I had the opportunity. He is a really nice person and I really hope I will have the opportunity to maybe work with him one day for example for an exhibition. That would be a total honor for me.
As Javi is an idol to you, you are also an idol to many young skaters from smaller skating countries. What advice do you have for them?
I would say no matter what the circumstances might be, you always have to work hard and never give up because in every sport every athlete has to fight and work hard for their dreams. So don't let anything around you block you. Just fight for it.
When you decided to take on figure skating as a professional career, what was the reaction of your family?
They were always really, really supportive. Both of my parents are physical education teachers so they always pushed us into sports and to practice any kind of sport and they also really love figure skating so they were really, really supportive.
Do they also travel with you some times?
It's hard for them as they have to work and it is also really expensive. I have so many competitions over the year but I hope that they can travel with me in the future.
Do you sometimes miss home when you're competing?
Yes, totally. Even when I am training. I train in Leon. That's another city a bit further away from where my family lives, and so I don't see my family very often because of training and that makes me a little bit sad. But I try to be in contact with everyone to not miss them too much. Sometimes it is hard. I think every athlete has to deal with this. But in the end when you compete well and you have the results you expect, all the effort and all the sacrifices that you make are all worth it.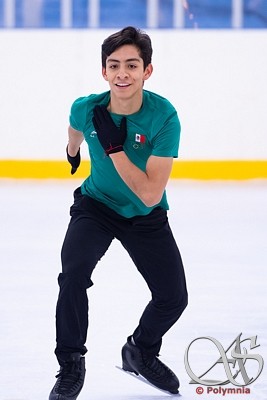 As you traveled a lot, what was the most beautiful or most inspiring place you've visited so far?
I think one of my favorite experiences I had was in Japan in 2016. The people there were really supportive. And everything there, the food, all the places were just really nice so I can say that that's the country I liked most.
As your season is over now, do you have any plans for the off-season, maybe also travel-wise?
I think I will maybe take a break of a couple of days but the big plan is to get more into training, work more and to get ready earlier in the season and to try to accomplish all goals that I couldn't achieve in this season. So that will hopefully be fun. I know it's going to be a lot of work to do but I hope to have a new opportunity to start all over again.
…to also get your mental stage back on track…
Yes, exactly. It should be a good fresh start.
So, what are these goals then for next season?
Definitely trying quads internationally. I do land quad toes in practice but I decided with my coach not to put them into the programs yet because we are in the process of making them consistent but I think we will hopefully add them into the new programs and I will try them internationally.
You succeeded with the triple Axel, so I am positive it will be the same with the quad.
Yes, well it's another big step but I always want to push myself to accomplish new goals and get better.
What is your favorite jump, element or move in figure skating?
I think it's really now the triple Axel. It's one of my favorite elements.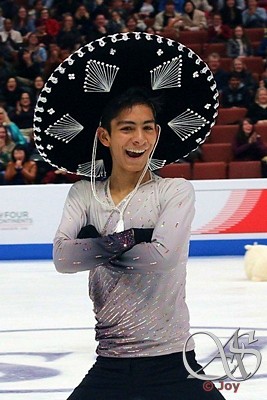 As we know you have quite some fans and supporters out there. What was your favorite gift or fan moment you had so far?
I think the sombrero that I got at the Four Continents last year was the best and also most surprising gift that I ever had. My performance that day was one of my worst ever in my career, but when I saw the sombrero on the ice that was amazing and everything changed. It turned me into a new Donovan after the performance. So I put it on and skated a lap for the photographers and that was just amazing.
Yes, I remember these pictures that went around the world. And you also got a nice sombrero today.
Yes. This one is red. It's great. I love red. (Pictured in the first photo-ed)
So, I guess your sombrero collection will grow for sure. Do you have any favorite animal? So that fans know what plushies to buy?
I have to say I really like superheros. My favorite superhero is Flash.
Okay, I guess you can expect to get some in the future then.
As a last point I want to read something out that a fan wrote to me on Instagram when I announced earlier today in my stories that I would interview you. That person wrote: You are amazing. Thanks for being so wonderful. You make all Mexicans proud.
Thank you so much. It's a big honor for me to have all these fans and all these people supporting me. This really helps me to fight for my dream. You have to have people like that in your career to make you better. This really inspires me to be better.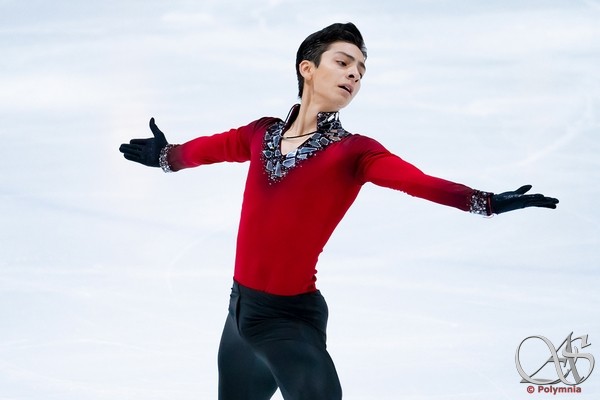 Thank you so much. Good luck with all your goals and have a wonderful, inspired off-season.