Getting to know Emily Bausback
April 6, 2020
By Judith Dombrowski
Photos © Polymnia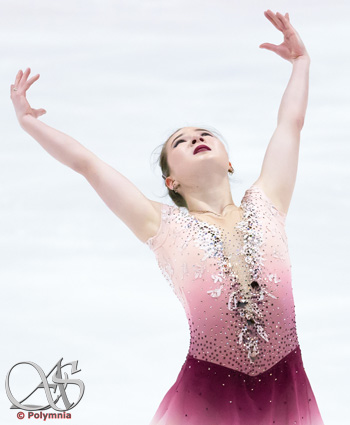 Ahead of the season, 17 year old Emily Bausback from Vancouver dreamed of medaling at Senior Nationals and making Canada's Junior World team. Half a year later she finds herself the newly crowned national champion of Canada and with a spot to represent her country at her home World Championships in Montreal.
To assure that spot Emily needed to reach her short program minimum at the Challenge Cup in The Hague. The moment her marks and the magical number - 31,50 TES - popped up, Emily jumped up and down with joy. It was definitely one of the more special moments of the tournament.
Right after the Challenge Cup, we had an interview about her unexpected development of the season, her music choices and her life and interests around figure skating.
[When this interview was taken, everyone still expected World Championships were to be held. I contacted Emily again after Worlds were cancelled due to the coronavirus crisis. Her later added answer is marked as such.]
First of all congratulations on a really successful season so far and making the Senior World Team. As far as I know, ahead of the season, it had been your goal to compete at Junior Worlds. Can you describe how the season developed for you?
The momentum of my strong domestic summer competitions carried into the fall through my JGP in Lake Placid as well as the CS Warsaw Cup event. Delivering my free skate at Nationals to take home the national title was a huge victory for me knowing that my successes and training in the seven months prior to this was worth it. Initially at the beginning of the season, my goal was to podium and achieve one of the two spots for Junior Worlds. As the season progressed, my goals were altered, and I became more interested in competing at the Four Continents and potentially the World Championship.
After becoming the Canadian senior champion you were still missing the senior TES minimums to go to Worlds. I guess that put you under quite some pressure. How did you handle the situation and how did it feel when you saw the SP scores were high enough at the Challenge Cup?
There was a bit of pressure to re-achieve the senior TES minimums as the newly crowned Canadian senior champion.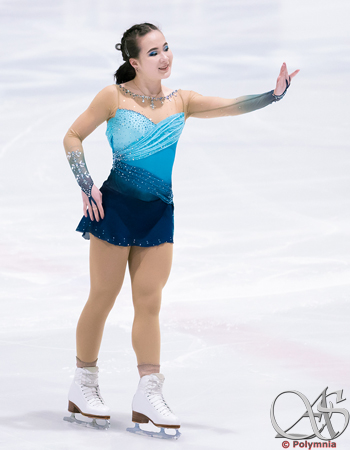 It was a new feeling for me, to carry this honor of being a champion, but not being able to fully enjoy the excitement as the future of my season relied on this target of obtaining the TES in the short. Regardless of the pressure, I had this internal desire to achieve the TES in order to consider representing Canada at Worlds. When I saw that my technical score exceeded the minimum requirement after my short program, I felt ecstatic and thrilled.
What is your goal going into your first senior Worlds?
My goal at my first senior Worlds is to make the final cut after the short program and capture the audience's heart with my free skate. I want my skating to show that I deserve to compete with the best skaters in the world and that I represent my country with pride.
[Update:] Very unfortunately, Worlds didn't take place this season due to the coronavirus crisis. I am sure you would have represented Canada greatly. Can you share your thoughts about the cancellation and your experience of the last few weeks?
I was very upset when I found out that Worlds were cancelled, and I imagine all the athletes feel the same way. I think many of us knew that there was a possibility of the championship being cancelled, but that didn't make the news any easier to break. The Canadian team and I are devastated by this unusual circumstance however stopping the pandemic of COVID-19 is vital. I have time now to process my season and think about my goals for the upcoming one, which I have big plans for!
You skate your free to the music of the movie Titanic , "My Heart Will Go On". What does that movie mean to you and why did you decide to skate to that music?
"Titanic" in my opinion was a phenomenal cinematic piece. I believe, in addition to it being a moving romantic story about losing the love of your life, it's also a tale about letting go of the past. I remember immediately falling in love with the cover of Celine Dion's "My Heart Will Go On" by Julia Westlin when I heard it for the first time. Skating to this music is freeing; letting go of the past and moving on is something we all conquer daily, like Rose in the movie.
Speaking of music, is there any piece of music you dream of skating to in the future? Or any specific plans for that already?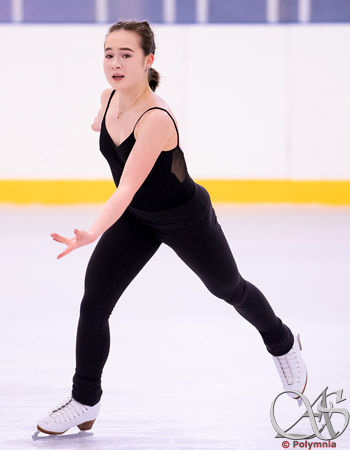 I haven't begun the search for new music pieces yet, but I can tell you that I would love to skate to an upbeat joyous program where I can broadcast my smile and share my happiness with all those watching.
Can you describe how you got into figure skating as a child?
As a child, I was introduced to numerous sports. Following in my father's athletic past, I found myself most interested in golf and ice skating. Something about gliding three meters by a single push appealed to me more than shooting golf balls onto the putting green. I did learn-to-skate for a couple years before trading in my hockey skates for figure skates. From there, I never looked back.
Did you follow figure skating on TV or even go to competitions growing up? Who did you admire?
I followed a bit of figure skating growing up, but the most memorable was the 2010 Olympics in Vancouver. I remember the excitement of having the Olympics in my hometown, and the most inspiring moment was watching Joannie Rochette's heartwarming performances and earning a well-deserved Olympic medal. I still look up to her, striving to one day match her presence and grace on the ice in addition to her athleticism.
You're 17 years old... Do you still go to school? How is your life organized around figure skating?
I still go to school as a full-time athlete and I'm on track to graduate high school this June. It's not easy juggling school and skating, however I only have to put up with it for another couple of months! I do plan on attending university when my skating career settles down. My weekends are primarily for homework, but I do make time for my friends and family.
Do you have time for any other hobbies or sports besides figure skating?
I am lucky to have the opportunity to visit new countries in figure skating, so traveling and sightseeing are two of my hobbies. I also enjoy writing poetry and baking healthy treats. When my season winds down, I would like to take up golfing again with my dad during the off-season.
To get to know you a bit better personally I would like to finish with a few rapid "favorite" questions. Let's start.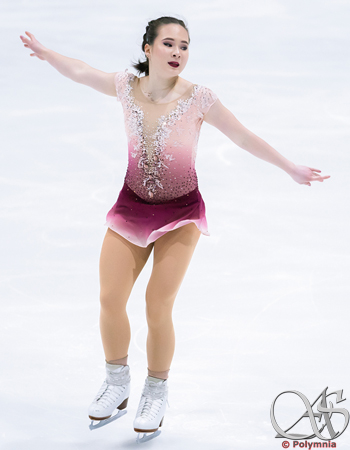 What's your favorite color?
Pink.
Favorite food?
AƧai bowls.
Favorite element in figure skating?
Triple Lutz.
Favorite country to which you have traveled?
Japan.
Favorite skater from another dicipline?
Yuzuru Hanyu.
Favorite singer / band?
Tyler, the Creator and Saweetie.
Favourite subject at school?
Human Biology and English.
Favourite animal?
Ducks.
Emily, thanks a lot for sharing your time. It was a joy seeing you skate live at the Challenge Cup, I am really sorry that you weren't able to make your debut on the Worlds stage as planned. All the best for the upcoming hard time and best of luck preparing for the next season!