Charlene Guignard and Marco Fabbri: "Ice dancers must be mentally very strong"
August 3, 2020
By Titanilla Bőd
Photos © Joy, Mireille Geurts, Titanilla Bőd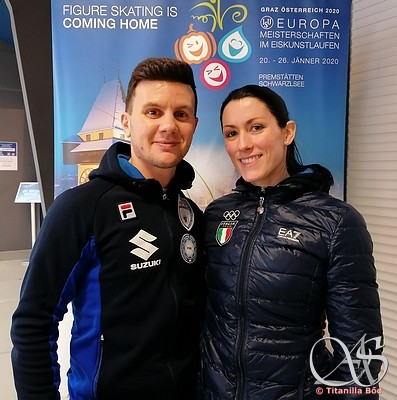 They were the unlucky ones waiting on the ice at the Europeans in Graz when the drama of the free dance unfolded. While the crowd was still in awe because of the defeat of the invincible French duo, Italians Charlene Guignard and Marco Fabbri managed to keep their focus and their David Bowie free dance was a worthy finish to a memorable competition. On the day of the exhibition they shared their feelings and thoughts about the long wait, his hand injury, their programs and more.
You placed 4th in Graz at the Europeans. Are you satisfied with your result and performances?
Marco: We are quite satisfied, but not fully. In the free program we could have performed better, but it wasn't an easy situation. We were skating last in the group and then there was this technical problem, so we had to wait almost ten minutes before performing. We didn't know when we could start to skate, so we didn't know what to do. If we had known we had to wait ten minutes, we would have done something else instead of just walking around and waiting for the speaker to call us. But overall it wasn't a bad competition, and as I said many times it's been a tough season for us, because we had to manage my hand injury. We didn't want to miss the first part of the season, but this way we didn't have time to make the adjustments we usually do before the major events.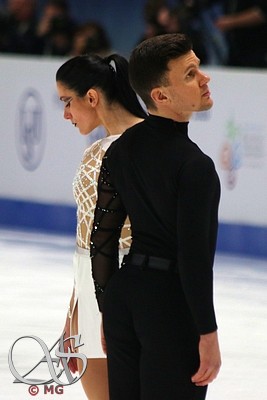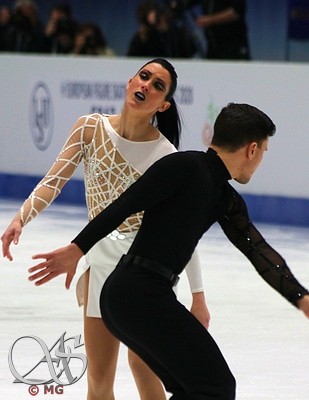 How did the long wait before your free dance affect you? Have you ever had to wait for such a long time before you actually got to skate?
Marco: Not that long.
Charlene: Last year at the Grand Prix in Helsinki we had to wait a little bit, because they played the wrong music at the beginning of the short dance, twice. But then you get called immediately after that, so it was shorter. And it was before the short dance, so it was different.
Marco: The problem is that you keep this stress, this adrenaline at a certain level before your competition and if you keep this adrenaline too long, you feel your muscles more contracted. I know it sounds weird, but you relax a little bit more when you start your routine. But until the music starts, you are nervous, more in tension and you try to keep this adrenaline. It was hard physically also, not just mentally. There was a weird atmosphere before our performance and the way the crowd reacted to the scores of the French team was also a little bit weird. It was tough physically too, to manage this long wait.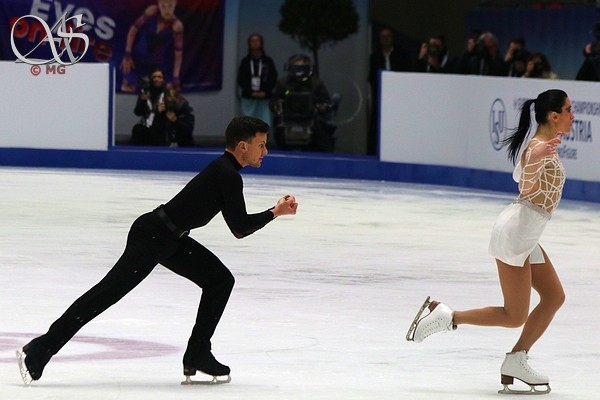 If you noticed the crowd's reaction, you probably realized what happened…
Marco: Yes, we realized the results.
Charlene: And thought: ah, okay.
If skaters don't start their routine in the given period of time, they get a deduction, but you were the ones who suffered because of a technical problem…
Marco (with a laugh): So we should have got a bonus!
How did you feel on the ice when you finally could start your program?
Marco: Somehow we managed to keep the right focus. Of course at the end we were a little bit tired, so some elements in the second part of the program were maybe not as smooth as they could be, maybe we lost some technical points on it. But we concentrated, we kept our focus on our routine; I think we managed the situation quite well.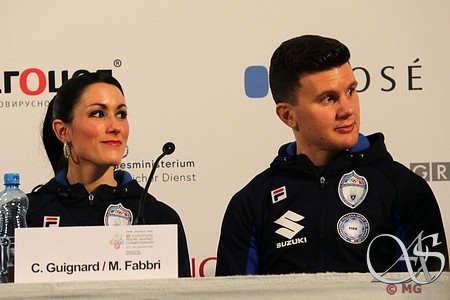 Last year you were bronze medalists. This year you were 4th. Is it a disappointment for you?
Marco: Last year we went home with the bronze and this year we just got the small medal [for third place in the short program]. Of course, there is some disappointment, because nobody wants to get worse results than in the past. But again, we didn't come here this time thinking a lot about the result. We know that especially in ice dance in order to get a medal you have to build your season. This year the first part of the season was not very good for us because of my injury. It's been really hard. Actually we were quite surprised to be rewarded like that in the short dance. Not because we think we didn't deserve those points, but we didn't expect to be third, considering that the other couple, Stepanova and Bukin didn't make mistakes in the rhythm dance. So we were quite surprised. Of course we are not very happy with the points we got in the free. I think the bronze medal was deserved by the Russians, but maybe not by seven points in the free dance. I made a small mistake in the diagonal step sequence that cost us some points, we didn't skate perfect, but I still think seven points was too much. But we think the result was fair, so we are not complaining about it. Also because we were not 100% ready. It wasn't like in the last season. Then we were consistent from the beginning and built that medal at the Grand Prix Final and Europeans. This year every competition was a struggle, a fight, because we had this handicap.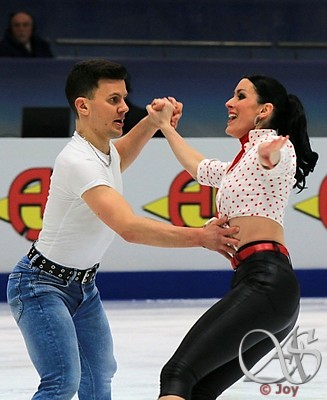 How did your hand injury affect your everyday work?
Marco: It's been the first major injury we have had in our career, we've always been quite lucky. But this was pretty serious. It didn't prevent us from working physically, so we could keep quite good physical condition, the problem was that we couldn't work on all the elements that were still new at the beginning of the season. Usually you do the first competition, there are feedbacks and then we have one month or even more to work on them and make changes. This time the injury happened right after the first competition, so all the work we did were adjustments to at least perform the element and not to lose many levels, because we knew we couldn't do it with level 2s or 3s In ice dance it would be game over. We spent a lot of time to make adjustments, but we never really worked on improving the elements, because we couldn't. For almost two months I couldn't use my hand, literally. For one month I had this sort of protection, that didn't even allow me to bend the wrist. Then when I removed it, I got a smaller protection and it still didn't allow me to use it fully. It took almost two months to be able to use my hand almost completely, but then I had no strength, so overall it took three months. I started to feel my hand quite good after Nationals, so one month ago. It's been a long recovery and we couldn't work on the elements to improve them.
Were you also thinking about withdrawing from some competitions because of the injury?
Marco: Even if a lot of people don't know us personally, we are fighters. We never missed any competition because of a minor injury or any other reason. As we were getting closer and closer to the first Grand Prix, we could see that we could perform almost all the elements. Differently, maybe not in their best version, but we were somehow able to compete. We didn't want to miss the first part of the season. It would have also cost us world ranking points, it would have also had other consequences for the future. So we decided we are not in that bad condition.
Charlene: We said we can try and we will see.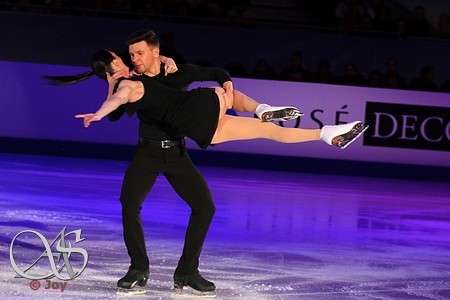 As you said, in ice dancing you have to build those medals, and even if we take not just one season, but a whole career, if you are not Papadakis/ Cizeron, you have to climb up to the top slowly, step by step. Isn't it frustrating sometimes?
Marco: Sometimes it is, for sure. I think ice dancers must be mentally very strong. In single skating there are also ups and downs, but you know that it always depends on yourself. While in ice dance, even if you deliver your best performance, even if the ISU tries to make it more objective, there is still a huge degree of subjectivity. If you fall on a jump, it's obvious. The rule says it's minus five [GOE], so it's going to be minus five. But in ice dance for some judges – who are also human, so it's understandable – maybe an element is particularly well executed or particularly interesting or particularly smooth, while for another judge it's statical in the position or not as smooth… There is still a huge subjectivity in our sport and you don't always get what you expect. Sometimes you get more, sometimes you get less, but you never know what to expect. So this is the toughest part. You skate for yourself and of course the result is not the most important thing, because you have to do the best you can, but this is hard. You are going to competitions and you never know what you are going to get, and it doesn't depend only on your performance. Also in this competition, Gabriella and Guillaume didn't expect they would be second, because they didn't make a major mistake. Maybe they didn't skate their most perfect programs, but so far they had no rivals in the last couple of years, except of Tessa Virtue/ Scott Moir.
The French team was so dominant in Europe, it seemed that nobody could get even close to them, and they were still defeated by Russians Viktoria Sinitsina and Nikita Katsalapov. What do you think about this result?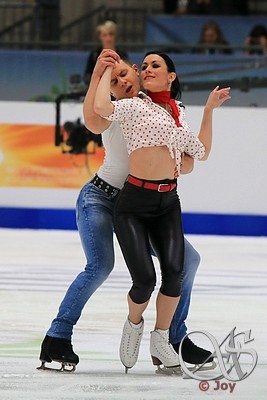 Marco: Personally I didn't expect such a fast change, such a fast surprise. Usually in ice dance in order to see things changing you have to wait a longer time, not from one competition to the other. Viktoria and Nikita are great skaters, they have the potential to fight, but as they were not so consistent, they were alternating good competitions and competitions with mistakes, and the judges never gave them the credit they deserve. It's the same for us. Last year we were consistent throughout the season, so we got certain results. This year we couldn't be that consistent so here at the Europeans it was tougher than last year. And I think it was somehow the same for Vika and Nikita so far. So I wasn't expecting such a fast change, such a result, not immediately. But this is also beautiful and interesting for our sport to know that there is a fight also for the gold medal and not just for the rest.
This season you have very characteristic programs to iconic music: rhythm dance is to Grease and the free dance is to David Bowie's Life on Mars and Space Oddity. Can you describe your connection to these programs?
Marco: In the free dance we wanted to find some music which was quite popular and quite well known, but not a recent, modern song, but maybe from the 70s and 80s, that allows us to show our best qualities and skills – that we are fast, we have a lot of energy. We also wanted to give sort of an idea to the program, the idea of the space, also in terms of costumes and make up. We wanted to characterize our program this way. As for the short program, we had different music at the beginning of the season, which was Paramour, a less-known music, and that was the problem. At the beginning of the season we were thinking what we were going to choose: something popular that everybody knows or something less known? Paramour is a musical from Cirque du Soleil, the only musical they made, it's from 2016. We had the same feedback from the first competitions: "Yes, it's nice, but..." There was always a "but", that the music is not popular, and maybe with a more understandable music it would be better. When a lot of judges are telling you the same thing, it would be stupid to continue on your path. So after the first Grand Prix we changed the music. We didn't have a lot of time, because I was also in the middle of my injury... It's been really a crazy season. We decided on music we used already a few years ago, when the short dance was the Midnight Blues. But we chose different songs, that time we used the music Olivia [Smart] and Adria [Diaz] are skating to this year. So we chose a different music, to create different characters, different costumes also, but we already worked on these characters. I think this decision is paying off, because we got good points for it and it's more enjoyable and funnier for the audience.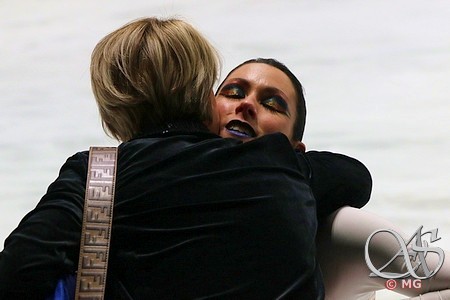 You mentioned the make up and the costumes for the free dance – how did you come up with these ideas?
Marco: David Bowie was a performer of many looks and we wanted to choose something very particular and futuristic. We looked on the internet at many pictures of makeup, costumes from catwalks… We found an idea for a costume Charlene wears, the upper part was the idea we developed. Charlene also found inspiration for the makeup, which is very modern, aggressive as well, because it really has to be evident. Internet is very good for these things.
Do you have any favourite program of yours?
Marco: Definitely. My favourite program, in terms of emotions, is Schindler's list from the 2016 season.
Charlene: It is the same for me.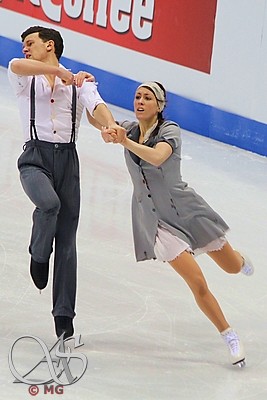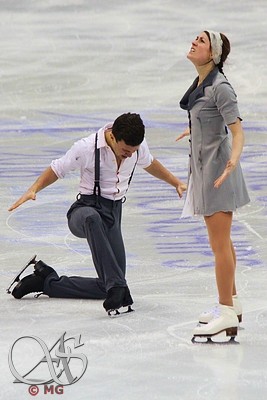 Marco: It was very emotional. It was the season that allowed us to pass from a certain group of skaters to another one, it was the first time when we reached the top ten at Worlds. I have very good memories of this program. I also like the Muse program from the 2018 Olympic season. I know it's weird to say, because last year we had a very successful season. You know, at the end of the season you want to change every program, because you work on them so much, you do them so many times at the pratice. But there are some programs that you don't really want to change even at the end of the season. And Schindler's list and the Muse program were two programs I was not tired of. But La La Land last season… It's a musical, it's a little bit more fake, it has less natural emotion, more like built emotions, so we got a bit tired of that. As for short dance, the tango from last year was something I really enjoyed the entire season.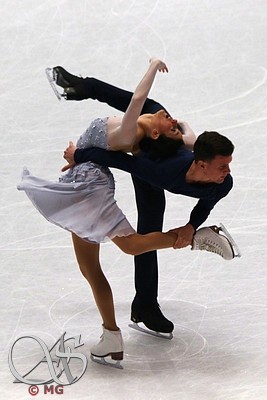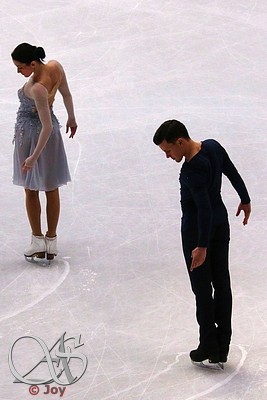 Muse
As ice dancers, in the rhythm dance you have to stick to a given theme, you can't choose any music you want. How can you cope with that?
Marco: It's hard, because sometimes there are some rhythms you don't particularly like, but you have to do them. Some music you like more, some music you like less… Somebody may love Latin, but I personally don't like Latin that much. Not because we are bad at Latin, but already after two months it's a little bit boring. But for some skaters it might be the best. We, on the other hand kind of like Waltz, it's more classical, but we like skating to it. It's very personal, but every year you have to try to give the best version of that music.
What are your goals for the Worlds?*
Marco: This season has been tough, so we just want to improve what we were doing and to skate two clean programs. We never have goals in terms of results, we don't want to think of the results. If we get a good spot of course we will be happy, but the important thing is to perform well, to have two good routines and to end the season better than it started. In terms of the results it's been a not a bad season, we got two bronze medals at the Grand Prix, we won the challenger series, but it's been hard mentally with many obstacles. So we just want to finish the season better than it started and have good energy for the next season.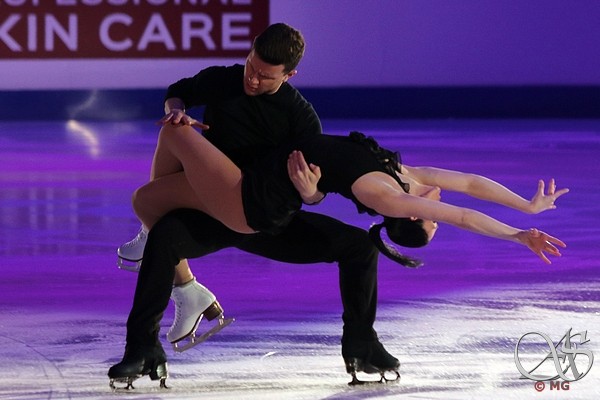 * Interview was taken before the COVID-19 Pandemic & the subsequent cancellation of Worlds