Matteo Rizzo: "I will always try to improve myself"
July 6, 2020
By Titanilla Bőd
Photos © Joy, Mireille Geurts, Reut Golinsky, Polymnia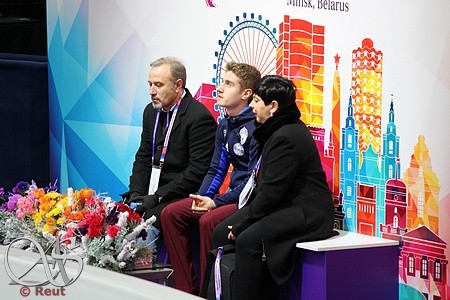 After last year's bronze medal he finished fifth at the Europeans in Graz, but he says he has earned а lot of experience. He is confident but down-to-earth, aware of what he has to do to achieve his goals. Matteo Rizzo of Italy shared his thoughts about his expectations before the Europeans, cooperation with Brian Orser, programs and more.
What was your mindset coming into the Europeans, considering that you were one of the favourites and were even featured on the official poster of the event?
It's always a very complicated situation when you are one of the competitors that could be the winner. It's always great, because that means you are a very strong skater, but there were so many talented skaters that could have won this competition. I'm so happy for Dmitri [Aliev] because he is my very good friend. My mindset was just to come here, trying not to think about the win, just go and skate how I can. I made a few mistakes but that is not really important. Fifth place is okay, and I'm sure next year will be much easier, because every time I learn from the competition and it's always an experience.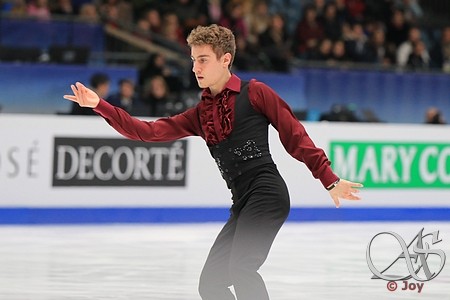 When Javier Fernández was still competing, everybody took it for granted that he would win. Now, as he has retired, were you thinking about the fact that the spot was open? Was it any different when approaching the competition?
Yes, it was different because you knew there was going to be a new winner of the European Championships. It could have been me, it could have been Dmitri, it could have been anyone. Five or six people could have won the competition. Without Javi, I'd say I lost something, because I was his friend, I admire him.
After the last year's medal you probably hoped to be on the podium again. How do you feel about the fifth place? Are you satisfied or are you a bit sad about the result?
Of course when you win a medal, next year you want to do better, but it doesn't mean that you have to do better. Last year I had nothing to lose, I was coming to the European Championships as a competitor not fighting for a medal, in my mindset I was just focused on my skating. To come here with a medal already in my bag, and to possibly add another medal this year, of course it was a different approach. I can say it's very complicated, but this is experience. Next year, if I'm again one of the competitors for the medals, it will be much different in the preparation, because I already know what my feelings would be.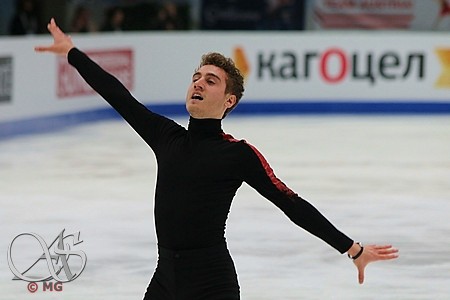 What was the hardest moment for you in Graz?
I can say the short program, because I skated at the end of the competition, I was the last one in the group and it's a lot of time to wait. In that period of time you think a lot, so it wasn't easy. It was maybe the first time in my life that I was so nervous before my skate, but that is experience. Everyone could be in my spot, to be last in the group, and at that time it was me. I just had to skate the best I can.
Do you have any special technique how to not overthink when you have to wait for so long?
No, I just try to keep my body warm, because my body is like a machine, it has to be warm to perform. I just think about the temperature of my body.
You had a very successful last season. You got a bronze in Minsk at the Europeans and then won the Winter Universiade in Krasnoyarsk. Has your life changed somehow since then?
No, I'm always the same guy I was last year or ten years ago. My way of thinking is always the same, whether the results are better or worse, like this year. I'm growing up, but I'm just 21, I have so many years ahead of me, so I'll do my best to achieve my goals.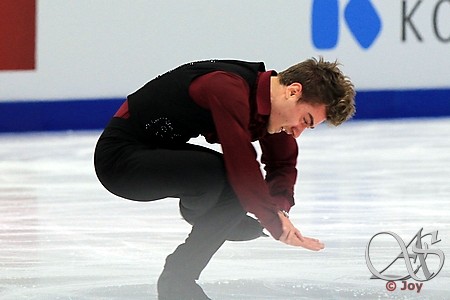 But probably you are more known as an athlete now, the interest of the media and the fans is bigger…
What's around me, that's changed, but not me. There is media interest, lots of people around me, asking questions, because you are getting to be one of the good athletes of the sport. But as for me, I haven't changed, I'm always the same. People who know me can confirm this.
If you can pick one moment of your career, what was the highlight for you so far?
The right moment was the short program last year at the World Championships in Saitama. It was a great experience, I skated one of the best programs of my life. The audience was really special, because I feel the arena a lot when I'm skating, and I like big arenas, so that moment was really special for me.
And if you have to choose one of your medals, which one is the most valuable for you? Bronze from the Junior Worlds, gold from the Universiade or bronze from the Europeans?
European Championships is always the most important of these three, but a gold is always a gold. At the Universiade Games I skated two clean programs, it was a very good competition, I enjoyed the time there. So, a gold medal is always a gold medal.
In the summer you were also working with Brian Orser. Can you tell us something about this cooperation?
He is a really good coach. I enjoyed working with him and I'll probably go back to practice with him if he allows me, because I know he's always all around the world with his skaters. The group is very nice, they gave me a lot, so I try to keep everything until the Olympics. As an athlete you always think about the Olympics but there is still so much time till the next Games.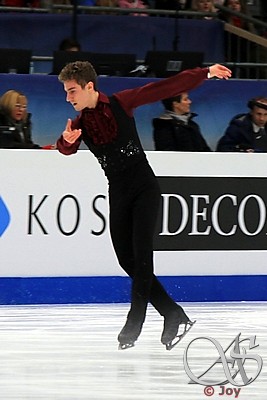 What did you focus on while working with Orser? The skating skills, the jumps?
No, when you go to a new coach you just try to take what he is giving you. You have to be open, do what he says. Sometimes it's something new, but sometimes it's something that you know already. The most important thing is to have a feeling with a coach, and I feel that I can work really well with him.
Are you considering moving abroad for a longer time?
No, no, I enjoy my time in Italy, I enjoy my time with my coaches, Franca [Bianconi] and my dad, Walter, so I will not be living out of Italy for a longer period of time. But for a few weeks a year it's a good idea.
Sometimes it's not easy when the parent is also the coach. How does it work for you and your dad?
For me it's regular now, my dad has always been with me. It doesn't really matter to me. We spend a lot of time together, but at home he is my dad and at the ice rink he is my coach.
What do you think about the increasing number of the quads in figure skating?
I've always had the feeling that I'm not a jumper, I'm a skater, but this sport is going to jump situations. I will try my best to learn not many quads, but just a few that permit me to achieve my goals. I feel that I'm good with my skating and I love to skate. Quads are important, but you have to know how to skate and how to be on your feet.
What do you think, how many quads are now needed to win a competition?
It depends on the skater. If you know how to skate, like Dmitri Aliev—he did three quads here, but he could've won with one. If you are a good skater, you just need one or two quads, of course in a European Championships. If you are struggling a little more on the skates, maybe you need more quads, but that's not the point. The point is that we are all different, all the skaters know what they have to do. I would like to have one or two quads, maybe, to achieve my goals.
Do you have a favourite element?
The triple Axel is my favourite jump, but also the loop. I've landed a quad loop, but I know it's not my competition jump, because it's very different from all the other jumps. The toeloop is the way to the quads, and maybe one more, like Salchow. I will try and we'll see.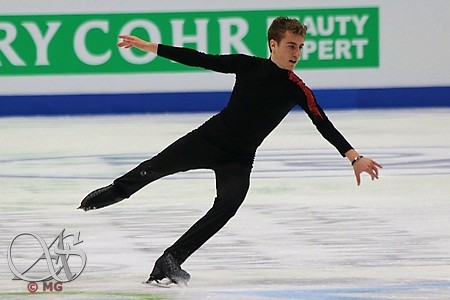 Is it much different from a triple, to do a quad?
Yes, it's a lot of work. We say it's just one rotation, but it's much more, it's a lot of work. Our sport is a lot of technique, that's maybe why it's so hard to understand on TV, it's very technical. But from a triple to a quad there is a world, as we say in Italy, there is a sea between these two.
Figure skating is not only about technique, but also about art. Your short program is Start A Fire by John Legend and your free skate is Galicia Flamenca. What do you want to express by these programs? Is there any story behind them?
No, there are no big stories. In the short I was trying to do something new, something different from the usual. In the free, I chose flamenco style, because I like it so much, and also because my idol, Javier, did such a good flamenco program. I never do stories in my programs, I just try to skate to the music as I feel it, and with my choreographer we build the program.
Last year with your Queen free program, you had a great moment with it in Minsk.
Yes, it was a great moment, but there was no story. I just skated to that music because I liked it, and that's the most important thing.
Italy has very strong competitors in men's skating now: Daniel Grassl and Gabriele Frangipani also skated very well in Graz. How does it feel to belong to such a team?
Thank God we are now three good competitors, because usually Italy was not so strong in men's figure skating. Now we are one of the best countries, because there is Russia that brings more skaters [to the Europeans] and then there's Italy. So it's very good. I feel the movement in Italy is getting bigger in men's skating, because of my results, Daniel's results and Gabriele's results. Everyone is working for our country.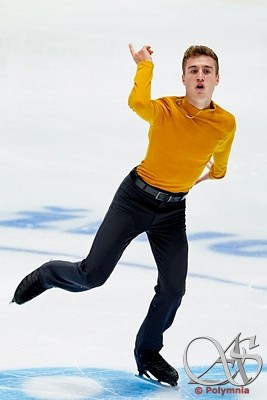 I remember that in the team event in PyeongChang Italy was fighting for a medal and you skated very well there. I wrote to a friend: "This team event is very good, because look, Matteo Rizzo is fighting for a medal!" She wrote back: "But you'll see he will be fighting for medals in singles soon." And she was totally right. How have you improved since PyeongChang?
I improved as a person because I grew up. Two years are actually a long time. But yes, team event was a very special moment, because I was the youngest skater in the team, and I skated my best. I had to do my best to fight for the medal, so I did my job. It was a different moment from now. I'm a different skater now, I have more consistent skating skills, more consistent jumps, but you always have to work until the end of your career. I will always try to improve myself.
Do you sometimes dream about figure skating?
No, figure skating is now my job. I have a life outside of it. You can't think about your job for 24 hours a day, but it's a very important part of my life.
So how do you relax?
I watch many sports, like Formula One, I stay with my friends, family, mostly with my girlfriend. She gave me a lot of support here in Graz. I try not to think about figure skating, not because I don't want to, but because I have to take it out my mind a bit.
As for Formula One, who is your favourite driver?
Ferrari, of course, is the team I prefer, and Charles Leclerc is my favourite driver. I've been watching the races since I was a kid. My grandfather watched it every time.
Is there any famous person whom you would like to meet?
No. I know that if I have to meet somebody, I will meet him.
What is your biggest goal as a figure skater?
Like here in Graz, it's to be one of the fighters for the very important medals at the World Championships and the Olympic Games.