Meet Ekaterina Ryabova
January 21, 2020
By Reut Golinsky
Photo © Reut Golinsky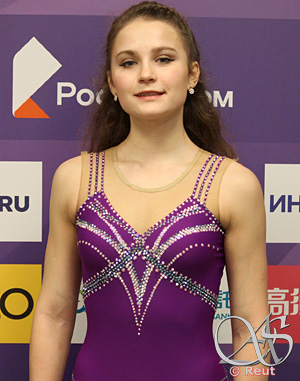 Ekaterina is a Russian-Azerbaijani figure skater who made her international debut for Azerbaijan in September 2018 at the ISU Junior Grand Prix. She represented Azerbaijan both in juniors and seniors, ranked a surprising 7th in the short program at the European Championships in Minsk, placed 13th at her debut senior Worlds and fifth at her debut senior Grand Prix, the 2019 Rostelecom Cup. Most recently Ekaterina competed at the Youth Olympic Games 2020 where she placed 8th.
We met a few times throughout this season and had a chance to discuss her programs, her season so far, her life off the ice and more.
Let's recall your previous season first. It was very bright but intense for you, as you took part in both junior and senior championships. How do you recall it?
Last season was so hard for me that I got sick the moment it was finished. Of course, it was thrilling and at the same time delightful that I could represent Azerbaijan, that I had this chance to prove myself at the international stage. And I'm very grateful to everyone for this.
Your junior competitions at the beginning of the season were also your very first international competitions, right?
Yes, my first event was Junior Grand Prix in Kaunas. And I was really nervous, didn't skate the way I wanted, but I still had a lot of positive emotions after this competition.
After that you've won a senior event in Minsk, the "Ice Star". How unexpected was this result for you? And why in general did you decide to compete both in juniors and seniors that season?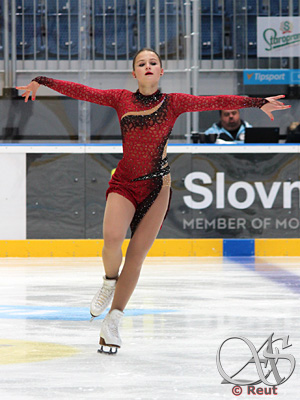 I was given two Junior Grand Prix events and I couldn't really decline them; it would have been wrong to do it. And I went to the senior events to get points and higher rating, to get into stronger warm-up groups at Europeans and Worlds.
Minsk was right after my Junior Grand Prix event in Ljubljana. I caught a cold there and, while still having cold, came to Minsk. So, I decided to make my free skate a bit easier, kept only one triple-triple combination, because I knew I wouldn't survive till the end of the program otherwise. But my short went quite well, although there were some mistakes, and with the free skate I knew that if I skate clean, I have a good chance to be on the podium. When I finished first, I was happy. (smiles)
It was probably a good preparation towards Europeans at the same arena.
Yes, with my father and my coaches we intentionally chose competitions where later that season big events were taking place, for me to feel the arena, to get used to the ice. We did it with Minsk and Zagreb, where both Golden Spin and Junior Worlds were held.
At Europeans you caught everybody's eye when you finished 7th after the short program. How did it feel?
I was happy and maybe because of that I "burned out". During the day off which we had between our short and free I was so worried, I got tired and in the end, I tanked my free skate the next day.
You kept thinking that you can finish in top 10 or maybe even top 5?
No, I never think about placements, I was worried about my performance.
Any lessons learned for your future competitions?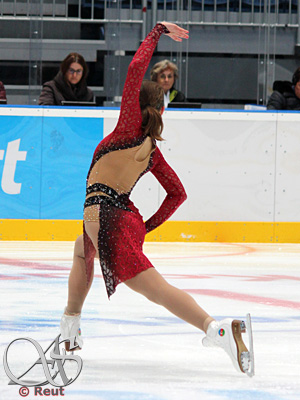 Yes. You can get happy, or if things didn't go well, you can get upset, but the next day you go on the ice and continue your work.
How did you move to skate for Azerbaijan?
When I changed coaches and came to Plushenko Academy, I was thinking about changing my citizenship to be able to skate internationally. And it worked out for me to skate for Azerbaijan. They received me really well and they are happy with how my last season went. But I think I could do better.
You finished 13th at Worlds, which was a very decent result. Do they set any goals placement-wise?
Yes, they said they'd like me to be in top 10 this season.
Last time we met in Bratislava; how did your season go from there?
I had a competition in Almaty, then in Minsk and in Riga. I decided to have as many events as possible before the important competitions like Rostelecom. And it paid off, I achieved a good result here. There were mistakes here and there in various competitions, but in Riga and here, in Moscow, in general everything went well.
How was it to participate in the event dedicated to Denis Ten?
I didn't know him personally, my condolences to the people close to him; it's a very big loss for figure skating, but first of all - for his family. The support in Almaty was great, everything - hotel, ice rink, transfers - was organised on a highest level.
Tell me a bit about your programs this season. Your short program is to "Tango de Roxanne", this music is very passionate and vivid.
Yes, and I really wanted to show this passion in my program. I had a few musical pieces to choose from. But I really loved this piece for years, it goes straight to my heart and that's why I decided to skate to it. My parents liked it less but said: "If you love it, skate to it". And now they got used to it and really like the program we did.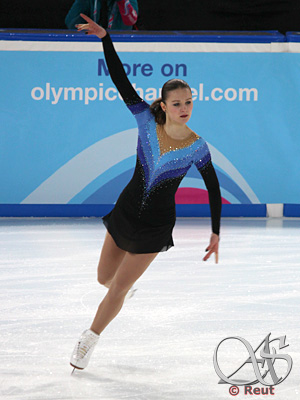 My free skate is to "Godfather", I watched the films and I loved them and the soundtrack.
Two very strong and tragic themes; do you love drama in life too?
Actually, I choose themes which are easier for me to skate to, but in my life, off the ice, I'm less emotional.
How and when do you choose the music for your programs?
I think about it during the whole season, sometimes I change my mind, sometimes I just know this is it, I will skate to this music next season.
How does your usual workday look like?
I have practices from 7:00 to 14:30, then three to four times a week I go to school and the rest of the days I study on my own or with private tutors. I don't study in a special sports school, but in the ordinary one.
Do your classmates know about your achievements, did they see you on TV?
Some of them for sure saw me, yes. I remember one day after the Europeans an older girl from a more senior class approached me, hugged and congratulated me.
Do you have time for anything else except school and figure skating?
Yes, lots of time. I have a whole Sunday for that! It's plenty of time and you can manage to do everything. I love reading, watching TV series, going for a walk with my friends. Sometimes on Saturday-Sunday I coach little children, but not very often. Sometimes I coach my little sister. I have two younger sisters, one is nine years old and the other one is ten months old; I'm not coaching her yet. (laughs)
Did your sister also start skating early like you? You started at three and a half years old, right?
Yes, but it was my own wish and I don't regret it.
You mentioned books and TV series, which are your favourites?
My favourite books are "The Thorn Birds", "The Fault in Our Stars" and all the books about Harry Potter.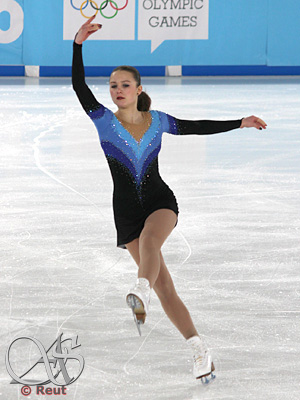 In TV series I prefer detective stories and science fiction, in movies I prefer dramas, sometimes comedies or thrillers, but never horror.
A few rapid-fire questions, answer with the first thing that comes to mind.
Country you want to visit.
I'd like to come back to Azerbaijan. Baku is such a beautiful city and I didn't have time to take a walk there, I was there just for half a day.
Favourite city.
I really liked Ljubljana, Bratislava is beautiful, so is Prague. But my most favourite city is Moscow.
What is the "must see" place in Moscow? Where would you advise me to go?
You can have a stroll in parks, in Gorky park. Or on the Khodynka Field they laid out a beautiful park recently, just near the Megasport Arena.
Your favourite skating element.
Probably, Lutz.
Element you still need to work on.
All of them!
Your favourite music.
My favourite band is "The King and the Jester" ("Korol' i Shut"), it's a Russian punk band.
Any tradition or ritual which you have before you compete.
Nothing like that, sometimes I say a little prayer, but not always.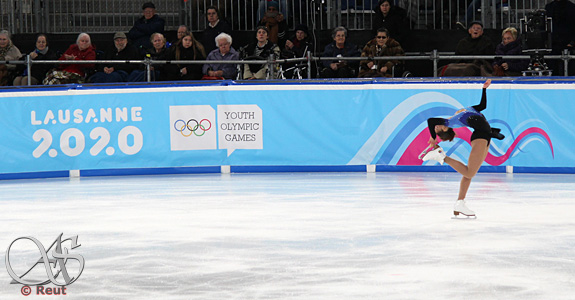 Ekaterina starts her competition in Graz with short program on Friday. We're looking forward to seeing her dramatic programs and wishing her to do her best.