Catching up with Sondre Oddvoll Bøe
August 31, 2020
By Judith Dombrowski
Photos© Judith Dombrowski, Mireille Geurts, Polymnia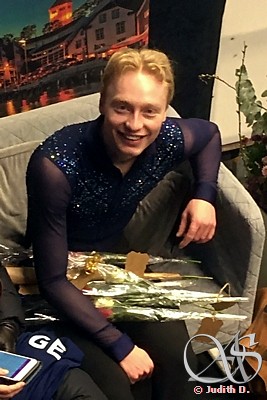 Creativity: this is the first word I relate with Norwegian figure skater Sondre Oddvoll Bøe. On the ice when creating big parts of his own choreography, searching for the perfect music and off the ice with his multiple hobbies. I was sitting together with Sondre after his last competition of last season - the Challenge Cup in The Hague, where he really captured me with his positive energy even after a rather disappointing competition - and at the end we have a small recent update on how he is preparing for the new season.
First of all, please tell us about the whole competition here in The Hague
About this competition… I am not really satisfied. The short program was a disaster. So to do the free afterwards is always hard because yesterday I felt like I was skating without my own body. Some days are just like that when you feel like you just have no control and it's really hard to push yourself through the mental stage of the free. I felt like I did the work because practice was good, warm up was good. The program then wasn't the best but I was fighting through and I was really happy with that because I didn't give up… because sometimes … I do. (laughs)
So I was really happy with that. I knew that I didn't make it to my goal, qualifying for the World Championships, and I knew that from the beginning of the program but I am happy about how I ended the program.
Yeah, all the triples were rotated, you didn't pop any jumps… In general what's your resume of this whole season?
I feel like every athlete has a season when it's just their season to learn and this has been my learning season. Because my coach has been sick through the summer and I didn't know if she would be ok to coach me. I skated a lot in Italy and then I started the season not knowing how my coach was feeling. So that was a lot of stress for me and then I didn't compete as well as I wanted and I also struggled in practice a little bit with motivation. I had motivation for the whole big picture - the upcoming two years - but I wasn't really motivated for the "right now" so I had to work through that. But I worked through it. And then I changed both of my programs in the middle of the season and I had never done that before. First I began changing my short and after one more competition I decided to change the free too. And all that is obviously really stressful. But then I started 2020 with Nationals and I did the best free skate of my life and then at Europeans and Nordics I did really good short programs. At Europeans I was also pleased with my free. At Nordics I was kind of happy with the free but it could have been better.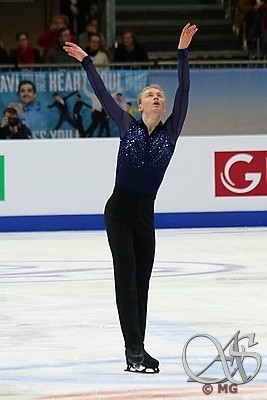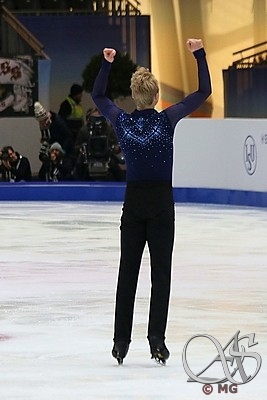 It's a good approach to see it as a learning process…
Well, obviously I wanted to go to Worlds so I am a bit disappointed that I didn't make it but after the beginning of the season I couldn't really expect it because I lost so many chances there. So after Nordics I was just really excited for the season to be over so I could start working again, because there is just so much I want to work on, technically and with new programs. There is just so much I want to do, I am just really excited to start that now.
Let's talk about that then. Can you tell us about your plans for the new programs or anything else?
I have kind of decided my free music but I don't want to say it yet… But I will work with Tom Dickson for the first time in my life which is super interesting; I am so excited to work with him because he is obviously super amazing. And then Mark Pillay who made my current short will make the short again. I don't know yet what music I will use but I think it will be a bit similar to what I have now, because that's what I feel comfortable with. The free will maybe be a little different.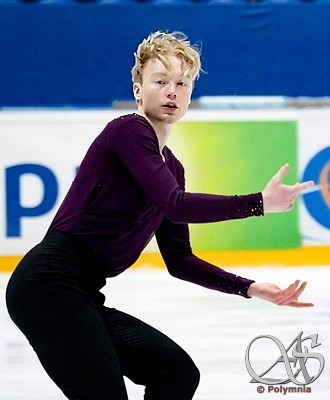 I have to say I loved the "Wildfire" program, your first free this season. Why did you change it?
Ahh… I know. I loved that program too. But I loved that program when I didn't have to do the jumps. So at practice when I would just like skate through it with the choreo I loved the program but when I had to do the jumps it was just too difficult. If it would have been right after last season, it would have been easy but after the hard summer and everything it just wasn't working so I went back to something I knew was working.
Understandable. Well, in general I love your music taste and I know many people love it. I saw on Instagram that you have your own Apple Music Playlist and fans and friends listen to it. So for new and curious people, tell us a little bit about your music style and taste.
You know I would love to do music myself. I would love to be a singer but I really have no voice. I listen to music all the time and I think you can really see through the music I listen where I am in my life. I really feel the music I listen to. I really feel the lyrics. That's also a little how I choose my program - music. Relating to the lyrics, but that can also be a bit difficult, because when I relate to them in a sad way, I don't want to skate feeling sad.. so yeah, you can tell I really love music.
So you can't say you have a specific genre?
My short program "You're the reason" that's kind of my type.
So the Singer / Songwriter style.
Yeah, I really love Adele and this kind of stuff but then I also listen to pop music.
Do you also enjoy going to concerts?
Yes! My first concert ever was Adele, I am her biggest fan! So it was really hard to go from Adele to something else, but then I went to Bruno Mars which was also amazing and I love his music and then I went to some smaller concerts in Norway. I love seeing artists I haven't seen before because I am really interested in the energy they have on stage and I am trying to learn from that for my skating. I also love to watch a lot of live performances on youtube to see that.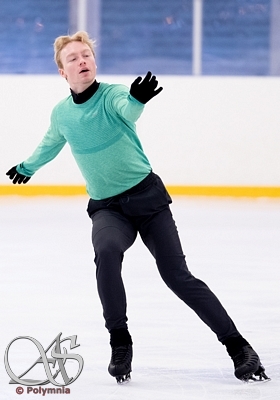 Yes, I see, I can really relate to that myself. I often really prefer even the small concerts because you are closer to the stage.
Oh yes!
So luckily you live in Oslo, so you have opportunities. I think outside of Oslo there are hardly any concerts.
Yes I guess so. It is the place where it happens. I actually recently went to a concert where I had no idea who was singing, I never heard of them before, I didn't know them and then I ended up loving them and I think I like them more because I saw them on stage and how they performed and how they talked so now I listen to them all the time.
So, as you are so into music and also pick your own music, I also heard you do a lot of your own choreography?
Yes, I started the season with that other short program and I made that program myself. And that was my favorite program of all time. I loved that program but in competitions it didn't work and so I needed to go back to the other one because I knew it worked. And in Norway I do a lot of choreography for other skaters. I choreographed for half the national team and my coach really trusts me with her skaters so that's really interesting and it's something I want to do in the future. And now, whatever choreographer I work with I try learn how they are working as much as I can.
That's a great perspective for the future!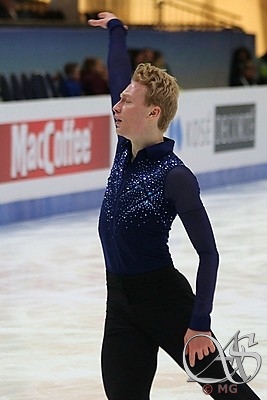 So let's go over to another topic. You have your own youtube channel. In the previous interview you did for Absolute Skating a year ago you said you were just at the beginning.
Yes. Well, I am still kind of at the beginning…
But you have so many videos by now.
I am trying but it's really hard. I really want to do competitions but it's really hard. And also with my coach at my practice, I want her to think that I focus and I unfortunately don't have a videographer with me.
Well, you just have to force your friends.
Haha… yes. Well I really try to do it a lot. I am really interested in how other people work. When I quit skating I want to work more on it. I want to learn how people become the best at whatever they do and I love watching people on youtube to learn basically how they are doing their lives and I am really interested in all of that, so I try to do something with it.
So for those readers who haven't checked you out on youtube yet. Why should they?
Well, it's mainly in Norwegian, so for many it would probably be kind of difficult, so if they like / understand Norwegian… I just do a lot of videos with my friends and I try to show that you can have fun and be a lot with friends as well while being an athlete and working really hard. Because I think a lot of people think that I am only in the rink and sleeping but for me it is super important to be with my friends too to have mentally some time off. So I try to show that.
I think I saw your Mom also often in your videos, she seems to be super encouraging.
Yes, my Mom is really just like me. I am really like a mix of my parents because I have so much from my Mom and so much from my Dad, but my Mom also really likes it when I film her.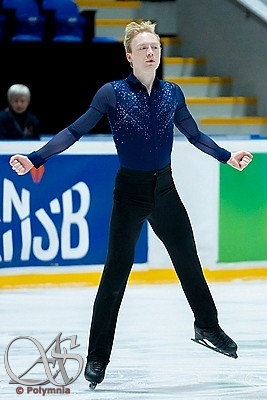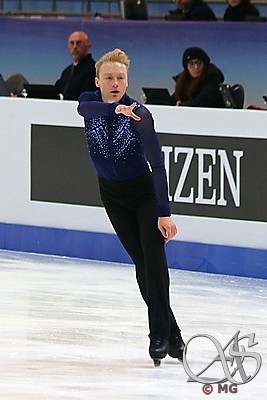 On youtube and also sitting here you really always seem to be such a happy and cheerful person. Be honest, are you really always like that or how would you describe your character yourself?
Oh no, well yesterday I was crying for about three hours.
Emotional…
Yes, I have a lot of emotions. But yes, I am usually a really happy and smiley person because I just think it's much more fun living life smiling. People usually know how I feel when they look at me. I can't hide anything, I can't fake being happy but I also can't fake being sad.
So how do you manage then to motivate yourself after such a disappointing skate like yesterday to get out of this sadness. Is there any advice you can give to young skaters?
I just try to look at it as: this is one competition in life. In one month nobody will care. When I skate I do of course really care, my coach really cares and my Mom really cares but anyone else will be like: "Okay, this sucked. Let's go on to the next." It's not that important. You are not the most important person in the world. You should just try to understand that and that there is always going to be another program. So that's what I am really trying to work on and I try to tell myself "you can do this" and try to believe in myself. It is a really hard thing to do when you have to go from day to day but especially when you have a program like I had yesterday. Really I had never had that experience before I really felt like I wasn't with my own body so that was really strange to me. So then I asked myself going on the ice today will I feel my own body today? So I really just had to breath and focus.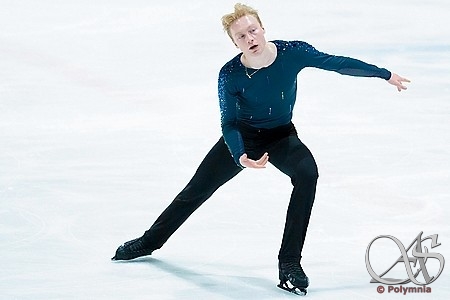 Well, now you're done and on a positive note. So maybe as a last question, as the season is now over, do you plan to have a vacation or do you have something to really look forward to?
Oh yes, well I really plan to work really hard over the summer but my best friend lives in Santa Barbara, right next to LA. So me and some other friends we will go and visit her for two weeks in April and that will be my vacation and then I will just train really a lot.
That sounds awesome, I guess you really need that vacation, everyone should have a bit of a time off.
Yes, I need that break mentally and I didn't have that last season. It's so important to me to have some time off mentally because I think about skating all the time and I watch skating all the time so sometimes I really need some free time..
Have you been to California before?
No, I have only been to New York in the US and I am so excited. It's going to be so nice and it's at the beach and some sun… and well, look at me, I need it!
Re-reading our lovely talk now several months later it breaks my heart that the planned and much anticipated trip to California had to wait. As expected Sondre seemed to make the very best out of the situation, enjoying life and working hard to prepare for the new season. He recently announced his two new programs: the short will be to the song "Someone you loved" by Lewis Capaldi , the free to "Winter, Spring and Summer" from Vivaldi's 4 seasons. A short extract can already be watched on his Instagram.
Sondre kindly updates us on how he is doing the last months.
I spent quarantine in the best way I could. I tried to keep training hard and stay motivated. Being off the ice for long is never my favorite thing but I needed a break anyways. I was lucky enough to go to Finland in the middle of June to get my programs done by the amazing Tom Dickson. I loved working with him and I think we came up with two really good programs. At the moment I'm training hard for the season, hoping that it will begin as planned. If not I'm staying strong and motivated for whatever happens.