Amber Glenn: "I want to be the best person and role model I can be"
December 8, 2021
By Anna Kellar
Photo © Jay Adeff/U.S. Figure Skating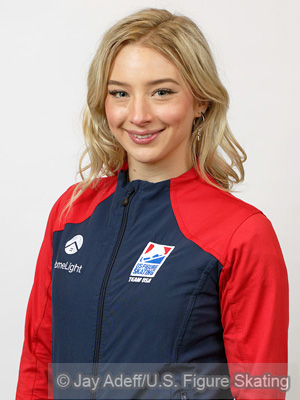 The 2019 US silver medalist Amber Glenn is fighting hard for one of the three US women's Olympic spots. After struggling with a foot injury that caused her to withdraw from her first scheduled international competition, she impressed at Skate America with her clean programs, emotive skating, and the ability to stand up to the pressure of being the top-billed US woman. Amber has also drawn attention and support as one of the few openly-LGBTQ+ female skaters in international competition. I caught up with Amber after she got home from Skate America, to talk about her training plans, the impetus behind her rise in the rankings over the last few seasons, and the kind of role model she wants to be for other LGBTQ+ skaters.
Now that you've had a little chance to reflect, how are you feeling about your skating in the first Grand Prix?
I was disappointed after the short program, I didn't feel quite comfortable or how I wanted to, I was a bit stiff, nervous. After that, I was able to get more in the swing of things for the free skate, and now having that beneath me, I have a lot more confidence heading into Japan.
When you came off the ice after the free skate, you said part of what you want to work on is building the performance quality, so that you are creating a moment for the audience. How do you train to produce that kind of reaction in the audience?
The biggest thing is connecting to the music and then making the program as seamless as possible. It means making sure I do the choreography as close as possible to how it's meant to be. That means really focusing on the music and having the jumps seem like part of the choreography rather than interruptions to the program.
Do you work with your choreographer, Misha Ge, during the season as well?
Yes, remotely.
Seeing what some of the Russian women are doing attempting quads, and the depth of the field internationally, how does that make you feel? Does it inspire you, intimidate you - or are you more focused on your domestic competition right now?
I definitely am inspired by it, and I'm also very focused on the competition here in the US. Over the summer, I was trying the quad toe and it was feeling good, but I really need to focus on my physical health. I'm not 15 anymore, I don't have the joints I did at that age, so I have to be very careful about how I take things physically, and in my approach to this season.
Do you have to take a different process learning a new jump?
Oh my god, yes!
How are you feeling about the pressure of an Olympic season, especially compared to how you felt four years ago?
It's a completely different ballgame. I had none of this four years ago. I wasn't even thinking about making the Olympic team back in 2018. It wasn't even a thought. This year, it's my main goal. It's what I've been working towards since the pandemic. I know this year I have the capability to do it, so all I really do is go into each event with the intention of improvement and trying to do the absolute best I can, so I can make that team.
It seems like a few years ago, something really clicked for you, and you started placing higher and skating with more confidence, and really started getting noticed more. Is there something that changed in your training and your life?
I feel like the biggest turning point was the pandemic, sitting down and reassessing everything, what I want to do with my career. But it did kind of start when I came out [as bisexual/pansexual] two years ago. I felt like a weight came off me. I was able to embrace who I was, and just be a completely free person.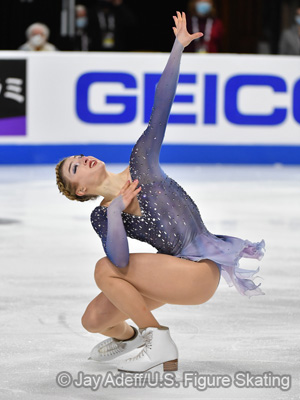 And since then, it's just been building and building and building.
Why do you think it's so rare for there to be out women in skating? Is there a level of fear, or something about the sport that holds people back?
There are plenty. I know for a fact that there are people who have been afraid to come out in the past because of judgment, or some of them just didn't feel like it was necessary, like anyone would care. And I felt the same way for a long time, that no one would care. But after seeing Karina (Manta, former competitive US ice dancer) come out, I could see myself in her. It made me see that this kind of thing does make a difference, because there is an impact there. Luckily, she got this great opportunity to be in Cirque du Soleil, but that meant that she is no longer on the international, and national, scene. After that happened, I wasn't doing much with my actual skating at the time, and I decided, screw it, I'm going to go be myself, and if people like it, great, and if they don't, that's their own problem.
At the end of the day, it's your own life you to live, regardless of the kind of reaction people are going to have to it. There has been some attention lately, as more skaters have been open about their sexuality, to the way that the fear of judges reacting badly can keep skaters in the closet. I assume those kinds of thoughts were also in the back of your mind - have you ever had anyone react negatively or say anything to you about your sexuality?
I mean, the Internet is a toxic place, so of course. But no one has dared to say anything to my face - I don't think that would end very well! I've had a very great, supportive network. Of course, there is fear in my head, that people are biased, they are going to have these judgments, and judges are human, they are going to have biases. When I go out on the ice, you never know, a judge might not agree with it, and they could score me lower because of it. That's just the fact of the matter. People who are very outspoken, about their religion or their beliefs, can face this kind of judgement.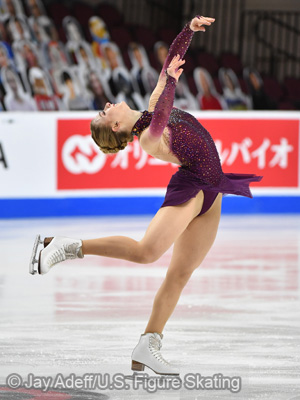 And it's something I can't control, I can't control their thoughts, they are human. Luckily, I don't think I've had to deal with any of that. That was a fear of mine, but now that I'm stepping up in skating and doing better than I've ever done before, it's a motivation. Don't you dare score me differently, because I'm showing up, I'm doing my job, people will see that you are being biased if you score me differently. Almost proving them wrong.
What would you want younger skaters, especially queer girls, trying to find a place in the sport, to know from your experience?
Just because you feel different or that your sexuality or identity defines who you are, that doesn't mean it defines you on the ice. It doesn't stop you from being one of the best in the US or in the world. It isn't a hindrance. People might think, "oh she's this good despite being part of this community, it's inspiring," and well, thank you, but it's not in spite of it. It's not something I have to overcome, it's something I take motivation from. I'm proud of who I am, but it's not the only thing about me, just like being a figure skater isn't the only thing about me. It's a part of who I am and doesn't define absolutely everything.
I know seeing role models like you would have made a difference for me when I was younger, and not feeling like I was a typical figure skater.
That's something I was also worried about. With guys, if you're gay, they are like "you're more feminine" - there are stereotypes. For girls, there are also stereotypes, that you aren't girly enough, or that you aren't that princess-like fragile kind of thing. Of course, I've worked on my grace, I've worked on my fluidity over the years, but it's something that has taken time, and I was worried people would have this preconceived notion, of how I skate and who I am before even seeing me compete.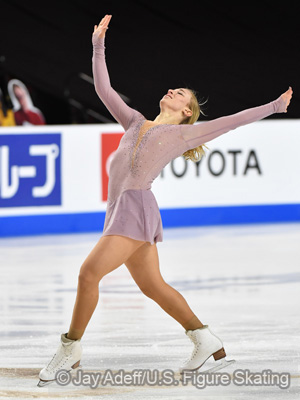 On a different note, one thing I saw as I was preparing for this interview was that Jimmy Ma has in his ISU bio that one of his hobbies is "annoying Amber Glenn". Is that from when you used to train together?
That's been there for like three years at this point! Every year he does it. We have a very close, sibling-like, relationship, he and my mom still talk all the time, when we see each other it's the same energy. He just loves to get underneath my skin and mess with me, he's like a brother to me. He's... he's Jimmy. That's all I can say. He's going to do that stuff. He's wonderful, but my god!
We were talking about role models. Who are some skaters that you admired growing up, or more recently?
Growing up, I had the DVD of the 2002 Olympics, and I would watch Sarah Hughes' Olympic free skate over and over again. She was my inspiration to start skating, and I've been really lucky to get to meet her and get some inspiring words from her. As for recently, I've always admired Yuna Kim and her grace and poise, everything really, on and off the ice, how she composes herself and takes command of a room. She was definitely an inspiration going into my more elite years of figure skating.
If you could be known for one thing - as hopefully bigger audiences are getting to know you this year - what would you want them to know about you as a skater, or as a person?
It's been so interesting having an audience again, at Skate America, and one of the best things has been meeting people and seeing how people react to meeting me. People have said afterwards: "Oh my gosh, she's so nice, what a charismatic person, how hard working." Something like that - being a very positive but also hardworking person. That is something I strive to be more of every single day. It's a little cheesy, but I want to make the world better, as much as I can in this little, tiny world of figure skating. Throughout this season, no matter how my actual skating goes, I want to be the best person and role model I can be.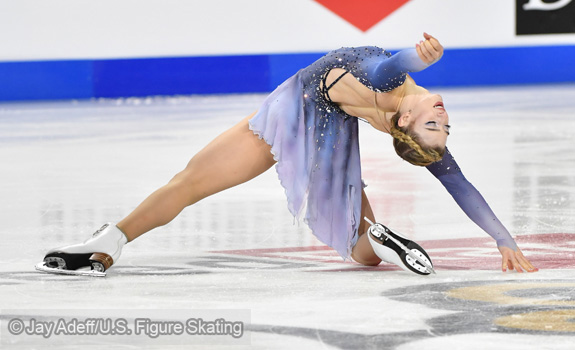 After breaking the 200-point mark at Skate America, where she placed 6th, Amber struggled with her jumps at NHK Trophy, placing 7th. Good luck to Amber at CS Golden Spin this weekend, where she will try to regain her momentum ahead of US Nationals in January - and to create a "moment" for the audiences in Zagreb.