Gabriele Frangipani: "Daniel, Matteo and I all learn from each other"
September 22, 2021
By Judith Dombrowski
Photos © Judith Dombrowski, Joy
Hardly any other skater performed more during 2020/2021 than Italy's Gabriele Frangipani in his first only senior season; in season 2019/2020 he took part in both junior and seniors.
Starting with a great success, a silver medal at Nebelhorn Trophy 2020, his season continued like a real rollercoaster ride, with a 4th spot in the Hague and a win at the Egna Spring Trophy.
I met the very likable Italian during the Challenge Cup in The Hague after his short program.
You actually had quite a long season compared to many other skaters. How would you describe the development of your season?
There were ups and downs. Some competitions were really good, others not so good. But that was my fault, I wasn't prepared well enough for some competitions. But if I compare it with previous seasons, it's definitely going more up now and I am developing in the right direction.
Here at the Challenge Cup and also at Nebelhorn Trophy you had to compete without an audience. How does that affect you?
It's not as nice, of course. I think most of us skaters like it a lot when people applaud and cheer, so without that… well, I wouldn't call it boring, but some spark inside you is missing. But I can imagine that for some skaters this can even be an advantage, because they might feel less pressure or less anxiety without an audience. I definitely prefer skating with an audience and I hope we will have them back very soon.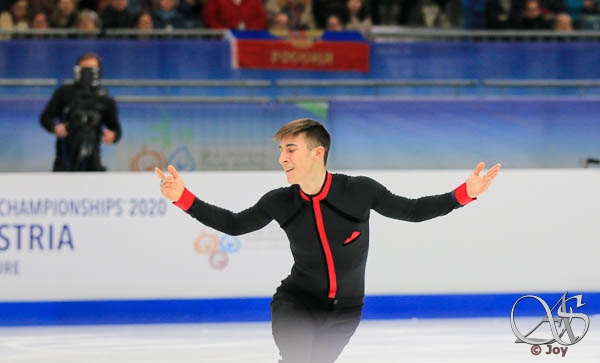 At the European Championships 2020 in Graz, with audience
Are there any new elements you are working on right now?
For the second half of the season I was supposed to add the quad Lutz and the quad Salchow. But unfortunately I got injured before the final of the Italian Grand Prix. So I couldn't do quads for two weeks. Because of that my coach and I decided to focus on the quad toe loop for the next two competitions, as it's the easiest quad for me. Now the injury got better and I plan to present the Salchow and the Lutz soon.
Do you have any other plans for the off-season?
Not too many yet, to be honest. I will definitely go to Pisa, visit my grandmother and my cousin. And have some camps, I guess. Probably we will have one month with Benoît Richaud to work on choreography, probably somewhere in France.
You have many rivals in Italy right now, competing with Daniel Grassl and Matteo Rizzo for the international spots.
Yes, usually we don't have that much competition in Italy. Indeed, before these last few seasons Italy didn't have as strong competition as we have now. Right now there is me, Daniel and Matteo. When we skate clean, we can all compete with one another.
In ladies, some skaters have many ups and downs, struggle with injuries but I can tell, there is an amazing girl coming up from our club, Anna Pezzetta; she's 13 years old and she can do all kinds of triple-triple combinations and is working on the triple Axel. If she doesn't encounter any problems she will be Italy's best skater in ladies in about a year (here is a recently skated program by Anna).
We should all keep her in mind for the Junior Grand Prix then. Sounds promising!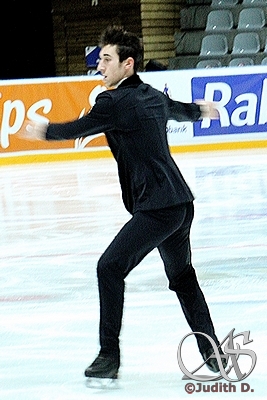 How does that tight battle of the Italian men affect you in particular?
Right now we all skate together in the same club (Young Goose Academy in Egna, Italy – ed.) and we can definitely all learn from one another. As we compete against each other often, especially this season with the internal Italian Grand Prix series, there is definitely some competition. But the three of us are good friends off the ice and on the ice so we don't have problems, fights or anything like that.
You started skating quite late compared to other high level athletes, right? Can you tell a little bit about how you got into the sport?
Yes, right, I was 8 years old when I started skating. I was born in Pisa and there is no possibility to do ice skating there. I did other sports: swimming and gymnastics. It turned out that I was pretty good in gymnastics. Because of my dad's job we moved to Bolzano, and there was no good school for gymnastics. But as I was still young my parents thought I could still try a new sport. My mom read in a journal that there was ice skating. We had literally no idea what that was. But we just went and tried, and continued, and here I am now.
When did you realize you were good enough to be in the sport professionally?
Maybe last year or even only this year? I always have it in mind that I still need to work a lot, but I'm trying to mainfest in my head that I'm a professional athlete now, to stop myself from doing stupid things. This mindset change came just recently.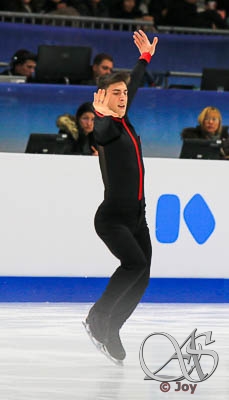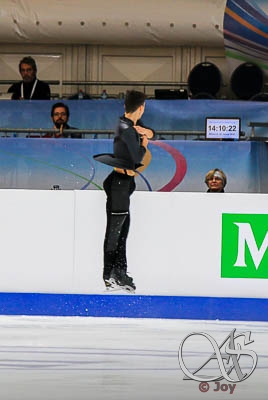 When did you start working with your coach Lorenzo Magri at the Young Goose Academy?
I think it was four or five years ago. Before that I was skating in Bolzano and we didn't have so much ice time there. I could only practice for one or two hours a day, with a lot of people on the ice. And then my friends Maurizio Zandron, who skates for Austria now, and his brother Marco Zandron, who is now skating in pairs, left to Milano. And then my coach approached me and told me: "Maybe it's the right time for a change." She had been speaking to Lorenzo a year earlier to make the connection for me, and then the right moment had come.
So you moved to Egna?
Yes, I moved there and now I live almost on my own in my apartment. Only me and my dog.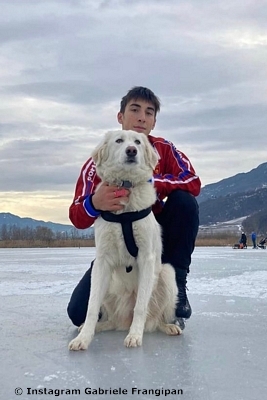 Very nice. What kind of dog do you have?
It's a Maremmano. Here, I have a picture.
She is my little queen. She is 9 months old. Right now, when I am at competitions she stays with my mom.
Your jacket and the ISU bio told me you are also a police officer?
We don't really work for police, it's rather a sports sponsorship. They pay for us to skate. Sometimes we need to go there to do some exercises, for example with guns, or to learn theory.
Could you imagine working in that field later on?
Yes. My dad has been in the military and a lot of family members on my dad's side of the family work in police or military so it's in my family. But let's see, I can also imagine to go into choreographing after my skating career.
That's amazing, so you already have some nice plans for after your career that is hopefully still at the beginning.
Last question: What do you enjoy doing apart from skating?
I enjoy playing games on the computer and XBOX, which I actually took here for the day in quarantine when we were locked up in the hotel room. So I played with the other guys that are here from my club. I also really enjoy watching anime and reading manga.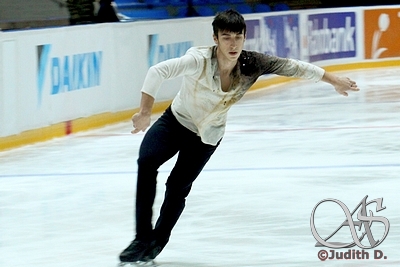 Nice, do you have a favorite series?
That's too hard, I like too many. But let me do a top 3: "Naruto", "Black Clover" and "My Hero Academia".
Oh, and a little spoiler:
I already have one tattoo, but I want a second one, not sure yet when, but it's going to be from anime.
Another big hobby is, of course, my dog. I love going into the mountains with her and play with her.
Thank you very much for the interview, Gabriele.
I am looking forward to see your new programs, new jumps, and new powerful performances on the ice during the 2021/22 season, starting at the Nebelhorn Trophy 2021!