A new young team from Germany - meet Annika Hocke and Robert Kunkel
February 15, 2021
By Judith Dombrowski
Photos© Judith Dombrowski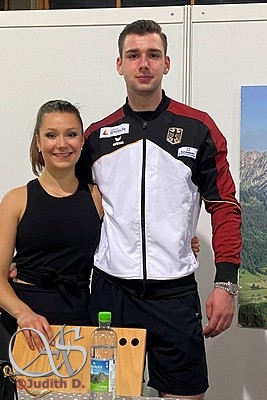 Annika and Robert teamed up in spring 2019 and accomplished great results during their first season together. They qualified for the Junior Grand Prix Final, earned 7th place at the Europeans in Graz, and a 4th place finish at Junior Worlds in Tallinn. Their second season is different - as it is for everyone. I spoke with Annika and Robert after their first competition of the season, the Nebelhorn Trophy in Oberstdorf, Germany. After the withdrawal of their teammates, Minerva Fabienne Hase and Nolan Seegert, they had been the favorites to win the title, but because of some struggles during the free skate they finished second, behind the Italians Rebecca Ghilardi and Filippo Ambrosini.
Thank you both, for taking the time to talk to us after this really long day. First competition of the season is done. What is your summary?
Annika: It's just unfortunate and we are quite sad that we couldn't show what we are capable of. Practice sessions were much better and we were so excited and happy to finally compete again. We were really well prepared, so it's frustrating. But we will keep working hard to finally show what we can really do on the next occasion.
Robert: The short program yesterday was a bit better, but also not ideal. We had two small mistakes, so there's quite some room for improvement.
How did it impact you to skate without an audience?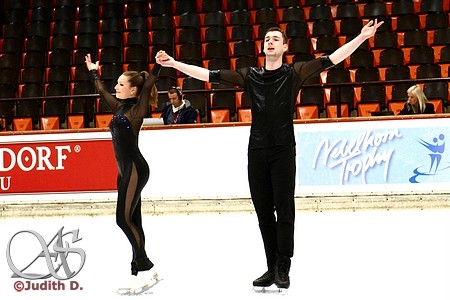 Annika: I personally love to skate with an audience. It usually pushes me and I perform better. But I think we need to learn to live with the situation as it is now as we don't have another choice at the moment. During the competition I tried my best to forget about the fact that there were no spectators.
You have two new programs this season which were choreographed under different and difficult circumstances. Could you talk a little bit about your new programs and how you developed them?
Annika: We started to develop our free skate with Catherine Papadakis (mother of multiple ice dance World champion Gabriella Papadakis -ed.). But after a couple of days the ice rink got closed and she had to go back to France. Then we had a forced break. We didn't work on our programs off-ice. When the ice rinks re-opened we continued building the free skate. First we tried a lot by ourselves. Then we came to Oberstdorf and got our short program done by Aljona (Savchenko) and Joti (Polizoakis). Joti then also helped us with some final touches for our free skate.
Wow, so since you partially choreographed the free skate by yourselves, does it feel more personal to you in some aspects now?
Annika: In a way yes, but we were used to that already from last year. Back then we also needed to re-arrange many parts. We are quite a good team already in that sense.
You are skating your short program to Shout by Zayde Wolf and your free skate to The Other Side by Ruelle. How did you decide on the music for the season?
Annika: We had quite some time to search for music during the off-season. (laughs) And we actually did search for quite a long time. Robert said at some point that he couldn't listen to any music anymore. In the end we agreed on the song for the free skate rather quickly. In the program we try to represent two sides — I represent the bright side and Robert the dark side. The costumes also show that. And I think you have these two sides in almost everything. In figure skating you have great and not so great moments. But in the end everything comes together and everything connects. And that also happens at the end of our free skate.
For the short program, we tried many options, and tried how they worked on the ice until we made the final decision for the music.
We all got to know another side of life because of the coronavirus pandemic. How did this time affect you and what do you maybe take from it?
Annika: It was and is a strange time. But as I did my Abitur (highest German highschool degree) this spring and had my exams, time went by rather quickly for me. I learned about myself that I am a more social person than I thought before. Usually I enjoyed being at home after a hard week of training. But during the lockdown I realized rather quickly that I missed my friends and I missed seeing people in general. And I think we all learned to appreciate such events as this (Nebelhorn Trophy) much more than before.
Robert: I tried to use the time as I possibly could. Luckily, we could still train together, just not on the ice. I tried to educate myself somehow. In university they cancelled one of my exams but that didn't matter too much. I would say we made the best of the situation.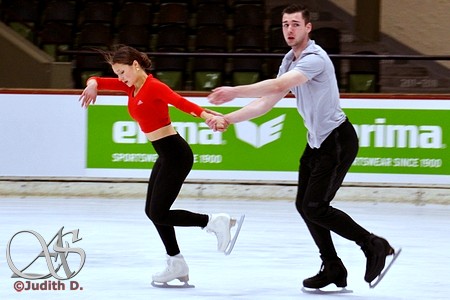 As you mentioned already, you also worked with Olympic champion Aljona Savchenko on your choreography this season. How was it working with her and how does she inspire you?
Annika: She has so much experience. She worked at the highest level for such a long time. Her attitude is just amazing and we can learn a lot from that. And she definitely pushes us a lot.
Last season you competed in juniors and seniors, this season you switched to seniors entirely. Did that change anything for you?
Annika: We try to work on our maturity. We know we still have a long way to go and we are far from where we want to be but we tried to make a start with choosing more difficult programs for this season. We mainly worked on that with Aljona and Joti and they both really pushed us.
It is difficult to set plans and goals for the season, but do you maybe have some element or technical difficulty that you want to accomplish this season?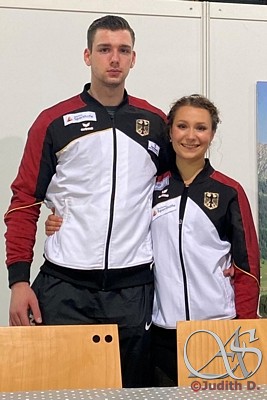 Robert: We are working on the throw triple Axel. And we also would like to have more variation in our side by side triples. But we don't plan to put that into our programs yet. We don't want to rush things. We are still a young couple and this is only our second season together, so we hopefully have some time.
Definitely. And since you are a young and fresh couple l'd love to finish with a few questions to get to know you a little bit better personally.
What would you say was the best moment of your career so far?
Annika: It might sound strange as we missed the medals so closely, but the fourth place at Junior Worlds last season is my best memory. I think Robert was rather disappointed but I was simply extremely happy. Of course, it was frustrating that a spin mistake cost us the medal in the end but the medals have been so far away in my head anyway. So I was more than happy with the third place for the free skate. It also showed me that we work great as a team and it was an excellent finish of our first season together.
Robert: I would like to mention two things. One was the moment we realized we had qualified for the Junior Grand Prix Final. We haven't had the best training conditions ahead of the Junior Grand Prix events, had hardly been able to do run-throughs, but we still made it.
And the second point is that I really enjoy skating again. I had almost quit, and then Annika and I started training together and teamed up, and everything turned out so well that I found my joy and motivation for the sport again.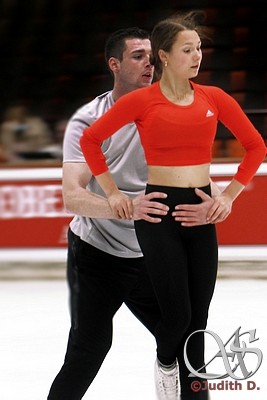 What's your favorite pair skating element?
Annika: For me definitely the throws. Unfortunately I couldn't show that today, but usually I love them.
Robert: I could tell what I don't like… (laughs)
Annika and Robert simultaneously: The spins.
Robert: Yeah well, they are just not that exciting. But in general I love everything that works. Lifts, jumps, throws, it feels great when you executed them well.
Who is your current favorite singles skater?
Annika: Nathan Chen. And if the ladies, Alena Kostornaia.
Robert: I will go for Mikhail Kolyada for the men. I really liked his new programs this season. And Mariah Bell for the ladies.
Thank you very much, good luck and all the best for the rest of the season!
After long months without competitions, Annika and Robert will finally be able to compete again at the Challenge Cup in The Hague at the end of February.