"I dream of landing the quad Axel one day" - meet USA's rising star Ilia Malinin
January 4, 2022
By Judith Dombrowski
Photos © Judith Dombrowski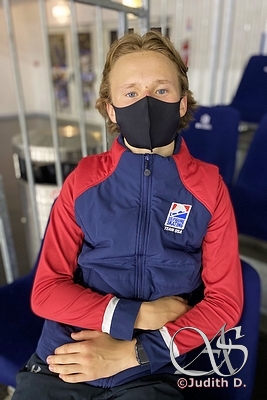 Imagine a male figure skater that jumps about ten textbook quads one after the other during a 45-minute practice session. Whom do you think of? Nathan Chen? Yuzuru Hanyu? Here is another one: the 16-year-old Ilia Malinin. During his practice sessions at the Junior Grand Prix in Courchevel he showed that he is ready to play with the big guys. Unfortunately, his confidence left him during the Free Skate, but it was still enough to win the first Junior Grand Prix of the season with a margin of 22 points. A not so satisfying result for this very ambitious young man who has big dreams and plans.
I talked to Ilia in Courchevel ahead of the competition and got to know a very fierce competitor who knows exactly what he wants - to get all the way to the top!
Hi Ilia, nice to meet you here at the very first Junior Grand Prix after two years. What are your thoughts on traveling again, Courchevel and your hopes for the competition?
I am really happy to be here and I have to say I really like this place. It's very professionally made. I'm grateful to the organizers for hosting an international competition. I was really looking forward to coming here since I haven't really competed in almost two years because of the pandemic. It is my first travel out of my country since Junior Worlds 2020. Last year I competed at Skate America but that was my only competition.
My goals here are to skate clean in both programs and then hopefully win the competition.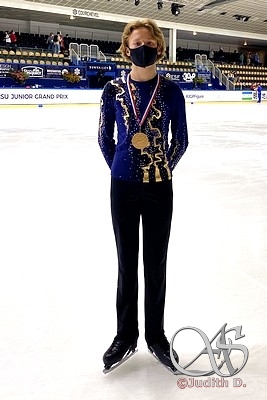 (Ilia achieved his first goal in the short program, scoring a fantastic 80.07 points. And he obviously reached his second goal as well.)
Let's go a little bit back in your skating history. Your mother was a famous figure skater herself. (Tatjana Malinina competed for Uzbekistan and won the Four Continents in 1999.) But how did you get into the sport? Can you even remember it?
When I was two or three years old my mom decided to see if I like skating. She put me in very tiny skates and on the ice and I really liked it. Even though I was that young I definitely remember the first time. It was really special and I am so glad I chose to skate. From that moment I got used to it and I loved it ever since.
What is it that you like most about skating?
Definitely the programs because everyone can have their own unique style.
Lets talk about your programs then. You skate your short program to a rock version of "Billie Jean" and your free skate is to "Nobody knows" by Autograf and "The Golden Age" by Woodkid. What do you like about them?
I definitely like my short program because even though it's a rock song, it also has a certain calmness. So I can focus on the jumps and spins at the beginning, and at the very end I can go all out with the music. I also like my fee skate, especially because I chose the first song by Autograf myself. I found it while I was listening to some of my favorite songs and I really liked it and wanted to try skating to it.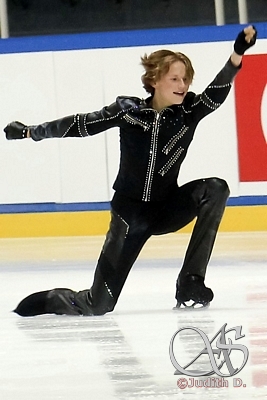 Next to your parents, which other figure skaters do you look up to?
I really look up to Nathan Chen and Yuzuru Hanyu. From a young age I liked watching them a lot and I hope that one day I can become just like them.
You like to challenge yourself with new jumps and jump combinations which we can see on your Instagram. What will come next?
Definitely all my quads. I just need the flip so I'm hoping to get it soon. And maybe in the future I can try a quad Axel. I feel like I can do it if I work hard enough.
(Ilia landed an amazing quad flip right the next day during the practice session. Here is a compilation of his jumps during that one session.)
That's great. Do you think we will see a quad Axel in competition this season by anyone?
I don't know if it will happen this season. But it will happen sometime during the next few years, I am sure about that.
Good luck with this amazing long-time goal of yours. What are your goals for this upcoming season?
I want to make the Junior Grand Prix Final and also would like to have a chance to go to the Olympics.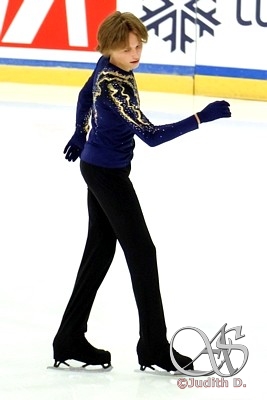 High and great goals. Good luck with that!
Next to skating, you are still a high school student. How do you manage to combine school and skating?
At first it was really hard because we had to figure out a good schedule where I can do good in school but also have enough time to practice. But it works out now. I take the morning for school and the rest of the day for skating.
Let's finish with a few "What's your favorite..?" questions to get to know you a bit better personally.
What's your favorite food?
Probably steak and pasta.
Favorite thing to do in your free time?
During my free time I really like to just go on the skateboard for a couple of hours.
Nice, can you do some tricks?
Yeah, I can do a couple of tricks.
You should post these on your Instagram as well! (Ilia laughs)
What's your favorite music?
Mainly pop, modern music in general. I can't name a specific band or singer, but I like a lot of them.
Favorite movie or TV series?
I don't really have one right now, but when I was little I loved "How to train your dragon."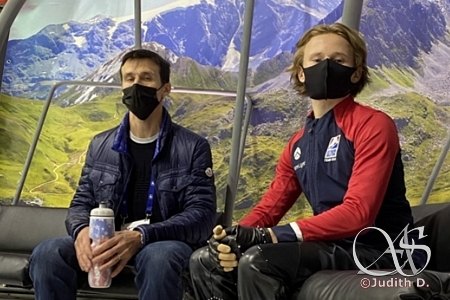 Favorite subject at school?
Science.
Your favorite travel destination where you have never been yet?
Tokyo.
Favorite animal?
Snake.
And the last one: favorite jump?
Definitely Axel!
That's not a surprising answer to me! Thank you very much, Ilia, and all the best with all your big goals and plans. If you can show in competition what you showed here during the practice sessions, only the sky will be your limit.