Josefin Taljegård: "I'm really excited about the next season"
May 24, 2021
By Maria Tairova
Photos © Eva Maria Jangbro (EMJO)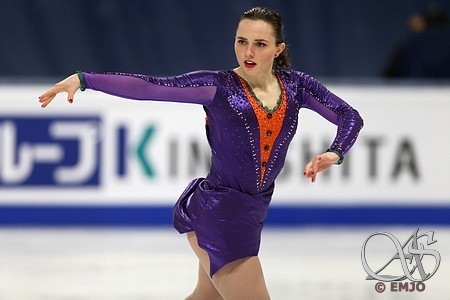 At this World Championships many spectators made a note of the Swedish skater Josefin Taljegård and her artistic performances. Her Joker in the free skate thrilled many skating fans around the world.
Josefin is a three-time national medalist (two bronzes and silver) and 2019 Coupe du Printemps champion, and she qualified for the free skate with Worlds being her first senior ISU event. We talked to her right after the competition had ended and found out that she is not only a talented skater, but also a very interesting person.
First, congratulations on your brilliant performance, it was amazing!
But let's start from the very beginning, when did you start skating, and why do you love it?
I started skating when I was 3 years old, and now I am 25. I skated mostly in Sweden. Sometimes I go to the United States for the camps. I went a lot to Oberstdorf, Germany to work with Michael Huth and Stanick Jeannette among others. I trained there for seven summers from age 11 and the time spent there was very important for my career and development as a skater. Last fall I worked with Nikolai Morozov in Novogorsk (training center near Moscow – ed) for a few weeks. He is my choreographer, and he coaches me sometimes.
I want to work more on my jumps, but what I love most about skating is the performance, interpreting the music and choreography and just entertaining people.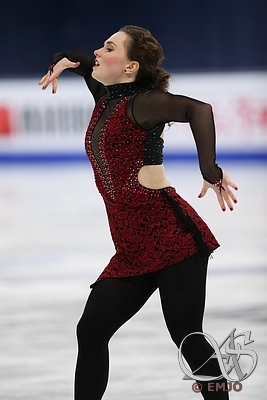 And you are really good at it! Your sisters, Maria and Malin, are listed among your coaches. How does it work for you to be coached by your sisters?
It works pretty well. I am the youngest, so they always helped me even when they skated, but now they are not skating anymore. It's very good because they know me so well. Especially now, during [the corona virus] pandemic, when there are no other skaters around on the ice, it's really nice to have someone who knows you, who you can talk to. And if something hurts you don't even have to say because they know it just from looking at your face.
So, it's amazing to have this experience with my sisters and travel the world with them going to different competitions. And they are very experienced, too.
My mom and dad were also athletes, but they played handball. My oldest sister wanted to learn to skate because in Sweden we sometimes go skating with the school. And she wanted to be good at it, so she started skating, and then my second sister started, and - voila! - I'm skating at Worlds!
So how does it feel to be here?
It's amazing! I was so happy that they actually held Worlds this year, because Europeans and the Swedish Nationals were cancelled, so I'm just happy that they did hold it. I haven't been to the World Championships before, so I have nothing to compare with, but I think it was fine without the audience here, because a lot of skaters and coaches were watching other skaters and really cheering on everyone. And it felt like a small figure skating party.
So, what's next for you? As far as I understand, you've gained the spot for Sweden for the Olympic Games.
I think so, but the Swedish Olympic Committee is very tough: even if you qualify you must be able to place, I think, 8th to 10th. For example, Alexander Majorov did qualify Sweden for the previous Games, but he wasn't sent, because he finished 12th. So we'll see what's going to happen with that.
[It's been officially confirmed that Josefin got the Olympic spot for Sweden, but to go there she must gain points equal to 8th place at Worlds (198,77) before the European Championships. Josefin is pretty optimistic about it and we wish her good luck with that task!]

Now I'm going to just take a few days and break in new skates, start figuring out music for my short program and then call Nikolai (Morozov) and see what he thinks. We choreographed last time via Zoom as I wasn't able to travel because of COVID-19. So perhaps we're going to do this again, it worked really well.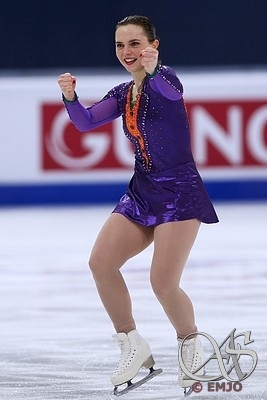 Could you tell a little bit more about your free skate? How did you choose the music, how did you choreograph it?
I went to cinema with my boyfriend. "The Joker" was the first film we had watched together. Then I went to watch it again, because it was so amazing that I couldn't get it out of my head. During my practices I just put the soundtrack on and started improvising to it.
I liked skating to it more than the program I had at the time, it felt easier for me. The program I had that Nikolai choreographed for me was really good, but "The Joker" felt more like "me". So, I called Nikolai and I asked him: "I really like this music, what do you think about it?" He thought it could work and we started choreographing. It was a new experience working via Zoom and of course it takes a little bit more time, because you have to film and then send it and try it on the ice and then send it again… But I think it was good in some way, because on the floor you just listen and listen to the music and try to come up with the meaning, when every movement has its meaning. I studied acting and I really like going into the character with the music and trying to find something interesting to do with my body and my face. And that worked really well with Zoom. So, it was an amazing experience and I want to do it again.
I could guess you studied acting; in your free skate you were 100% Joker!
It's a little bit scary, I guess! But it is so much fun. And talking to people who like it just makes me continue what I am doing. So, I'm really excited about the next season.
And we all will be waiting to see you next season!
Let's talk about your hobbies.
I study to be a screenwriter, to write films and TV series. I guess films are my hobby, I like writing them, I like acting and I like watching them. So that's mainly my thing. But I don't have time for too many hobbies. I study not only a theory, but also have half a year of practice per year.
You also work as a coach and a choreographer. What do you prefer: to coach or to compete yourself?
Oh, I prefer competing myself! Right now, I mean. But at some point, a few years from now, when I can't compete anymore, I really would like to be a coach. I love creating programs, so I would like to continue that too.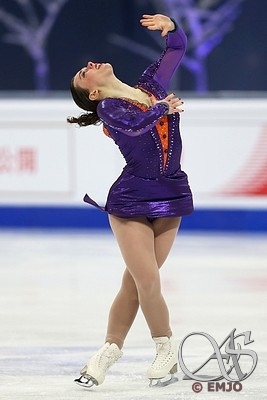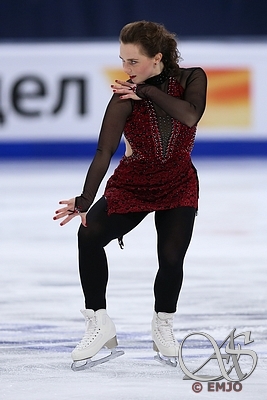 So what do you want more: to coach or to be a movie maker?
Whoa! I would like both! Of course, we only have 24 hours a day, but maybe a few hours on the ice and a few hours in front of the camera or writing will work. Also, movies are a really tough business, so it's good to have something else on your side as well. I don't know. I'm still figuring it all out.
Thank you for this nice talk!
Thank you for calling me. I love Absolute Skating!