Loena Hendrickx: "I really love the sport, so I won't give up!"
March 26, 2021
By Judith Dombrowski
Photos © Judith Dombrowski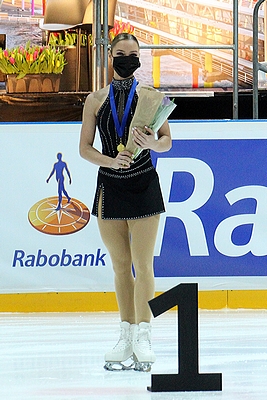 I met Loena after her successful free skate at the Challenge Cup in The Hague. After two very difficult seasons full of injury problems it felt great to see her smile back on the ice, in the kiss and cry and in the mixed zone. Loena talked about her long and difficult journey back, her everlasting love for skating and her plans beyond her competitive career.
Loena, congratulations on winning your second international gold medal of the season here at the Challenge Cup in The Hague. How do you feel about winning here and what does it mean to you?
So, I am very happy that we could have another competition before Worlds, it's good to gain more trust in yourself. And I think I can be very happy with the result. I skated reasonably well, but I also think there are a lot of little things I can still improve on.
Anything specific?
I didn't feel really stable on the ice, it was a little shaky. So I think after skating here I feel more confident and I will hopefully be stronger at Worlds.
You had quite a lot of injury struggles over the last two seasons, can you tell a little bit about your journey, how did you manage to come back and especially how you managed to come back so strong?
It was a very hard time for me, physically and mentally. I would say that I am usually mentally quite strong but after all those injuries it was incredibly hard. I had an ankle injury, and after a while off the ice it felt good, I could jump again and everything but as soon as I put my skates on, it was worse. So I couldn't skate. The first time after that I tried to skate I felt so sad because I realized I again couldn't skate and I had to rest for a few weeks because it wasn't healed. I think it was like this three times, that I tried to go on the ice was just another set-back for me to rest more, which was mentally very hard. And when I could really start training on the ice, the lockdown happened so once more I couldn't skate. Back to rest for two more months. So I was very sad I couldn't compete at Worlds last year, but then nobody could so I tried to make my body stronger. And then, after the lockdown, I came back on the ice and I felt so good. I didn't have so much pain and I could finally skate again. I felt, so, so happy. I really can't describe it in words.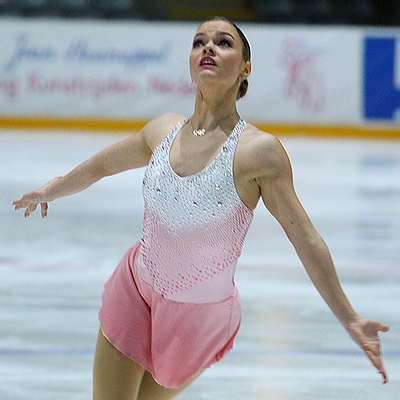 I can imagine - I remember we saw your name on lists of competitions often and then you had to withdraw again.
Yes, it was so hard and once I could skate again I was so happy. And I knew this is what I want and this is what I worked for off the ice.
Many skating fans around the world will remember your happy and emotional reactions during the Challenger Series event at the Budapest Trophy last autumn, your first event in 18 months. I remember I had tears in my eyes seeing you there.
Yes, as you just said, I was on the lists of so many competitions, that competition as well. So when I was on my way to Budapest I remember I told my brother Jorik: "I can't believe I made it into the plane. I am really going, finally in a competition!" And then I skated my best in the short. It was just so awesome. And I was really emotional. Not only because it had been so good, but mainly because I could finally, finally compete again. The feeling of competing was so great.
During this long and hard time were there actually moments when you thought of giving up?
Yes, there were a few times of course, especially in these moments when I couldn't start on the ice and I had to rest again. There were times when I cried for two or three days at home and nobody could cheer me up. But then it clicked in my mind and I told myself: "Look, I really love this sport, so don't give up, try your best and show the people that you're a really hard worker and show what skating means to you," so that's what I did.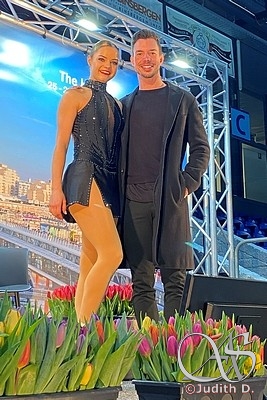 You always skated together with your brother Jorik. What changed for you when he ended his competitive career?
The first year (2018/19 season) I skated only with Carine (Herrygers), he didn't skate, he didn't train with me. I competed at the Nebelhorn Trophy in Oberstdorf that year and it went great. (Read the talk we then had with Loena here.)
But then it became mentally really hard because I didn't have that skating partner to motivate me. We always drove to all the practices together and that was suddenly gone. So then all the injuries came and now I have a new training partner who motivates me. (Loena turns around and smiles at Lindsay van Zundert, who is waiting for her teammate to finish the interview.)
Your brother changed his position now from being your training partner to being your coach next to Carine Herrygers who coached you since your childhood. How does it work together, who takes which part of the coaching?
I think they both do the whole thing. Half of the time I skate with Carine, half of the time with Jorik. I think they complement each other well. It's good to have different training routines. It motivates me even more to have two different trainings. But of course it's similar, they teach the same technique as Jorik also learned it from Carine.
As you have worked with your coach Carine for your entire life, do you remember the first significant thing she taught you and what is the most important thing she taught you?
The first thing, I can't really remember. She taught me the first steps on the ice until now. So I guess the first thing was how to move forward on the ice without falling. And the most important thing, I think, is to just enjoy skating and then people around you will see how much you love it. And when you don't love it, then you have to quit.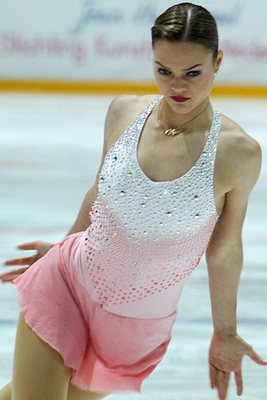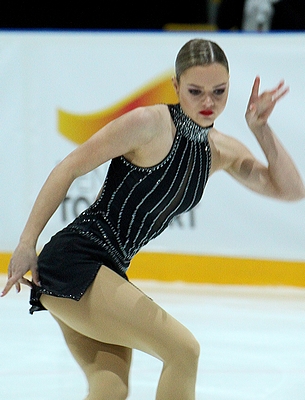 Looking a little bit ahead, another Olympic season coming up, do you have any plans in mind considering the programs, the music..?
No, I don't have any music yet, I will start searching soon, because it's important. I know the direction I want to go in a little bit but it's still unsure. I really hope I can finally compete a whole season and hopefully make it to the Olympics.
I guess we won't see a classical program from you, right?
No (laughs), I don't really like that style, but maybe we will have a surprise, who knows.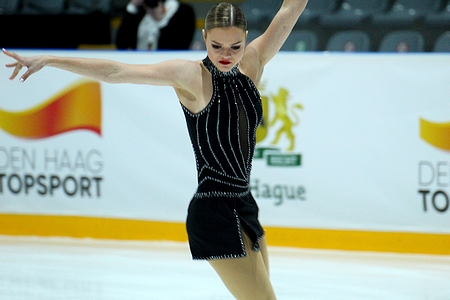 Is there any element you're working on or you want to improve on for next season?
I think the speed of my program can be much better, my skating skills and just the total picture. I hope I will have the same technical elements and have them steady.
During the last two seasons ladies' skating changed a lot, young skaters came up, jumping quadruple jumps and triple Axels and setting new standards. Does that add pressure or what do you think of that development in general?
I think 1 1/2 years ago I started practicing the quad toe. I did it in a harness. It went really good for the first time. Then the injuries came. And then you see all the Russian girls jumping these quads, now teven with their arms up, it's just insane. And I want to practice it as well but I know my body is not is not the best body for skating, I know I am not big, but still…
You're also not 14.
Yes, exactly! (laughs) But yes, the level of skating has improved so, so much. For myself I think, I just have to enjoy skating, improve myself and don't wonder too much about what the rest are doing. I just want to improve myself.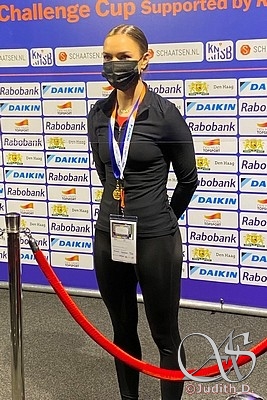 Going a little bit away from skating: What else is there in your life right now? Hobbies, school, studying?
I have half a year more of school now and then I will probably take one year off for the Olympic season. And then I plan to start school again. I take longer than a normal student but I think that's normal when you're in skating.
As hobbies, I usually like to go shopping, but that's of course a little bit different and difficult right now.
Do you have any plans for after your competitive career, which hopefully isn't over any time soon?
Yes, I want to become a kindergarten teacher. It's been my dream since I was 8 years old. Ever since then I wanted to be a kindergarten teacher and it's still the same. So hopefully after my career I can study that and work in that field as I really love children and would love to work with them.
Loena started her short program with a fall on the triple flip but with a 10th place made it e easy to the free. We wish her good luck for the free skate at Worlds and the next, Olympic season. We all hope to see her as healthy and happy as at the time of our talk and at many competitions to come!