Meet Olga Mikutina
March 23, 2022
By Reut Golinsky
Photo © Wilma Alberti, Iana Saveleva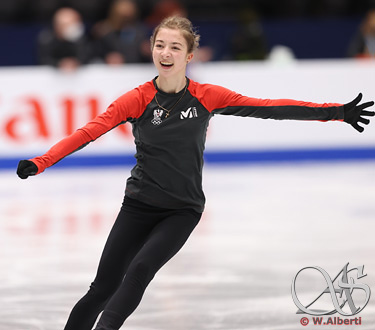 The two-time junior and two-time senior Austrian national champion Olga Mikutina is just at the beginning of her international career. She was noticed by the media as a local star during the Europeans 2020 in Graz and then made some jaws drop when she finished 8th at her debut Worlds in 2021. We talked to Olga towards the Worlds in Montpellier this week, took a stroll down memory lane, discussed her current season, and finished with some fun rapid-fire questions.
You took up skating when you were four years old and by the age of twelve you were already a three-time national champion in your age category. What do you remember from that time? Maybe your first competition or first medal...?
I don't really remember my first medal, but I do remember my first dress. It was yellow and small. I even kept it as a souvenir, because it was a precious memory from my very first competition.
One of the memories I have from that period, I don't even know why, is that at the big competitions, like the Ukrainian nationals, for example, I was always last to skate. And I always loved it, because the best skaters usually skate towards the end, the audience is always interested to see them. And, of course, my biggest motivation back then were toys and chocolates people were throwing for me on the ice. At the beginning I kept all the toys but when there were too many and our apartment was full, we started taking them to children's homes.
My first memory of you is from Europeans in Graz. You were the "face" of the hosting country. It was your first big senior event, your first Euros. How did it go for you?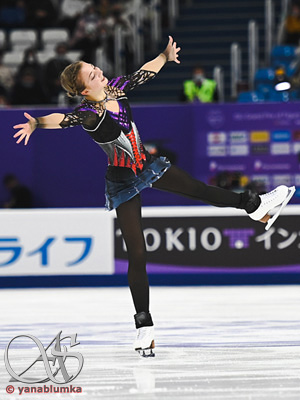 Yes, this was my first big competition, the audience was huge, so many people came to watch. At junior competitions, even at junior Worlds, there were less spectators, so the public is what I remember the most. And, yes, there was a lot of attention, because it was in Austria, so I had to talk to many journalists. Overall, this was a great experience and I loved competing there. Unfortunately, I wasn't 100% healthy then. I caught a cold right before, on our way to Graz. But still, there were a lot of positive emotions.
Almost right after that the whole word "closed down" because of the pandemic. How did you spend that period?
We even flew to Canada, for the Worlds [before it was cancelled], and we were there for two weeks, training. Then everything was cancelled, and we returned home. We were upset, but, of course, health was the highest priority. During the first wave we had the strictest lockdown. We were not allowed to walk outside, we were sitting at home, the streets were empty. So, for two months we had to train at home, we had online practices, training jumps in parking lots. The school was also online. It was unusual, I even have somewhat positive memories about that time. Of course, ice rinks were closed, but it was something different, a change of routine, I will remember this period forever.
Around mid-May we returned to the ice and then I had summer camps. And so, things got a little bit better. Although when the season started, competitions kept being cancelled which was quite sad.
Yes, that season there were almost no competitions and then Worlds in Stockholm.
Your first senior Worlds - but strange ones, inside the "bubble" - and was also an Olympic qualifier. You surprised us all. Yours was the best result at Worlds for an Austrian woman since 1997.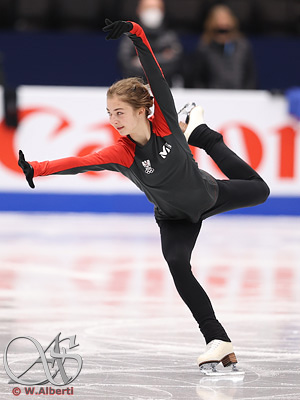 I just managed to skate well in both of my programs, my short was clean and there was only one big mistake in free. And the judges apparently liked what I did and gave me good marks. That's it. I trained [towards this event] like I always do, and I just tried to do my best.
I qualified for the Worlds, and with that, I already felt that I reached my goal and so I just enjoyed being there. I just needed to show everyone what I could do [in practice]. There was no pressure. I didn't even think about qualifying for the Games. I didn't even know that results at Worlds will define who will go. I thought it would be decided later.
As for the "bubble" it felt like a regular small competition which usually doesn't have a lot of audience. We couldn't leave the premises, but in general it didn't feel like it was something big, and the competitive routine was habitual.
We're approaching this current season. I know that during last summer you were injured. How is it going now?
Luckily it has completely healed. I am back to my normal training regimen, and I can prepare well toward the Games.
Due to that injury, you started your season quite late, with the Rostelecom Cup, your first Grand Prix event, and then Europeans. How did they go? Like with previous events, there was no pressure or anxiety?
Well, anxiety is always present during the competition, even if it's a small local one. And it's normal, maybe it's even good when you feel it. It would be strange not to feel that at all. But I know how to control it.
I really liked the "Iceberg Skating Palace", it's filled with light, warmth, and grandiosity. And we could walk along the promenade, but we didn't see much except that.
The European championships were well organised. I liked that there was no "bubble", and we could have a walk in the town center, taking our minds off the competition.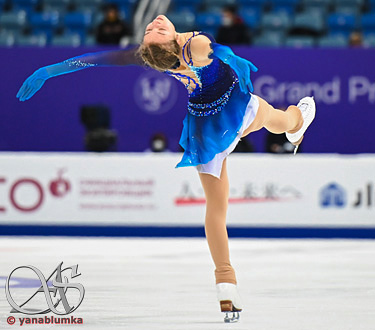 I know this rink well, I already competed there. It is very comfortable. There were a lot of people in the audience. I thought that because of COVID there would be some limitations, but the arena was full enough and it was a great feeling that there was someone to skate for. There was, of course, a daily risk of getting a positive test, but nothing ventured, nothing gained.
And then there were the Games that probably didn't look exactly like you imagined them to be...
To tell the truth I haven't really watched any of the previous Olympics. Moreover, only recently I started watching programs or parts of programs, elements from other skaters, when I happen to see them in social media. I haven't watched and wasn't that interested before. I'm more focused on my own skating. But, of course, I had a certain image of the Olympic Games in my mind. This is the biggest competition, the highest point in every athlete's career. I probably imagined them bigger, more unique, something out of this world. In the end, everything was quite usual, just the regular ice, you do what you're usually doing. There were not that many spectators and they were sitting quite high, far from the ice, so when I skated, I didn't really see them; there were only judges and my coach. But, of course, there were Olympic rings everywhere.
We came to Beijing after the Opening, but we had a chance to participate in the Closing Ceremony. It was truly magical, very festive, and this will be one of the memories I'll keep in my heart. My favourite Olympic tradition was to exchange pins!
The Austrian Olympic Committee gave us pins and we could exchange with athletes from all the other countries. There was even some kind of competition to see who would gather most. And, of course, there were more rare ones, from exotic countries that were more in demand and there was a serious fight for them.
Did you manage to buy the Olympic mascot, Bing Dwen Dwen?
Yes! That was quite a complicated task as this was the most sought-after souvenir. I went to the shop probably more than ten times, almost every day, because I wanted to buy as many as possible for my relatives and friends and you could buy only one panda a day. There was a long line, so you needed luck to be there at the right time. It happened a few times that we stood in line for an hour and a half and when we were finally inside the shop there was nothing left. This was an unforgettable experience too!
So, do you have any plans for the next Olympics? It will be in Europe, close to home next time.
It is tempting. It could be amazing. But we'll need to see how it goes, whether I will be able to combine skating with university studies.
Let's talk a bit about your programs this season.
The idea and the music for my short program ("My Nocturnal Serenade" by Yohio) were offered by the coach, Elena Romanova. I loved it. The style is completely new for me. The last two seasons I had "Sing Sing Sing" as my short, it was cheerful music. This one has this mysterious air about it. I love it and during the step sequence the music helps me to convey the mood.
My free skate we kept from the previous season, but we changed the dress. This music ("Primavera", "Experience" by Ludovico Einaudi) was also chosen by my coach, it was quite a spontaneous choice that we both loved.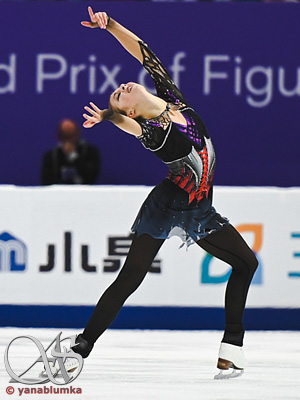 Rostislav Sinicyn was the choreographer.
It's funny, I noticed that Ludovico Einaudi was probably the most popular composer at the Games, in all disciplines.
Yes, his compositions really touch your heart, I love them. And he has a lot of very beautiful ones. I think his music helps you to open up, to let the audience feel your energy and euphoria...
When you need to skate to such music, how do you prepare? Do you have some story in mind when you skate to it? Do you listen to something specific before you go on ice?
Sometimes I have a story I think about, not even a continuous one, but certain moments and movements, like "here I imagine that I push aside the wall" or some other associations. Not always it's a story from the beginning to the end of the program. Often, in the warmup area looking at the mirror I start improvising to this music, because I really like it.
I'd like to finish our talk with some rapid-fire questions for our readers to get to know you a little bit better. Ready?
Whom would you want to ask for an autograph if you could?
Nobody.
What would be the genre of the book about your life?
Fantasy. Just because I really love fantasy and read a lot of it.
If not figure skating, what would it be?
Dance or rhythmic gymnastics, something connected to music and movement.
What is your biggest fear?
Death, this is probably each person's biggest fear, I don't know... Also, big heights, when it's high. So, no bungee jumping or parachuting for me.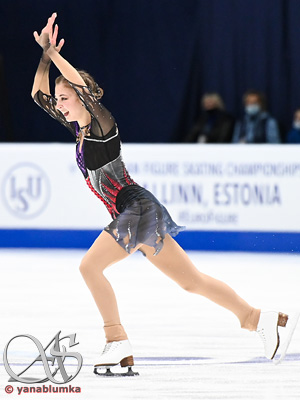 Something that always makes you smile - your "cure" for a bad mood.
Chocolate. "Milka" is my favourite one.
You need to choose only one food you will eat till the end of your life.
Probably fajita, my favourite food, our friends introduced us to. It's a Mexican dish with grilled chicken breasts, peppers, and guacamole inside a tortilla.
Do you remember what was your first Instagram post?
Yes, it was a photo from our trip to Abu Dhabi. We had a competition there and had some sightseeing, learned about a new culture.
Your favourite Disney character.
Tinker Bell from "Peter Pan". Or Nemo and Dory from "Finding Nemo".
Last movie or book that made you cry.
It doesn't really happen that I cry because I know that it's not real. But the movie that gave me goosebumps was "Titanic". Or maybe some historical films about war, like the one we once watched in school, "The Boy in the Striped Pyjamas", which was very sad.
If you have only 24 hours to fly to any place in the world, where would you go?
I have a few. I really want to go to London one day, I fell in love with it from the movies. Hawaii, seems like a nice place, and Australia.
Describe to me your ideal day.
Get enough sleep, that's a must, to have syrnyks (curd cheese pancakes) for breakfast. And then to spend time with family or friends, to go for a walk, to relax, to have a swim in thermal spa or to sit with friends in a cafe at the quay on the lake nearby, or to have a ride on a bicycle.
Thank you for taking time for this talk and good luck at Worlds!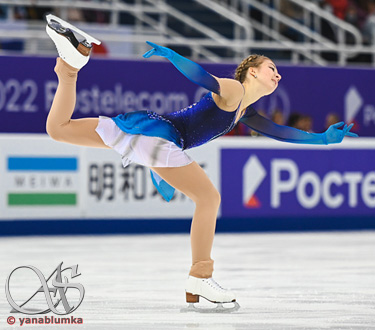 This interview was initially planned to take place before the Games. When I was preparing for it, I noticed that Olga and I shared a hometown. We both were born and spent our childhood in Kharkiv, Ukraine. For an "off ice" part of our talk I thought of discussing our favourite spots and exchanging childhood memories. In my worst nightmares I couldn't imagine that in a month our beautiful city would be under a ruthless attack, that its wide boulevards and parks, its Freedom Square, one of the largest in the world, and its residential areas will be methodically destroyed every single day. It was too close and too painful to talk about it now, when Kharkiv and Kharkivites are still going through hell. But we agreed that during our next interview, when things get better - because they certainly will! - we will dedicate part of our talk to the city we both love.