#USChamps18: the best of our social media coverage
San Jose, United States
© 2017 Absolute Skating
Photographer: Tina Tyan
Do not copy any photo without written permission.
Click on the picture to see a larger image.
Ladies Short Program



Bradie Tennell, #1 after Ladies Short:
"The biggest feeling [I have] right now is pride. I'm very proud of how far I've come this year—overcoming my injuries and just the technical aspect of things."
Mirai Nagasu, #2 after Ladies Short
"This is what I've been training for. This is my dream. When you work for something for so long it just means so much, and I'm sure you all know that when the moment matters and when you're expected to deliver it's hard to."
Karen Chen, #3 after Ladies Short
"[...] I ended up coming back to this short program and this long program because I felt like it was something I'm very comfortable with and it's something that I really loved and I know works for me."
[Photo 1] Angela Wang and Ryan Bradley goofing off before the group 1 warmup.
[photo 2&3] Five US Champions with ties to the Bay Area/San Jose - Kristi Yamaguchi, Brian Boitano, Rudy Galindo, Peggy Fleming, and Charlie Tickner.
Pairs Short Program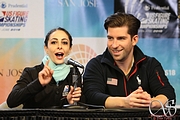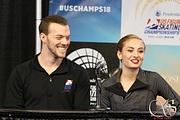 Alexa Scimeca-Knierim/ Christopher Knierim are #1 after Pairs Short
Chris at the press conference: "The score was good, our biggest one of the season, but that's to be expected at a nationals, usually. But we're happy. It was definitely an improvement on our Grand Prix season and our senior Bs. Everything is finally coming together and we're both feeling 100 percent in training. We're just happy that everything's coming together, because it's been a long two years."
Tarah Kayne/ Danny O'Shea are #2 after Pairs Short
Tarah: "I was off the ice for five months. It's really nice to get off the ice just feeling good about ourselves, because I think that we've both been struggling with the fact that we go into competitions from last season and we get disappointed. Like, 'What's wrong with me, why can't I do this anymore? What am I missing?' I was really injured and didn't put in the training that we needed to, and that showed in the results. And just in the last
few months we have really been able to start training again after the surgery."
Danny: "It was very nice to be back, be healthy and as Tarah said earlier to feel good and feel comfortable, feel good about getting off the ice."
Deanna Stellato-Dudek/ Nathan Bartholomay #3 after Pairs Short
Nathan: "It was nice. It was a little rough around the edges here and there, but I mean, we're happy with it. Obviously a lot of stress, a lot of pressure goes into this year especially, but every competition really, and we really felt like we held ourselves together and gave a strong performance."
Deanna: "It felt pretty good. Just the same thing, almost like it was a Monday morning first-time skate, we clicked heels into the throw, we clicked blades, just the little messy things. And I think the competition is so close that that cost us a little bit, but it's OK, the competition is close so that's also the good news."
Men Short Program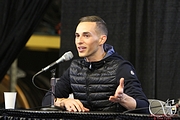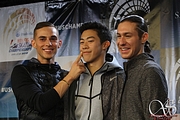 Nathan Chen #1 after Men Short
"The program was a little watered down. I didn't do the quad Lutz, and I did make a mistake on the Axel which was a little frustrating, but overall I think the program was OK. I made a couple other little mistakes on the jumps, so you know, things to fix for Saturday. I'm glad tomorrow I have the day off to recover, so Saturday will be more fresh. Ultimately, I was happy with the crowd, the audience was very loud, very receptive. I really enjoyed myself."
Adam Rippon #2 after Men Short
"I've had visions of what I've done the past four years, dancing through my head like a nightmare. I remember eight years ago, I did a double Lutz and fell on the footwork. And then four years ago, I let the pressure get to me and I was a disaster. I said, I'm eight years wiser, I'm stronger, I'm cuter, and I'm just poised and ready. Ready to reclaim my time."

"I wouldn't take anything I've ever done back. I would never want to redo anything. Every disappointment I've ever had has made me so much stronger and so much better. I wouldn't be the person I am now, I wouldn't appreciate what I'm doing now as much as I do if I didn't have the ups and downs of not making the team, breaking my foot, feeling like I've come up short. I'm just a completely different person."
Jason Brown #3 after Men Short
"Oh my gosh, the crowd was incredible. There is nothing more exciting than to perform in front of a huge crowd. And that doesn't have to be size-wise, it's the amazing energy that a crowd brings, and that's what's so special. I felt it, it was amazing, throughout every part of that program."
Short Dance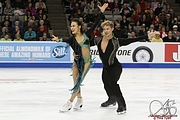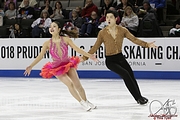 Maia Shibutani/ Alex Shibutani #1 after the Short Dance
Maia: It felt really amazing. We love U.S. Championships, and that was a great way for us to start the competition. Alex: Yeah, I think it was our strongest performance of the season so far, which is only natural as we progress and get comfortable with the program. We've made a lot of progress throughout the year, even though we started the season really strong in Russia. So just a great feeling to be back here at U.S. Nationals
Madison Hubbell/ Zachary Donohue #2 after the Short Dance
Madison: One of our goals was staying really present in the moment, because we've had some performances where we get ahead of ourselves. We did a pretty good job today, a few calls that were not necessarily expected, we've gotten Level 4s (footwork) on every outing so far but not today, so we left some points on the table, but it's done and we're really proud of how we did to start this championship and we're looking forward to the rest of the event On being hungry for their first U.S. title…
Zachary: Imagine you've been in a desert with no water for six years, and that will give you an idea.
Madison Chock/ Evan Bates #3 after the Short Dance
Evan: We're happy with the short dance, which was exactly what the goal was. Trying not to think so much about the results. Obviously having three teams so close together, we're very aware of that. So we set personal goals as far as skating our best, and today we did that.
Ladies Free Program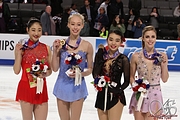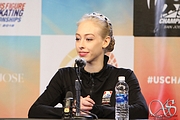 Bradie Tennell, Gold Medallist
"Going into it I could really feel the intensity of the arena and all the energy, and I knew I had to just rely on my training, and I did, and I'm really happy with how I skated."
(on when she first thought of qualifying for the Olympics..)
"The first time it entered my mind was when I won my junior title back in 2015, and probably the reason I thought that is that a lot of previous Olympic team members have won junior titles, so I thought, 'Oooh, this is the first step to making the Olympics.'"

Mirai Nagasu, Silver Medallist
"Wow. I'm usually not one to be at a loss for words. I am super happy with how things have gone. With mistakes, I scored the highest that I've scored in a U.S. Championships, and right now I'm super proud of myself."

"I was very unhappy with questions about, 'If you make the Olympic team, that'll be eight years in between, that's a long time.' And I know that. This is about my journey and that decision hasn't been made yet. There is always that chance that I'll be skipped over again, but right now I'm enjoying that performance, that training that went into it, to have it come to fruition like it did tonight makes me really emotional."

Karen Chen, Bronze Medallist
"I'm just so proud of myself that I was able to forget about all the pain I was in and just keep reminding myself that I trained so hard for this moment and I'm not going to let some stupid sickness win, and I am going to keep fighting until the end. I'm just so proud that I did that and I can't be happier."
"I think I did whatever I could to prove myself and whatever is left, is left for other people to decide my fate. I'm just really proud of what I could do."
Pairs Free Program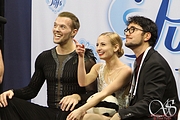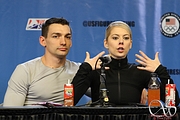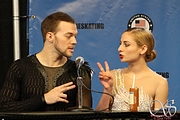 Alexa Scimeca-Knierim/ Christopher Knierim, Gold Medallists
Chris: "It wasn't our best skate. We do have a lot of strong elements, which I think helped us stay up in the points, but you know, we still need to improve and we still need to get better for future competitions."

(On waiting to receive their scores… )
Alexa: "I have had a more relaxed approach to this event as well as the competition prior. After the music ended, I was a little bummed that I didn't have that feeling after when you know you've nailed the program and you feel so alive inside and you just want to celebrate. Because I knew of the mistake that was left on the table, it was disappointing. So when we skated over to get our marks, we weren't sure how the rest of our elements would be scored, and would it hold up to keep us on top when we lost so many points on the jump. So I was concerned whether we would win or not in that moment. I came here really wanting to make the Olympic team, obviously, but to say I didn't care if we would be champions or not would be a lie, it was important to me to win again. In that moment, I was a little doubtful, but looking back at some of the replays at and those throws and lifts, it was actually well done, and sometimes it's hard to recognize that when you're skating."
Tarah Kayne/ Danny O'Shea, Silver Medallists
Danny: "I just want to say that I'm excited to be back out there and skate a long program this year, and I'm so proud of my partner and how far she's come since the beginning of the last month. I'm excited to keep moving forward and see where we can go from here."
Tarah: "Most of our growth has happened in the last month, as Danny said, and so this program today was really special for both of us. We love Swan Lake, it's my favorite ballet, so I really enjoyed skating it for everyone today and I hope that everyone enjoyed the work that we put into it."
Deanna Stellato-Dudek/ Nathan Bartholomay, Bronze Medallists
Nathan: We felt like we had a gutsy performance today. We went for that throw quad, it wasn't quite there for us, but we're thrilled to be up here with these two teams and among the best in the country for what we do.
Deanna: Last year we had skated pairs for six months, now we've been skating pairs for a year and a half, so now I have a little bit of muscle memory, so I hope to create more, and I hope to make the elements that I do have muscle memory for a little bit better also.

Men Free Program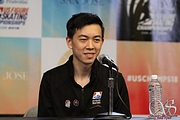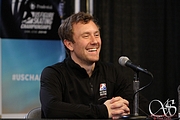 Nathan Chen, Gold Medallist
"I'm happy with tonight. I laid out a five-quad program, which I hadn't been able to do all season. Obviously, I have things to take back home … but ultimately I'm happy with tonight and I think I really did my job here."
Ross Miner, Silver Medallist
"I had one of the most fun nights I've ever had on the ice. That's what I do in training at home, so it was such a good feeling to put it out there at the big game and show what I'm capable of, and that's what I do all the time. It was pretty special."
Vincent Zhou, Bronze Medallist
"I love what I do, and what I do is this thing called figure skating, not sure if you've heard of it before. Tonight was pretty special, the crowd was awesome, and the energy was flowing through my veins, if that's even possible, and I know I made a few mistakes, but overall I'm proud of myself for fighting all the way through tonight."
[last photo] Adam Rippon with Shadow, one of the puppies present at the Milk Bone Athlete Lounge. This are dogs from Heading Home Animal Rescue, a non-profit organization dedicated to finding good homes for local shelter animals in need.
Free Dance
Congrats to the dance Medallists!
1. Madison Hubbell/Zachary Donohue 197.12
2. Maia Shibutani/Alex Shibutani 196.93
3. Madison Chock/Evan Bates 196.60
4. Kaitlin Hawayek/Jean-Luc Baker 187.61
Editor's Note: There are no quotes for the free dance because transcripts for the free dance press conference were not released.
Olympic Team Announcements
U.S. Figure Skating announced today the athletes who will compete at the Olympic Winter Games PyeongChang 2018 as part of the U.S. Olympic Figure Skating Team.
The ladies singles team is Bradie Tennell, Mirai Nagasu and Karen Chen.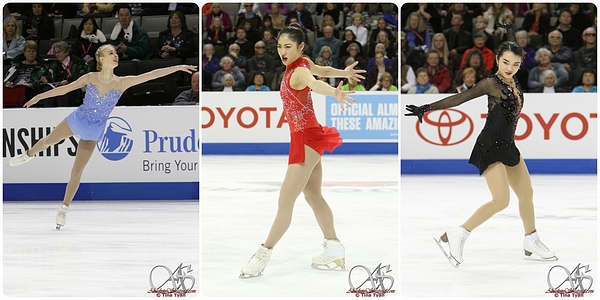 The pairs team is Alexa Scimeca-Knierim and Chris Knierim. [photo left]
The men's singles team is Nathan Chen, Adam Rippon and Vincent Zhou. [photo right]
The ice dance team is Madison Chock/ Evan Bates, Madison Hubbell/ Zachary Donohue, and Maia Shibutani/ Alex Shibutani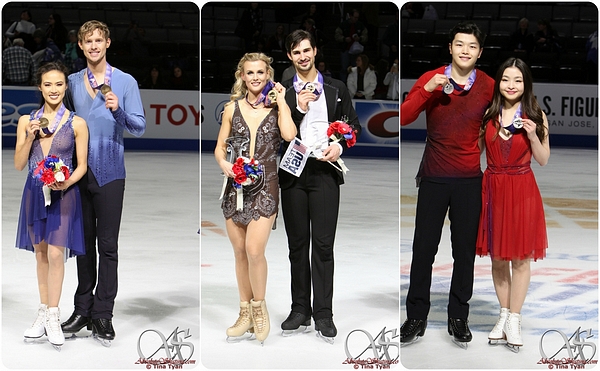 Team USA announcements
Team USA Ladies selections for the following competitions are:
2018 World Championships
Karen Chen, Mirai Nagasu, Bradie Tennell
2018 Four Continents Championships
Starr Andrews, Mariah Bell, Ashley Wagner
2018 World Junior Championships
Starr Andrews, Ting Cui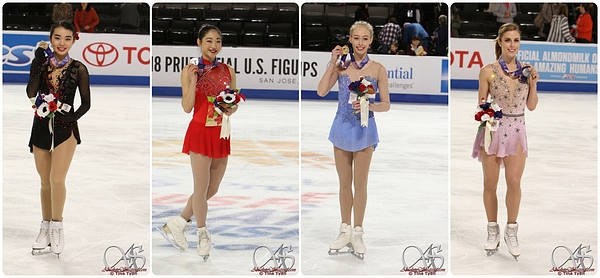 Team USA Men selections for the following competitions are:
2018 World Championships
Nathan Chen, Adam Rippon, Vincent Zhou
2018 Four Continents Championships
Jason Brown, Ross Miner, Max Aaron
2018 World Junior Championships
Alex Krasnozhon, Camden Pulkinen, Tomoki Hiwatashi
Team USA Pairs selections for the following competitions are:
2018 World Championships
Tarah Kayne/ Danny O'Shea
Alexa Scimeca-Knierim/ Chris Knierim
2018 Four Continents Championships
Ashley Cain/ Timothy LeDuc
Tarah Kayne/ Danny O'Shea
Deanna Stellato/ Nathan Bartholomay
2018 World Junior Championships
Sarah Feng/ TJ Nyman
Audrey Lu/ Misha Mitrofanov
Team USA Dance selections for the following competitions are:
2018 World Championships
Madison Chock/ Evan Bates
Madison Hubbell/ Zachary Donohue
Maia Shibutani/ Alex Shibutani
2018 Four Continents Championships
Kaitlin Hawayek/ Jean-Luc Baker
Lorraine McNamara/ Quinn Carpenter
Rachel Parsons/ Michael Parsons
2018 World Junior Championships
Christina Carreira/ Anthony Ponomarenko
Caroline Green/ Gordon Green
Chloe Lewis/ Logan Bye
*Order and sorting of posts differ from how they appeared on Twitter and Facebook.
Quotes based on transcripts from the press conferences and press releases, courtesy of the US Figure Skating Association.