The 2007 Nordic Championships


| | |
| --- | --- |
| | This year Nordics were held in Helsinki, Finland and that means Marimekko land to me (Finnish textile design). So why not go and see the only competition for me this season AND buy some material from Marimekko? Easy decision. The flight took no time compared to, well Korea, but when the captain announced the weather conditions outside as being sunny, ok that part was good, but the -21 C part was most definitely not good at all. I sure wished I were heading to well, yes, Korea or something warmer. |
I hate cold weather unless it's watching it on TV sitting on the sofa drinking hot chocolate at the same time. Then it's sooo beautiful!

The Finns however are used to this weather. I found, to my big surprise while approaching the arena, some men running around playing with a ball. The game is called soccer and well… I kind of consider that a summer sport. Brave people these Finns!
| | |
| --- | --- |
| The Helsinki Arena is pretty close to the city centre. The tram can easily get you there in 10 minutes. The arena is just 100 m from the tram stop, but I went to the wrong entrance, of course, as usual. Why should I choose the right one when it was -21C outside and I was carrying heavy cameras? I finally found the right entrance and was received by the really nice staff. Most of them spoke Swedish and they even understood my southern accent. | |
The arena is the size of the one we have in Malmö, perhaps a little bigger, but not huge so it holds about 6000 people. Since this is a small competition there's a friendlier and, how shall I say, easy atmosphere. Everything is arranged when you need help whatever it might be.
Good organisation and good food!
What about the competition then? I don't have detailed info since I take photos while I watch so I can't focus on the skater's feet (take off /jumps flip and Lutz) I also used my video camera for the first time with a very shaky result. It has a focus system just the opposite of that in my digital camera. Taking a headache pill before using them is recommended.
Day 1
Ok, I arrived just in time to see some of the Novice competition and Josefin Taljegård's free skate (she's Swedish). She has great presentation which is rare being so young. Her program is fast and funny and she is full of positive energy. I remember from last year's Nationals that she had a really nice Biellmann position and yeah, she still does, but most of all very nice expression and artistry. She got the gold medal and became the first Swedish Novice Champion ever.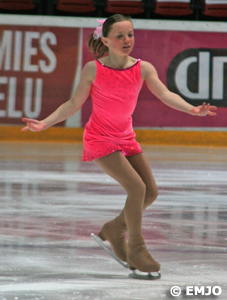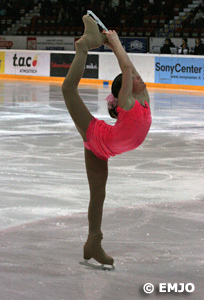 The men's short program was one of the highlights this day.
The female part of the audience got somewhat louder when the men entered the ice...
Ari-Pekka Nurmenkari is of course very popular with the Finnish audience. He skated an ok sp. Michael Chrolenko from Norway had a good day doing all the jumps clean. Adrian Schultheiss looked so much better during the warm up than he did at the Swedish Nationals. He did a beautiful 3 Axel and I was hoping he would perform well in the SP. He fell doing the combo but still looks better than in December. I hope his back problem is solved. He has very nice, soft way of landing the jumps. His knees are way down and his expressions have improved too from last year. Nice sp!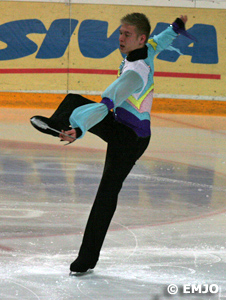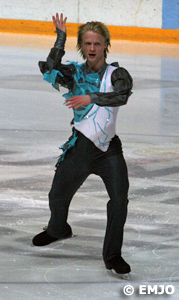 And then it was Kristoffer's turn. He kept his SP from last year and it shows, he can now perform this program to its full potentials. Of course Kristoffer was in the lead after the SP.
The senior Ladies
And now Finnish TV arrived, meaning that the camera man now stood by his camera. (The camera had been there for a while.)
I practiced using my video camera on a Finnish girl Henriikka Hietaniemi who represented Finland at the Universiade this year in Torino. (Video of her sp)
Elina Vesimäki had some problems with her costume during the program and had to stop the music and start again from where it happened. Something with a neck strap that came undone. Laura Lepistö finished second at the Finnish Nationals, after Susanna Pöykiö and before Kiira Korpi. She was a pleasant surprise. She has very nice, soft skating. I think she had a step out in one of her triple jumps?

Here is a video of Laura Lepistö SP.

Susanna P. has the most wonderful interpretation and skating skills. I was told she did better here than at Euros.
Highlight number two for the night: Lina Johansson (of course).

| | |
| --- | --- |
| I met her in the hall before the competition and she looked relaxed and happy. Even during the warm up she looked great, just like she does at home while practising. I was really indecisive whether to tape or take photos. I ended up taking photos and now I almost regret it. Lina had a superb SP! I have loved the program since the first time I saw it back in May of last year. It had great potential already back then and now it suits Lina like nothing else. Wow, I was so happy for her! This is the "true" Lina skating, with joy and excellent spins, fast step sequences and all the jumps were clean, no doubt about it! She even got many +1(GOE). | |
At the end of day one I went back to the hotel passing the Finns still playing soccer, but now with the lights on.
Day 2
The best news today, it's only -4 C outside and I didn't have to go up at 5.15 as I normally do at home which I consider to be in the middle of the night. Nope, I had a normal breakfast and came to the arena around 10.30.
| | |
| --- | --- |
| | Highlight number 3 was what I had wanted so much to see: Alexander Majorov (Sweden) who was in the clear lead in the junior men's event. He sure is something! The warm up didn't turn out so well for him (video) but the competition did! This kid has it all; charisma, great skating skills, interpretation and he nailed 6 triples! Only the 3 Axel is missing. I talked to his mom and she told me that Sasha had the stomach flu the day before, with fever and everything that goes along with it. He only had Saturday to rest and get well, the day between the short and the free program and he sure did get better! It's amazing to be able to perform like that after having had the stomach flu, the body would surely be tired and need more than one day of rest! Anyway, next up for Sasha is Spain and the Junior Olympics. Good luck, Sasha! I think we will see and hear much more about him in near future. |
The Junior ladies' free program
Jenny Vähämaa (Finland) won this event and got almost the same impression and skating skill points as Majorov in the Junior men. I didn't watch that much of the junior ladies since I had to eat, but the Finns have a new promising lady in Jenny. She made some mistakes in the FP but still won it by far.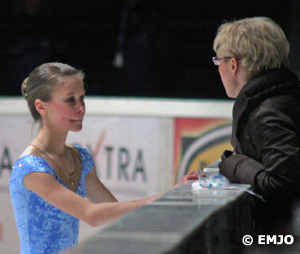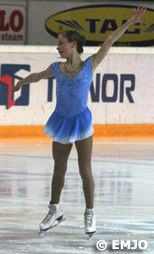 The senior men's free program
Most of the audience came back for the senior men's competition.
A favourite part is the 6 min warm up when the competitors pull off one triple after another. (video)

| | |
| --- | --- |
| | Ari-Pekka has an interesting program but fell or stepped out of a couple of jumps. Unfortunately the same went for Michael who kept last years free program. It was a bad day for both of them. Adrian's costume looked familiar and it sure was, he'd kept his FP from last year. Adrian has a different style, skating wise and also music wise, he makes choices I really like. It is refreshing to see, and I hope he'll be able to skate his programs clean and not with a couple of falls like in the FP. He's sure an eye catcher and very nice to watch, I like his style. |
| | |
| --- | --- |
| The last man out is Kristoffer Berntsson. Need I say more? Finally he'd let the dancer Zerjon Abebe do the choreography to both the short AND the long program. I have been waiting for this since that choreography brings out something special in Kristoffer. The disco number is superb! He opened with a beautiful 3 Axel/ 3 toeloop combo, and then went through some ups and downs jumping wise, but none of that mattered cause it's such a joy to watch this program! | |
Well, ok, he'll get better points if he lands all his jumps but Kristoffer has improved his spins. They are faster and more centred, not as good this time as at Nationals though. The program is fun and Kristoffer, he is so much into the role of disco king! He was number one tonight, of course!
The senior ladies are back and so is the camera man who looked at me more than once, giving me the evil eye. I think it annoyed him to hear the clicking from my camera while filming.
Now, at the press centre I was lucky to meet this Finnish man, and I asked him if he could videotape the ladies for me, preferably Lina and he said sure! So now the videos aren't so shaky…
| | |
| --- | --- |
| | Susanna Pöykiö had the most beautiful skate I have ever seen her do live. This Munich program is dramatic and expressive, and it was suddenly very quiet in the arena. People held their breath to begin with while she skated, but after a minute it was more like we were witnessing something very special and magical. It was a totally stunning performance by Susanna. She's a true joy to watch and I could watch her for hours. Some jumps were downgraded to doubles, but still, she was without a doubt number one today. |
Lina Johansson had a bad day. She fell on three jumps, put her hands down on one and she fell in the program or stumbled almost right before take off to one of her combinations. But she came back and showed great strength and landed a triple Salchow and a toeloop with great height. A strong return after the bad start, but it wasn't her day and she was very sad and unhappy afterwards. But she showed her true potential in the SP and will be able to do the same with her FP. I am very sure of that, I have seen her do it, so no worries at all. Lina just need to get back into competing again after the two injuries.
Laura Lepistö had more luck landing her jumps and moved ahead of Lina and got silver.

After the medal ceremony Kiira Korpi (who didn't compete) entered the ice and got some award, I think. She and Susanna stood on the ice for a while and a woman announced something in Finnish to the audience.

The Swedish team had their best competition ever winning 10 medals, which is more than Finland that got 8 this time. Next year's Nordics will be held in Island. Overall it was a nice competition with some really good skating and good organisation. To wrap things up I bought some cloudberry and Mesimarja berry liquor and a Marimekko umbrella suited for the kind of weather we have where I live.