Cup of Russia 2008 - Day 2
Moscow, Russia
Text © Maria Bagdasarova
Pictures © Maria Bagdasarova, photo.fsonline.ru
The second day of the competition at Cup of Russia started with Ladies' Free Skating.
Carolina Kostner of Italy clinched the gold, Rachael Flatt from the USA won her maiden senior medal (silver), and Fumie Suguri of Japan took the bronze.
Carolina Kostner delivered a solid performance to Dumsky Trio by Anton Dvorak which featured 6 clean triple jumps including an excellent triple flip-triple toe loop combination. However, the reigning European champion and World silver medallist could not avoid mistakes, as she stepped out of the triple loop and fell on the under-rotated second jump of her double axel- triple toe loop combination. Kostner scored 113.70 points which was enough to win the free and take the gold of the ladies event.
"Remembering the disappointing result of Skate Canada, I felt really nervous coming into the free skate, but as I landed my first jump I felt comfortable and put myself together for the rest of the program," – said Kostner at the post-event press conference.


2008 World Junior champion Rachael Flatt finished second with a confident performance to rarely used music in figure skating - La Mer by Claude Debussy. Flatt got the highest technical mark of the night, landing the triple flip – triple toe loop combination and getting all level fours on the spins. "It's absolutely incredible. I had lots of fun out there. But still that's not my best performance, there are a lot of things to improve", Flatt told the press, apparently referring to the negative GOE she got for triple lutz combo and change foot camel spin.
Overnight leader Fumie Suguri of Japan, with 103.74 points, slipped into 3rd place. 2006 World silver medallist denied having any pressure skating last and was obviously greatly disappointed with the technical side of her performance. Suguri popped three of her jump attempts while triple salchow was called under-rotated.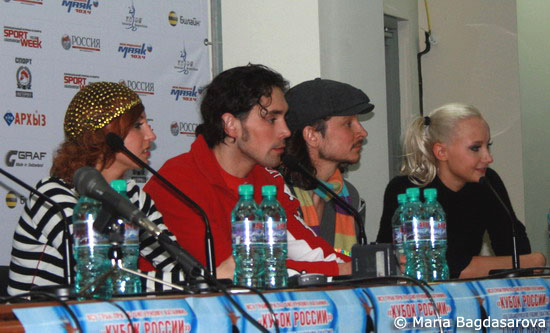 Ice dance proved to be the most dramatic and tough event. Jana Khokhlova and Sergei Novitski won the original dance with somewhat cautious but solid and technically strong performance to Blues and Swing rhythms. The Muscovites got all level fours for the dance spin, twizzle sequence and the lift, and level three for both of the step sequences. They scored 59.33 points overtaking other couples by 1.9 pts on the element score. "We love this music; I think we interpret it well. We try to reflect the atmosphere of possibly a bar where a man flirts with a lady, As for our colorful costumes, we work with famous Russian designer Slava Zaitzev and we're very satisfied with the result of this experiment," said Khokhlova explaining the story of the dance.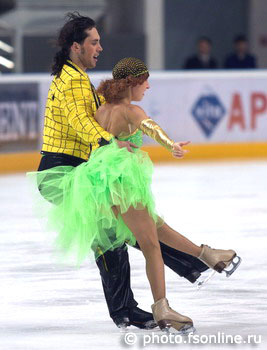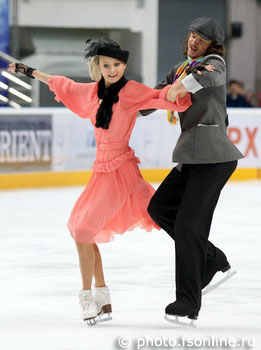 Oksana Domnina and Maxim Shabalin managed to maintain their lead, but came second in the original dance. 2008 European Champions got the highest component mark of the night and lost on technical score: the twizzle sequence was awarded level three while circular step sequence got only level 2. Domnina/Shabalin's original dance which happens to be a waltz really stands out this season in a bunch of swings, foxtrots and lindy hops. "We wanted to do something different, to put focus on our own style," Domnina explained.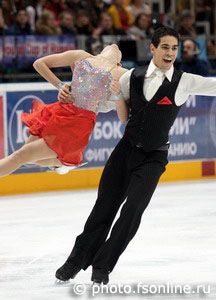 In third place lie the young Italians, Anna Cappellini and Luca Lanotte who overtook Meryl Davis and Charlie White of the US who suffered a disaster with two falls from Charlie White and a huge stumble on the twizzles, finishing with the lowest technical score in 8 th place in the Original Dance and slipping into the 4 th overall. The Italian couple on the other hand delivered a very confident dynamic performance with great speed and ice coverage to the famous Bei Mir Bist Du Schoen song from Swing Kids soundtrack. Top-ten finishers of the last World Championships got level four for the twizzles, spin and the lift, level three for the diagonal step sequence and only level 2 for the midline non-touch one. "Making the choice of the music for original dance we wanted to take one piece of music with a changing rhythm like we did for our first free dance in the senior circuit," Lanotte commented. "We love this music, it's a very catchy tune, we keep on singing it all the time," Cappellini added.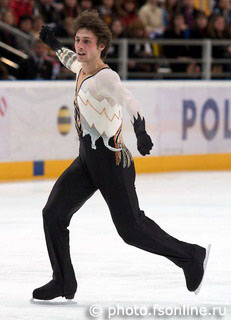 Men's Free Skating concluded Saturday program in the Megasport arena. Brian Joubert of France took the gold, Tomas Verner finished second, Alban Preubert grabbed the bronze.
Overnight leader Brian Joubert who almost secured his win after the flawless short program planned two triple axels, a quad and several triple-triple combinations. However some things didn't go as it was planned. Joubert fell on his opening quad which was called under-rotated, didn't add triple toe loop to the flip as the curve of the exit was not confident enough. The Frenchman got level two for the circular step sequence and change foot combination spin, level three for the straight line footwork and combination sit spin. The only level four was awarded to flying sit spin. "I'm not 100% satisfied, but the most important thing I've improved since last week," the 2008 World Silver medallist told the press
Tomas Verner of Czech Republic won the free skating, but stayed second overall. 2008 European champion skated to a Tango Medley and landed gorgeous quadruple toe loop, triple lutz – triple toe loop combination, triple axel and triple flip, however stepped out of his triple salchow and failed to put second triple axel in a combination as the landing was shaky. Verner got all level fours for his spin and level three for both step sequences. "I'm not satisfied, but I keep on improving and happy it was better than at Cup of China," said Tomas Verner at the post-event press conference. Being asked why tango music is so trendy this season in the men's field, Tomas claimed he picked it up first. "I would loved to do something people would recognize straight away, but not too overused. I want that the crow who sits freezing in the arena got entertained. Actually that will be interesting when top guys skating to the same music will compete against each other at Worlds," Verner added with laughter.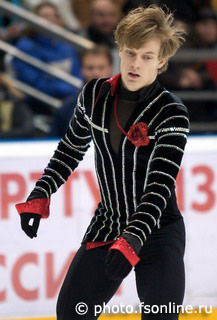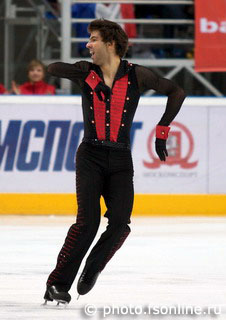 Another Frenchman Alban Preaubert of France took the bronze atthe Russian Grand Prix. Preaubert got a huge response from the crowd as he landed all his jumps including quad and two triple axels skating to Kalinka, Russian Folk song. "This program is dedicated to my first coach who passed away. She made me fall in love with the Russian music," Preaubert told the press.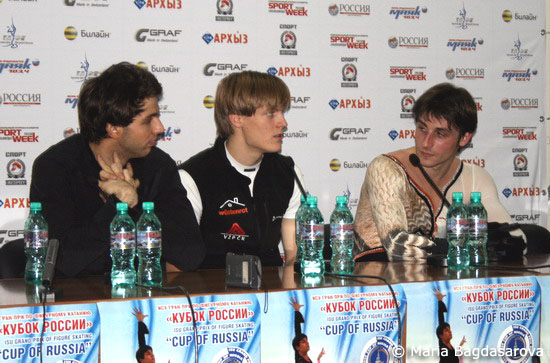 After winning the free skate AS resident Tomas Verner could not refuse to answer a couple of our questions:
Tomas, what is the story behind your LP choreography which really gets interesting in the second part?
I have to say if I were more physically ready to skate the second part I would be able to show the choreography much better, because it was basically built to be the best program I've ever skated. I had so much fun doing this program with Lori Nichol in Canada. I think she's amazing as she can invent the choreography not only for a girl, but also for a man, making it look like it's a man skating which I think my tango is now. And I just love the music and the choreography and enjoy skating it. The problem is that's pretty hard because we try to attempt top levels on spins, steps and transitions, so it's pretty hard to skate the program. So far I have not been physically ready to do it 100%, but I hope to get at this point by Europeans and Worlds.
Do plan to do any shows in December?
Yes, between Christmas and the New Year I will be in Lithuania doing the show with Margarita Drobiazko and Povilas Vanagas, who are my really good friends and I hope I'll enjoy it as much as last year. I really had fun last time because there was a great bunch of people like Tatiana Totmianina and Maxim Marinin, Joseph Sabovcik and other people. It was a great event.
It's still not confirmed you're making GPF.
Yes, it doesn't depend on me, if I perform there that will be another step in my season. I take it step by step and so I hope I will skate even better, have both of my programs clean. Journalists keep asking me if I can beat Brian. I can do that only with two flawless skates.
Good luck for the rest of the season!
Go to Day 3 report.