Golden Skate Awards 2008.
Tomorrow. Today. Yesterday.
By Reut Golinsky
Photos © Reut Golinsky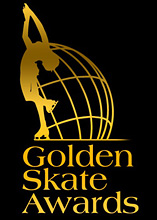 The season is coming to an end and in order to recall how it started for me this autumn, I leafed through pages of the diary I wrote during my short vacation to Milan for the Golden Skate Awards 2008.
This was an unique event for skaters and fans all over the world, inspired, as promoters said, by the spirit of the MTV awards. During this event, the world's finest competitors are honoured for their results, skating skills, elegance on ice, brilliant choreography, and each of them receives a special prize.
Tomorrow
It was September and everything was planned and booked for my Europe trip. The 2008/09 season was supposed to start, for me, in Paris with the Trophée Eric Bompard Grand Prix event. I also planned to visit my favourite city, London, and to go to Patrick Bruel's concert. There was lots of logistics, lots of arrangements and quite a lot of money. So when we had a chat on the forum about the Golden Skate Awards and discussed what Stéphane Lambiel would be nominated for, I couldn't even imagine that I'd actually be there while he receives this nomination. (I thought he'd receive "Elegance", by the way, and I was proved to be right). What with unplanned additional vacation days and sudden cheap flights, here I am, sitting in Barcelona's airport and waiting for my flight to Milan.
Tomorrow… last week I was thinking: "On Friday you'll be able to say this "tomorrow" word".
Tomorrow, on Saturday, 11th October, I'll see performances from the greatest skaters in the world. Tomorrow I might see Stéphane's new program which he was preparing for the coming season. I'd wanted to see it earlier in the summer shows, but due to his injury he couldn't skate for a while and his programs weren't ready. So GSA was the last chance for him to check his programs before Skate Canada in a few weeks.
The flight went well. It was my first time in Milan, so the first place I went was the Duomo, the Milan Cathedral, the most amazing building I've seen in my life. And I agree with Mark Twain, who said: "They say that the Cathedral of Milan is second only to St. Peter's at Rome. I cannot understand how it can be second to anything made by human hands".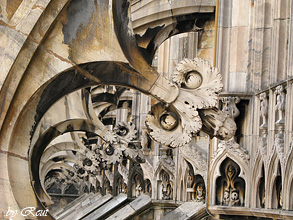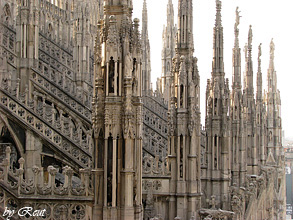 I went up to the top of it and spent a few hours just taking photos and looking at all the details, all those statues, birds and fruits and beasts and insects, carved out of the marble, and I didn't notice how fast the time passed. After small shopping spree in Quadrilatero d'Oro (Golden Quad) - you really can't visit Italy's fashion capital and not to go there – the day was almost over.
Today
I woke up very early, it was still dark outside, and the first thing I thought was: "Today!"
Today! In the evening I will see all of them. Less than a day left till then. It was quite unplanned that I was able to see everyone even earlier that day, when I had a chance to be present there during the rehearsal before the show. I love to watch rehearsals and practices, maybe even as much as competitions or maybe even more. Because during the practice you really see what figure skating is, how programs are created, how much work is put in. During the practice, in simple sportive outfits, skaters are more real for me and more themselves.
When I arrived, ice dancers were already on the ice and I was really glad to see Isabelle and Olivier. Then there were pairs, Aliona and Robin, Jessica and Bryce,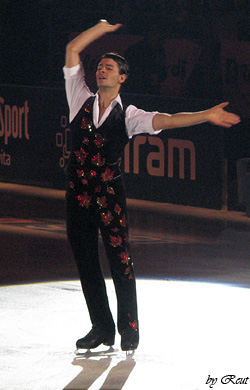 whom I really liked on the Worlds 2008. Lots of amazing skaters were there; this show had a brilliant cast.
Then it was time for single skaters. When I saw that Stéphane Lambiel was accompanied by Antonio Najarro, I knew that I was going to see his Tango, the new long program, choreographed by Najarro. I was excited and a bit nervous, because I liked his Flamenco so much that I worried I wouldn't like any other of his programs afterward.
Stéphane wasn't ready for the season, this was rather obvious. But he worked so hard - he was using every single minute that was left. It wasn't just a run-through, he actually continued to work on some details with Antonio, adding some elements, changing some. He even asked for additional run of his music, so I was lucky to see this new program twice. Though the program wasn't complete and was still shorter than a regular long program, I liked it. It was "something Spanish" again yet very different from Flamenco, but still it was his style and nature. His passion, he is so known for, was absolutely there. "I think what this program represents is pain. To feel that everything can be broken, everything can happen. I really want to show that sometimes your heart can have a big pain", - he explained the meaning of this program in one of his interviews later.
Finally the evening has come. On my way from the hotel I saw lots of people gathering from different directions to the Datchforum arena and it was a bit weird that now I had to share my experience with all those people, while this afternoon it was so private and special. The show was great. The cast included great skaters, members of Italian team, other than dancers and ladies, so that I got acquainted with their pair skating teams Laura Magitteri/Ondrej Hotarec and Marika Zanforlin /Federico Degli Esposti. The latter were four-times World Roller Skating Pair Champions and switched to figure skating in May 2007. It was also the first time I saw Samuel Contesti, the future European silver medallist. And it was my first time seeing Valentina Marchei live.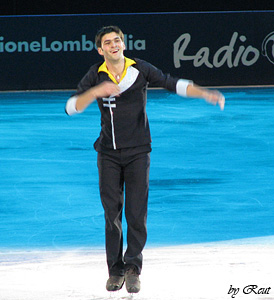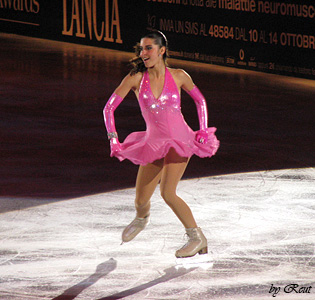 The Golden Skate Awards was held for the second time and for the second time I had an impression that first they decide the cast and then they "invent" some awards, although few of them were spot on. Isabelle Delobel/Olivier Schoenfelder received an award of "Artistically best skaters". I absolutely agree with this title, and they proved it again while performing their new exhibition program to "Immortal" in which, always being original, they used some satin bands as props.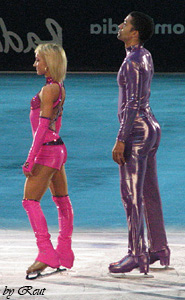 Aliona Savchenko and Robin Szolkowy were awarded "Skaters of the year" for winning two of three Grand Prix events they participated in, the Grand Prix Final, Europeans and Worlds. Aliona and Robin showed the energetic short program of coming season to "Lost in Space", and their extremely colourful and a bit kitschy costumes looked amazing on the ice.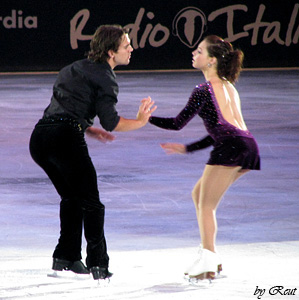 Canadian pair Dubé/Davison received "Discovery of the year", having medalled in all three Grand Prix events, getting to the Grand Prix Final for the first time in their career and being on the podium at Worlds 2008. They skated to "On fire" by Switchfoot, the exhibition program for 2008/09 - very gentle and melodic music which they skate to so well.
Stéphane Lambiel was defined as "Most stylish and elegant skater". Last season (2007/08) was a bit tough for him. He won the Grand Prix Final but was only 5th at Worlds. But the title of the "most stylish and elegant" is always about him, isn't it?
Stéphane skated to "Otoño Porteño" by Astor Piazzolla.
Jeffrey Buttle, the World champion 2008, who announced his retirement a month before the event, was awarded as "Best athlete" and performed to "Personal Jesus". As I was used to his more slow and fluid programs, I was really surprised to see him showing such a "wild" side of his character. He absolutely had fun on the ice, and the audience had fun too, watching him and applauding non-stop.
More awards were given to Carolina Kostner (The best technical skater), Federica Faiella and Massimo Scali (Silver Skate Award) and Sasha Cohen (Special Prize).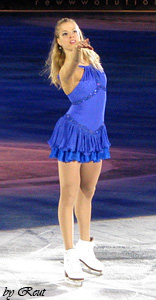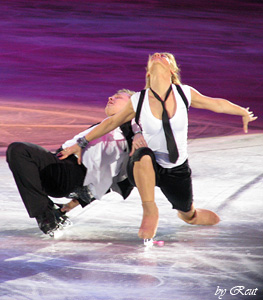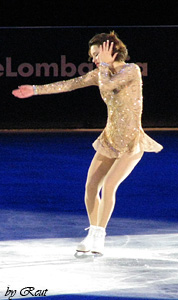 Evgeni Plushenko and Albena Denkova/Maxim Staviski were present and skated as honourable guests of the event.
Yesterday
It's always a bit sad when something bright, something you were waiting for is over. I feel sad and empty. I always feel like this during the "day after", the day after a small dream was fulfilled, the day after I had once again a small miracle in my life. I always feel this way and I always forget about how bad it is till the next time. What helps me in such moments? Writing the memories down and sharing my emotions with others by converting them to words and bytes.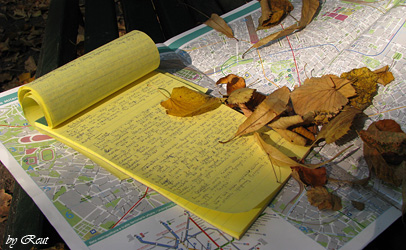 Epilogue
The season 2008/09 is coming to its end, and looking back we can see what was waiting for those skaters, who were, in October 2008, full of hopes for the coming season. This season was successful for some of the Italian team bringing silver medals both to Samuel and Federica and Massimo in Europeans - and two places for Italian men skaters for the Olympics due to ContestiÂ's very decent fifth place in Worlds. Faeilla/Scali were less lucky at the end of the season when the unexpected fall during original dance left them too far from the podium. The season was even less successful for Italian ladies: Valentina missed everything due to her injured ankle. Carolina fell short of defending her third straight European title and was defeated by Laura Lepisto. The Worlds in LA was a total disaster when she finished 15th place in the free skate and was 12th overall. The pair Magitteri/Hotarec doesnÂ't exist anymore: they split after Europeans.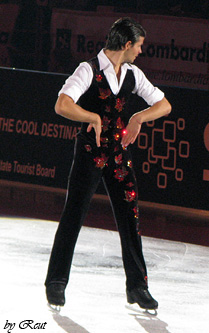 This season wasnÂ't easy for Jessica and Bryce either: they didnÂ't qualify for Grand Prix Final, but got back their title of Canadian champions. They were only 7th in LA and now Canada has only two places in pairs for Olympics. Aliona and Robin are not so unbeatable and lost the Grand Prix Final title, receiving bronze. Their short program at Europeans wasnÂ't flawless, they were 2nd, but they still won the event. During Worlds, with a lead in the short and long and a difference of almost 20 points from 2nd place, they proved that they definitely skate in a league of their own.
Isabelle Delobel and Olivier Schoenfelder started their season exceptionally well and won every event they took part in, but during the exhibition of Grand Prix Final, Isabelle was injured. She had surgery and they were forced to withdraw from both Europeans and Worlds.
For Stéphane Lambiel this season never started: a few days after the Golden Skate Awards he called a press-conference and announced his retirement from eligible skating because of an adductor muscle injury, which prevented him from training sufficiently. He is still missed greatly during competitions…
This season wasnÂ't easy, and not only for the participants of the last GSA. It was full of injuries, withdrawals, stupid faults and falls in programs, fair but weird placements and unexpected, mostly bad, surprises. LetÂ's hope that the next, Olympic one will be much better.