Figure skating should learn from synchronized skating 
Synchronized Skating World Championships, Budapest 
Text: Helga Dobor
Photos: Helga Dobor and Anita Kopka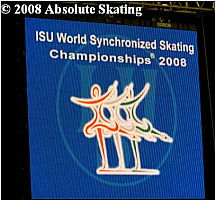 The title seems to be a bit harsh… but I felt that during the week I spent at the Synchro World Championships in Budapest. Of course I don't mean it in a bad way - just that this week was a lesson for me.
I didn't expect anything from the synchronized skating. I'd never attended any synchronized skating competitions before and I was rather afraid that I wouldn't like it. If I didn't like it, then what I would do? How could I write about something I didn't like? 

Congratulations to the organizers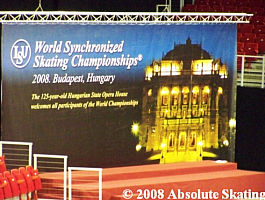 I shouldn't have doubted. This competition was rather a mix of my first skating event and of my first competition where I worked.
I want to write about the organization of the event, as I got my first experiences about the competition when I was getting my accreditation, and not at the arena.  

I was surprised the moment I entered the hotel. I've never had so much help and kindness at any competition before I got there. They not only told me what I should do and where, but even keep my company there. In the accreditation room, there were about 25 people waiting for their accreditation. I got mine in 10 minutes, and nobody had to wait longer.  

Later, during the week, the organizer volunteers showed us all around and we even got personal assistance when we needed it. Later there were many journalists; they all got the same assistance and kindness. Even the security staff I encountered was polite, nice and helpful, and they spoke English.
Seeing the arena, the organization and the people who were interested in this competition, I wished Hungary, Budapest could get more skating events. This enthusiasm would deserve it, also the skating-hungry Hungarian audience. 

Love at the first sight 

When I first sat down in the rink, a team left the ice and the German team came on to the ice. And yes, it was love at the first sight. I'm happy now, and feel lucky that I saw them first, as the first experience is always decisive. They not only became my favourites but stayed and will stay forever. I saw how much work, precision, enthusiasm and perfection is behind them. Of course later I could see the same with other teams too, but that precision I can see only in their skating.
I waited for my colleagues to tell them about my very first experiences and later I wasn't surprised when they became as dedicated as me.  

Figure skating should learn from synchronized skating  

Yes, again that title. Let me explain it before you throw stones at me!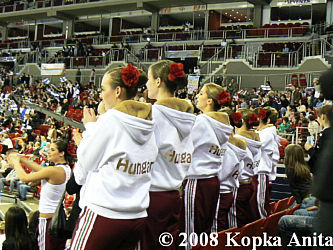 The arena was even more crowded than at the last European Championships in Zagreb. It was surprising, especially on the first practice day. There were so many fans from every country.  They were already cheering and clapping for their favourites.
The teams watched each other - and not only watched, but supported. They were louder than fans during the free skating at the figure skating competition. Shocking! They weren't enemies or rivals - just teams who share a common passion. I've never seen such enthusiastic fans! They (I mean everybody) clapped for all the teams, for all the elements the teams did on the ice. They were singing, screaming, shouting and making big noises during the practices too. Incredible.
I loved to watch the practices and never got bored.  Yes, unfortunately that could happen with me at figure skating competitions. Perhaps it happened because it was a very new thing for me.
Of course it was hard sometimes. Not because it was boring, but sometimes nothing is easy if you are so addicted to figure skating. I didn't miss the figure skaters there. I didn't need any figure skating right then.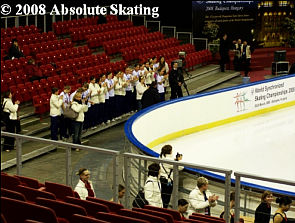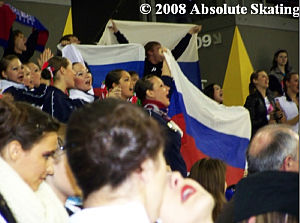 Oksana Domnina and Maxim Shabalin 

When you hear the first rhythm of the team Canada¬ís short program the magic can fly away. Masquerade Waltz by Aram Katchaturian. It happened to me - my brain started to replay Oksana Domnina and Maxim Shabalin¬ís Free Dance, moreover their Free Dance from the Euros ¬Ė and I didn¬ít see the Team Canada¬ís short program. Later some figure skating fans asked me if I saw that program and if I liked it. No, I haven¬ít seen it, just heard it¬Ö.¬†

I think all skaters and fans should go and see synchronized skating at least one time, to learn respect, (more) enthusiasm and to return to the very first time we fell in love with figure skating. Except those moments when your heart bleeds for figure skating during the synchronized skating competition ¬Ė as my heart did hearing the Masquerade Waltz. ¬†

Fans everywhere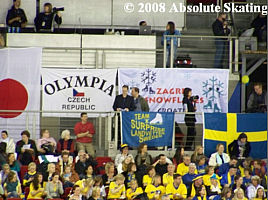 There were so many fans!! The Papp László Sportarena's (http://www.budapestarena.hu/) seating room is 12500 and we saw about 2500-3500 people there. There were Japanese, Americans, British, Germans, Canadian, French, Croatian flags and fans. Oh, and not to forget the Swedish, Finnish and Hungarian fans that were a whole other category, THE superfans, the Swedes got a whole section by themselves on the left side of the arena and the finnish and hungarians were mixed in everywhere in the audience throughout the entire place. We Hungarians have a saying for a big crowd of people like that, we say "They are so many, just like the Russians" – and my friend found its synchronized skating translation – "They are so many, just like the Finnish". We didn't even realise that there were so many fans, but before the Finnish Teams' performances the whole stadium became a huge, pulsating Finnish Cheering Team – it was magic and scary at the same time.
I felt like in a big family. And I really miss that feeling!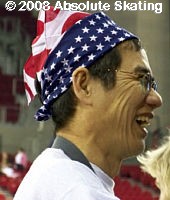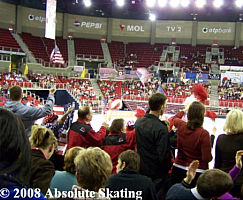 Memorable moments and thoughts 

This competition also brought some memorable moments - memorable in a bad way, and memorable in a good way.
I have to say once again, how small the world is. I met colleagues from figure skating events, old and newer friends from the figure skating world and freshly met fans.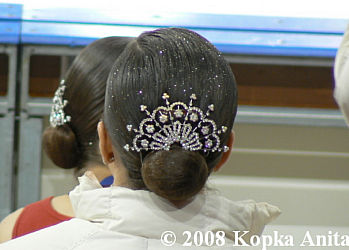 Is it only work for my colleagues or a Friday and Saturday evening out for fans? No, I do feel that we all are so ice-addicted ¬Ė and it doesn¬ít matter anymore, that figure skating is and always will be first on my list. Since I never attendended any of these competitions before, we didn¬ít expect to have the chance to go to the Synchronized Skating World Championships and totally love that too.
Meeting some skaters we don¬ít know at a supermarket in an evening and greeting each other like old friends (just because we had the similar accreditation card) showed and strengthened the fact ¬Ė which I was knew before ¬Ė that we all live similar lives and it will never change. It doesn¬ít matter where you are ¬Ė on the ice, at the boards, backstage, among the audience or sitting in the press tribunes (or at home in front of the TV) because we share a passion which has changed and formed our lives and which takes us prisoner, but we don¬ít mind as it¬ís wonderful. Ice-skating¬† - the sport we do everything for.¬†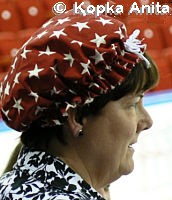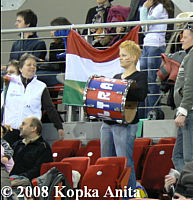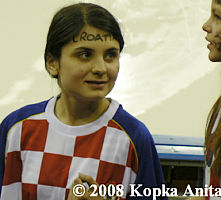 And as a fan shouted during the competition, I can only repeat him in my closing sentence -

And of course I would add: Danke schön Deutschland!