Nordics 2009
And the winners are…
By Magdalena Osborne
Photos © EMJO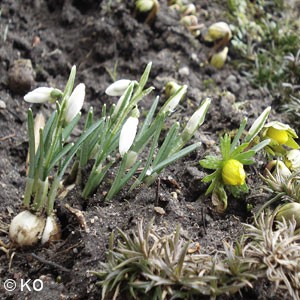 I know what I've said about the weather so far, and on the dawn of the last day of the Nordics no change was in sight. But I still insist it's spring and this picture from my garden proves it!

The junior men started off the day's competition and it couldn't have been more exciting. After the short program three Finns were in the top: Matthias Versluis, Otto-Eemeli Laamanen and Filip Nordman. But one Swede just wouldn't let the Finns sweep the podium; Michael Neumann who was in fifth place. He skated to "Face off" and started with a triple flip, double toe, double toe combination and earned loud cheers from the audience. Triples and combinations kept coming and it was clear his technical score would be high. That assumption was right, it was higher than anyone else's and he got an amazing 85.53 points and won the freeskate. Michael had a total of 125.18 points. Matthias Versluis had a comfortable lead over Michael from the short program. He's a tiny, flexible skater with lots of energy, but this freeskate wasn't his best. His spins and steps were good but the jumps were mostly doubles and in the end he had to settle for bronze. His points: 125.01. And then there was Otto-Eemeli Laamanen. He wasn't perfect either; there were plenty of flaws in landings and an edge problem, but this guy is a complete skater. Steps and spins were great at levels 3 and 4 and he was very enjoyable to watch. His final score was 125.39 points and he won the gold. Filip Nordman slipped down to seventh place.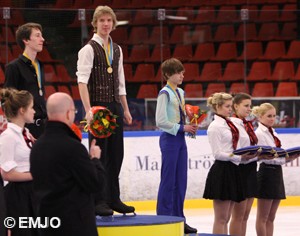 Among the junior men I'd like to mention two others. Keiran Araza from Denmark (you can watch a video of his short program in yesterdays report) did it again; he delivered not just a program but a whole show. Only one triple was clean (a toeloop) but somehow that didn't matter. The enthusiastic crowd was drawn into a magic world of great entertainment and fun, and Keiran received the highest components in his group.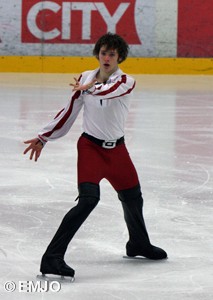 Bertil Skeppar from Luleå, Sweden, also gets an honorable mention. He skated to "Pirates of the Caribbean" and we've seen many of those through the years. This one was a bit different though; the choreography was extra clever and served the music well. Bertil started out with a beautiful triple Lutz, double toe combination but unfortunately things went downhill from there.
"Things didn't work out so well for him today", Irina Majorova, Bertil's choreographer, commented. "But this is his first major competition. He's been to Nationals a few times now and he knows the others boys and is comfortable there. This competition is bigger and many boys here are very good. Bertil was nervous coming here and it's a lot of mental pressure to handle. And he is only 16 but has the body of a man and he's still growing and it's a hard adjustment. But he's not giving up. He came to our club when he was five years old, so he's like another son to us. He trains with Sasha and they can't do without one another."
Bertil is a very good skater and we'd like to see more of him in the future. 

The senior ladies freeskate wasn't expected to be as exciting as the junior men, at least not in terms of who gets the gold. Most people believed Viktoria Helgesson would win, and she did. But this part of the competition was the biggest crowd pleaser; Viktoria received the loudest screams and cheers, and probably the largest audience, many more were watching today. After the short program she was ahead by eight points over Linnea Mellgren. In the freeskate the difference grew to roughly 20 points. Viktoria did well to the beautiful violin version of "One moment in time". She's graceful and expressive, and during her skate there was absolute silence in the arena. The cheering and screaming resumed when she was finished. She smiled and surely knew she had won, but she wasn't completely happy with her performance.
"There were a few mistakes, I have done better", she commented.
Well, it was good enough to win and she's had a good season.
"Yeah, without any breaks to nurse injuries I've been able to train and it's been great."
Her next destination is the Challenge Cup in the Netherlands and then of course Worlds in Los Angeles. In the summer she plans a trip to Chicago and then hopes for a spot at the Icedome summer camp in Oberstdorf. A lengthy vacation is not on the agenda but she's looking forward to a little R and R:
"In my home rink we only have ice through April so after that I'll have a little time to relax."Â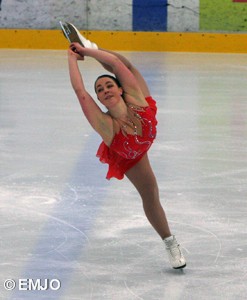 Back to the ladies competition: Linnea Mellgren kept her second place. She is petite and moves like a fairy on the ice. She skated to Edvin Marton (but no, it wasn't another Tosca fantasy!) and interpreted the music well. The bronze medal went to Henriikka Hietaniemi from Finland. She pulled off a triple Salchow, double toe combination like it was no trouble at all and landed a beautiful double Axel. Easy as pie!
The honorable mentions in the ladies go to Erle Harstad, Norway and Angelica Olsson, Sweden. Erle has competed twice in the European Championships with 29th as best place. She has beautiful spins and spirals and once she finds her triples she will place much higher. Angelica had a bad day and got deductions for most of the jumps, but like Linnea she's a petite fairy on the ice. She skated to "Angels", fittingly dressed in white. On a good day this girl will go very, very far. 

The senior men became a high point for many in the audience. After the short program it looked like it was already settled with Ari-Pekka in an 11 point lead, but Sasha Majorov wasn't out of the picture yet. Sasha doesn't have a reliable triple Axel and therefore has to work his other triples, and boy did he! The opening Lutz, toe was just the beginning. As the "Carmen" program progressed there were triples and double Axels all over the place, and the points kept piling up. Gone were all the anxieties from Helsinki, this was pure dynamite, and the crowd clapped along with the music. The sudden fall during the step sequence seemed to come out of nowhere. Sasha took a one point deduction, but still ended up with a total of 171 points! Ari-Pekka does have a solid triple Axel and he started with an extra nice one. Lots of other triples followed, but some turned into doubles and towards the end it was clear that Ari-Pekka was running out of steam. It was still a decent skate but the points were not even close to what Sasha got. He won the freeskate hands down, but because of Ari-Pekka's big lead from the short program, he still won with 171.78 points to Sasha's 171. One would imagine that such a small difference would really bother Sasha; if he hadn't taken the fall he would have won! He looked at it differently though.
"You can't think like that. If I had done something different then maybe he would have gotten another point too."
So true, Sasha is a good sport and definitely not a sore loser.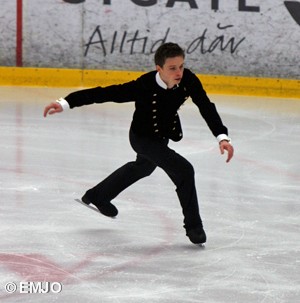 After Sasha and Ari-Pekka just that happened that many had hoped for; the bronze medal went to Denmark! Justus Strid performed a program that was fast and fun and had the audience screaming in delight. He tried many triples including an Axel; however the shaky landings gave deductions on most. Still, he earned enough points to finish on the podium. Well done!
Later Ari-Pekka shed some light on his performance.
"Today it wasn't very good. The triple, triple wasn't there and I did lots of doubles in the second part of the program. And my spins weren't so good and I only got level 1 on the step sequences, I don't know why. But I am very tired, mentally drained after Europeans since it's such a big competition. It was hard to come here even if the Nordics is a "normal" level competition. But it's been good to be here. It was really close today, Alexander was good!"
There was actually a little more behind his performance than just being tired.
"Well, I hurt my knees in the morning practice. I did a triple Axel and landed on both knees, it was quite awful. Ask my team leader, he was not happy! But it won't affect going to Worlds."Â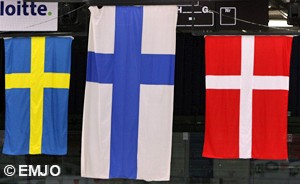 Right after the men a podium was set up on the ice. The medal ceremony was in three parts and first for the junior men. This time the correct flags were all in place and the Finnish flag in the middle was extra large. Gold and bronze to Finland, silver to Sweden, and Finland's National Anthem played. Only a minor adjustment had to be made for the senior men, again, gold to Finland, silver to Sweden, but this time bronze to Denmark. Justus Strid had got to be one of the happiest bronze medalists ever!
Finally the senior ladies got their medals and most of the flags had to be rearranged. Gold and silver went to Sweden and bronze to Finland. The flags rose as "Du gamla du fria" played one last time and the competitions were over. It's been three amazing days of great skating, excitement, some unexpected twists and turns as there should be, and happy moments spent with old and new friends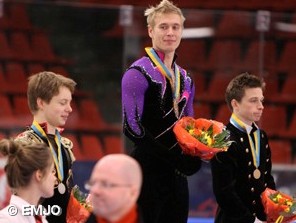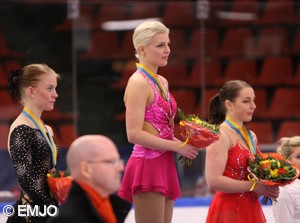 Tallying up the six different categories Sweden won the most medals; four gold and five silver. Finland followed with two gold, one silver and four bronze while Norway and Denmark each got a bronze medal. Iceland, we're counting on you next year! 

The draw back of skating competitions is the fatigue. As the days have gone by it's gotten increasingly difficult to get going at first light. Sleep deprivation comes with the territory, and it happens to all involved. There's so much more going on than ever meets the eyes of the audience. From the media point of view I can mention the press room and the wonderful staff who supplied us with Internet access, snacks and something warm to drink – you people are gems! And the local skating clubs worked very hard as skaters, parents and leaders alike volunteered for less than glamorous tasks; some were picking up trash in the arena when we left. A big thanks to all of you, you did a great job and made the 2009 Nordics a memorable competition!