Nordics 2009
Practice report
By Magdalena Osborne
Photos © EMJO
A springy weather of sorts greeted the Nordic skaters arriving in Malmö. The competitions don't start until Friday, but all of Thursday was reserved for official practice. All the sessions were held in the dreaded practice rink rather than in the main arena. We've sat there numerous times before, freezing every time on the hard, backless wooden benches. At least the rink seemed a little warmer this time; we couldn't see our breath…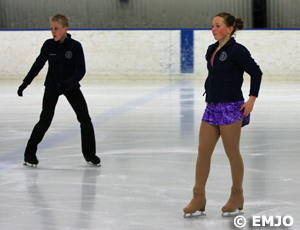 Marcus Björk from the Malmö club went through his short program, a difficult program, but he looked solid and skated with a lot of expression. We have high hopes for this one, now and in the future.
We've written about Josefin Taljegård before and she's worth mentioning again. She skated in a purple dress and owned the ice like she always does, throwing triples all over the place. She's a complete power package and a given winner in Sweden. The question is how she will fare against the Finns. In the next couple of days we'll find out.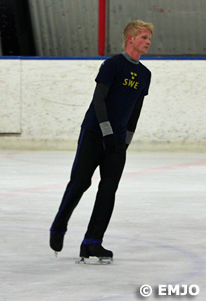 The second practice group was highly anticipated as it held a hot name in the Swedish elite; Adrian Schultheiss. He started on his long program but missed the landing on the triple Axel. He wasn't very pleased and tried it again but with the same result. Other jumps worked out better. But as soon as his music stopped he nailed the Axel and then once again. Good for you, Adrian!
The final group of Swedes was also a great one starting off with Sasha Majorov. This time he came with his mother as coach, and dad apparently got to stay at home. Fair, as he accompanied Sasha to Helsinki a couple of weeks ago. Sasha was first out in this group, but like Adrian he only did small portions of the actual program (Carmen, his long program). This guy we can watch forever, he skates like a young Yagudin, and he will most likely be a major player in Sochi in 2014.
This group ended with Bertil Skeppar, a junior from Luleå. Like many guys his age he's grown a lot taller which takes some getting used to. But even now his style is both bold and ballet like and his jumps are very high!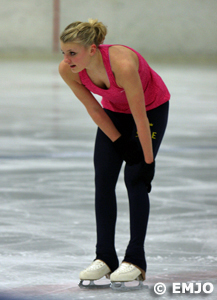 Due to other commitments we missed all the groups of Danes, Norwegians and skaters from Iceland. It wasn't until quite late in the evening we could return to the rink and resume the reporting. By then the rest of the skaters had arrived and the last Swedes to practice for the day were the Helgesson sisters. Viktoria did parts of her long program. She keeps getting better and skates with a lot more confidence now compared to a couple of years ago. The Swedish Figure Skating association has announced that she will be part of the Swedish World team, together with Adrian and Kristoffer. The pressure is on the three as Worlds serves as a qualifier for the Vancouver Olympics. Viktoria's younger sister Joshi will compete in the Junior Worlds. This girl is starting to get a taste of the senior circuit, but at the Nordics she will still compete as a junior. She went through her short program to music by Pachebel and she looked good!
Where was Kristoffer Berntsson, you might ask. We missed him of course but he stated early on that he wouldn't compete at the Nordics. He and Kiira Korpi were engaged elsewhere, in Harbin, China, to be precise – and the Winter Universiade. Best of luck to you!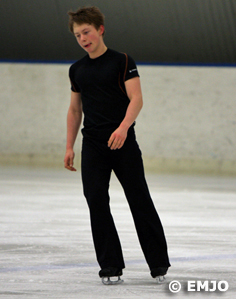 The last Finns to take the ice caught our interest. Valtter Virtanen, age 21, skated his short program; a Flamenco. His step sequence was well worth watching and I'm looking forward to seeing the whole program. The Finns have really nice basic skating and are a joy to watch.
Ari-Pekka Nurmenkari warmed up by skating almost the whole long side of the ice on one leg, impressive! He looked calm and solid in steps. He skated his short program to a Bryan Adam's song in a Spanish tempo but didn't do too much with it, the jumps were not all on his side. But he skated this program so well in Helsinki he was in 10th place after the sp. But now it was late and he was tired. He arrived not long before the session and assured us things would look better tomorrow.
The last lady of the day was Minna Parviainen. She arrived late and without her music so all we got to see was a warm-up. And the very last skater before the rink closed shop for the day was Mati as Piispanen, also a senior. The music to his short program was not your average classic piano or violin but rather a heavy, rocky piece; can't wait to see the whole thing!
It was a long and cold day, but the magic of the competition has begun and tomorrow there will be more!