Nordics 2009
A long day of short programs
By Magdalena Osborne
Photos © EMJO
On the first day of the competitions the weather hadn't improved much, and somehow this seems to be the norm when skaters visit Malmö. They must think the sun never shines here, but nothing could be farther from the truth – just not at this time of the year.
We got to the rink early to pick up our media accreditations, and yes, we got them at last, but the place was a bit of a zoo and there was some confusion about the location and time of the press conference. And the pressroom remained hidden to us until lunch time. Still, we got to watch a few more practice sessions!
The arena is the same one that hosted Europeans back in 2003. It's seen better days and a new arena was built in Malmö last year, but as usual skating has to settle for the leftovers. To be fair, the old one seats about 4000 people and is certainly big enough. Most of the people in the audience so far are either skaters and their teams, or parents. One disappointment was that the plexi glass on the boards was still up in spite of promises to remove it. EMJO had nowhere to stand, and finally a couple of sheets were taken down. Unfortunately the advertising on the boards made the camera not want to focus right, so the poor girl has had to shoot most of her pictures from the stands, over the glass. But the pics are good!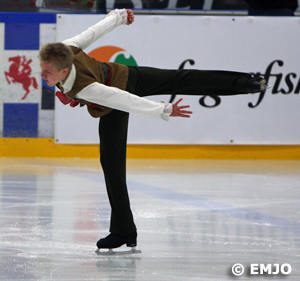 A total of nine boys entered the Novice part of the competition, all Swedes and Finns and one Dane. Nicky Obreykov, Sweden, skated to music from "The Godfather". He had a great circular step sequence with some different moves. Nicky is fast and fun and well deserving of his third place. Tino Elenius from Finland skated to the soundtrack "Men in black". MIB was written on his back. This guy is fast and flexible and had great spins. But the winner so far is Malmö's own Marcus Björk, age 14. This guy can pull off a 3T/2T combination and has a solid double Axel. He's currently practicing a triple without a harness. The quite small audience cheered like crazy for their local boy, but Marcus said afterwards that he didn't even hear it; he was too concentrated on his program. But he wasn't nervous!
"I did the steps well", he said, "but the landings were shaky, I can do better."
And his coach Laco Vince agreed.
"Marcus is a fighter and tomorrow he will do it right. He has a triple Salchow and is very close to having a loop as well."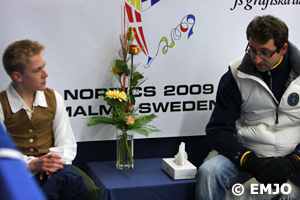 If an award had been given for the highest cuteness factor it would have gone to Mandus Thorman, Sweden. A foot shorter than anyone else he skated to "Singing in the rain" and started his program with a spin and then steps. A little unusual but it worked for him. He struggled with the landings and finished some time after the music, but he had enough charm to make up for all that.
The press conference was scheduled to take place at 2 pm which was during the Novice girls competitions. Adrian Schultheiss, Viktoria and Joshi Helgesson, Angelica Olsson and Linnea Mellgren (Sasha Majorov was missing) sat at a table and the reporters (me and one more) got to ask them questions. Viktoria talked about Europeans and her less than successful short program. Her attitude was to "put it behind you and move on. What's done is done, look to the future." Good thinking. Although the Nordics don't give the skaters any ranking points, they all agreed it was still worth participating for the experience.
"When we compete against other countries like here at the Nordics we feel a special team spirit and it's really nice", Viktoria said.
Winning wasn't a big concern to her; her goal was to skate two perfect programs. Adrian was asked about Worlds since this year serves as a qualifier for the Vancouver games and the pressure is on for him and Kristoffer to secure two spots for the Swedish men. But Adrian wasn't worried:
"I'll do my best, but in the end the Swedish Olympic Committee (SOK) decides if we get to go at all."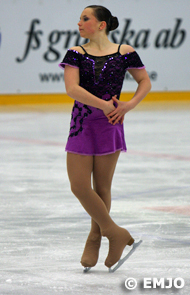 Carina Skoog, the Swedish Figure Skating Association's Elite Sports Manager, spoke about how the level of Swedish skating keeps getting higher and that there are many young skaters up and coming. She hoped for a large and supportive audience at the Nordics. As far as the Olympics she assured us that if Adrian and Kristoffer qualify at Worlds she would do everything in her power to persuade the SOK to send two men to Vancouver. Through Per Adler, the new General Secretary we learned that Sweden wants to host the Synchro World Championships in 2011 or 2012 (in Göteborg), and Europeans in 2013 or 2014 (no location yet). Yes!
Since the press conference was held during the Novice girls short programs, I missed all including Josefin Taljegård. But she stood her ground just fine against the Finns nailing all the elements. She is currently in the lead after receiving an amazing 24.46 for the technical score. The judges also gave her the highest score for skating skills; 4,50 and according to some who watched her, she was worth it! Another Swede, Johanna Wick, is second place and in third Timila Shrestha from Finland.
Then it was time for the Opening Ceremonies. "Carmina Burana" was played loudly and four cute little kids and five girls holding flags representing the Nordic countries made formations and then came to a halt during the speeches. The little ones stood still with their arms stretched out the whole time, such champs!
A city official listed all the good things about the expanding Malmö region and the President of the Swedish Figure Skating Association, Maria Meyer-Martins, welcomed everyone to the competition and encouraged the skaters to learn from each other, and develop figure skating in the Nordic countries. After her short speech the skaters all left the ice and made room for the junior ladies to skate their short program.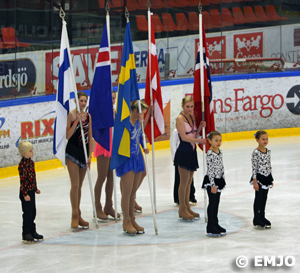 Twenty ladies competed and apart from a fall on the triple Lutz, Joshi Helgesson was very close to perfect; she took the lead and kept it. The audience screamed and cheered loudly for all skaters, but it was of course extra loud for the Swedish skaters and Joshi was a favorite.
"I took a fall on the Lutz, I went up too f ast, but other than that the skate went ok. I will do two Lutz jumps in the freeskate tomorrow, but I'm not worried, it's worked well in practice and during the warm-up – it'll work tomorrow!"
In the morning we had caught a glimpse of the Junior ladies practicing. Our eyes fell on Matleena Laakso from Finland and her Susanna Pöykiö-inspired style. Matleena fell twice on jumps in her program which cost her lots of points. Too bad or she would have been in the top three for sure. So far the top four all consists of Swedes: Joshi, then Isabelle Olsson, Rebecca Emanuelsson and in fourth place Malin Magnusson – Ruf. The honorable mention in this group goes to Tara Bang of Denmark for best costume. (For a picture of this fantastic creation go to the daily photos, day 2.) Two more young ladies should be mentioned as they really impressed us; Anita Anderberg – Madsen from Denmark and Anne Line Gjersem from Norway. Keep skating, ladies!
The junior men were next and Ondrei Spiegl started, remember his name! Before the competition we watched him twice in practice. He is a power skater and although he had some trouble with his double Axel he looked solid. A touch more confidence and this guy is a real winner. He did alright, but the music he had chosen for his short program was "Tosca Fant asy" played by Edvin Marton. He interpreted the music well and it's a nice piece, but five or six other skaters had already used it during the day which made it almost comical to hear it again. Ondrei would have gotten high scores, but he skated out of competition since he's not a Swedish citizen.
Someone who won't medal but still offered the audience the best show of the night was Keiran Araza from Denmark, see for yourself!
If Sweden dominated the junior ladies, the men offered the revenge of the Finns. The three top men after the short program are Matthi as Versluis, Otto-Eemeli Laamanen and Filip Nordman. But it's a close call and not over yet and we're looking forward to the freeskate tomorrow.
It's been a very long and intense but fun day; we've spent over 12 hours here. Between competitions I forget how tiring they are, but also how much I love them. Standing out in the hall between tables full of boots, stockings and dresses, stuffed animals and photos, and seeing skaters, coaches and others mingle, hearing different languages spoken; all that is music to my senses and I remember why I do what I do. More reports will come tomorrow when the Novices will perform their freeskate and the seniors their short program. And with a bit of luck I'll even be able to catch a few hours of sleep before then.