All That Skate Summer 2011
(August 13-15, Seoul, Korea)
October 1, 2011
By Sun-Hyoung Kim
Photos © Jay Kim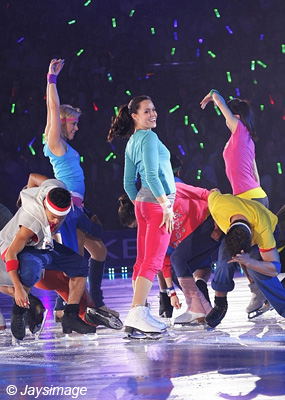 In just three years the ice skating show headlined by the Korean megastar and reigning Olympic champion Yuna Kim has become one of the premier ice shows in the world. It has featured some of the best and the most beloved skating stars of the past and present, and in this summer's edition the show starred, along with Yuna Kim, the reigning men's world champion Patrick Chan, Olympic ice dance champions Tessa Virtue and Scott Moir, Olympic pairs champions Shen Xue and Zhao Hongbo, multiple world champions Kurt Browning, Irina Slutskaya, Shae-Lynn Bourne, and Stéphane Lambiel, the 2002 Olympic pairs champions Jamie Sale and David Pelletier, the current European singles champions Sarah Meier and Florent Amodio and the European bronze medallist Kiira Korpi.
Some of the characteristics of All That Skate shows are the high caliber of starring skaters, the scale and quality of the production, and the now famous enthusiasm of the Korean audience. All those characteristics were evident from the very beginning of the show.
The group numbers, choreographed by David Wilson, are another joy to watch at All That Skate shows.
The opening number of Act 1 was to the songs from the musical "Fame". The skaters were dressed in the work-out outfits faithful to the musical's mood. With 10,000+ seats per night packed to the last seat, the arena was filled with a rock concert-like atmosphere of the show.
By contrast, the opening of Act 2 was to "Running" by Sarah Brightman which was more romantic and lyrical. It featured four couples: Shen and Zhao, Virtue and Moir, Browning and Bourne and Kim and Chan. All the skaters were dressed in all-black costumes, and the simple lighting highlighted the strength of the skaters.
The skaters at the show consisted of a good mix of past and present champions, and a regional mix of Asia, North America, and Europe. Most of the skaters presented two very different programs for the two parts of the show which increased its variety and versatility.
Kiira Korpi's skating showed a relaxed and confident side of her that is not often reflected in her competition performances. Her programs to "You and I" and "Cry Me a River" showed that she is a better skater than she often presents herself to be, and I hope we can see more of her better side in her remaining competitive years.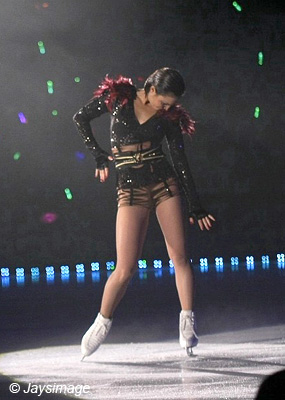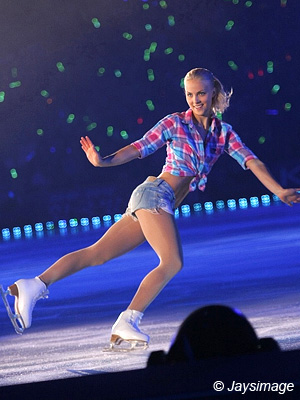 Sarah Meier performed only one program, reportedly due to injuries. But her program, to Christina Aguilera's "Not Myself Tonight", was very sexy and aggressive, different from the usually stylish and delicate programs she's known for. It showed off her dance skills and I look forward to seeing more of her versatility in future programs as she launches her professional career.
Florent Amodio was fine with his programs to the music of Ray Charles and other pop songs. He already has a sense of presentation and with experience and refinement of his own style, he will have a bright future ahead of him.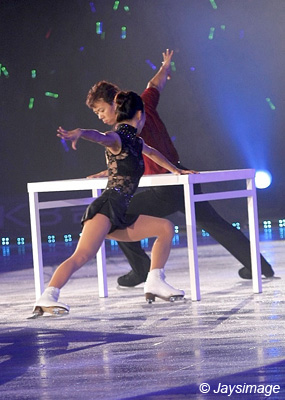 The pairs and ice dance teams at the show, all Olympic and world champions, showed the audience why they are worthy of those titles. Sale and Pelletier are a strong and very athletic pair, wowing the crowd with their charisma and impossible acrobatic moves.
Shen and Zhao showed us how important experience and maturity are to skating, or any noble endeavor. They impressed with confidence, reliability and perfect harmony, and they seemed to be above the frills and fanfare that lesser and younger skaters often seek. They are so strong as a pair and their skating flows so naturally like a river. Their first program, "I Believe", was a perfect example of this, and the audience could see the harmony and complete trust between the two skaters. Their second program, "Sweet Dreams", was quite different from the first, and it created the mood of a bickering couple, and involved the creative use of a table on the ice which they also used to perform a death spiral.
Virtue and Moir are a dance team in which the two skaters' high technical and dance skills match well with each other, which surprisingly does not necessarily happen in ice dance. It makes them look more natural and refined as a team despite their relative youth.
"I Wanna Hold Your Hand" was sweet as honey, and their samba program "Hip Hip Chin Chin" made them look like regular ballroom dancers. It was hot and passionate and it brought out one of the most enthusiastic responses from the crowd.
Then there were the three veteran skaters in Bourne: Slutskaya, and Browning.
Shae-Lynn Bourne is a regular participant to All That Skate shows by now, coming to the show at least once a year. Always a crowd pleaser, she is the consummate performer. The former ice dancer is always impressive, even without jumps or a partner. She performed two very different programs, in "Caruso" and "Waka Waka", and she controlled the audience like they were in her hands. And boy, this woman can move.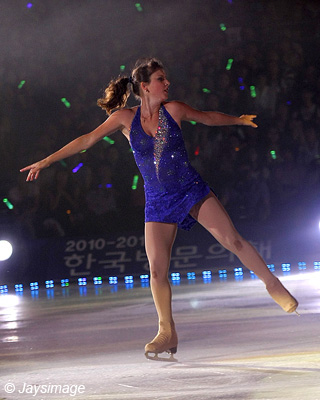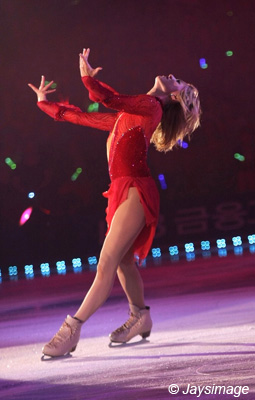 Less than a year after the birth of her second child, Irina Slutskaya showed she still has the stuff of a champion. Even though her jumps have become a bit lower than at her competitive peak, she still has the power and speed, and her Biellmann was as gorgeous as ever. It was nice to see her connect with the audience and enjoying herself.
And then there was Kurt Browning. His arrival at the All That Skate show had been highly anticipated, and fans had been waiting to see how perfectly his skating style would fit in with the show. The four-time world champion did not disappoint. He is such a showman, and his skating was pure fun. The program "Steppin' Out of My Mind" featured the live singing of Geoffrey Tyler, who was also invited to the show.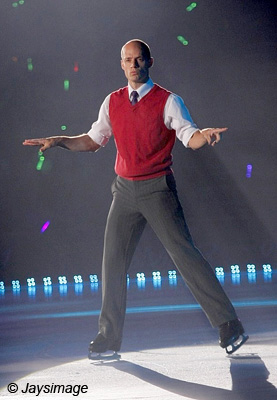 It consisted of Kurt making fun of his self, in the way only he can. At 45, he has sharper jumps and more energy than most skaters half his age. The audience loved him as he jumped, tap danced, and chatted with himself on the ice, and I think the feelings were mutual. His expressions and reactions to the audience response throughout the programs were absolutely priceless, as he seemed to have the time of his life. Kurt's program in the second act, "Honey", was set to a famous Korean pop song, with much of the dance moves from the music video of the song. The atmosphere in the arena by this time reached its peak rock concert mode, with the audience singing after the song and Kurt showing off his well-toned belly at the end. Apparently, the hip dance tune was chosen by Kurt after he was told by the Korean show organizers this was one song that a middle-aged male should not attempt to dance to. It was so Kurt Browning.
Patrick Chan will be the leader of his generation of skaters for many years to come. Technically, he is outstanding. He glides across the ice so well, that it is soothing to watch him skate. He will need to work on his expression and choreography more, but he is only 20 years old, and he only needs a bit of time to come into his own. His number "Moondance" was a good sign, and it fit him well with his boyish image.
As for Stéphane Lambiel, I continue to be amazed by him as a skater and a performer. He is expanding the horizon of what figure skating can do as an art form. His Rachmaninov prelude in g-minor is a kind of program that looks simple enough at first sight, but which can be beautiful only with the highest technical mastery and artistic expression, and with a perfect combination of all the elements.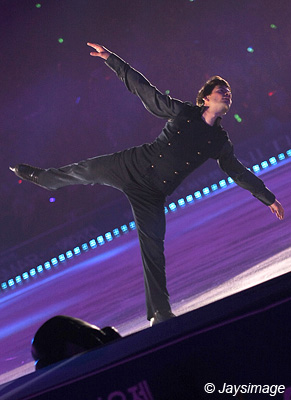 Like a Mozart sonata, it is the kind of a program that is too easy for ordinary skaters and too difficult for masters. It is not a kind of program that most skaters can dare perform in an ice show. But Stéphane was at one with the music, and his movements were as crisp and clean as the piano notes. And as beautiful as the music was, it was the skater who was in control, orchestrating every note. In addition, Stéphane's charisma and concentration in his program was spellbinding, and it held the entire arena and the audience in an awed silence. In contrast, "Don't Stop the Music" is a kind of program that works better with a bit of noise in the background, and the audience happily obliged. I find it as complete and interpretive as a figure skating program can be. It is like a short film and a dance piece and a skating program all in one. It is packed with creative and amazing moves, danced to a haunting jazzy tune, and it tells a story that is instantly relatable and captivating. One cannot take one's eyes off Stéphane because there is always something unique happening in the program. It's the stuff that legends are made of.
Yuna Kim, to me, is the ideal skater. In addition to her ideal skating body type and techniques, she seems to know instinctively what looks beautiful in a skating performance. Definitely no other skater can make Beyonce's "Fever" look as naturally sexy on the ice. Yuna is also a born dancer, and she moves constantly through the program. Her facial expressions have become very confident as well, and she does the seductive-look so effortlessly. By contrast, the program "Homage to Korea" was as elegant and graceful as can be. It is well-known that Yuna has chosen this program as a present to her home country and fans. The music of "Arirang" in the program is a national music of Korea,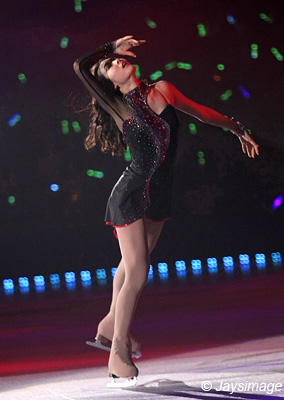 and the performance was especially meaningful to the fans because the last day of the show was Korea's Day of Independence, which was achieved from the Japanese occupation at the end of World War II.
Before the finale, there were also performances from the winners of "Yuna Kim's Kiss & Cry" program, a Korean reality TV program like "Skating with the Stars", which showed Yuna's star power in Korea. The finale to wrap up the show was a good mix of old and new, to the music of "Don't Stop Believing" by Journey and "Party Rock Anthem" by LMFAO.
This summer edition of All That Skate show was as fun and impressive as fans have come to expect. Now the nine month wait until next year's All That Skate Spring just seems eternal. But of course, part of the fun is in the anticipation of which great skaters we'll see in the next show. Meanwhile, the fans are practicing their computer mouse-clicking skills, to get the best possible seats in the ticketing war for the next show.
Thanks to Yuna, All That Skate show organizers, and the great champions who participated in the show. The skating off-season in Korea is fun because of you.