A fabulous and fantastic Dreams on Ice 2011
August 14, 2011
By Atsuko Kuryu
Photos © Absolute Skating
Just before the beginning of the season the annual Team Japan's exhibition Dreams On Ice was held at the Shin Yokohama Skating Center in Yokohama, Japan. Unfortunately, Mao Asada and Daisuke Takahashi were not there but the show was still fabulous and fantastic. In addition to the top Japanese skaters, the silver medalists of the pair event at the 2011 World Championships Tatiana Volosozhar/Maxim Trankov and Stéphane Lambiel were also there to put the icing on the cake.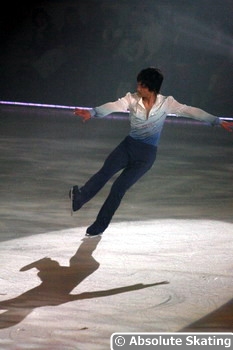 ACT I
Ryuich Kihara ~ Violin Concert (Silver Medalist at the Japan Junior Championships, 10th at the 2011 World Junior Championships)
Right after the opening, which created an atmosphere of anticipation, a young and energetic skater named Ryuichi Kihara appeared on the ice. Once the music started, his body moved very naturally and he managed to charm the audience with his animated movements. The new season is the first one for him as a senior skater and it seemed that he also tried really hard to skate like a senior and I thought he succeeded very nicely. He said his goal this year is to land a triple Axel, despite falling on the Axle jump during his performance. Hopefully he will achieve his goal by the end of the season.
Yuki Nishino ~ Time to Say Good Bye (6th at the Japan National Championships)
She said she wants to learn to skate more consistently but she actually already looked quite relaxed and comfortable during her performance. So I guess what she needs are just more consistent jumps. She showed a beautiful spiral with excellent flexibility. Her movements were smooth and balletic and really impressive.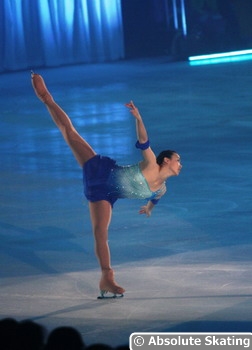 Kent Nakamura ~ Fugata (Piazzolla) (Champion at the Japan Junior Championships)
Since this is his first year as a senior skater, he said he wanted to skate more like an adult than ever before and it seemed like he really meant it. His tango movements showed that fans can expect a lot from him in the coming season. Last year he skated a very light and funny program, but this year's Fugata fit him much more. He popped his attempted triple Axel but he probably just needs some more time to make it consistent.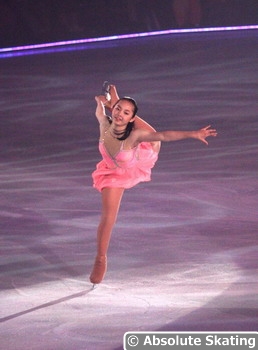 Miyabi Oba ~ Shall We Dance? (Bronze Medalist at the Japan Junior Championships, 8th at the 2011 World Junior Championships)
She is indeed a cute and lovely skater. Together with light music she showed a lively and crisp performance. It reminded me of a girl in her early teens who is dreaming of how she will be dancing at her prom in the future. It seemed to be a very age appropriate program and she was very adorable while performing it. Most of her jumps were well executed. I'm sure we will see her on the podium at international competitions very soon.
Keiji Tanaka ~ The Untouchable (Silver Medalist at the 2011 World Junior Championships)
His silver medal at the World Junior Championships must have been a surprise for most of the skating fans overseas. However, Japanese fans and the Japanese Federation both had expected a lot from him because he is a skater with a lot of potential – he has good jumps, reliable spins, wonderful speed and lots more. The silver medal at the World Junior Championships must have given him great confidence and he will probably blossom this year. His performance was very cool and well controlled. Although he usually skates without any special expressions, he actually had good contact with the audience this time around and it pleased them a lot.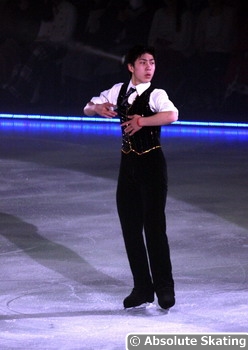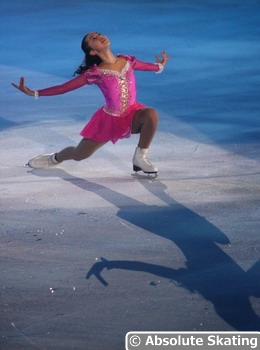 Risa Shoji ~ Tangled (Champion at the Japan Junior Championships, 5th at the 2011 World Junior Championships)
Wearing a rosy dress with puffy sleeves and pink flowers in her hair, she looked like a princess. She reminded very much of the sweet Rapunzel in the movie. As for jumps, this was not her day; however, all other elements were outstanding. She had good speed and wonderful spins. Even when she needed to move very quickly she still tried to be expressive and interpret the music and that was very admirable to see in a junior skater.
Daisuke Murakami ~ The Feeling Begins (Bronze Medalist at the 2011 Erzurum Universiade)
He skated his short program from the upcoming season. Something about him seemed different when he appeared on the ice and I tried to figure out the reason behind it. Maybe the answer lay in the black unitard and the hair that were swept back. However, I thought that his style of skating had also changed. His jumps were more powerful and bigger than before. His skating was so fast and so energetic that all of a sudden the rink seemed very small. The exotic music was very enchanting, gradually picking up the pace and making the audience excited. Therefore, I think it will make for a very gripping competitive program.
Haruka Imai ~ I'm Into Something Good (Silver Medalist at the 2011 Asian Winter Games)
She wore a lovely yellow dress that had glittering red and blue flowers on it. I think she has a good taste for costumes but she herself was even lovelier than her dress. She was very animated on the ice and the music was uplifting. She is slowly growing into adulthood and is just entering the phase in her life where every teenager usually shines with something more than simply beautiful looks. I enjoyed her performance and I liked the fact that she was very radiant. It seemed that she had improved in many ways and the audience saw it, giving her a warm applause.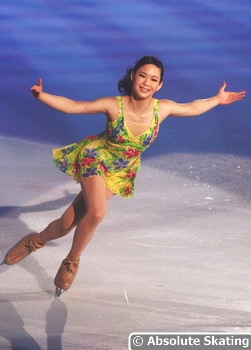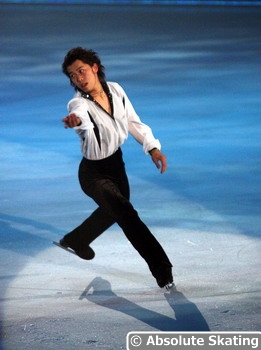 Takahiko Mura ~ Aranjuez (5th at the Japan National Championships)
He showed a powerful and beautiful triple Axel and most of his jumps were very high, so naturally his new short program received a big applause from the audience and he was sent off with a standing ovation. He was more mature than last year. He looked really cool skating to this well-known music. He is probably one of the top contenders this season.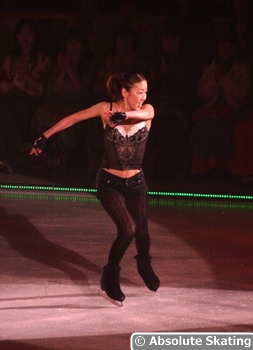 Fumie Suguri ~ Air/Girls on the Dance Floor (7th at the Japan National Championships)
She must have had intensive dance training because she moved and danced around very well during her energetic exhibition program. She opened up a new possibility for herself as a figure skater. There was division among the fans – some of them liked the dancing Fumie while others didn't. But I think that as a veteran skater it is pretty commendable that she tried to do something new and expand her own skills.
Jingu Ice Messengers ~ Footprints in the Sand/Leona Lewis (Champion at the Japan Nationals in Synchronized Skating)
The team consisted of just eleven members, so it looked very compact. Still their performance had good flow and their lift was remarkably beautiful. They increased their speed towards the second half of the program, which made it very attractive.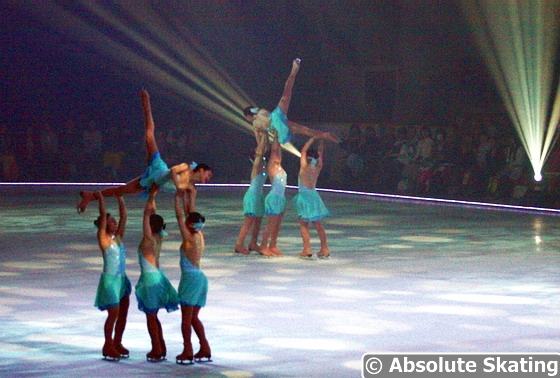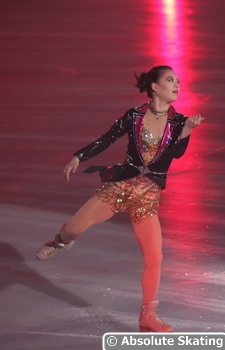 ACT II
Akiko Suzuki ~ Burlesque (4th in the 2010 Grand Prix Final)
She said she chose this music on impulse when she happened to watch the movie "Burlesque" during her flight. The maturity and the womanly charm that this program brought out in her fitted her very well. Her jumps went fine and her sexy moves captivated the spectators. She enchanted the audience with her lively, contemporary-woman-like spirit. I kind of missed her awesome footwork, though.
Yuzuru Hanyu ~ Romeo & Juliet (Silver Medalist at the 2011 Four Continents Championships, 4th at the Japan National Championships)
He was the highlight of the event. It seems like he is ready to be the very best male single skater in Japan. Maybe not this year, but who knows? This program was an adjusted version of his free program from this upcoming season. His powerful and energetic young Romeo raised the temperature in the rink to maximum. Since his home rink was destroyed by the earthquake, he has had to find another place where he could train. However, he seemed to be totally unaffected by it during his program. He was even a bit too powerful for Romeo, but once he learns to control that power and adds some lyrical touch as well, it will be a fabulous program.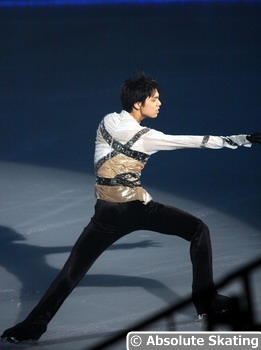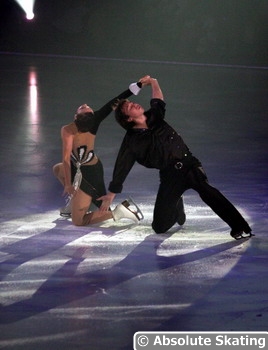 Cathy Reed/Chris Reed ~ Lady Grinning Soul (Champion at the Japan National Championships, 13th at the 2011 World Championships)
They changed their coach in the middle of the last season and it seemed like they had made some changes to their program as well. The program was quite classical and conventional. They showed various lifts and their changes of positions had become much smoother than before. Also, they maintained a good flow throughout their performance. At the last Worlds they got the highest place that a Japanese ice dance pair has ever earned, ranking 13th. If they can be stable in their skating throughout the upcoming season, I'm sure they can set a new record.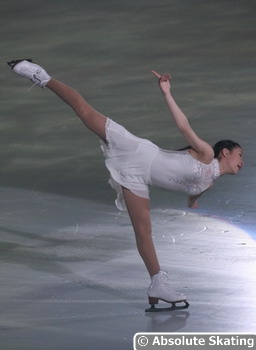 Kanako Murakami ~ Amarti Si (Bronze Medalist in the 2011 Grand Prix Final, Gold Medalist at the 2011 Asian Winter Games, Bronze Medalist at the Japan National Championships)
After having completed a very good season, Kanako Murakami decided to explore something new for this next chapter in her career. She used to be a very cute and vigorous skater, but this time she went for gracefulness and femininity and was half-successful with it. However, as you know, the season has not quite started yet and once she gets used to her new style, I'm sure we will all be enchanted by the new and glamorous Kanako.
Narumi Takahashi/Mervin Tran ~ Imagine/ Instrumental (Silver Medalists in the 2011 Junior Grand Prix Final, Bronze Medalists at the 2011 Junior World Championships, 9th at the 2011 World Figure Skating Championships)
Since the performance took place during offseason, their condition was probably not good enough for them to demonstrate their abilities to the fullest. However, their throw twist was very high as always, their pair spin was really beautiful and their death spiral was smooth and eye-catching. They also landed pair jumps successfully. It seems like their unison improves with every new season. All the signs pointed to the fact that this upcoming season will be a better one for them.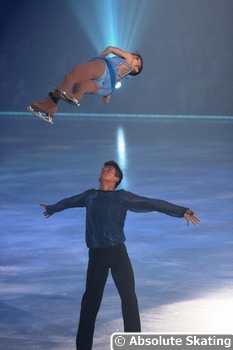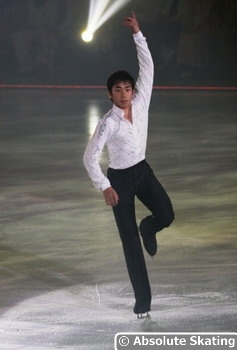 Nobunari Oda ~ I Can See Clearly Now (Silver Medalist in the 2011 Grand Prix Final, 6th at the 2011 World championships, Silver Medalist at the Japan National Championships)
He is a complete package: consistent jumps, wonderful skating skills, fast spins, various transitions, fabulous speed and more. During this vivid program he fully demonstrated how attractive he can be on ice. His eagle and Ina Bauer were spectacular. If there is one thing he needs to improve, then it's his heartfelt expressiveness. Our photographer noted something interesting – when she took photos, all of his movements and body positions were really beautiful but his facial expression was the same in every picture. Once he is able to show how much he enjoys skating during his performance, he will definitely gain more popularity among figure skating fans.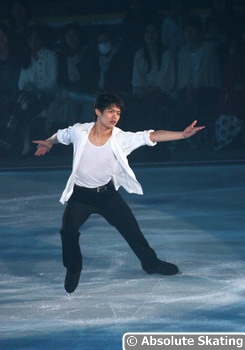 Takahiko Kozuka ~ Free Fallin' (Silver Medalist at the 2011 World Championships, Champion at the Japan National Championships)
Kozuka was a rock. He skated this program several times in the shows last year, so he had it in his pocket. This program was so smooth and nicely performed that you fell in love with him as soon as you saw it. His skating skills were outstanding and he glided on the ice as if he had some silent engine in his skates. His eagle was very nice and seemed almost effortless. He could alternate between fast and slow or strong and tender very easily. I think he has also improved in terms of expression.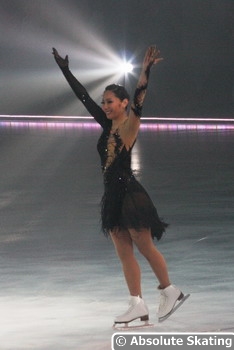 Miki Ando ~ Black Swan (Champion at the 2011 World Championships, Champion at the Japan National Championships)
After having won all the events she attended last year, except for the Grand Prix Final, she has decided to sit off the Grand Prix Series this season. Everyone who saw her performance here will definitely miss her presence. She was powerful, strong, consistent and breathtakingly beautiful. She expressed Black Swan's heartache and grief impressively. Hopefully, she will come back very soon. Let's cross our fingers.
Guest Skaters:
Tatiana Vosozhar/Maxim Trankov ~ L'amore Sei Tu (Silver Medalist at the 2011 World Championships)
Trankov said they were in Japan when the earthquake hit the east of Japan and they were really happy to come back to Japan and skate here; they wanted to be of help for the Japanese people. True to their word, their performance really did give power to those who saw it. The program was graceful and fabulous and purified our hearts. Tatiana showed outstanding flexibility on the lifts; their throw jump was high and the landing was smooth. Their performance captivated the audience so much that they received a standing ovation from the whole arena.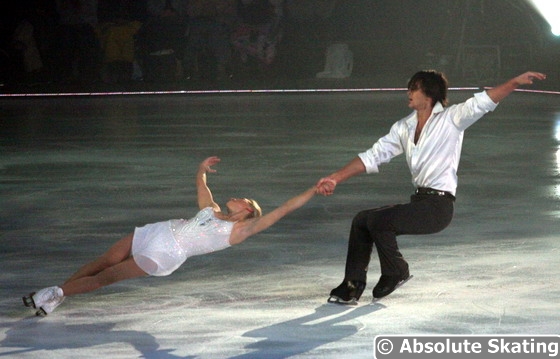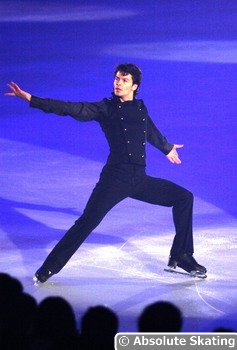 Stéphane Lambiel ~ Prelude #5 (Rachmaninoff)
When greeting the audience in Japanese, he said he wanted to give the Japanese people power and make them smile. Like Tatiana and Maxim, he also stayed true to his word. His performance was full of tenderness and love. It was like a message of healing. His movements were sophisticated; the long spin in the middle of the program was as attractive as usual. He gradually built up excitement throughout the program and finished with a fast and lovely spin. I think it goes without saying that he received a standing ovation. Even though he is labeled as a "guest, he has actually become a regular member of the cast in the recent years.
Note: This report was written mainly based on the June 24th exhibition.