We Have Brand New Champions – Report of the 2011 Japan National Junior Figure Skating Championships
December 21, 2011
By Atsuko Kuryu
Photos © M. Sawa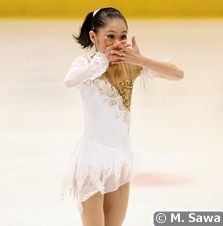 The 2011 National Junior Figure Skating Championships were held from Nov. 25th to 27th at the Niida Ice Arena in Hachinohe, Japan. In total 60 ladies and men competed in the event. Heated battles which you have not seen recently were resolved and we have brand new champions in both fields.
In the men's' field, Ryuju Hino (16 years old) beat one year older World Junior silver medalist Keiji Tanaka by a mere difference of 1.14 points.
While in the ladies, the 13 year old Satoko Miyahara won the title by a big margin of 19.75. The reigning champion Risa Shoji was second with 153.42.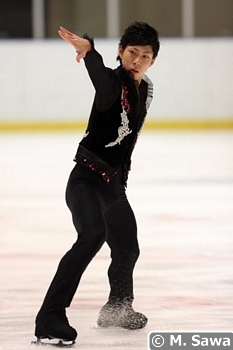 First day
Men's short program
Keiji Tanaka who qualified for the 2011 Junior Grand Prix Final lead the short programme with a solid performance to music from Violentango, except that the triple Lutz which he stepped out of, got an edge error. He landed a beautiful triple Axel and performed nicely executed circular steps, which got him 62.99 points. Second place by just 0.85 points behind was reigning silver medalist Ryuichi Kihara.
His Tango de los Excilados was the most sophisticated programme of the night in the men's short program. His only mistake was a hand down on the triple Lutz.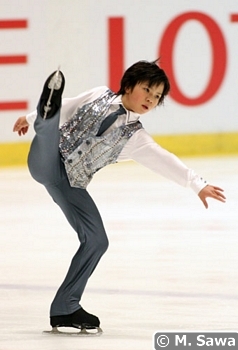 For Shoma Uno, it is the first Junior Nationals as a junior. Actually this was his third experience at the Junior Nationals, but at the two former events he classified as Novice. He is still so small that some people don't take him seriously, but, believe me, he is a great skater who can skate mature programs. The only flaw in his short program to Tucker (soundtrack) was edge error on the triple Lutz, like many other skaters in this event. His score was 61.56.
Sei Kawahara's aim was to grow a lot in terms of physical size as well as his performance of last year. His program which got 58.88 points was solid, despite the fall on the triple Axel, and fitted the music of Sing Sing Sing very well.
To our surprise the winner of 2011 Junior Grand Prix Volvo Cup at Riga, Ryuju Hino placed 6th because of accumulating several mistakes. He fell on the opening triple Axel, stumbled at the landing of the triple Lutz, and showed two badly executed spins to the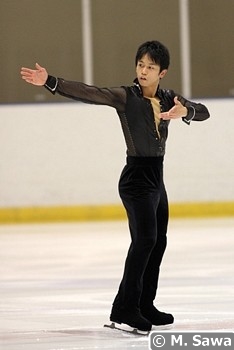 Russian Sailor's Dance. However, his body movements appeared much smoother than before.
Yoji Tsuboi, who was the first performer of this competition, performed a cool tango program to the music of La Cumparsita and showed his potential (60.54). He failed to land the triple Lutz. Maybe what he needs the most is to brush up his spins, though.
Jun Suzuki, who competed at Junior Grand Prix Brasov, remained in 8th because he popped his attempted triple Lutz. Still, his performance to the music of Jumping Jack was vivid and fun to watch.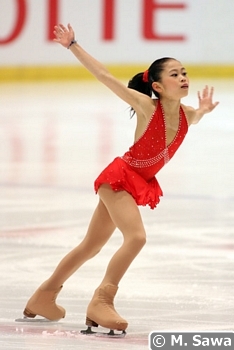 Ladies' short program

Satoko Miyahara won the short program with a powerful and flawless performance. She was the first skater of this segment and got 56.76 points. She opened her program Por una cabeza with a wonderful triple flip-triple toe combination. She stumbled on the triple Lutz and this was her only mistake. Her amazing speed was really admirable.
Haruna Suzuki's performance was different from the one last year. She became much more expressive and also very solid in terms of technique.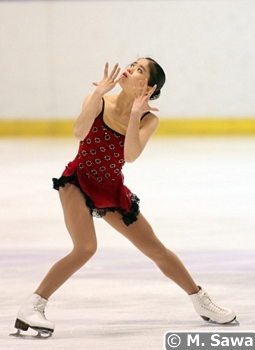 She started her program Ole Guapa as a strong woman and turned into a gentle lady at the end. She got 53.22 points and placed 2nd.
Kako Tomotaki also changed her style a lot. She used to be good at technique but her body movement was not as good as her technique. However, in this competition, she made all the difference and moved gracefully to stay 3rd with 52.08 points.

Miu Sato had amazing speed and graceful movement. Although she popped her opening triple Lutz, she had level 4 spins, received +GOE for all the elements, except that Lutz, and relatively high PCS, her marks (51.52) to put her into 4th place.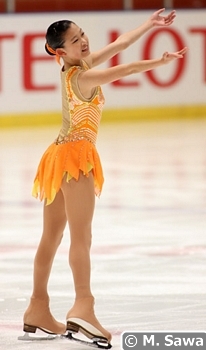 Hinano Isobe looked tired after her circular step sequence, still, her jump component of a triple Lutz, a triple flip-triple toe and the double axel was awesome for her age of 14. Her score was 49.50.
Reigning silver medalist Miyabi Oba's performance looked very nice but the edge error on the triple Lutz and a level 2 layback spin kept her 6th place, just 0.16 points behind Isobe.
To our surprise, reigning junior national champion, Risa Shoji ranked 7th with 49.30 points. Her performance was not bad but she executed two under-rotated jumps (singled the triple Lutz and the second triple toe of her combination).
The 2008 Junior Grand Prix Finalist, Yukiko Fujisawa was struggling with the consistency of her jumps and placed only11th.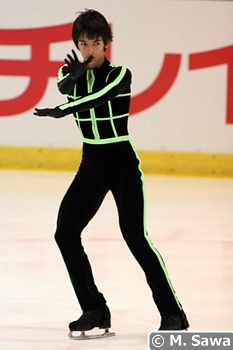 Day 2
Men's Free Skating

Ryuju Hino, who landed almost all his jumps successfully, bounced up to first place from 7th. Both of his triple Axels were pretty high and looked very easy. He was not only a good jumper but also a great spinner. While lots of the male skaters in this competition tended to have clumsy spins, he had fast and well-centered spins which amazed us. He gained 131.43 points for his free skating to The Matrix Revolution and his overall score was 188.94.
Ryuichi Kihara, one of the eldest skaters in this event, showed a mature performance to Tchaikovski's violin concert. He was able to combine lyrical taste with a masculine aspect. I would say the only thing he needs urgently is the triple Axel, to take his place among the Japanese top 10 senior skaters. He got 125.54 points for his effort. Overnight leader Keiji Tanaka singled his triple Axel which cost him 2nd place. He only needed 1.14 more points to win. Despite the few mistakes, his performance (The Untouchables) was pretty good; especially his circular step sequence, which was fantastic and fun to watch. He gained a score of 124.81.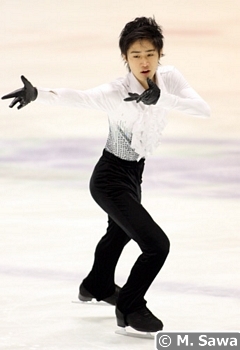 Sei Kawahara, who improved a lot in every way since last year, landed a triple Axel, even though it was under-rotated. He skated with wonderful flow until the straight line steps and lost speed after them (114.68). Maybe he needs more stamina for the next step-up.
The young Shoma Uno, 13 years old, finished 5th because of many under-rotated jumps. His performance was flawless and fantastic. I hope this little showman becomes capable of fully-rotating his jumps because his performance is always eye-catching. His score was 111.90.
Jun Suzuki placed 6th in the free skate with 108.59. He just stepped out his opening triple flip but all other elements were terrific.
For Yoji Tsuboi, it was not his day at all. He had a gorgeous opening triple Axel-double toe but stumbled on all the other jumps and got minus GOE. His final score was 107.93.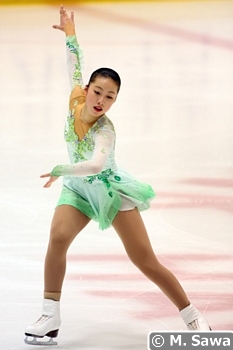 Ladies' Free Skating

The overnight leader Satoko Miyahara overwhelmed the other skaters by her technical prowess. She exhibited fabulous jumps and spins with dazzling speed. She was very young (only 13) but really powerful. Her techniques were so accurate and high level that she got positive GOE for all the elements she had executed. Her score of 115.41 exceeded Risa Shoji, who was second in the free skating, by more than 13 points (102.39). Shoji bounced up to 3rd after a fabulous and graceful free skating. She was noble and breathtakingly beautiful in her free program to Legend of the Fall which suited her very well. Her only problem was under-rotating triples. Hope she can overcome this habit soon.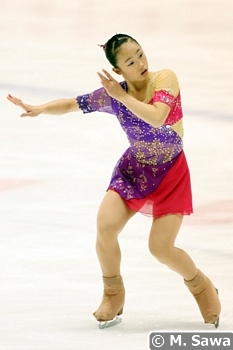 Kako Tomotaki added some feminine touch to her performance, which lots of people noticed in this event. To Samson and Delilah, she showed soft, gentle, and solid skating. She only popped the second toe of the last combination and her marks were 101.34.

Miyabi Oba executed a pretty good performance, too. She got level 2 for two of her three spins and level 1 for the straight line steps but her jumps were solid and beautiful. Maybe she needs to work on her spins and steps for the next competition. Her score was 98.68.
Haruna Suzuki under-rotated and fell on her triple flip and got an edge calling on her Lutz but other than that, she had a pretty good performance. She moved gently and gracefully but was also very sharp at the same time (97.70).
Mei Ito could land all her jumps cleanly and her solid performance put her in 6th place (90.02).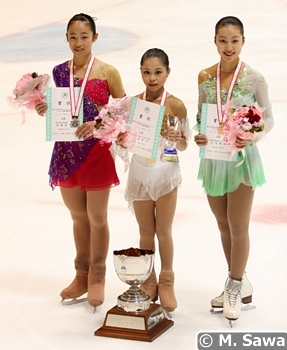 Miu Sato piled up several mistakes and got 86.96 points to place 7th but her amazing speed was really noticeable. Hinano Isobe had a pretty impressive performance but lots of under-rotated jumps kept her 8th in free skate (86.85) and 7th overall. Yukiko Fujisawa made several mistakes on her jumps and finished 16th in the free skating.
Quotes:
Ryuju Hino: "I was very happy because I could skate very well." When asked why he waved to the audience after his performance was over, which is very rare for him, he answered: "Because I wanted to show I was grateful to the audience as they had supported me a lot during the performance."
Keiji Tanaka: "I'm so frustrated about my popped triple Axel." When asked about the next competition "I'm looking forward to going to the Grand Prix Final. I want to concentrate on training and do my best for it."
Ryuichi Kihara: "I regret that I couldn't bring out my best in this competition because it was my last junior event. I'm proud of myself because I could improve in many ways since last year and could overcome my nerves."
Satoko Miyahara; "I'm really happy for my first title in my debut at the Junior National championships as a junior. I want to train more to be able to move bigger and faster."
Risa Shoji: "I¬ím so regretful because I made lots of mistakes. I aim to do 100% of my ability in the rest of competitions this season. I know I need more speed and jump perfection.¬Ē
Kako Tomotaki: "I'm not satisfied with my performance but I'm so happy because I could be on the podium. I'll make more effort to skate along with the choreography."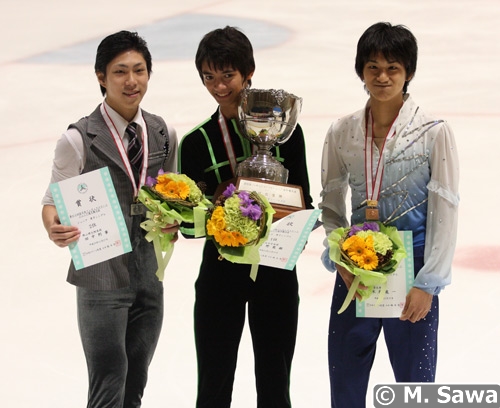 Codicil:
In Men's program we saw several enjoyable performances such as Kazuki Tomono (The Incredible/LP), Hiroaki Sato (Charlstono-Mio/LP), Eiki Hattori (Mr. BEAN/SP), Shunya Hashizume (Water Boys/LP), Hideki Kamat (Cats/LP). They were really entertaining and gave the venue a delightful atmosphere. I hope they will improve so much that they will be able to show more, and let more people enjoy their performances.

Click here for some extra more photos of the competition!