Rostelecom Cup 2011: Day 1
November 26, 2011
By Maria Bagdasarova
Photos © Vera Alexandrova, Tanya Drubetskaya, Natasha Ponarina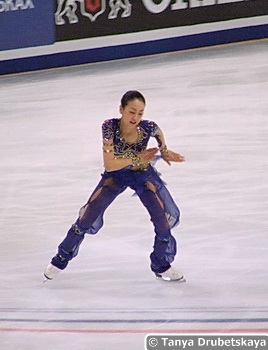 The Rostelecom Cup, the sixth and final event of the ISU Grand Prix series, takes place at the Megasport arena this weekend.
In the ladies' event Mao Asada of Japan and Alena Leonova and Adelina Sotnikova from Russia fight for the remaining two spots in the Grand Prix Final in Quebec City. Mao Asada won the short program, but her margin against Alena Leonova is less than half a point. Asada decided not to go for the triple axel and landed a beautiful double axel instead, a triple flip-double toe loop combination and a triple loop in her elegant routine to Sheherazade by N. Rimski-Korsakov. "My performance today was a good start for tomorrow's free," Asada commented.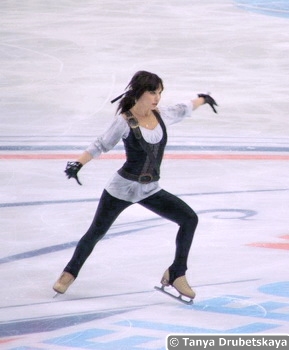 Leonova, who competes in her third Grand Prix event, lies in second place with a season's best performance of her "Pirates of the Caribbean" short program. Alena landed a competent combination of two triple toe loops, a triple flip and a double axel. Her footwork was awarded a level four. "Despite minor flaws I am happy with my performance today. I was thinking of positive things and I wanted to perform for my coach, the audience and my parents and I didn't think about
skating last," said Leonova.
The reigning World Junior Champion Adelina Sotnikova lies in third place. Adelina aims to make the Grand Prix Final in her first year competing in the senior circuit at the series. Adelina fell on her opening triple lutz which was meant to be in combination with a triple toe loop, but she recovered to land triple flip-double toe loop and a double axel. "I did not skate well today; I missed my triple-triple combination. I will start from scratch tomorrow and hopefully do better," Sotnikova explained. Sotnikova is 6.1 points behind Leonova after the short program, and the chance to make the final exists for Adelina, but she definitely has to deliver her very best skating to achieve that.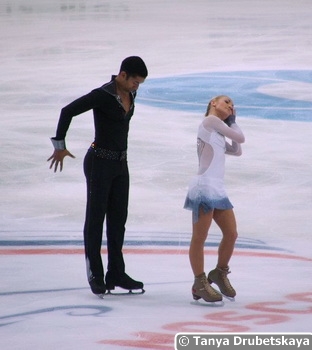 In pairs, the Grand Prix Final roaster is almost set. Both Aliona Savchenko/Robin Szolkowy and Yuko Kawaguti/Alexander Smirnov secured their tickets to Quebec at their previous events. Theoretically Stefania Berton and Hotarek still can take the final spot away from Megan Duhamel and Eric Radford of Canada. To do that, the Italians need to take at least silver in Moscow, but considering the current status this task does not seem feasible.
The reigning World Champions Aliona Savchenko/Robin Szolkowy took the lead in the short program. The Germans delivered a technically solid performance to "Angels and Demons" which included a throw triple flip and a side by side triple toe loop. "We are very happy with our performance. In the last two competitions we made some mistakes,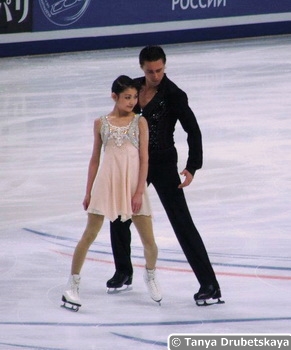 this was our first clean skate of the short program," Szolkowy commented.
Kavaguti/Smirnov produced a clean performance too and finished second. "We are pleased with our skate. Yuko in particular did a great job today. But there is always room for improvement, so we will keep working," Alexander Smirnov shared.
Berton/Hotarek are in third place and five points behind the leading top two pairs. The Italians looked confident and earned their season's best score.
In the men's competition, the Rostelecom Cup determines the holders of the remaining three tickets to the Grand Prix Final. Jeremy Abbott who won Cup of China earlier this season took the lead with a flawless short program. Abbott landed a triple flip-triple toe loop combination, a triple axel and a triple lutz in his choreographically demanding routine. "I had a lot of fun today. I think it really was the most fun I've had on the ice in a very, very long time, if not ever," Jeremy shared at the press conference.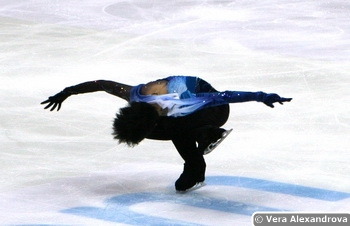 Yuzuru Hanyu is placed second. After stumbling at the opening quad toe loop, Hanyu landed a triple axel and a triple lutz-triple toe loop combinations and received all level fours for his non-jumping elements. He is less than a point behind Jeremy Abbott and has definitely put himself in contention for gold at this event. And gold automatically means a spot in the Grand Prix Final for Hanyu.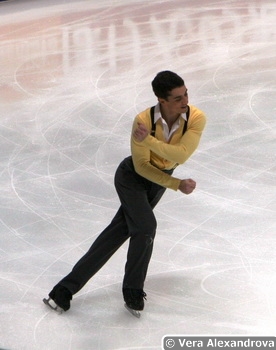 Michal Brezina who had already secured his place in Quebec at his previous outings at the series came in third. Rostelecom is Michal's third event, but he definitely has not come to Moscow just to take a stroll around Red Square. Brezina delivered a clean performance of his Kodo Drum short program which featured a triple axel, a combination of a triple flip and a triple toe loop and a triple lutz. "I feel good about what I did today. I did all my jumps, but I struggled with my spins and steps. I almost hit my season's best today, so I am happy about that and I try to do even better tomorrow," Brezina said.
Javier Fernandez of Spain lies in fourth place and
will challenge the podium and a spot in the Grand Prix Final in the free. Fernandez who moved to Canada this season to seek the tutelage of Brian Orser opened his short program with a textbook quad toe loop, but doubled a lutz in a combination with a triple toe loop.
The Short Dance concluded the first competition day at the Rostelecom Cup. Skating to the crowd-pleasing Latin Rhythms, ice dancers fascinated the audience with sparkling costumes, curvy moves and Rumba compulsory dance sequences. The reigning World Champions Meryl Davis and Charlie White took a commanding lead ahead of Kaitlyn Weaver/Andrew Poje and Ekaterina Bobrova/Dmitry Soloviev.