Rostelecom Cup 2011: Day 2
November 27, 2011
By Maria Bagdasarova & Vera Alexandrova
Photos © Vera Alexandrova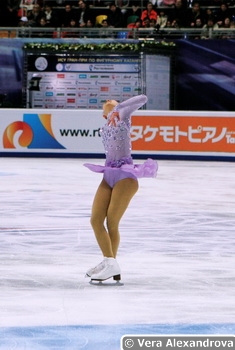 The second day of the Cup of Russia opened with Ladies' Free Program. Mao Asada gave a solid performance and took the gold which allowed her to qualify for the Grand Prix Final after missing it for two seasons. Alena Leonova finished second and will join Mao in the final. The bronze went to the reigning Junior World Champion Adelina Sotnikova who missed the final after finishing third at both of her Grand Prix events this year.
Pairs Free Skating was a real highlight of the event. Unlike other disciplines, it lacked some intrigue, as it was the third event for both Aljona Savchenko/Robin Szolkowy and Yuko Kawaguti/Alexander Smirnov who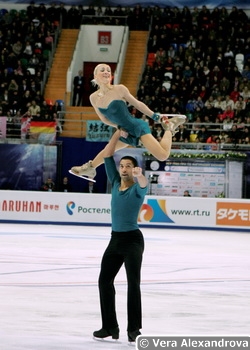 have already secured their spots at the Grand Prix Final. Both teams showed superb skating skills and impressed the audience with brilliant programs and outstanding technique. Alena and Robin won gold and scored a new season's best of 139.97 points for their intricate routine to "Pina" soundtrack. Alena's stumble on the double axel was the only mistake in the otherwise perfect skate. The silver medal went to Yuko and Alexander who looked absolutely gorgeous in their exquisite long program to Debussy's Claire de Lune and got 132.67 points, another season's best. Again, it was almost a flawless performance with just a small mistake on the throw triple loop. Stefania Berton/Ondrej Hotarek took the bronze which became their first medal of a Grand Prix event.
The men's free skating kept suspense till the last minute. Among the Grand Prix Final contenders Javier Fernandez of Spain took the ice first to prove that his intentions to go Quebec are very serious. Fernandez opened his free skating with two clean quadruple jumps – a toe loop and a salchow – and landed five more triple jumps. This confident performance allowed Javier to win the free skating and advance to second place overall. This booked him a ticket to Grand Prix Final. "I'm very happy to be the first man from Spain to make the Final. I will keep working in the coming two weeks to show my best skating," Fernandez asserted.
Michal Brezina from the Czech Republic slipped down from third to fourth place overall. The Rostelecom Cup was a third Grand Prix event for Michal, who had already qualified for the Grand Prix Final.
Yuzuru Hanyu from Japan missed his opening quad toe loop and fell on the circular step sequence, but landed 8 clean triple jumps and got high levels for his spins. Yuzuru's stong performance got the second best score of the night which was just enough to edge out Fernandez overall by 0.03 points and clinch the spot in the Grand Prix Final.
Jeremy Abbot of the USA failed to maintain his overnight lead but did stay on the podium with a bronze medal which guaranteed him a ticket to Quebec. Despite a few technical glitches Jeremy delivered probably the most complex performance from an artistic point of view. His flow across the ice, intricate transitions and footwork were greatly appreciated by the Moscow audience.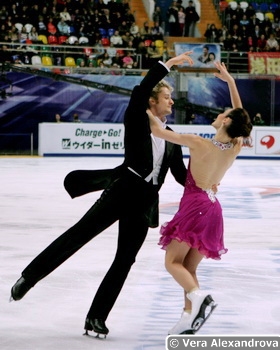 Ice dancers concluded the sixth and final Grand Prix event. Meryl Davis and Charlie White confidently won the gold medal with an elegant routine to Die Fledermaus Overture by J.Strauss. "After four weeks at home between Skate America and coming to the Cup of Russia, we felt a lot more confident with the program. It felt more solid and we're excited to see where it goes," Davis commented at the post event press conference.
Kaitlyn Weaver and Andrew Poje delivered a very emotional skate of their "Je suis malade" free dance, posted a season's best score and clinched silver. "Our free dance portrays love and loss. The story everyone can relate to. It is not a typical love story and the emotional commitment is very important," said Weaver, explaining the story behind their program.
Ekaterina Bobrova and Dmitry Soloviev danced away with the bronze medal. The Moscovites produced a dramatic performance of their Walpurgis Night free dance. "With this program we were looking for something extraordinary; something not lyrical and at the same time very different to the short dance. We wanted to change styles in just two days of competition," Bobrova and Soloviev explained.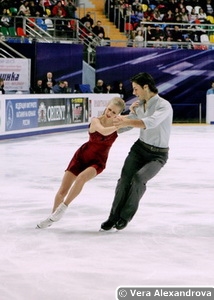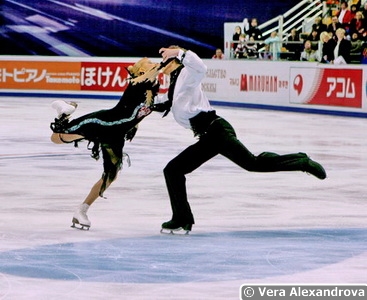 All the medallists will compete at the Grand Prix Final in Quebec in two weeks.