Trophée Eric Bompard, Paris, November 18th - 20th
November 22, 2011
By Nadin Vernon
Photos © Eva Maria Jangbro (EMJO)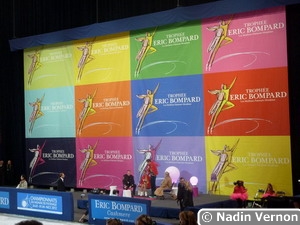 The Trophée Eric Bompard, the fifth Grand Prix event of the season, took place in Paris this weekend. And while some skaters managed to secure their places in the Final, the Rostelecom Cup of Russia next weekend will be an exciting event to determine the last entries for the Final in Quebec.
The Top Three Ladies qualified, with Elizaveta Tuktamisheva who claimed the gold medal after two clean skates impressing the Bercy audience. After her short program, she watched the remaining Ladies in the competition with Ari Zakarian who was accompanying her in Paris. Elizaveta held her nerve during the free skate and confirmed her ability to compete with the World's best on the senior circuit. Nonetheless, the 14-year old will not be able to compete at this season's Euros or Worlds due to age restriction. "I'm not sad that I can't go to Worlds, I'm just going to use this year to improve my skating and get higher ratings, and then go next season as a more senior skater."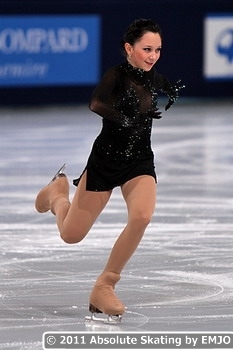 Meanwhile Carolina Kostner, whose skating is clearly benefitting from her emphasis on keeping things fun, displayed beautiful sharp choreography even though there were some mistakes in her performances. "We all try to do the best we can, but we also need to have fun. We've had enough highs and lows, and I just love the lifestyle of an athlete."
In Ice Dance, the crowd favourites Nathalie PĂ©chalat and Fabian Bourzat came second behind Tessa Virtue and Scott Moir. Fabian had a freak fall in the warm-up of the Short Dance, but both their programs were flawless and showed immense improvement from Skate America. The European Champions obviously put their hours into their competition programs, as they performed last seasonÂ's George of the Jungle at the exhibition.
A tip to the French or anyone else for that matter, who hasnÂ't decided on their new exhibition music yet: if youÂ're thinking of using AdeleÂ's Someone Like You, think again! (Viktoria Helgesson as well as Elena Ilinykh and Nikita Katsalapov skated to it in the gala).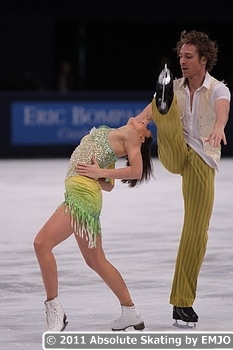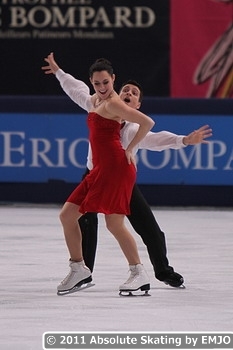 Tessa and Scott's interpretation of Funny Face earned them another Gold medal and Tessa's characterization of Audrey Hepburn was almost completely despite ditching the gloves at the last minute: "I just wasn't comfortable having them on, we have many lifts where I hold on to Scott's neck and I was worried I would slide off."
Patrick Chan and Michal Brezina also qualified for the Final, with Chan expressing his appreciation of finally getting an 'Allez' from the French crowd, despite there being no panties thrown on the ice like at Skate Canada. Patrick's programs were far from flawless, and when prompted to comment on his 'rough' skate, expressed a 'Thanks!' which was followed by laughter all round in the press room.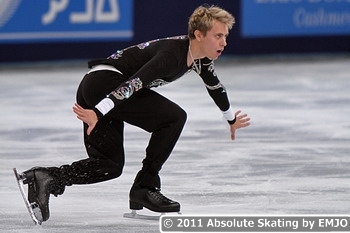 Michal's short program to Japanese Kudo Drums was a particular favourite with the children in Friday afternoon's audience who all got up to execute Level 4 Ninja moves to the music. While the Czech called his own SP performance 'embarrassing', he pulled through the free (albeit with some mistakes) to remain on the podium ahead of Adam Rippon who showcased a beautiful performance to Rachmaninoff's Piano Concerto No. 2 in the gala. Michal will be using his third Grand Prix in Russia "to just do a great program like I did at Worlds this year, without any pressure, as I have already qualified".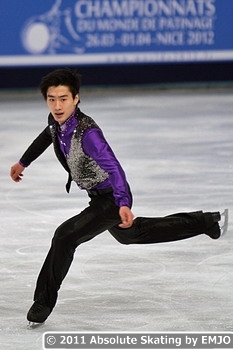 Nan Song who still has to wait and see if he can qualify for Quebec really stood out for me in Paris. Obviously there is his technical ability – he did a quad in the short, two quads in the free and another quad at the very beginning of his exhibition program, without warm-up! However, he also really got into his music and skated with beautiful deep edges.
In the Pairs competition Tatiana Volosozhar & Maksim Trankov took the Gold and despite some mistakes, their programs really captivated the audience. Vera Bazarova and Yuri Larionov who pushed Meagan Duhamel and Eric Radford into third place, were one of the very few skaters to show a clean free program. They were happy the audience could feel the emotion. "We have been working really hard on that side of our skating so it's great that it's coming across".
Much to the delight of the audience, a new star was born over the course of the last few days with the Bercy pigeon making its grand entrance during the Ladies Short Program. It flew across the arena in perfect synchronization to the music and seems to even have its own Twitter account - plus GoE from me!
Overall, the Trophée Eric Bompard did not disappoint and really set the scene for the final Grand Prix event in Russia, which is taking place next weekend.