All That Skate Spring 2012
(May 4-6, Seoul, Korea)
June 23, 2012
By Sun-Hyoung Kim
Photos © All That Skate

It is that time of the year, one of the most important dates on a figure skating fan's calendar in Korea - Yuna Kim's All That Skate show.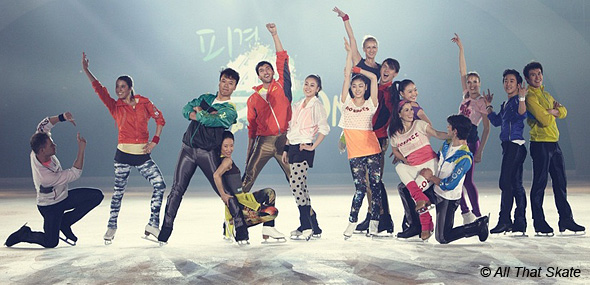 This spring show featured an impressive line-up of skaters as usual, highlighted by the participation of all four of the reigning World and Olympic men's and ladies' singles champions of Patrick Chan, Carolina Kostner, Evan Lysacek, and Yuna Kim. In addition, the show included the pair teams of Shen Xue and Zhao Hongbo, Jamie Sale and David Pelletier, and Tatiana Volosozhar and Maxim Trankov. Other single skaters included All That Skate regulars Stéphane Lambiel and Alissa Czisny, and young Korean skaters Minjeong Kwak, Haejin Kim, and Jinseo Kim.
The theme for this year's spring show was "Rock One". It was well-chosen, considering the rock concert mood that the All That Skate shows are well-known for. The show created a mood where everybody could have fun and "Rock as One". Also, "Rock One" sounds similar to the Korean word "nakwon" which means "paradise".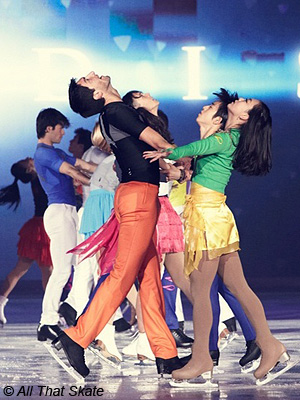 Clever play on the words by the organizers. And for two-and-a-half hours for three nights, All That Skate Spring was certainly a paradise for everyone fortunate enough to take part in it.
The opening group number of the show was to the music of "Avatar" OST, which created a fantastical and atmospheric mood, as if to announce to the audience that they are entering a "paradise". The programs skated in the first part of the show were mainly true to that mood, with mostly slow songs, ballads, and classical music. The second part of the show was all pop and "Rock", from Michael Jackson to Bjork. And the show provided enough chances for the audience to feel as a part of it. One such chance was at the introduction of the performing skaters at the beginning of the show. Each skater was accompanied by an amateur skater when they took their bows. These "amateurs" were competent enough to show off some skills as they entered the rink, some of them skating well enough to do single axels and flips. What a great experience for these young skaters to be a part of one of the greatest ice shows in the world! Thus the show created an atmosphere true to its theme of "Rock as One in Paradise".
Minjeong Kwak has come a long way since 2010 Olympics where she placed 13th in the ladies' competition as a fresh-faced pixie. Plagued by injuries and a growth spurt since then, the newly emergent Minjeong and her program "The Truth Is" showed a maturing young woman with a developing style of her own. Haejin Kim, a 15-year-old youngster who is already a three-time Korean national champion, showed great progress and potential as an expressive skater beyond her years, dancing to Beethoven's "Moonlight Sonata". Jinseo Kim, another 15-year-old who has been newly crowned as the Korean national champion in the past season, provided one of the rock concert moments in the show. His chosen music was "Fantastic Baby" by Big Bang, one of the most popular pop groups in Korea. A superb athlete who started figure skating competitively only three years ago; the music was an ideal choice to show off his athleticism and dancing skills.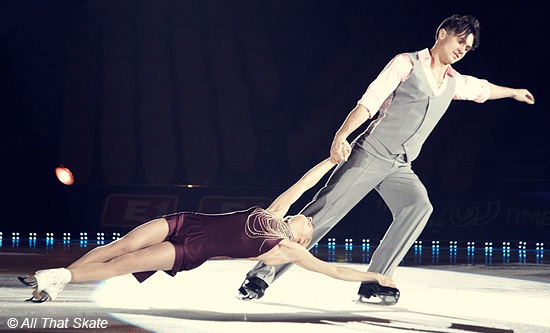 All That Skate first-timers Tatiana Volosozhar and Maxim Trankov looked understandably nervous on the opening night, but soon seemed to relax and soak in the atmosphere of the show. They are a strong pair, despite the short time of their partnership. I was especially impressed with Volosozhar, who was very feminine and expressive. And heaven knows we need more female skaters like her. Their program "I Will Always Love You" by Whitney Houston highlighted Volosozhar's expressiveness and Trankov's power.
Jamie Sale and David Pelletier are crowd favorites at the All That Skate shows. Their strength is their wonderful athleticism, shown best in energetic programs like Michael Jackson's "Scream". And through their years of show skating, they know how to entertain the crowd. It was also nice to see their "Who Wants to Live Forever" which was a grown-up program executed to perfection by the veteran couple.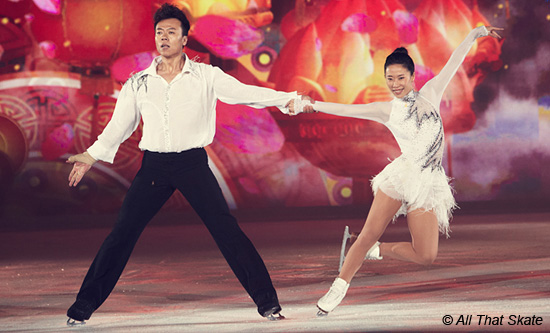 Shen Xue and Zhao Hongbo is another veteran team at All That Skate show who always deliver. They are such a good match, and their love and trust for each other is visible in their performances. With these two, one can just sit back, relax, and watch their story unfold on the ice. They chose two love songs, one in Chinese and one in Italian, and their stories were so touching and expressive. Zhao had a hand injury, but their performances didn't show any signs of it.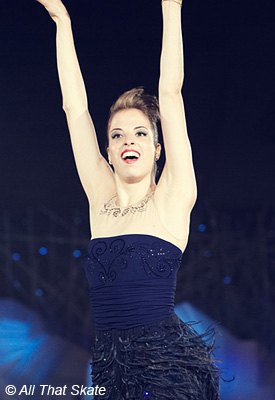 It is announced now that Shen and Zhao will retire in June with a couple of ice shows of their own in China. It is so sad to think that their performances at these All That Skate shows were the last we were to see in Korea. They will be sorely missed.
It is not usual for skaters participating in the All That Skate shows to under-perform. But this seemed to be the case for Alissa Czisny. She seemed like she wasn't in the best condition to skate. Injuries have been speculated since her disastrous results at the Worlds. And now it is known that she's been suffering from injuries for some time and will receive an operation. I hope she recovers soon.
Carolina Kostner, on the other hand, was coming off the best competition results of her life. The World Champion showed that she was indeed the best female skater of the last competition season. Her programs "Hallelujah" and "It's Oh So Quiet" highlighted her long limbs with elegant lines. She hasn't been the most consistent of skaters throughout her career, but these programs seemed to fit her well, and she looked comfortable performing them.
Stéphane Lambiel. He brought two very different programs: "My Body Is A Cage" and "Rigoletto". Stéphane is an artist on ice, and in every artist's life comes a moment when he has to take his art to another level, to another sphere, and to look at it from another angle.
"My Body Is A Cage" is a departure from his previous programs, and a departure from figure skating. With an unfamiliar song and an unfamiliar style, it is a difficult program, to perform and to understand. It had a feel of a modern ballet piece, with sudden, drastic movements, falls and crawls, and at least two stops in the middle of the program. Set to a heavy, deep female singing-voice, the intention was obviously to show the pain and angst of a soul who feels caged trying to find freedom. Stéphane is pushing the limits, both with this artistic interpretation aspect and technical aspects of quadruple jumps and spins. But it is not a program for everybody, in the way modern art is not for everybody. It is certainly a program that requires multiple viewings. We will be able to judge this program better in five years, to see where it will fit in Stéphane's career. In contrast, "Rigoletto" has all the elements of an instant hit program. Set to the popular Verdi opera, with both dramatic and comedy parts, it has all the stuff that allows Stéphane to show himself off as a classical performer, looking like a principal ballet dancer. He was suave and light, flying across the ice. With this charming program, he also had the athleticism of a ballet dancer, and his suspension on the jumps was very impressive. He also had wonderful interaction with the audience.
Reigning World Champion Patrick Chan is an outstanding technical skater, but the one thing I felt lacked in his skating was the emotional expression.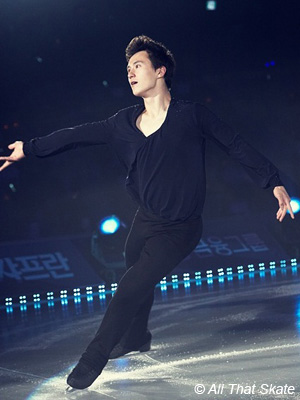 But with his "Rachmaninov Elegie in E-Flat Minor" he gave hope for his expressive side. His bodylines and skating edges have always been smooth, and now he was able to carry emotion with his arm movements. He will need more work on his extension, but he carried the melancholy mood of the music very well. His "Mannish Boy" showed off his more playful side. Set to the music by Muddy Waters, he rocked the house with that bluesy tune with thunderous guitar riffs.
Olympic Champion Evan Lysacek was another newcomer to All That Skate show. He has never been known to be a charismatic skater, but he wins points on consistency and hard work. He gets the job done. The same was true in his show skating. His programs "The Climb" and "El Tango de Roxanne" were not the most original or impressive programs of these shows, but he performed them earnestly. His movements were precise and methodical, and his jumps were spot on. That probably makes him a better "skater" than a "performer" and I feel that his skating fits competitions better than ice shows.
Yuna Kim. She brought two new programs to the show. Both programs dealt with the subject of lost love, but the styles of the two programs couldn't be more different from each other. In "All of Me", to the jazzy music of Michael Buble, Yuna acted out a man in suit and a hat. In "Someone Like You", by Adele, she was the most feminine of skaters, in light purple chiffon dress with beads and ruffles. "All of Me" demonstrated Yuna's versatility and range as a performer. This is the first time she has used jazz music,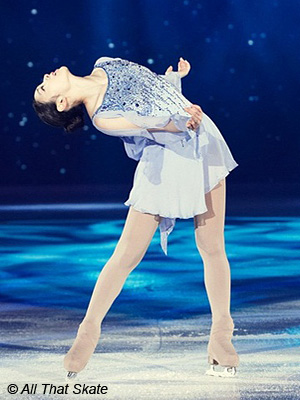 but she made it look like she's been dancing to jazz for years. She was even convincing as a man too. Is there anything she can't do? The four male skaters accompanied her in the beginning and the end of the program, which was a nice touch. "Someone Like You" is already one of my favorites among Yuna's gala programs. She has always been a lyrical skater, but she has not done many programs which has balladic lyrics. This program showed how well she can express words in her performance. With soft movements, flowing and smooth, accented by dramatic facial expressions, arm movements, and jumps at climax, Yuna was such an ethereal and heart-wrenching beauty on the ice. The song and the program are so well-measured to arouse emotions from the viewer, and watching Yuna skate it brought tears to many eyes in the house, including Yuna's own on the last night.
The last individual performance of the show was not by a figure skater but by a couple of male skating acrobats. The team of Vladimir Besedin and Oleksiy Polishchuk was really something else, a surprise hit of these shows. Ice skating is hard enough, but these men were performing dare-devil acrobatics with skates on, and putting on a comedy show while doing it. "Swan Lake", especially, was full of dangerous moves that brought out oohs and aahs and loud cheers from the crowd.
The finale and curtain call of the shows were performed to the music "Just Like Paradise", which stayed true to the theme of the show, and "Without You", which was a tribute from the skaters to the fans and the audience as a way of saying their performances and All That Skate shows are not possible without the fans. The skaters did a simple dance for the audience to follow along, and the 10,000 people in the audience actually got up and danced along! Where else in the world does that happen in an ice show?!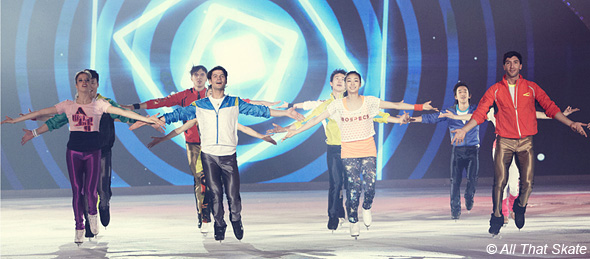 But in the end, I felt that it was the other way around. This wonderful show would not exist without the great skaters who participate in them. Especially not without Yuna Kim, who is the reason that the show exists at all. So thank you, Yuna, artistic director David Wilson, All That Skate, and all the great skaters who came to perform for us. We look forward to seeing you again.