All That Skate Summer 2012
Seoul, Korea
November 25, 2012
By Lagif Naerok
Photos © All That Skate

One of the world's largest ice shows headlined by Yuna Kim - All That Skate Summer 2012 - was held in Seoul, Korea, from August 24th to 26th. All the seats for each run were sold out for the much-anticipated show and with approximately 30,000 people to come and enjoy live performances presented by world famous ice skaters, this summer's show proved to be a big hit as usual.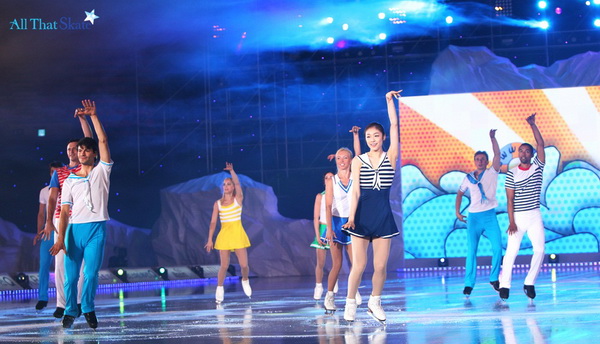 Last July, after having been away from competitive skating since the 2011 World Figure Skating Championships in Moscow, Yuna announced her return with an eye on Sochi 2014. The All That Skate Summer 2012 show marked Yuna's first appearance on the stage since the announcement, which had been subject to much of the public's attention.
This year's summer show featured an all-star cast joined by some newcomers. The stars included 2002 Salt Lake City Olympics Gold medalist Alexei Yagudin of Russia, 2006 Torino Olympics Pair Gold Medalists Tatiana Totmianina/ Maxim Marinin, also of Russia, Adagio Pair skating team Fiona Zaldua (Gbr)/ Dmitry Sukhanov (Rus), 2010 Vancouver Olympics Bronze medalist Joannie Rochette of Canada, and 2010 World Championship Bronze Medalist Laura Lepistö of Finland. And don't forget the frequent guest stars of Yuna Kim's show such as 2006 Torino Olympics Silver medalist Stéphane Lambiel of Switzerland, the reigning World champion Patrick Chan of Canada, 2007 World champion Brian Joubert of France, 2010 Vancouver Olympics Pair Bronze medalists Aljona Savchenko/ Robin Szolkowy of Germany, and 2012 European Championship Silver medalist Kiira Korpi of Finland. They never failed to wow Korean skating fans with their high class performances and skating skills whenever they took the ice in front of a Korean audience at All That Skate.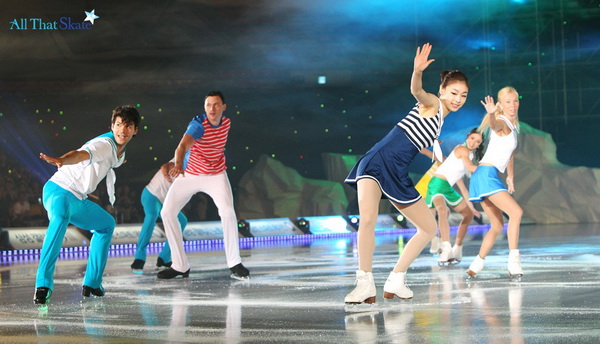 The main theme of this year's summer edition was 'To the Ice World'. This aimed to maximize the coolness of the ice show to make the audience forget about the sweltering August heat in Seoul, and make them feel like they are at a vacation spot while enjoy the ice show. To create this fantastic vacation in the city, All That Skate utilized various forms of objects, stage settings and visual devices to direct the rink like a vacation spot. Those who visited the stadium enjoyed the atmosphere of the vacation spots to the fullest.
The opening group number to a Beach Boys remix blew out the heat of the hot summer right from the beginning of the show. All the skaters wore colorful marine like outfits, which seemed appropriate for a summer vacation. They performed a series of movements mimicking swimmer and surfer actions on the ice to a medley of Beach Boys hits, highlighted with spinning on their butts on the ice.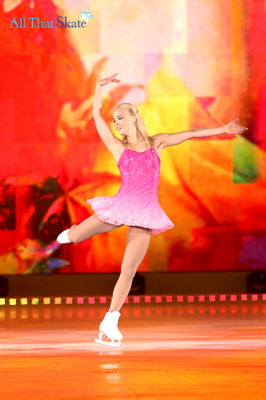 Also, like in the spring show, each skater was accompanied by an amateur kid skater when he/she entered the ice. One can easily imagine how this experience inspired these young skaters and will long stick in their minds as a beautiful memory.
Three-time European medalist Kiira Korpi of Finland, who won her first silver medal at the 2012 European Championships, was forced to withdraw from the 2012 World Figure Skating Championships due to lingering foot and hip injuries. She now seemed fully recovered from these injuries and well prepared for the new skating season. Kiira first unveiled her new short program to 'The Girl with Flaxen Hair'. David Wilson did an excellent job in finding a perfect music match for her. Kiira is absolutely one of the most beautiful skaters and her flaxen hair makes her stand out from the other girls out there. But skating-wise, it is often said that her beautiful face puts her skating in the shadows although she has consistently improved her artistry over the past few years. This year, 'The Girl with Flaxen Hair' will definitely rocket her to the forefront of ladies skating.
Another Finnish beauty, Laura Lepistö, was a newcomer to All That Skate, but she seemed like she didn't have any trouble adjusting to this new environment. She received a warm welcome from tens of thousands of Korean fans and she gave back to them two beautiful programs: 'Rolling in the Deep' and 'Dancing'. She has yet to fully recover from the injury that brought on her early retirement, but her beautiful lines and spins were still the same. I wish she would appear more often in ice shows since many of her fans thirst for her skating.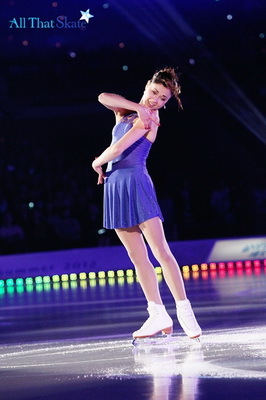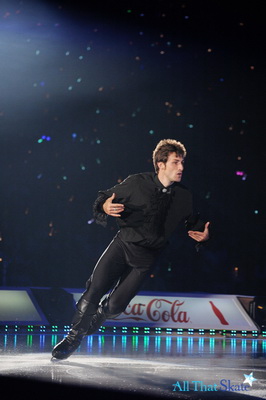 If you think Brian Joubert of France is popular only with women, you are mistaken. Brian had both men and women in the palm of his hand with his mannish charisma, as well as his good looks. In 'L'assasymphonie' sung by Florent Mothe, he portrayed himself as Antonio Salieri and impressed the audience with his appealing presentation. The relocation of his training base from Poitiers to Champigny was not the only change for him. It was evident that he had been working hard on his artistic side. Skating to music from the 'Gladiator' soundtrack, he was dressed as a Roman gladiator with a cape and gave a dramatic performance throughout the whole program.
Pair skaters Aljona Savchenko / Robin Szolkowy from Germany have always been fan favorites. This duo was a real hit in this summer's show and both of their programs gained immense popularity among the audience, especially with the younger crowd. Their 'Pink Panther' was very fun to watch from start to finish. Also, they prepared a special gala program for the Korean fans by skating to the song 'The Boys' by Girl's Generation, a Korean top band consisting of nine telegenic girls. Needless to say this pair is among the highest in the world in terms of expression, skill, speed and ice coverage.
You just can't miss out on Stéphane Lambiel who is almost considered a member of the All That Skate family. He has attended every All That Skate show without missing a single one since All That Skate Summer 2010, the first-ever Yuna ice show hosted by AT Sports. With his 'Violin Concerto in D Major', Stéphane showed he was still competitive enough in the difficult jumps. The quality of this program was every bit as good as that of other competitive programs, but we know he created it for the shows and not for competitions. On the ice, he was free like a flowing wind. Skating to 'Puttin on the Ritz', Stéphane expressed himself freely and made the audience feel like dancing along. He's already established himself as a performer and created a style of his own in skating. As a result, it is natural that he has become a much sought-after skater, busy meeting the demands pouring in from all over the world.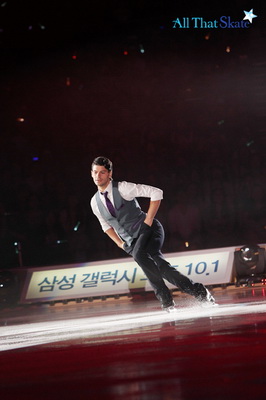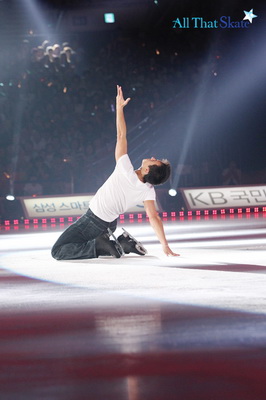 Patrick Chan showed off deep edge control with high fluidity as if his blades were frictionless on the ice. His jumps were also very impressive, some of which seemed to need more work before the new season starts though. Patrick tried to project a manly image that radiated his youth and strength in his 'Mannish Boy' program. He has both masculine beauty and a smart boy image, and the two images co-exist in his skating. In this sense, it was an excellent choice that he picked the song 'Till Kingdom Come' from the Spiderman movie depicting a muscular superhero who is also the cute boy next-door.
Most Korean skating fans present were unfamiliar with adagio skating, but they soon came to enjoy the performances by Fiona Zaldua of Great Britain and Dmitry Sukhanov of Russia. Adagio skating is based on acrobatics and this pair presented two programs: 'Angels and Demons' and 'We Come One'. They performed various circus acts on ice including acrobatic lifts that we would hardly see in competitive pairs skating, where pairs must perform the required technical elements in order to be marked properly. I don't want to see dangerous things like this in competition, but I'd like to recommend you to watch it in ice shows; it's just amazing!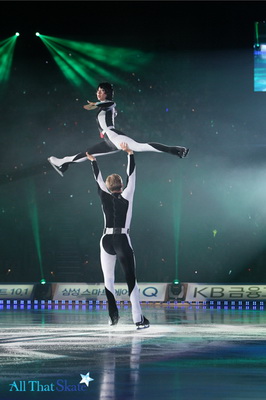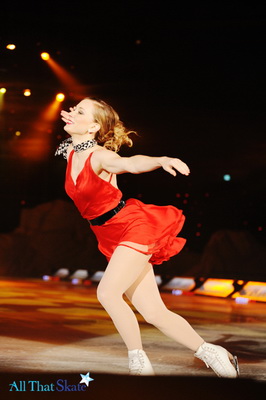 Many of the jumps that Joannie Rochette did at All That Skate were so strong and solid that I almost forgot that she had been away from competitive skating for more than two years, since the Vancouver Olympics. Her speed was no less impressive. Meanwhile, she seemed to have developed her artistry and feminine side. Now she's got both athletic and artistic skills and she gave full play to her abilities in both of her programs 'For Me Formidable' and 'Show Me How You Burlesque'. Joannie skated with much more maturity than ever before which was combined with feminine elegance. She has not yet decided to get back in the game, but it would be no surprise if one day she announced her return to competition.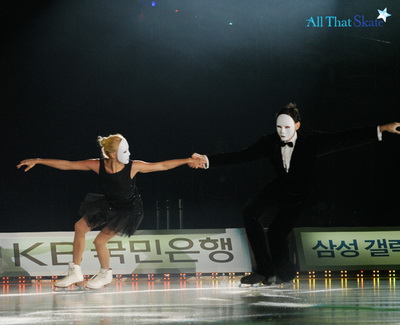 Russian Olympic champions in Turin Tatiana Totmianina/ Maxim Marinin are a perfect match for each other, I mean only in terms of their on-ice partnership. The obvious contrast between Tatiana's slender figure and Maxim's strong physique made the audience feel the beauty of balance and harmony indispensable for pairs skating. So even when they were doing lifts at high speed, they looked very stable and I didn't have to sit on the edge of my chair during their performances. This pair skated two programs set to songs by Russian composer Igor Krutoy: 'Exchange of Relative' and 'Masks'. Each program was filled with romantic moments and a dramatic storyline and their masterful presentation was definitely notable especially in their 'Masks' routine.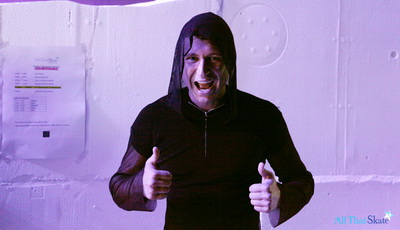 I'm sure I was not the only one who had really been looking forward to the joint performance of two of skating's greats: Yuna Kim and Alexei Yagudin. As an Olympic gold medalist and 4-times World champion, Alexei was in a class of his own. He was like a rockstar on ice and made the whole atmosphere of the show enjoyable. With his 'Liber tango', he really commanded the stage with charisma and presence on the ice. Skating to 'Burn My Shadow', he put on such an inspired performance that the audience rewarded him with a standing ovation. His crisp footwork in particular reminded us of his Olympic gold medal-winning performance of 'Winter' in 2002.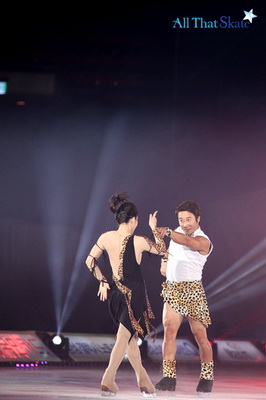 Kim Byung-Man, a famous South Korean comedian, made a surprise performance as a special guest, but this was not his first time on the ice of All That Skate. He impressed the audience as a 'Yuna Kim's Kiss and Cry' TV show contestant last year and was invited once again to this year's All that Skate show. Performing to 'Tarzan Style' mixing Tarzan OST and PSY's 'Gangnam Style', he skated pairs with figure skating coach Yang Tae-Hwa, who directed skating practice and choreography for 'Yuna Kim's Kiss and Cry.' Yang Tae-Hwa is the first ever figure skating medalist for Korea, winning a bronze medal in ice dancing in the 1999 Gangwon Winter Asian Games. While Kim Byung-Man's skating was not as good as that of professional skaters, his passion and commitment was second to none. He and Yang heated up the stage with humorous moves and the horse dance on ice.
And then, last but not least, there was Yuna Kim, the headliner in the All That Skate figure skating show. I have to say that her mere presence on the ice makes me smile and this time was no exception. Yuna has the ability to melt her performance so that the audience can see the music as a living entity. In 'All of Me' subtitled 'The Class of a Gentleman', four handsome guys in male attire joined Yuna. Alexei Yagudin, Patrick Chan, Stéphane Lambiel and Brian Joubert took pleasure in backing up her performance in the beginning and end of the program. 'All of Me' was just perfect. Yuna was totally enjoying her performance and looked so free and easy. Yuna portrayed herself as Larry Kim, the fictitious character created by Yuna. Larry got dumped by his girlfriend and he begged and begged her not to go. Can anyone resist Larry's/Yuna's charm? No way!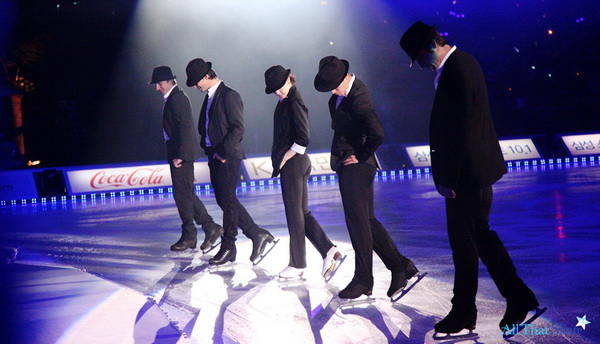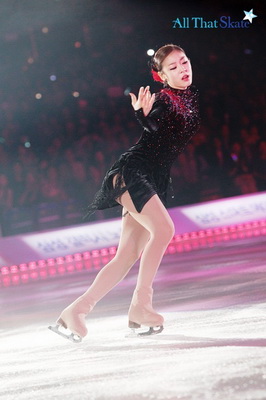 As I wrote above, all eyes have been on Yuna since she announced her plans to return to competition. She said at a press conference held in Seoul on July 2 that she would like to make a fresh start. And the first step was going back to basics and reviving her first short program as a senior: 'El Tango de Roxanne'. For many of her admirers, it was a treat to see 'El Tango de Roxanne' performed again by none other than Yuna herself! She kept the original choreography and tried all of her short program technical elements including a triple Lutz, which means she's really in good shape. Wallowing in nostalgia, the crowd reacted enthusiastically to every little move she made. She hasn't lost the touch at all. But at the same time, the now grown up Yuna delivered a much more mature interpretation than that of the 16-year-old girl. After she brought down the house with her 'Tango' performance, she said with modesty: "I don't know how I did it back then (five years ago)." But we knew a natural performer like you could pull this off, Yuna! She came back with unbelievable ability!
In an interview with a Korean newspaper during his stay in Seoul, Stéphane Lambiel said, "Yuna is like a lion. She is usually peaceful and calm off the ice, but on the ice her eyes change and are strongly shining." We completely agree with him.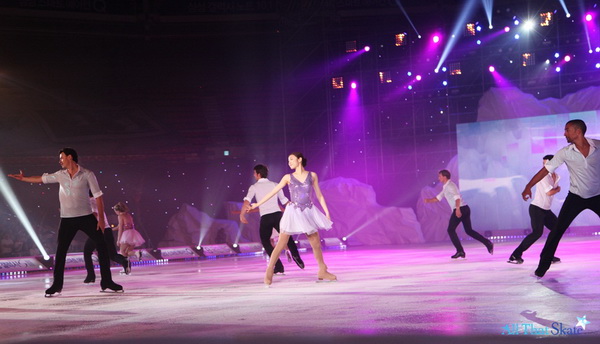 All the cast members performed a group number during the finale to a mix of music from 'Happy Feet'. Dressed in pink and violet shiny dresses, the skaters really looked like the fairies in the Ice World. The curtain call of the show was performed to 'We Found Love' by Rihanna, which Survival Audition K-POP Star (a popular televised talent show) heroines Park Jimin and Lee Hayi sang live that night.
After the show was over, no one wanted to leave the arena quickly. While Stéphane danced with joy, Alexei wanted to greet the audience one more time and jokingly pulled David Wilson in an affectionate headlock to carry out his idea. The audience chanted "Yuna!" It's been more than two months since the splendid show, and the memories still linger in our minds.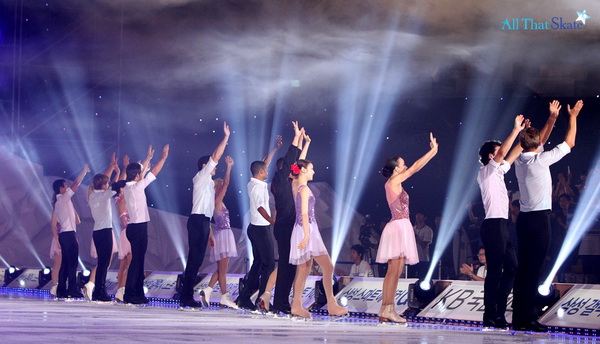 Update
In October, Yuna Kim's management agency, AT Sports, announced that Yuna is reunited with two of her earliest coaches, Ryu Jong-hyun and Shin Hea-sook, as she prepares for the 2013 World Championships in London, Ontario, Canada. Shin will be in charge of all matters regarding Kim's training, while Ryu will manage the skater's conditioning and fitness training.
Also, Yuna is planning to compete at the NRW Trophy which will be held in Dortmund, Germany from December 5th to 9th. In case her condition changes, she will apply to the Golden Spin of Zagreb held in Croatia a week later as well.
Yuna will skate to music from the 1963 movie 'The Kiss of the Vampire' for her short program. She'll be the heroine, not the vampire. Her free program is to selections from 'Les Miserables'.