Art On Ice: A show that tickles the senses!
February 13, 2012
By Eva Maria Jangbro (EMJO)
Photos © Eva Maria Jangbro (EMJO)

I left an -8 degrees Celsius Malmö, Sweden to go to Switzerland where it was even colder, but I was prepared for that. I wasn't, however, as prepared for my reaction to this AOI show. I couldn't really say if my expectations were high or if I just had this big curiosity of what the show would be like this time. This is the show that runs in a sold out Hallenstadion arena that seats about 10 000 (for this event) spectators for 4 days every year in a tiny country like Switzerland. Now how is that possible? I loved the creativity of last year's show which was my first AOI, but now a show like this… That is what it's all about: creativity! and whether you like it or not, it tickles the senses!
The music star announced this year was Mick Hucknall, the singer from Simply Red, and Dionne Bromfield, known for having Amy Winehouse as godmother; both are totally in my taste. Tinka Belle, Emily Bear, Rhonda Dorsey and Tanja Dankner were all new to me, but they connected with the skaters in a way I didn't quite sense in last year's show.
Act 1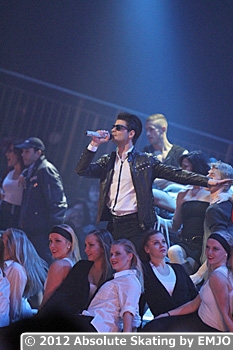 Opening number
The show starts in the aisles of the stands. There is Florent Amodio on a bike, Team Surprise dancing, Aljona Savchenko and Robin Szolkowy walking around... The spotlight moves to the ice where there are some short introduction numbers made by the artists and skaters like Anna Cappellini and Luca Lanotte. They come out dressed as cowboys skating to Tinka Belle, who is standing on a floating podium; a number to get you into the right mood. The Italians expose positive energy that really gets you; they know how to entertain and they do it well. There is a quick change of artists and skaters. Dionne Bromfield takes the stage together with Miki Ando, who is watching Elena Ilinykh and Nikita Katsalarov skating. The music changes again and now Tinka Belle is on stage and Emanuel Sandhu is on the ice skating and playing with a suitcase.
Then the AOI skaters together with Team Surprise appear, but most importantly: Stéphane Lambiel enters the stage as a rock star, with all the ingredients that come with it, like sun glasses and a leather jacket. And he sings, much to everyone's delight. The arena goes wild!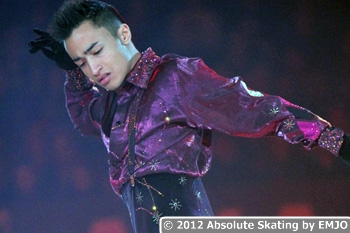 Florent Amodio
Mess Around - Emily Bear and Gary Scott
This reigning European bronze medalist is a true show skater and he gets the audience going right away. What he does looks so simple. He shows off his great footwork, and it's so effortless for him. He goes all out playing with the audience, at the level of Plushenko.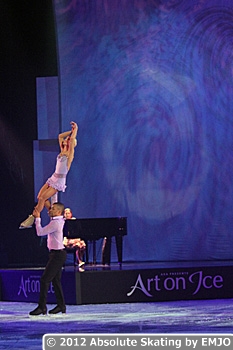 Aljona Savchenko and Robin Szolkowy
Diversity - Emily Bear
The 10-year young Emily Bear is introduced with photos on the screen placed above the stage. She is as a child wonder who even got to meet President Bush. Emily plays the piano and composes her own music. Aljona and Robin, the 2011 World champions, take the ice for their first number, and skate to one of Emily's compositions called Diversity.
Wearing beautiful lavender costumes, Aljona and Robin interprets this emotional piece while Emily plays the piano. It is a very beautiful program that leaves no one untouched.
The comedians Oropax
All their jokes are in German, but being a Swede you still pick up some of it: the play on words, since the two languages have a lot in common. At one time one of the guys is Spiderman with, let's say, less powers and less courage when danger occurs; he's a robot! This robot number, performed by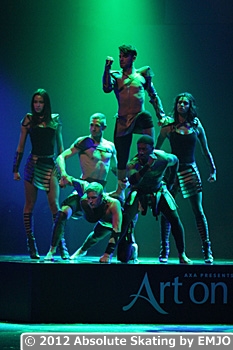 Gev Manoukian is both amazing and funny. He has all the right moves and glides on his head; it's a number very much appreciated by the audience.
Isabelle Delobel and Olivier Schoenfelder
Gladiator
The show dancers are on stage linking to what is going on, on the ice. It adds to the programs and creates a natural bond to the skating. This is especially clear in some of the numbers; like when the dancers are dressed as gladiators and Isabelle Delobeland Olivier Schoenfelder, the 2008 Ice Dance World champions perform their Gladiator program. I have seen it before, but it is one of their more impressive programs, so it is ok to watch it again, especially with the dancers on the stage. The knives Isabelle and Olivier use as props in the program are now handed to them by the dancers.
Miki Ando
Fooling Around - Dionne Bromfield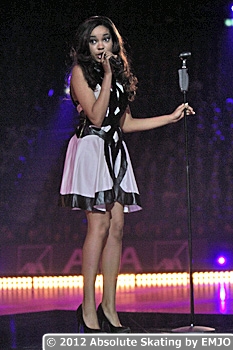 Well, it'seasy to understand why Miki is the reigning World champion. She is soft and elegant on the ice and her skating in the second act was one of my three highlights of the show. But we'll get to that later. Dionne Bromfield has one impressive voice being only 16 years old. Her godmother is Amy Winehouse, but Dionne makes it clear in the show program that she is her own self: "People have to understand that I'm not Amy. I can carry on the heritage she left, but I can't be the new Amy." Dionne's debut album, Introducing Dionne Bromfield, was released in 2009 on Amy Winehouse's Lioness Records label. On stage Amy has joined Dionne a couple of times, either as one of the background singers or as a duet partner. Dionne does not have the deep, powerful contralto vocals of Amy, but she does have a surprisingly mature blues voice for her age. You can sense a little bit of Amy in her choice of stage costumes too, but Dionne represents a more light and easy side of life, as opposed to the dark side often portrayed and described by Amy in her songs.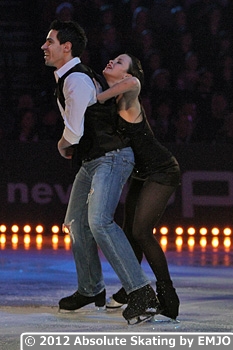 Anna Cappellini and Luca Lanotte
Outch That Hurts - Dionne Bromfield
Dionne is on the floating stage again and the skaters have to skate around her. This limits their space, but people get to see Dionne up close which is nice and makes the singing come alive even more. This is a flirty, sexy number that suits the Italian dance team. They are very energetic and show some great lifts. They really get into the upbeat music and connect very well with Dionne.
Tatiana Volosozhar and Maxim Trankov
Yeah Right - Dionne Bromfield
This is one of Dionne's biggest hits and a very flirty number. Tatiana portrays the dominant city girl and Maxim has to play by her rules, like carrying her suitcase. At one point he flirts with Dionne, who's on the stage. He crawls towards her,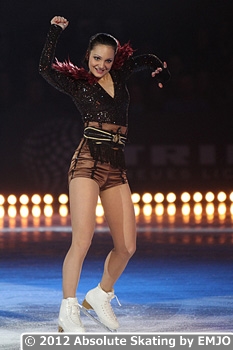 but then goes back to Tatiana. Great skating including this pair's fabulous trademark: the triple twist. The audience goes wow and so do I!
Sarah Meier
Not Myself Tonight - TanjaDankner, a Swiss pop star.
Sarah is wearing the costume of the day, it has to be seen!The choreography and even the style of this performance are interesting, and very different from what Sarah used while still competing. This is a tough cookie with lots going on, not least with the costume which keeps changing duringthe program. The fluffy loops on her shoulders come off at one point,and one is put in the pockets of the shorts. But the otheris used to inspect the audience. This is a great number skating wise, but it's also creative and fun. Andof course the Swiss audience loves their Sarah.
Stéphane Lambiel
My Body is a Cage - Rhonda Dorsey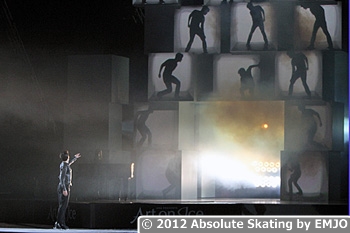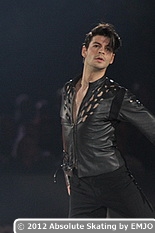 This is the first of my three highlight numbers. Stéphane is perfect in this passionate, dramatic and powerful program that starts on the podium, from which he enters the ice. Noone can perform this type of program with the feeling Stéphane is able to convey, and produce a quadruple toeloop at the same time. On stage something interesting is going on as well; behind the white cubes, or rather inside the cubes, each dancer is trapped and trying to get out. The cube is their cage. When the music stops the arena is clearly taken by the mo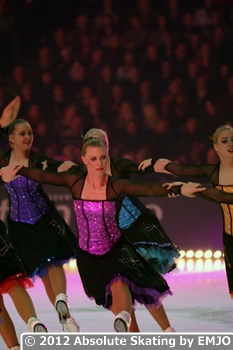 ment. It had it all: the skating, the costume, the dancers, the emotions and the connection with the music. But this is what we have come to expect from Stéphane, isn't it? And yes, he delivers.
Before Team surprise enters, there is a great, sensual dancing in the rain, a number performed by the talented Art on Ice dance crew.
Team surprise
Skating a cancan number to music from Moulin Rouge
Team skating is best viewed from a distance, so this show also had a little something for the people seated in the upper levels. In their sparkling cancan dresses Team Surprise know how to attract the audience close up too.I love when they do lifts, it is so spectacular.The music pieces end with German music which is greatly appreciated by the audience.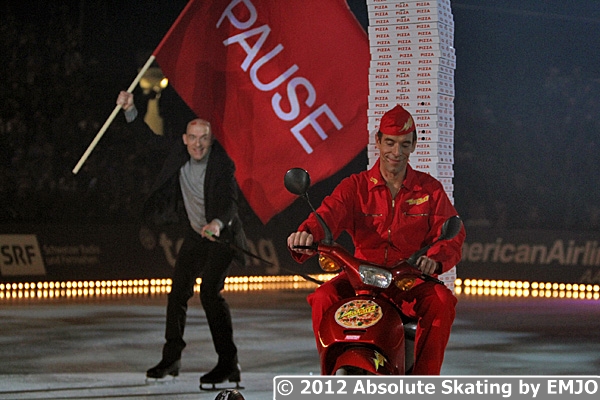 Go to Act 2.