Cup of China 2012: Triumphs, dramas and lessons on the Chinese ice

January 16, 2013
By Oxana Shkrebtienko
Photos © 2012 Absolute Skating by LMDJ
It was a real adventure for me to travel to Asia for the first time in my life! It was worth it though. Shanghai is a huge city of huge contrasts, from the poorest slum to chic, newly built skyscrapers. A bright, lively city, the business and financial center of China, it impresses you and attracts you to visit Shanghai again and again. Ok, maybe next year? I still have one thing to do there, which is a night boat ride along Huangpu river.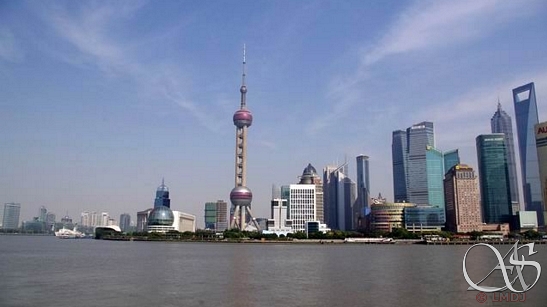 The competition took place in the Oriental Sports Center, located by the east side of the Huangpu River, next to Expo Park. It consists of an indoor stadium, a natatorium (arena with a swimming pool for aquatic events), and an outdoor diving pool. The theme of its architectural design is water. The elements of waves and bridges appear frequently on the Center's décor. The architectural exterior of the indoor stadium looks like a wave. The natatorium is composed of lined arches. Located on the manmade island, the outdoor diving pool has a roof in the shape of a half moon.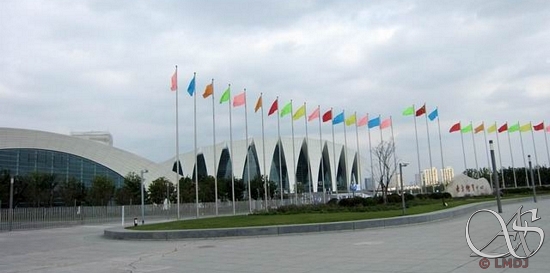 As one of the major construction projects of Shanghai, the Oriental Sports Center is not only an ideal place for international sporting events, but is also open to the public, serving as a green and excellent fitness center. The Chinese public is very interested in this figure skating event, and most of the tickets were sold out. We were asked several times if we had extra tickets to sell, even at the metro station.
In general the competitions were well organized. If you, like me, are a citizen of the ex-USSR you don't need to worry about the many soldiers and policemen around the rink, both inside and outside. This was a condition set by the Japanese Federation to provide extraordinary security for their skaters, taking into consideration the conflict between China and Japan about arguable islands. The negative effect of this was that access to the skaters' area was blocked for everybody. Even media accreditation was not sufficient reason to be allowed entrance to this zone, which made meetings with the athletes for interviews very problematic.
Ice Dance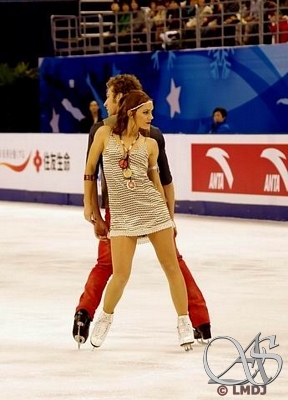 Nathalie Pechalat and Fabian Bourzat of France became the leaders after the short dance, lacking true rivals with which to fight in China. Their fiery French "Can Can" and romantic waltz to "Sous le ciel de Paris" met with enthusiastic reactions from the Chinese crowd, as well as the judges. Their score was 69.15 for the short dance.
For their free dance they chose selections from music by the famous rock band, the Rolling Stones, and the audience began to clap with the first sound. The French team showed a very strong performance, proving how ready for the season they were. The program was rewarded with 100.58 points, and 169.73 overall. "We are very pleased with the beginning of our season in Shanghai," said Nathalie at the press conference. "We are a little stressed because this is our first competition and you are not sure if you can do your best. China is a lucky place for us. We won the Cup of China three years ago and now again. But we can still improve on this," said Fabian.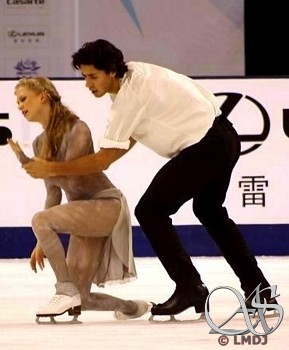 The most intrigue during the ice dance competition came from the fight for second place. This happened between Kaitlyn Weaver and Andrew Poje from Canada, and Russia's Ekaterina Bobrova and Dmitri Soloviv. After the short dance only a few points separated the second and third place teams. As two weeks before in America, the Canadians came in ahead of the Russian couple in the short dance, skating to music from "The Sound of Music." They were awarded 65.59, and were very surprised to hear how popular this movie is in China. "We didn't know that," said Kaitlyn. They explained their music choice was selected in memory of Andrew's grandmother who died this year.
Ekaterina Bobrova and Dmitri Soloviev performed a pleasant Polka and Waltz
set to the Russian movie soundtrack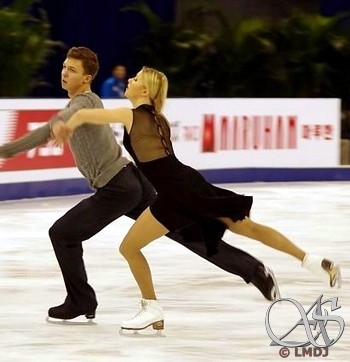 "Say a Word for the Poor Hussar" and "Air Crew" by Schnittke. With their romantic dance (one of the most successful, in my opinion) they earned a new season's best of 64.32 points. With their dramatic free dance to "Man With a Harmonica" by Ennio Morricone and "Tosca" by Giacomo Puccini, Ekaterina and Dmitri showed the audience and judges an absolutely new style for themselves, created by their new coach Alexander Zhulin. With 95.14 points they edged out Weaver and Poje by 0.49 points for the silver, with an overall score of 159.46. This second silver medal at a Grand Prix event qualified Ekaterina and Dmitri for the final in Sochi. Weaver and Poje's romantic love story earned third with a season's best 93.38 points, but was not enough for their total score of 158.97 to pull them into second place.
Madison Chock and Evan Bates from the USA performed a short dance to "Quidam" from Cirque du Soleil. Their free dance to "Doctor Zhivago" earned the second-highest technical mark and they finished fourth with 149.54 points. The Italian team of Charlene Guignard and Marco Fabbri placed fifth. World junior champions Victoria Sinitsina and Ruslan Zhiganshin of Russia finished sixth in their senior debut.
Ladies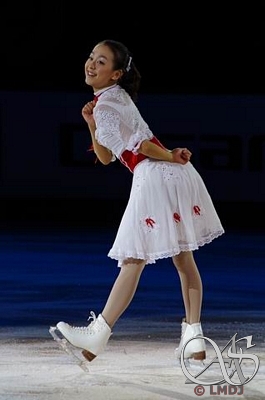 Mao Asada of Japan won gold at Cup of China with a total of 181.75 points in a strong fight with the youngest skater at the event, Julia Lipnitskaia of Russia. "My first senior Grand Prix was in 2005; it was also in China," said Mao. "I won my first Grand Prix title when I was 15, similar to Julia now." Mao finished second in the short program behind Julia, skating a joyful program to "I Got Rhythm" choreographed by Lori Nichol. Mao made some mistakes on her jumps, but Julia's jumps looked perfect in her short program to a modern arrangement of "Sabre Dance" by Aram Khatchaturian. "Today I liked everything in my program. I did all I wanted to do, and now I am in first place - a little unexpected," said Julia. Young and strong, a girl "without nerves," Julia turned out to have them the next day. In her free program she made several mistakes and dropped to second place with a total of 177.92 points. "I don't know what that was, nothing worked. I'm just happy to win a silver with this kind of skate, because now I have a chance to quality for the Final." Of course the World Junior champion still needs to improve her components and expression, looking at the moment a little bit "teenage," but her technical level is really high.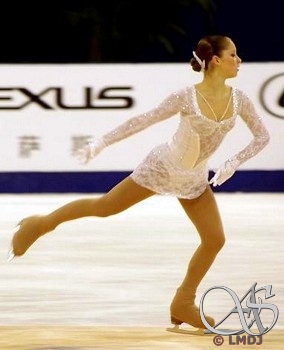 Julia Lipnitskaia and her coach Eteri Tutberidze almost missed the medal ceremony. They forgot about it and came to the rink by taxi when suddenly they remembered about the awards. Julia had to change clothes and put her skates on in the taxi.
Kiira Korpi of Finland is one of the most attractive ladies in figure skating, and her elegant programs and costumes match her style well. Fourth after the SP, she jumped on the podium and won a bronze medal, skating her free program to "Once Upon a Time in America". The European silver medalist struggled for each jump, and even with 2 missed triples and 169.86 points overall, Kiira was able to finish ahead of Mirai Nagasu. "I feel really good to stay on the podium," said Kiira at the press conference. "My performance wasn't the best in the short program, and I also had mistakes in the free program, but overall I am quite happy to go out there and perform quite well after a hard season and all of my injuries."
Mirai Nagasu of the USA skated her short program to "Downhill Special" by Benny Goodman, and it worked well. But in the free program she underrotated most of her triple jumps and could only finish fourth with 163.46 points. The 15 year old Zijun Li of China, in her first senior Grand Prix appearance, also underrotated or fell on several jumps and finished fifth with 160.06 points. Canadian Amelie Lacoste skated better than she had at her home Grand Prix event; she came in sixth place with 135.45 points total. Bingwa Geng of China withdrew from the competition because of a sprained ankle.
Men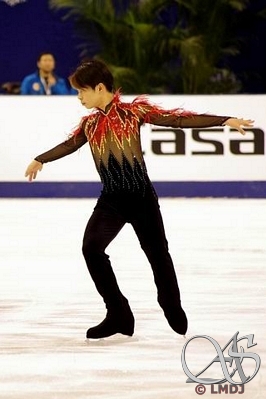 The men's field at Cup of China was highly anticipated, as many of the world's top male skaters, including Daisuke Takahashi and Brian Joubert, were assigned to this event. The competition was dramatic and full of surprises by the time it reached its conclusion.
The relatively unknown to the general public Japanese skater, Tatsuki Machida, unexpectedly edged out his teammate, Daisuke Takahashi, to win the gold. Although Tatsuki did not risk a quad jump in his SP, he performed a clean program to electro pop music, with perfect triple jumps, 3F-3T combination and level-four spins and steps. He reached a new season's best with 83.43 points. Tatsuki said his music was selected by his choreographer, Stéphane Lambiel. "Stéphane and I were looking for a new style for my performance. It is very difficult, but I really enjoy my program." In his free program Machida skated to "The Firebird" by Igor Stravinski. His 236.92 total points elevated him to first place. "I am very happy to win the gold medal, but my performance was bad. I have to improve much more. There is one month left before [Grand Prix Final in] Sochi, and I have to work hard until then."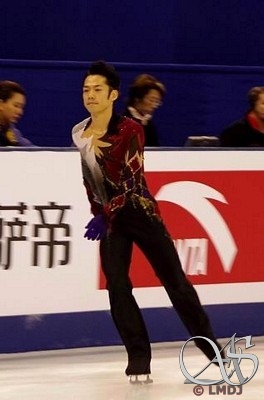 Daisuke Takahashi is one of the most popular and titled male skaters nowadays. This season he has chosen "Rock'n'Roll" medley music for his SP. Technically he underrotated and double footed his quad toe. However, he added a 3T to 3L combination to earn additional points, and he also executed a 3A in the second half of his program, plus two level four spins. Daisuke danced his choreography almost like a professional dancer, resulting in applause, flowers and toys from the audience and an 84.79 score from the judges. But he was not pleased with his skating. "It was not so good. I missed my quad, but the audience was very supportive. In today's men's skating you need the quad, and a lot of skaters have tried it today." In his FP Takahashi attempted two quads: the first was cheated, the second underrotated. He only had one mistake on an underrotated 3Lo, plus level-four footwork and spins resulted in 146.96 points, for a total of 231.75. Daisuke gave up first place to Machida. "I had a lot of problems here and I was nervous because I didn't practice so well. I lost confidence. I wasn't my usual self in practice. Hopefully I can do better next time."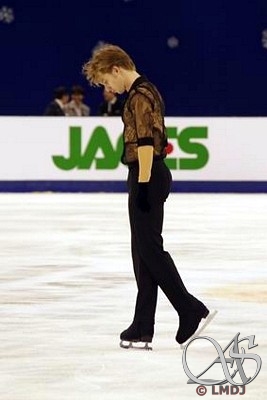 Sergey Voronov from Russia came to China after having a very difficult season suffering from a chronic foot injury. But he looked quite recovered while performing his SP to "Russian Sailor Dance." He jumped a 4T-2T combination, a very nice 3A and 3Lo, and his spins scored level four and three, with 73.58 points. "This is my first competition after my injury and the World Championships, and almost everything was perfect. This is a success for me. 'Russian Sailor Dance' suits me very well; it's simply in my blood. I don't have to work hard to get into it, it comes from my heart," said Sergey. In his FP to "Romeo and Juliet" he nailed another 4T and together with six triple jumps and level-three spins and steps he was awarded 144.03 points, overall scoring 217.61 to win the bronze medal.
Adam Rippon of the USA finished fourth with an SP to the classical version of "Nessun Dorma", scoring 71.81 points. In his free program, Adam skated to music from "The Incredibles." He performed his famous "tano" Rippon Lutz, however he stepped out of the landing. With several mistakes he placed fourth with 133.6 points and a total of 205.48 points. At the press conference he said: "It's my first competition with Rafael Arutunian, my new coach, and it is a lot to deal with. We'll go home and work a lot." Adam had felt nervous before his FP due to an accidental collision in the warm-up with Nan Song from China.
Adam and Song collided, causing Song to injure his head and neck, and although Adam quickly recovered Nan Song could not rise by himself and lay on the ice, with his hands on his head. The other skaters continued to skate around Song until they realized something serious had happened. Sergey Voronov tried to help him up but was refused. Finally the referee stopped the warm up and asked all the skaters to leave the ice, and then the medical staff brought Nan Song off the ice. He was not able to compete, and was immediately taken to the hospital on a stretcher, diagnosed with a concussion. The warm up was resumed after this, but it undoubtedly affected all of the performances of the skaters in the second group.
At the press conference Adam Rippon tried to explain the accident: "I kind of turned around to go into a jump and I think when Nan Song and I saw each other we both tried to avoid each other, but we went the same way, and went head first into each other. I tried to help him up, but he kind of shoved me away so I decided to keep going with my warm up. Everybody could see he was really hurt. After that, the only thing I could do was to focus on what I needed to do. I feel I learned a lot from this experience."
Canadian Kevin Reynolds attempted a quad Salchow in his SP, but fell. Several other mistakes in his lively "Chambermaid Swing" program resulted in a score of 69.87 points. Kevin successfully landed a 4S in his FP, but again mistakes caused him to finish in fifth place, with 202.07 points.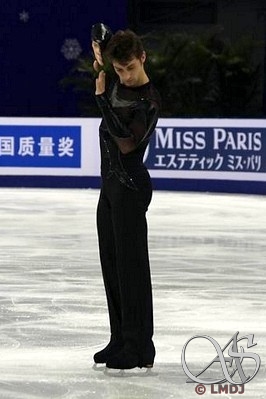 Brian Joubert from France was one of the favorites entering this competition, but two days before his departure he had a stomach illness that troubled him on the plane, and also in Shanghai. At the morning practice Brian said he felt better and would be able to compete, but actually he was not recovered. At the beginning of his SP to "Justice" Brian tripled his planned 4T and jumped a triple toe-triple toe combination, but then he almost fell on a 3A and doubled the 3L. His spins were level three and two. As a result he placed seventh after the SP with 63.27 points. Brian looked tired in the K&C, and did not go to the mixed zone to comment. The next day Brian was absent during the morning practice. Later he came with his coach, Annick Dumont, to announce his official withdrawal due to medical reasons (abdominal pain and fever). "I started to feel bad last Sunday after the gala in Nice. I caught a cold there and then I felt sick at the airport and on the plane. I hoped to get better, but the short program was a disaster. It didn't make sense to continue. I don't really know what it is. I had the same problem two years ago and it took me about three weeks to recover," said Brian. He changed his airplane ticket and left Shanghai on Sunday morning, planning to visit his doctor.
Pairs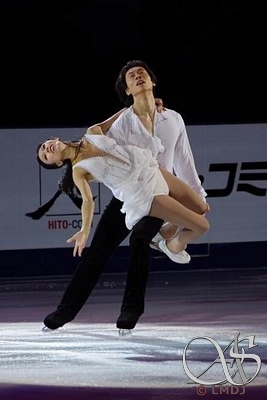 The main attraction out of the entire event for the Chinese audience was, without a doubt, the pairs discipline. China traditionally has very strong pairs teams. Qing Pang and Jian Tong did not disappoint the locals in the audience with their performance, winning the gold medal in their home event. They lead after the short program, which was a strong performance to "Paso Doble", arranged by Scott and Fran. The couple performed clean elements, receiving high levels and earning 68.57 points. At the press conference Jian Tong said: "We can still do better than that. It's important for us to compete because we missed the Grand Prix last season. Our goal is to perform our best at the World Championships and Olympic Games."
In their elegantly choreographed free program, Qing and Jian skated to "Variations on an Original Theme Enigma" by Edgar Elgar. Their perfect balletic style and strong elements helped them to be awarded generous scores from the judges, despite making some mistakes. A score of 120.25 elevated their total score to 188.82, and they finished in first place. "It wasn't our best performance, but we are happy to have won and qualified for the Grand Prix Final; it gives us confidence."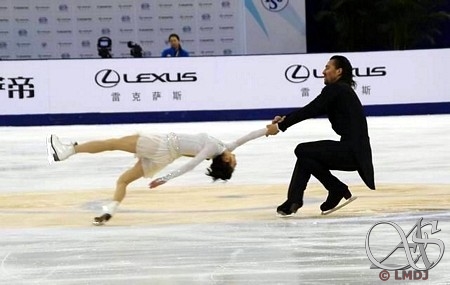 Yuko Kavaguti and Alexander Smirnov skated a short program to "The Blue Danube." The combination of strongly executed elements and an emotional performance earned them 63.70 points. "We are satisfied with our performance in our first competition. We skated with emotion and I think the audience danced with us. We really like this music and it works much better for us than the music we first had," said Yuko. Their romantic free program to "February" by Leonid Levashkevich was skated with some mistakes on the jumps and the triple twist. They earned 119.83 points, totaling 183.53 points for the competition. "For our next event we need to focus more on the free program," said Alexander.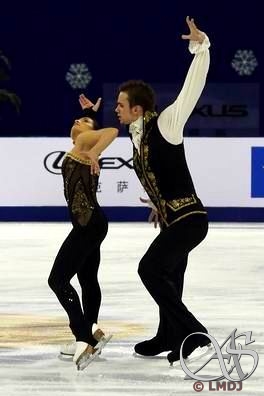 The Russian team of Ksenia Stolbova and Fedor Klimov performed their short program to music from "Interview with the Vampire." Technically, they completed both a level-four lift and triple twist in the latter part of the program. But mistakes on the triple twist and throw triple Salchow, in addition to level one footwork, reduced their potential score to 56.66 points and placed them fifth place after the short program. However, Ksenia and Fedor came back from fifth to earn the Grand Prix bronze medal, their first ever, with an original free program to music from "The Addams Family" soundtrack. They collected 115.89 points, raising their total score to 172.55 points, enough to earn a spot on the podium. "We are glad to win our first medal of the Grand Prix. We skated well except for one throw jump, but I think we can skate better and show more. We don't have much time before our next event. We want to work on our elements," said Fedor Klimov.
Canadians Kirsten Moore-Towers and Dylan Moscovitch skated their short program to "A Motley Crew" by Raphael Beau and earned 59.12 points. Dylan explained the idea of their program: "It's kind of like a game of cat and mouse. I'm innocent in a way, and she comes and gets my attention and plays games with me the whole way through. I then try to get her attention. In the end I think I win her over, but she's still just playing with me." After a FP to a Queen medley the Canadians dropped to fourth place. Their total score of 172.36 caused them to miss the podium by a mere 0.19 points.
China's Cheng Peng and Hao Zhang are a new team, only skating together since May. His former partner, Dan Zhang, retired at the end of last season but he decided to continue with his skating career. "We are still not at the highest level because my partner is quite young (15 years old)." Cup of China was their third appearance at an international event. They finished in fifth place with 163.87 points. The third Chinese couple from Harbin, Wenting Wang and Yan Zhang of China, placed sixth with 143.52 points. Japan's Narumi Takahashi and Mervin Tran (who have since ended their partnership and are searching for new partners) and the USA's Caitlin Yankowskas and Joshua Reagan had withdrawn earlier without the possibility to be replaced, so only 6 pairs took part in the competition.