Cup of Nice 2012: Blackouts, latecomers and icing on the cake

November 8, 2012
By Mireille Geurts
Photos © 2012 Absolute Skating by Joy & MG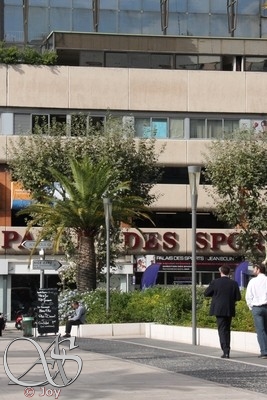 It was funny to be back here again. With here I mean the city of Nice on the French Riviera, and it is funny because we were here last March for the World Championships. Now we are staying in the NH Hotel, which then flanked the entrance to the huge Palais des Expositions where the competition was held. This isn't the case now. This time we are here for a much different competition, which is held in the then practice rink: Palais des sports Jean Bouin.
You might think of the Cup of Nice as being a smaller competition, but it isn't really, not in the amount of skaters competing – 27 senior men and 33 senior ladies were on the roster. In ice dance and pairs there are fewer skaters (respectively 15 and 7) but this competition also has a juniors section. We didn't get to go to those, so we started on Friday, the third competition day.
Cup of Nice feels a bit like a "lost" competition. It is international, and as we just explained not small, but schedule wise it is stuffed in between the "big Grand Prix", simultaneously with Skate Canada actually. Competing there are World champions like Patrick Chan or Aljona Savchenko/ Robin Szolkowy, those you will not find here. Here come the skaters that you don't see that often, because in their own country they don't make the teams that get sent to the GP's and Worlds, skaters that have missed a season and thus are low on the world rankings, skaters that want a practice competition before doing their GP, or just simply young talents on the rise to the top. And that is exactly what makes this competition so interesting.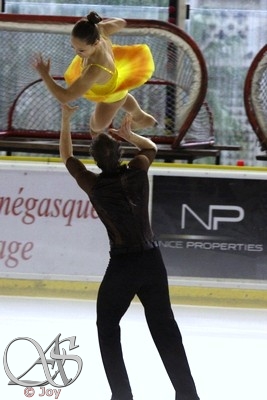 All four senior disciplines are crammed into three days. Audience wise, it was quite crowded at times and at other times it was like only team members were in the relatively small ice rink, but the atmosphere was always very good, relaxed and supportive.
The 7 pairs entered here were the ones that kicked off the senior competition, and also closed it.
Nice - it was fun to see the Swedish couple Ronja Roll/ Gustav Forsgren again, since I saw them skate in, and win their first junior competition at the 2009 Swedish nationals. They surely matured a lot since then, but need to work on the level and execution of their elements.
Not so Nice – the rather annoying bleep-tone which starting their short program to Sherlock Holmes, and then held on till after their first element, a double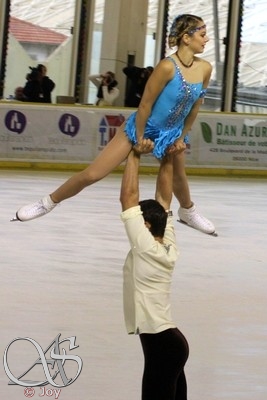 Lutz. I hope none of them ever gets a headache during their practice.
Very Nice - The free program of European bronze medalists Ksenia Stolbova/ Fedor Klimov of Russia came across as quite classic at the beginning, until the middle where the familiar "the Adams Family" theme popped up, it was interpreted so well it was very fitting.
A big surprise was Americans Alexa Scimeca/ Chris Knierim, since they only recently teamed up [in April] and this was their very first competition. To immediately win the short program with an eight point lead on the number two's may be called quite remarkable. In the free program they had to let Ksenia and Fedor pass despite their two falls, but had enough lead to stay in first place overall and they may be very content with their achievement.
Italians Nicole Della Monica/ Matteo Guarise had an interesting short program to "Nothing else Matters by Metallica". Interesting because the music choice was a nice switch from the other pairs, but also because their movements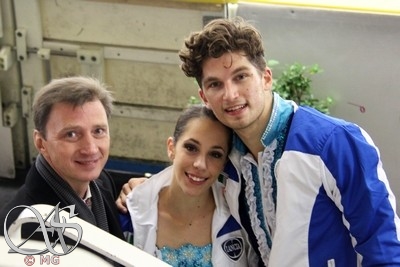 didn't always seem to match the mood of the music, which is perhaps personal taste. They ranked fourth with it. Their free program to the "Phantom of the Opera" was an absolute stunner though and despite some struggles with the jumps they managed to pull up to the third place. They posed very amiably for a photo with their part-time coach Oleg Vasiliev after their program. They worked with him in the summer. Oleg commented in an interview with rsport.ru he really enjoyed this collaboration, but as the financial situation is for them [without a sponsor] they could not afford to have him as their permanent coach. So perhaps they did find the funds for this competition, or who knows, the whole season?
Alexa and Chris won with 156 points, followed by Ksenia and Fedor with 155.04 and bronze went to Italians Nicole and Matteo, with 137.47 points.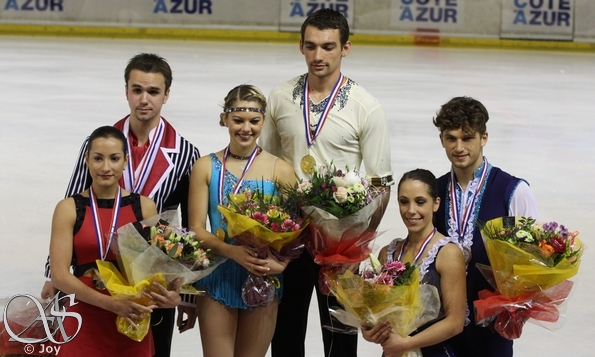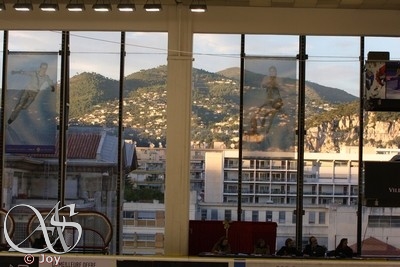 The view from the ice rink is really pretty, which you cannot really miss during the day. This is especially true when the sun goes down and shines dark orange on the buildings outside and spreads its beams inside the rink as well, making for some very interesting photos. However on Friday it was raining like crazy the entire day, and in the evening it was even storming. While during the performance of Mario Rafael Ionian from Austria [24th] we still thought the thunder we heard was part of the music, during Vladislav Sezganov's [7th] short program suddenly the main lights and the music fell out!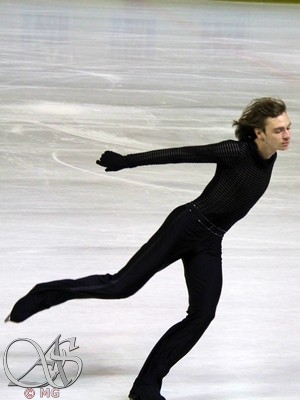 It was actually quite cozy sitting there with only minimal lights on, and hearing the rain on the windows above you (in the ceiling) but of course for Vladislav it wasn't all that fun. He had to stop in the middle of his program, and still keep up his concentration to continue. Which he did in a remarkable way! The stop was actually right before his last jump, the triple loop, and seemed to give him not much entrance into it, but he landed it perfectly, skating himself to a third spot. The crowd was very supportive, clapping for him during the waiting time and at his restart.
This means of course that we arrived at the next discipline, the men. With 27 men in the short program and 24 in the free, there was of course a lot more skaters to watch than in the pairs. I say 27, because that was the number of men listed on the entry list. But when the warm up for group 3 started, Christopher Caluza representing the Philippines was a no show, nor was he there when it was time for his program. Everybody, including the next skater, had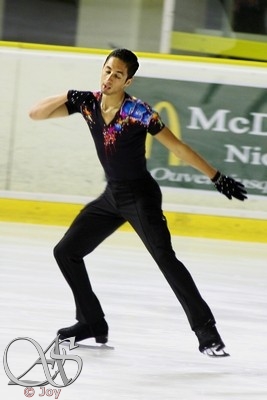 to wait the allotted time, without anything going on. We heard that he stated on his Twitter account that he had withdrawn and did not know who submitted his name to compete. - Not so Nice
You can't be at a competition in France and not mention the Frenchman competing. French bronze medalist Chafik Besseghier took the honors here. He did land a quad toe in the short program, but it wasn't very clean and he singled his intended triple Axel, which resulted in a disappointing 9th place. In the free program he singled the flip instead. So not really his best performances. We noticed he skates with a lot of speed, and while he is very expressive he has his eyes downcast almost the entire time (in photos this looks like he has his eyes closed) and thus he doesn't seem to engage the audience very well (which of course was no problem at this location, but would be elsewhere). Perhaps this is different when his performances are successful?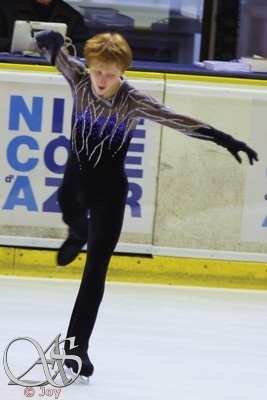 Nice - Zhan Bush of Russia had a bit of a disastrous short program, having issues with all three of his jumps and falling twice, landing him unexpectedly in 15th place. In his free program to a selection of music by Jean-Michel Jarre, he skated like he had something to prove. Which of course he did. He landed his triple Axel this time, adding a quad toe and several combinations accompanied by fast and very powerful skating. He certainly proved himself, winning the free skate! Overall this ended him in 6th place, right behind his teammate Ivan Bariev [5th], who also didn't have a too chipper short program but a great free one. His climb in the standings may have been less impressive (short program 8th, free program 4th) but his passionate interpretation of" the Phantom of the Opera" made a very good impression on me. Also, him falling on his knees and patting the ice as thanks was a nice comedic interruption.
We have followed Jorik Hendrickx [4th] from Belgium for quite some time already (read the article here) and we will keep doing so. It was interesting to watch him compete at his first competition of this season. He had just recovered from an injury, and was only back on the ice since about three weeks. That consided it is understandable he suffered a fall in his short program (on the triple Axel) and his free program (on the triple loop). It was however very noticeable he has worked on his expression a lot, as he told us he would before the summer started, and his programs are well put together. More on him later on Absolute Skating!
Very Nice – The USA sent two guys, Max Aaron and Keegan Messing. Max's "Tron: Legacy" short program was interestingly different from the others and very expressive. He was the only of two skaters attempting a quad, in his case a Salchow, but unfortunately he fell. This landed him in second place after the short. He didn't go for the quad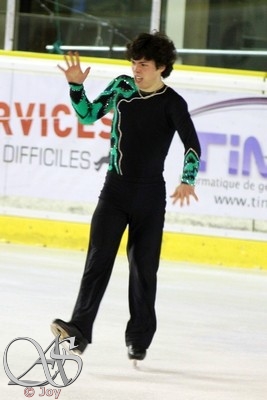 in his "West side story" free program but he portrayed the story pretty well, which got him in third place. Teammate and last year's Cup of Nice winner Keegan Messing is just a little fireball on the ice. "Little" being pretty literal, since he is only 162 cm tall. Wearing a colorful costume he skated his short program to a funky version of "Sing Sing Sing". He's extremely expressive and got positive GOE on his triple Axel, which he entered with a fun hop beforehand. A funny detail: he kept dancing even after the program ended. In his "Clubbed to death (of the Matrix)" free program he showed another more dramatic side of himself, still coming across as very engaging. Despite his fall on the quad toe, he still finished above his teammate Max.
Keegan is exactly the kind of skater you come here for!!
He got the gold with 224.44 points, Max silver with 219.62 and Peter Liebers bronze with 204.09 points.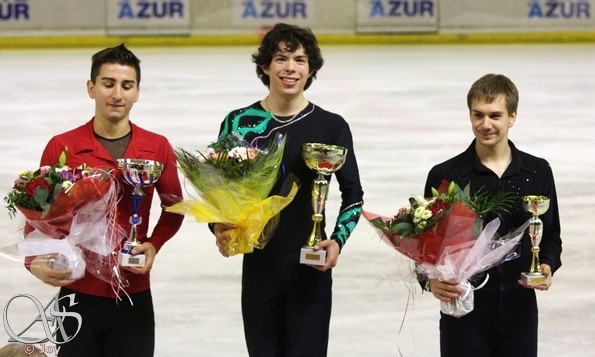 Skaters get a time deduction when they do not end their program on time, so how would that be for members of the technical panel not being on time? We noticed the skaters waiting impatiently to start, and we waited too, and then the missing technical panel came running to their seats. It's a good thing points aren't given out before the competition startsÂ… Although if it had been up to the audience there would be no punishment, seeing that they got applauded when they came running. This gave us a quite loose and hilarious start of the ice dance competition, which fitted in nicely with the Polka-Waltz-March theme for the short dance that day.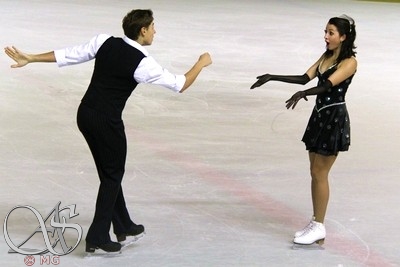 Very Nice - With thirteen dances on that theme, cheerfulness was all around the arena. Standing out amongst those dances were certainly the eventual winners Ksenia Monko/ Kirill Khalyavin of Russia. Starting out their program with him whistling to her, in the middle of it she retorts by whistling at him. In general they had a very thorough interpretation of the loose mood of the music and theme. In the free dance they moved to a flamenco beat with so much conviction, they skated themselves right into first place, passing their team-mates Valeria Starygina/ Ivan Volobuev whose short dance to "Witch Doctor" impressed the judges more than their free program, especially in the components section.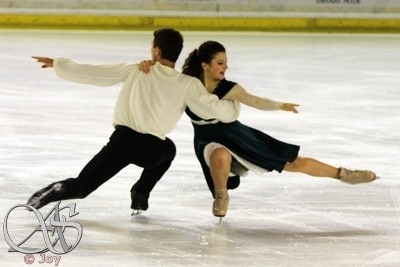 Brother and sister team Natalia and Michal Kaliszek from Poland [12th] interestingly enough first competed in pairs as juniors, but switched to ice dance in 2010. Unfortunately their free program to "Romeo and Juliet" contained several stumbles and in a way it seemed like the program was a bit too complicated for them (which in essence seems not so Nice). So in that regards, they came across a bit "young", but then again, so were Romeo and JulietÂ… And their energy certainly made up for it.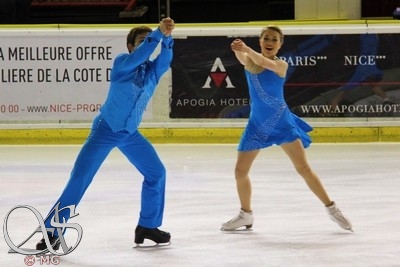 Nice - Definitely worth mentioning was the free dance of recent bronze medalists at the Ondrej Nepala Memorial, Great Britain's Charlotte Aiken/ Joshua Whidbourne [8th] to "Singing in the Rain". They know how to bring the light, airy mood of the song into the ice rink, including pretending to use umbrellas and other props. The color blue of their costumes was very fitting for the CĂ´te d'Azur where this competition took place.
As mentioned, the gold went to Ksenia and Kirill with 140.62 points, silver to Valeria and Ivan with 137.60 points and bronze to the Estonian couple Irina Shtork/ Taavi Rand with 118.69 points.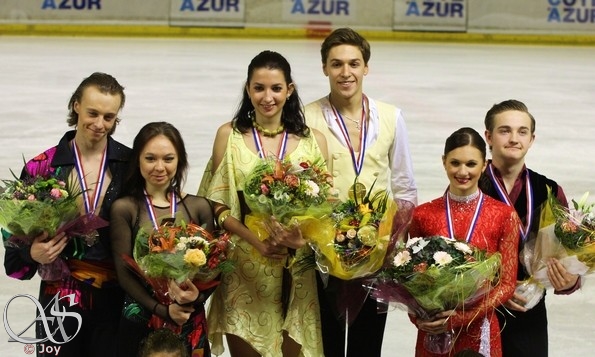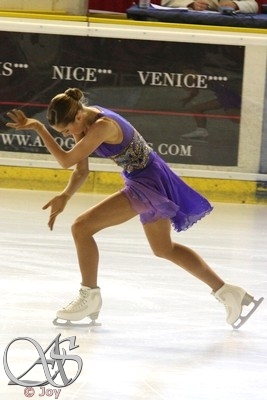 The ladies closed the short program section of the seniors, but not the free programs, as we are accustomed to at the grander competitions like the European and World championships.
This was the discipline with the biggest jump in the result between the short and the free program, by Russian Polina Korobeynikova winning the competition after not even being in the top ten after the short. She ranked 11th after her short program, in which we already noticed that despite the costly mistakes of landing her triple toe on two feet and singling her Axel, she still looked very secure in her movements, which were very light and lyrical. In the free program she showed that she is very capable of both jumps, even in combination with each other.
Not so Nice - Victoria HĂĽbler of Austria [14th] was crying after her short program, which is always sad to see, and her coach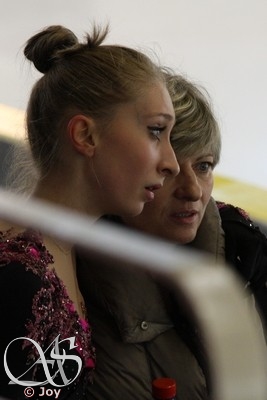 needed quite some time to cheer her up again. She had issues with her triple flip and a not so clean landing on her double Axel. But she didn't single any jump, or fall or otherwise mess up, and her program to "Margarita de Agosto" by Raul Garello looked quite beautiful. Her feet are feather light, which became very apparent in the step sequence. A funny detail was that her coach could be heard yelling "up" at the time of her jumps.
Nice - Danish Anita Anderberg Madsen [11th] used "Totentanz" for the short program; heavy and threatening which she translated very well in her movements. The whole program was executed with a lot of passion and flair. She doubled her intended triple Salchow but showed in her free program to "Poeta" by Vicente Amigo that she can execute it very well.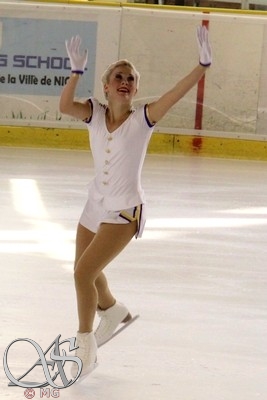 Very Nice - Isabelle Olsson was a name I recognized beforehand, from having watched her sister Angelica at the above mentioned Swedish nationals. Very little did I know that Isabelle would be in first place after the short program and second overall. This girl has personality and she isn't afraid to show it! Her music in the short program contained a portion of "Stars on 45" and her whole program was themed in the way of navy entertainment. Very cute and her genuinely from the heart sounding "yes!!!" when she stepped off the ice made the audience laugh aloud. Despite the two falls in her free program, this is a Swedish girl I hope to see more often in the future and like Keegan also exactly the kind of skater you come for to such competition as this!
So, Polina Korobeynikova won the competition with 149.82 points. Silver went to Isabelle with a very close finish to Polina, 148.24 points, and Kristina Zaseeva, also of Russia, won the bronze with 146.87 points overall.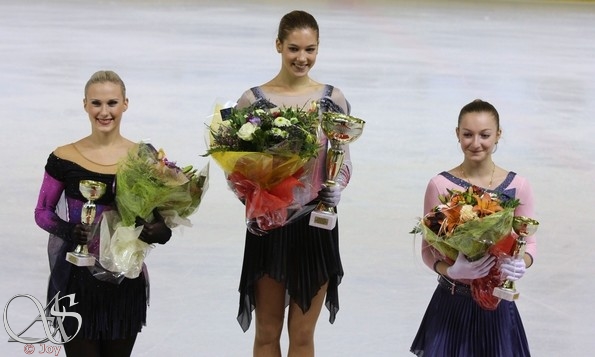 The gala of the jeans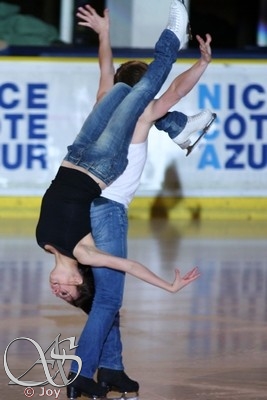 I have a friend who prefers it if skaters just skate in their jeans, instead of costumes. Plain, simple and tough. She would have loved this gala. Many men, ladies and even couples indeed chose to skate in jeans, occasionally accompanied by a plain tank top. Of course, said friend wasn't here, but stillÂ…
That, combined with some other show numbers, did make this gala feel more like "just having a fun time on the ice". A few skaters did use one of their competition programs, but they were mostly juniors. Them still being here was in a way surprising, after all, their competitions ended already on Thursday. This while some seniors, who just finished the day before, had fled the scene already.
There were many more people in the audience for the gala than for the competitions. The way the selection of skaters seemed to be done was: let's make a wish list, then we see who shows up for practice, and everyone who isn't there will be replaced by a random skater still hanging around. This is fine, but then don't hand out the wish list to the audience! It is quite baffling to see a lady on the ice, when a man is listed in your program. Or when there are skaters on the old list you'd really like to see, but they are not on the new, like dance team Lucie Mysliveckova/ Neil Brown of the Czech Republic [5th], who are always fun and whose programs I enjoy a lot. - Not so Nice
Nice - That having been said, the gala was a very pleasant way to end the competition weekend and it was also really nice to see some of the very promising juniors of which Ivan Pavlov, Ukraine, [4th] really stood out to me. Skating with beautiful deep edges, very fast and passionate and all his moves were perfectly timed to the music (Beethoven's 5th).
I was happy to see Lena Marocco of France [5th] and Fleur Maxwell, Luxemburg, [9th] here. Lena has an unique style and she radiates joy while skating. I loved Fleur's programs especially her very well interpreted short program to U2's "With or without you". In the gala she used a real slow version of "Toxic", coming on the ice in a pink dress adorned with a feather on her head, which she later exchanged for a feather in her hand. A real exhibition piece!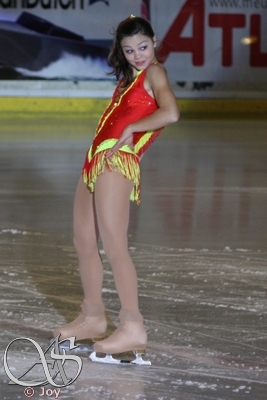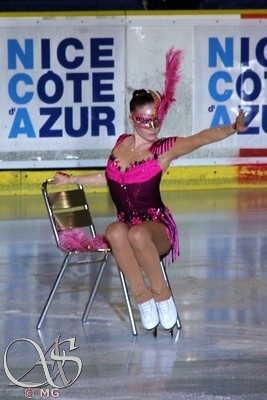 It was surprising that Chafik didn't skate in the gala, him being French and also having seen how very popular he was here. But they found another quite nice Frenchman to "replace" him, their very own longtime champion Brian Joubert! Talk about a - very Nice - icing on the cake!
We first saw Brian's name on the gala wish list and looked forward to this treat. But since the gala followed an entirely different playlist dread came... would he really be there? Then I spotted this figure in a cape with (fake) fur around the shoulders. He walked right passed us to warm up, his cape moved, and it was Brian alright! Once he started his first program the cape came off showing a Gladiator-costume. The performance was very dramatic and passionate with fighting and jumps – a great exhibition program.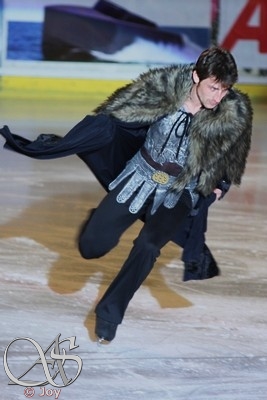 Brian later returned for a second program. It was fun and fast and he was very appreciated by the audience. He seemed genuinely pleased with the warm reception from the crowd even if the crowd was quite small. The finale was next and Brian left the ice but was ushered back on like "of course you belong there with the rest of the cast!"
Random tidbits:
To get in the ice rink there was (at least) one person opening and closing the door for you. But during parts of the competition there wasn't anyone to open and close the gate to the ice. Opening was not a problem, closing was. Only after the announcer several times had to ask confused skaters/coaches to close the gate, did they finally position someone there.

Ice conditions. On Friday the Zamboni had to go off the ice and come back on again while resurfacing. We assumed the water-tank just couldn't hold enough water to do it all at once. Later this was different, but the ice seemed dry on Saturday.

During the blackout when the music stopped for Vladislav Sezganov, he, a bit confused, went to talk to the photographer closest to the judgesÂ… and got redirected to the referee. Oops?

During the first medal ceremony for the seniors, the silver and bronze flags were placed the other way around than at the second ceremony.

After the victory ceremony some guys and their coaches were pondering what to put in the

cups

they received – wine, beer….? Let's hope the bronze guy isn't too thirsty then…

The first time we were in Nice we went from winter to summer time (daylight savings) moving up the clock an hour. That hour was returned to us this weekend, switching back to wintertime.

The "kiss and cry" was this time created by putting 3 garden chairs and a table surrounded by flowers before a background. This looked a bit strange and a lot of the skaters didn't even notice it and just sat on the bench closest to where they came off the ice instead.


Changing the schedule multiple times, and even moving up competitions an hour over night might make some people miss parts of the competitionÂ…

Red wine was served in the snack bar at the arena. It is France after all. And we heard the taste (or quality) of the wine was wholeheartedly approved by some coaches.

The medal ceremony podium was very small. The three men looked like: "how will we all fit on the #1 spot for the photos?" Let alone the

ice dance couples

, but with some squeezing and laughing they did it. Unfortunately on the second day with the pairs it was decided to just put them all on the ice. EasierÂ… but less of a laugh.

Our very first visit to this 17th edition of the Cup of Nice was very pleasing and one we wish to repeat someday. It's a competition in which one gets to know more skaters than generally throughout the season and there were certainly more than a few gems within the mix. Which is very very Nice!
The entire gala-cast posing after the finale