Dreams On Ice 2012
Yokohama, Japan
August 1, 2012
By Atsuko Kuryu
Photos © Keiko Kasai
"Dreams On Ice is special", both Daisuke Takahashi and Miki Ando said after the first of this year's shows. The concept started back when figure skating was not as popular as it is now, with the purpose of helping skaters improve their expression by performing in front of an audience; which was a rare chance then. And being invited to skate in this show meant being recognized as top skaters in Japan. Now, in 2012, when Japan has become a powerhouse of figure skating, there were seven World medalists, including a pair, in this show. And there were many shows in Japan held in large arenas before packed houses. The skaters no longer need an invitation to DOI in order to improve their expression or being recognized as top skaters, but still, the shows have a special meaning for senior skaters. Interestingly, Yuzuru Hanyu didn't mention how important this show is for him, which shows the generation gap within the Japanese elite.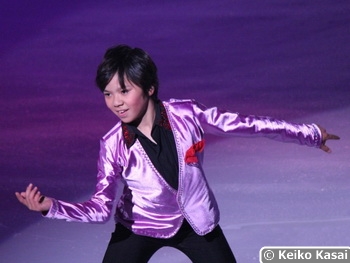 Nevertheless, the show had a fantastic line up with no less than 15 Japanese single skaters, a pair and a synchronized team which had a successful season, 2012 World gold medalists Patrick Chan and Carolina Kostner, 2011 World gold medalist Miki Ando, and 2007 NHK Trophy bronze medalist Nana Takeda. Stephane Lambiel was expected to come, but unfortunately didn't make it since he was under medical treatment at the time. This report is based on the June 15th performance in the Shin-Yokohama skating center.
Act I
After a gorgeous opening, the first skater, Shoma Uno, appeared on the Ice. He skated to Bad Boy Good Man, which really brought out his dancing ability. He commented that he wanted to show the audience his bad-boy aspect, though to me he looked as cute as ever. Maybe he needs some more time to get used to this program, but he sure added an enjoyable atmosphere to the venue.
Risa Shoji, a small but mighty 7th grader three years ago, became a high school student already and showed a different side of the graceful princess Risa. She skated to Like a Drug and tried to be an out of control teenager. I thought this kind of program did not suit her so well, as I'd rather watch a pure and pretty performance from her. But she probably felt it was important to expand the range of her performances, and her spins and beautiful movements were gorgeous as usual.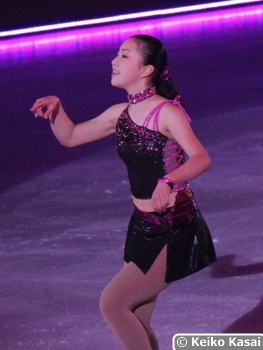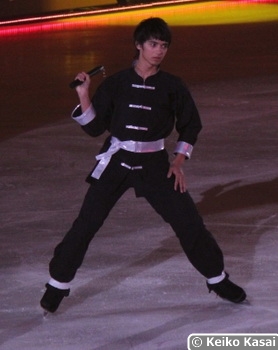 When Ryuju Hino appeared on the ice, there were plenty of smiles in the crowd. He pretended to be a Bruce Lee, the late famous movie star. Wearing a black kung fu costume, he skated to Enter the Dragon. I couldn't tell whether he really looked like Bruce Lee, but it was sure a fun piece to watch! Maybe he needed to move more like a fighter, but his jumps were good and the quick footwork at the first part of the step sequence was amazing.
Miu Sato tried to be a more mature woman than she actually is in this program to Sparkling Diamonds. Did this approach turn out to be successful? I'd like to leave that decision up to the audience here and in the future. I felt it was too early for her to be sexy like this. Still, her movements were quick and she skated with good speed, which are constantly appealing attributes of hers. I love her spins as well. Challenging new things are good to try and I hope she learned something from this program.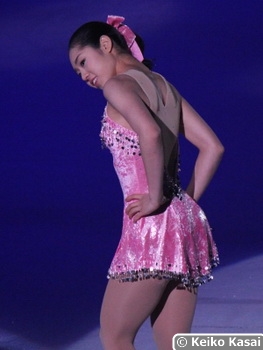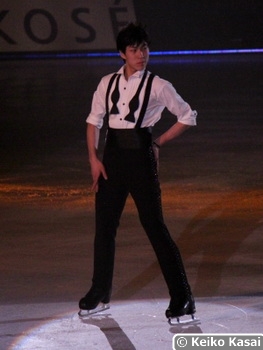 Speaking of new short programs: Keiji Tanaka's Afro Freak really showed a different style from him than in former years. He danced through this program very well and encouraged the audience to cheer even more during his performance. The expressionless face he used to have was gone. If he skates like this in competition next season, the new Keiji Tanaka will be embraced by the judges. At least I loved him in this program!
It was clear that most of the junior girls tried to be more mature than last season. But Satoko Miyahara wasn't among them. Her performance was not sexy at all; she looked graceful and beautiful in this The Swan program. She used to skate with amazing speed, but looked like she had lost some of it. Still, she was very strong technically. She said she wanted to win an international event with this beautiful program, and we all know she deserves it.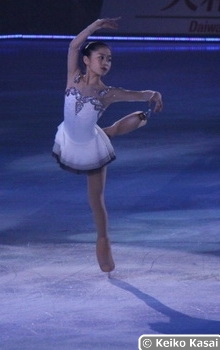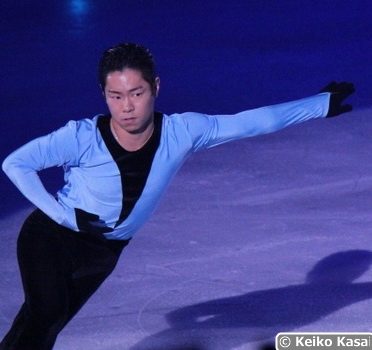 After the junior skaters had performed, the atmosphere changed when Daisuke Murakami appeared on the ice. He will take advantage of his quad-toe and quad-Salchow in his pursue of the top. He skated to Gabriel's Oboe and The Falls, and showed some interesting and original movements in his spin. His performance was wonderful and captivated the audience's heart.
Haruka Imai has recovered from her injury and showed enchanting skating to Pure Imagination. She has grown more elegant and classy after she went to Yuka Sato. Her spins were stunning and she has good taste in costumes, as usual. Her costume with several colors, such as pink, white, purple and blue went well with the purple lighting during her performance and made her look even more charming.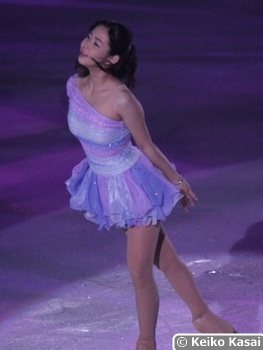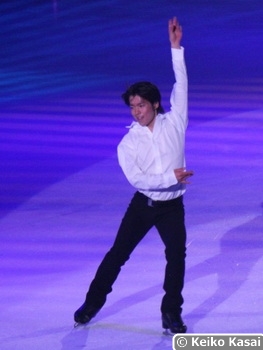 It was him, Tatsuki Machida, who was the highlight of ACT I. As he admitted; he has improved a lot after he started training in the U.S. He has become a more well-rounded and dramatic skater. Of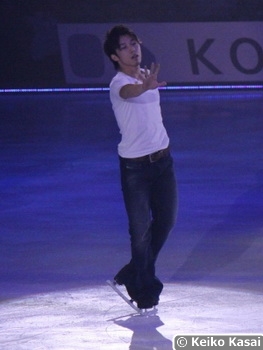 course he was good even while he trained in Japan, but something seems to have changed. The packed venue got very involved in his performance to Les Demoiselles de Rochefort and when he finished he received generous applause. If he skates like this in competition, with a good quad-toe, (it's not quite reliable yet) even Takahashi has to worry about his spot on the 2013 World team.
Takahito Mura's performance was also great. His jumps were actually the best in the show, and he impressed the audience by how high his triple Axel was! He skated to Talking To The Moon, and his rather quiet performance touched the audience.
The last performance in the first act was "Code Blue" Original Soundtrack, skated by Jingu Ice Messengers Grace, the synchronized skating team. The crowd was really impressed with their quick movement and smooth position changes. They skated in pretty royal blue dresses, which made them look beautiful and sweet.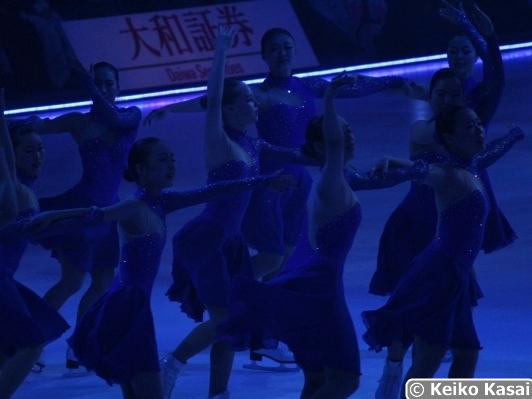 Act II
Nana Takeda opened the act II stage with a mature and sexy program. It was very clear what she wanted to show through this program so, although her old fans might feel a bit confused about her new style, she may gain new fans as a professional skater.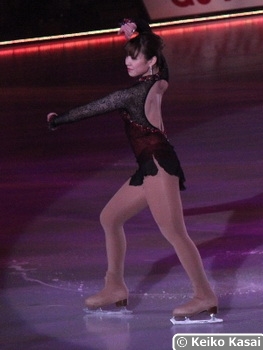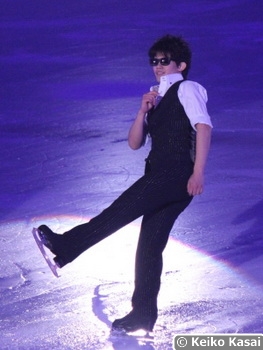 Takahiko Kozuka used the Soul Man Medley music, which was his short program two years ago. He said he wanted to show how expressive he could be through this program, and he actually proved it. He thoroughly showed his outstanding skating skills, including amazing spins. Yes, it was an old program, but for the fans it probably felt like a totally new one.
Kanako Murakami has her own distinct posture which you can easily recognize even when you don't know who's skating. Last year she tried to show how graceful she could be in her performance and was half-successful at it here in Dreams On Ice, then improved a lot later in the season. This year, she didn't seem to have challenged anything new, but we still enjoyed her joyful performance a lot. She said she will go for a triple flip-triple toe combination in her competition program.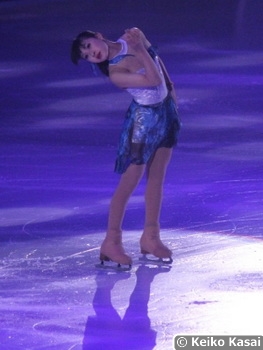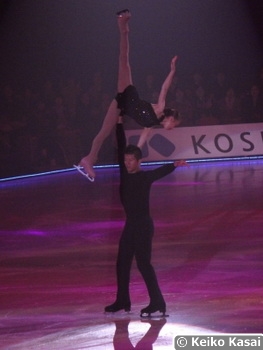 Loud cheering welcomed the 2012 World bronze medalists Narumi Takahashi/Mervin Tran, the first Japanese pair skaters ever to win a medal at the World Championships. They exhibited their new short program, Ain't No Sunshine, very well even though it was just choreographed. Their jumps were not so good this time, but the expressions and interpretation were fantastic.
Miki Ando's performance was so classy and elegant that the audience was totally enchanted. She appeared a little slow, but nobody cared because this program to Meditation from the opera Thais was breathtakingly beautiful. Adding to it, her jumps looked so consistent she'd be able to rival any top contenders if/when she competed this up-coming season.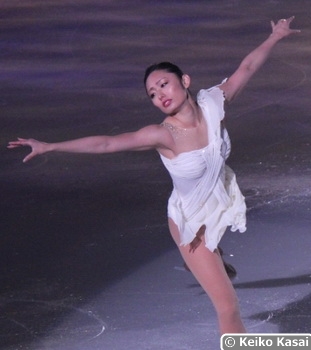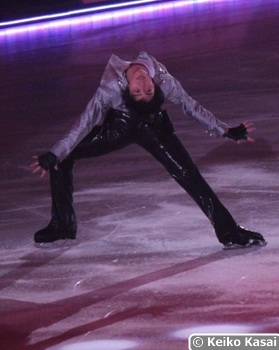 How fresh and vivid Yuzuru Hanyu was! He performed Hello, I Love You (Adam Freeland Fabric Mix) choreographed by Kurt Browning. He said he skated while picturing Kurt Browning in his mind and I thought it worked fairly well. Although he didn't look like Kurt, he sure showed off his own charming personality. The highlight of this program was the quick footwork at the later part of the program. Yuzuru looked so cool when he did it and he earned a standing ovation from the audience.
And then we got to enjoy the performances of two World champions. First out was Carolina Kostner who appeared on the ice in a lovely black costume and skated to the jazzy music, It's Oh So Quiet. She brought a bright and mischievous feeling onto the ice. She was not as gentle as she is when she skates to classical music, but this cute young woman is surely a part of her personality as well. The audience loved it.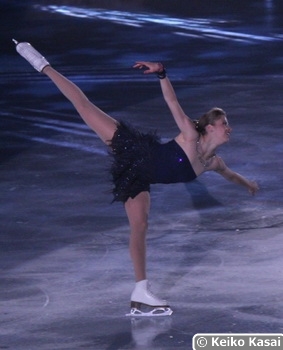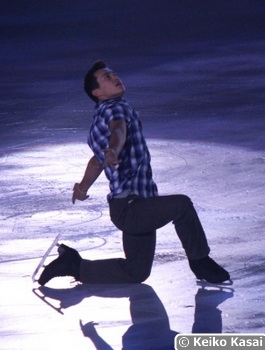 Patrick Chan's costume was so casual that he looked like he was about to go hiking. But once he started skating, the atmosphere in the venue changed because there was this growing feeling of admiration from the audience. He responded to the crowd's expectation with his outstanding skating skills. He looked like he was moving on air when he skated with such ease and natural movements. His sometimes fast and sometimes delicate footwork made us happy and enchanted. How freely and effortless he moved on the ice! His music was 'Til Kingdom Come.
Now there were only two more skaters. Akiko Suzuki, the 2012 World bronze medalist, showed a dramatic performance to the famous music The Umbrellas of Cherbourg. She radiated something that made it hard to take your eyes off her during the performance. She has good speed, easy jumps, and wonderful spins. And she also showed the depth of emotions from the original drama. The audience gave her a warm standing ovation.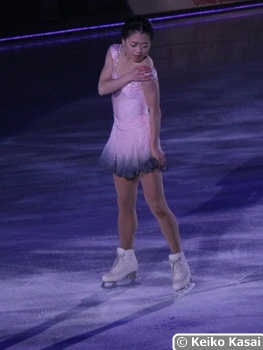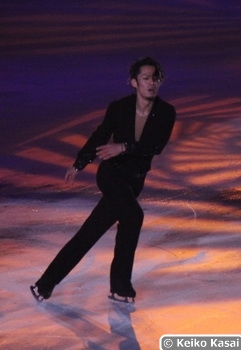 When Daisuke Takahashi appeared on the ice, the audience was ready to be mesmerized once again because they already knew he would perform an outstanding program to Tango Piazzolla Primavera. Of course, he did. From the opening where his position in the spotlight was so beautiful, to the powerful and stormy ending, you couldn't stop watching. We were taken in by his performance, which had great speed, easy and high jumps, and gorgeous spins. His spins have improved so much! The crowd gave him enthusiastic cheering and a long standing ovation.
Finale
The audience in the venue must have felt satisfied with this fabulous show, because they welcomed the skaters back on the ice with cheering and rhythmic clapping, and it lasted throughout the grand finale. The audience was all excited, and all the skaters looked very happy. We hope this show will be a long lasting tradition and wish all the best to the Japanese figure skaters!