Friends On Ice 2012
October 9, 2012
By Atsuko Kuryu and Sei Misasagi
Photos © Keiko Kasai
The Friends on Ice shows got started in Japan after the 2006 Olympic Games, where Shizuka Arakawa won the gold medal. Now in its 7th season, Shizuka hosted the show and invited her skater friends to join her on the ice. Among her friends were 1998 Nagano Olympic gold medalist Ilia Kulik, and 2005 World champion and 2 times Olympic medalist Irina Slutsukaya, both of Russia. Also 2010 Vancouver Olympic silver medalist and 2010 World champions Qing Pang/ Jian Tong of China, and the 2010 Vancouver Olympic bronze medalist and 2010 World champion, Japan's own Daisuke Takahashi.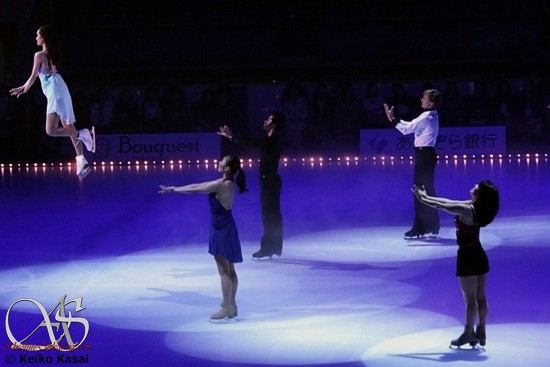 The show was held in Yokohama, August 24th to 26th. Keiko and I had the opportunity to watch the show rehearsal and take some photos the day before the show started.
I wrote a short report about the rehearsal while Sei watched the actual show two times. We hope you will enjoy our reflections and Keiko's beautiful pictures.
The rehearsal
The rehearsal was held the night before the show premiere. Even though it's only a rehearsal, tickets were sold for about US $64 to the fans who bought tickets for the show. The 300 tickets available sold out at once.
The 300 fans fortunate enough to get a ticket were seated where tickets usually cost more than US $250 and cheered the skaters on as if it had been a real show.
This rehearsal was not the stop-and-go kind, but ran through the acts the same as the real show, except that some skaters didn't include the jumps or hard elements which they actually showed in the real performance. Still, it was really interesting and exciting to watch.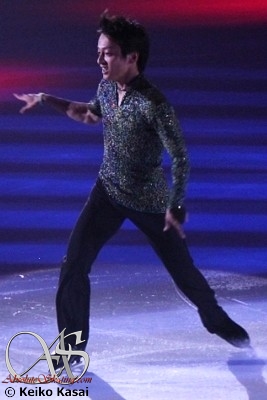 What impressed me the most that night was Akio Sasaki's performance, and the River Dance program, performed by Takeshi Honda and Akiko Suzuki.
Akio Sasaki had to audition to get a spot in this show, a special "Get-A-Chance" spot. It's organized for skaters who usually are not able to perform in this kind of show. This year Akio Sasaki and Daisuke Murakami were selected to take turns performing in the shows. Only Akio skated in the rehearsal. I think it was his first appearance in a professional show; however, he was already a star. He showed his presence from the very beginning. He skated and danced with so much joy I couldn't keep my eyes off him even with many more famous skaters in the finale.
River Dance was Takeshi Honda's great free program in the 2002-03 season where he won the bronze medal at the World Championships, and the gold medal at the Four Continents Championships. Akiko and Takeshi showed up on the ice together and skated their solo parts separately, and then showed gorgeous straight line steps side by side. The audience was excited over this program and gave a standing ovation as if it were a real show.
A big standing ovation was also given to Daisuke Takahashi who performed his new short program The Stroll for the first time. Akiko Suzuki also showed her short program and got big applause.
The rehearsal was great and carried a spirit of friendliness and I felt that the success of the show was promised. And it really was a great success! I could tell you more but it was just a rehearsal, so I'll pass the reporter's pen to Sei who went to the real shows.
The Friends On Ice show
This is my first report about the shows. Jump recognition is not my strongest point, but I have tried to describe what I saw and felt during the different performances. I enjoyed it very much and hope you will too.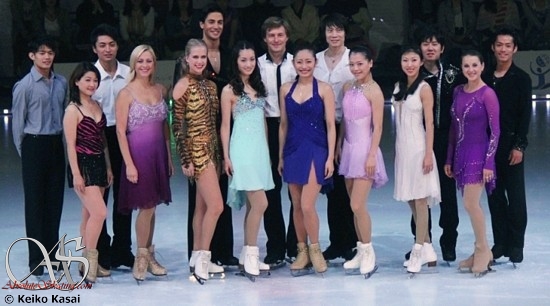 ACT I
Akio Sasaki, Voodoo People
He danced like crazy right from the start and the audience responded to his exciting performance by clapping their hands from beginning to end. I couldn't believe this is his short program for competition, because he created an atmosphere like it had been an exhibition program. He received big applause and a standing ovation.
Daisuke Murakami, Die in Your Arms
This seemed like his new short program to exotic violin music. Daisuke wore a costume which reminded me of a blazing fire. I thought the performance was quite refreshing.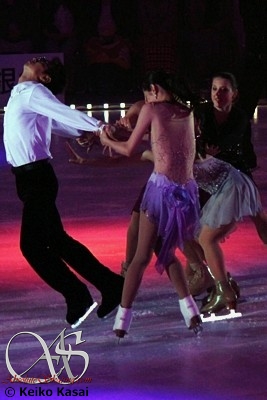 Group number by professional skaters, choreographed by Yuka Sato
With outstanding speed six skaters crossed the ice: Irina Slutskaya, Ilia Kulik, Yuka Sato, Shae-Lynn Bourne, Takeshi Honda and Shizuka Arakawa. They moved gracefully like ballet dancers but Yamato Tamura destroyed the atmosphere with clumsy and humorous movements. The other skaters stopped him from doing such stupid things and helped him to move like them, and finally he learned. This was an enjoyable performance, especially Yamato's comical movements, and it was received well. The skaters got standing ovations and bursts of laughter from the audience.
Akiko Suzuki, Kill Bill (short program) and O (free program)
Akiko was wonderful in both programs. The short program started with a mellow tone that gradually got faster, and Akiko never fell behind in the tempo. She looked cool and strong throughout and in the free program she took on a different style. It's very early in the season yet, but I think she's already grasping the perspective of the program. She said it's a bit difficult to express the vision of the program because it's completely new for her, but she would try her best. Her best right now is quite good, but I can't wait to see this program again in a few months.
Kaitlyn Weaver/Andrew Poje, Shake It Out
It was their exceptional speed that impressed me most. Kaitlyn played a passionate woman very well and their performance was a real crowd pleaser. During the Saturday night performance, Andrew had trouble with his skate and they had to pause their performance. Still, that didn't ruin the program mood and they went on with an almost perfect performance and finished to a big standing ovation. Well done!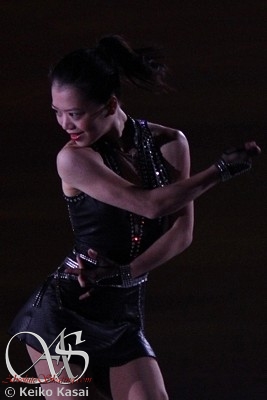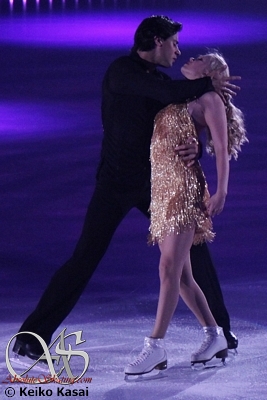 Yamato Tamura, Jumpin' Jack
Yamoto knows how a professional skater should be. Even though he had some bad jumps, nobody cared. He appealed to, talked to (through his body language), and involved the audience. They were so excited and enjoyed right along with him, and gave him generous, warm applause.
Yuka Sato, Bright Light and Cityscapes
She wore a beautiful blue dress in the show [off-white in the rehearsal - ed]. The audience enjoyed her quiet skating style and clapped only when she passed nearby. They seemed to want to appreciate her beautiful skating, amazing skills and low key appearance fully, without making a lot of noise. There was this quiet sense of satisfaction to be enchanted by her performance.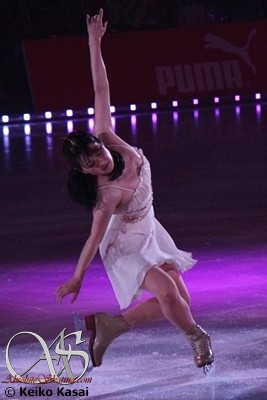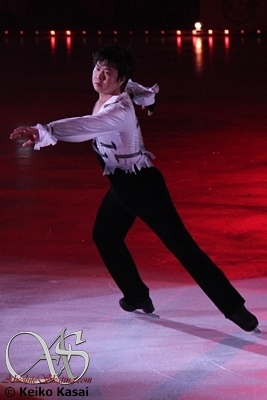 Takeshi Honda, E Lucevan e Stelle (afternoon show) and Ll mare calmo della sera (evening show)
Takeshi said he had been longing to skate this new program. He did high and amazing ballet jumps and the audience was excited about his outstandingly smooth and fast eagle. He landed several beautiful triples and even tried a triple Axel which, he has not landed for years. Unfortunately it was two- footed, but the crowds were excited about his courageous attempt. Maybe he has worked this hard to prepare for the Medal Winners Open, which is scheduled to be held on October 5th in Japan. He received generous applause.
Shizuka Arakawa and Miki Ando, The music of the night
In the rehearsal, only Shizuka skated this program since it is hers, but in the show it was actually meant to be performed together with Miki. Their costumes looked pretty much the same with only small differences. They jumped a double Axel and triple toeloop side-by-side and their spirals, footwork and spins were executed in perfect unison. Great program!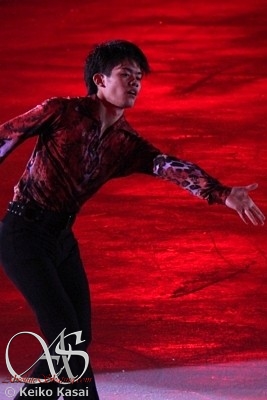 Takahiko Kozuka, Exodus
He seemed to have a little problem with his jumps in some shows, but when he nailed them, the audience gave him a standing ovation and warm applause. He threw his fists in the air as he finished that perfect program. He said he was satisfied with his performance and that it turned out because of his practice late the night before.
Award ceremony for Nobuo Sato
Nobuo Sato (Yuka's father) was and still is one of the greatest coaches in Japan, and was recently introduced in the Hall of Fame. He is currently coaching Takahiko Kozuka and Mao Asada. Shizuka Arakawa and Miki Ando are among his former students. Shizuka and other skaters wanted to show their gratitude to him in this show.
It was amazing to watch Nobuo get on the ice and skate some compulsory figures like an eight. He then performed beautiful moves like an eagle and Ina Bauer. Some people in the audience showed their respect and appreciation for him by holding up banners with his name on it.
ACT II
Shizuka Arakawa, Miki Ando and Daisuke Takahashi, a collection of Swans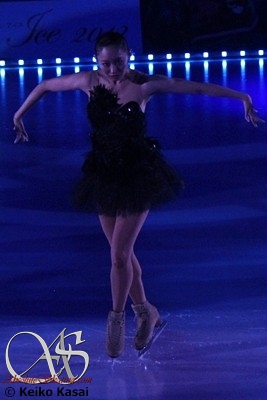 That was the highlight of the entire show! Each of these skaters have famous Swan programs in their repertoire and you could watch them all at the same time. It started with Miki's Black Swan, and when she finished the triple Salchow, Daisuke took the ice to show his funky hip-hop Swan straight line steps. Then Shizuka did a double Axel. And while Miki and Shizuka did spirals together, Daisuke jumped a triple Axel. After that, they showed footwork together to the cyber swan music. The audience was really, really excited about this wonderful group performance, and it sure made my day!
Kid skaters:
Seika and Mio Suzuki (sisters)
These young children had been chosen to fill a spot in the show and they did it very well. Seika and Suzuki skated together but I didn't get the title of the music. Their performance was full of energy and it was lovely to see them together like that. Their side-by-side spins and double Axels were especially good.
Yuka Kito
Shizuka said Yuka has better showmanship than she had at that age (Yuka is now in Novice A), and that she is really good at spins. Her jumps were not perfect in the show, but her spins were fabulous, especially the layback. She could accelerate on the catch-foot spin and when she started the Biellmann, the audience was surprised because it seemed better than, or at least as good as, Alissa Czisny's.
Shae-Lynn Bourne, Bridge Over Troubled Water
She said she made this program for her son and husband. Shae-Lynn used to skate danceable and exciting programs, but she seemed to change her style after she had the baby. Now her program was heartwarming, touching and full of love. Still, her famous hydro blading and Klimkin eagle (named after Russian skater Ilia Klimkin) were alive and well.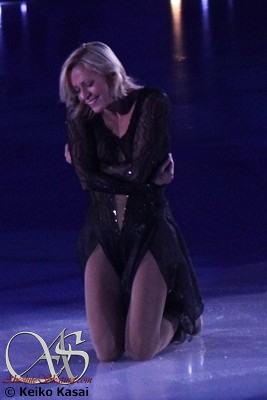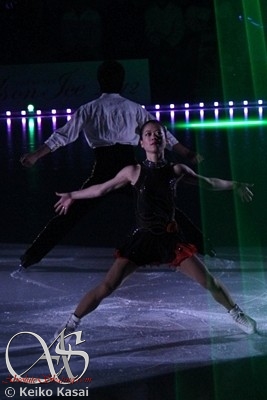 Takeshi Honda and Akiko Suzuki, River Dance
After a side-by-side triple toeloop with Akiko, Takeshi did a solo with several triples and a double Axel. The audience was reminded of his great performance back in 2003 when he was a competitive skater and had a really successful season. Akiko skated alone to her Andalucia piece. They took turns skating and made the crowd extremely happy. At the end they showed off some complicated footwork, including tap-dancing like steps. The crowd was excited and gave them a long standing ovation.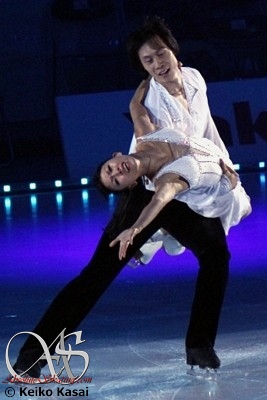 Quin Pang/ Jian Tong, Un Giorno Per Noi
This was quiet and lyrical. The famous pair skaters stood far apart when they started the performance, and then gradually neared each other which gave us the impression that they had to hide their love which had increased over time. The throw-twist was fast and high; all the lifts were so beautiful. At the emotional ending the audience all at once stood up and started cheering. Well deserved!
Irina Slutskaya, Je Suis Maladee
Irina showed a hot and strong performance. She still owns the Biellmann spin; it was very fast and the movements of her arms were as beautiful as ever. She seemed to skate more sharply and cleanly than she did last year. I can't wait for the Medal Winner's Open this fall where she will participate.
Ilia Kulik, Let's go
After winning gold at the 1998 Olympics in Nagano, Ilia has been immensely popular in Japan, so the cheering for him was really loud even before he got started. His performance was as great as his popularity and he let no one down. It has been a long time since he retired from competitive skating; however, his jumps were still high and consistent. I can't believe it's been 14 years since he won that Olympic title! Anyway, I'm looking forward to seeing him at the Medal Winner's Open as well.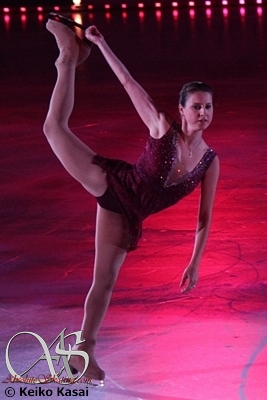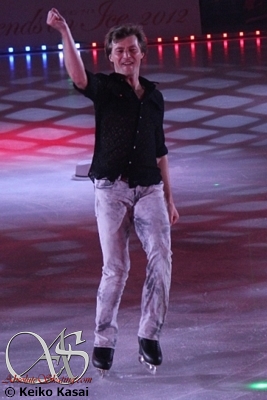 Miki Ando
She gave us two different impressions from the two shows. In the Saturday afternoon show she did wonderful jumps and the crowds surely thought she was ready for the Grand Prix series. But that very same evening she messed up her jumps and made the fans very nervous. However, she announced on Facebook that the bad jumps happened because her skate was broken. I was very relieved to hear that and so were the fans.
Daisuke Takahashi, The stroll
Of course Daisuke was greeted with tremendous cheering. He landed a quadruple toeloop once during the shows. His performance was to jazzy and danceable music which made the audience happy and excited. His normally so burning and pleading expressions seemed somewhat held back. I guess that was because he was so focused on technical matters. But still it was cool and eloquent. Needless to say there was a big standing ovation.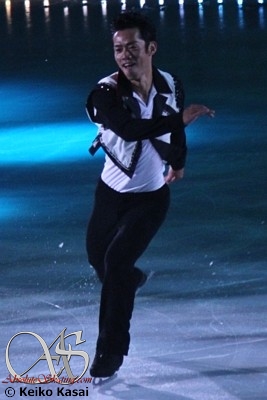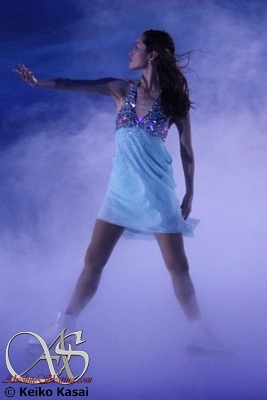 Shizuka Arakawa, A Moment Like This (afternoon show) and When You Wish Upon A Star (evening show)
I can't believe she retired six years ago! Her jumps were still as great as when she was a competitive skater. A long and beautiful eagle and her trademark Ina Bauer were so impressive and showed us that she must try very hard to stay in shape so long after her retirement. Her skating skills were so elegant and amazing and the audience was totally captivated by her performance. Shizuka is also planning on joining the Medal Winner's Open. Can you imagine how exciting this will be?
The Finale
The finale was full of happy feelings and laughter. Everyone (skaters as well as the audience) in the arena enjoyed and shared the skating fellowship. That was the spirit of "Friends On Ice." Regardless if you went to the show as a skater or as a member of the audience, you felt like you were part of the "Friends On Ice" team. So if you have a chance to experience this feeling and great show first hand next year; don't miss the opportunity!