Japan Nationals 2012
Part 1
February 17, 2012
By Atsuko Kuryu
Photos © Nana Suzuki
One of the most exciting nationals in the world – the Japan National Championships – were held from December 23rd to 25th at Namihaya Dome in Osaka, Japan. Daisuke Takahashi won his fifth national title in men's singles, while Mao Asada climbed back to the top in ladies' singles to grab her fifth title as well. In ice dance new champions were crowned – Bryna Oi and Taiyo Mizutani who paired up during this summer. Narumi Takahashi and Mervin Tran were the only pair skaters to compete in this event and won their fourth consecutive title.
Day 1
Men – short program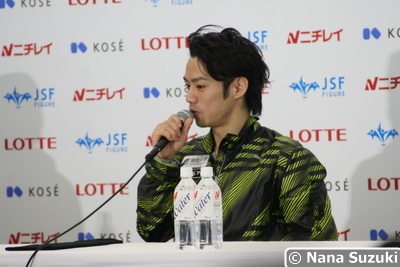 Daisuke Takahashi started with a superb short program, the kind you rarely ever see in your life. He opened his performance with a perfect quadruple toe-triple toe combination; this was followed by a beautiful triple Axel and a triple flip. In the past he has sometimes had some problems with his spins but not this time. He actually executed his spins pretty well. And I don't think anything needs to be said about his footwork because it was naturally simply sublime. He got 96.05 for his effort and some people probably thought that he deserved even more.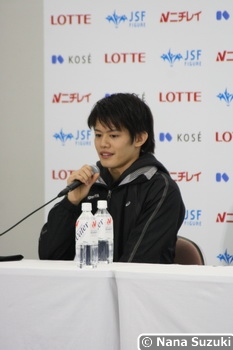 Takahiko Kozuka's performance was fantastic as well. He was very solid but a little less explosive than Takahashi. This might also be the reason why he was behind Takahashi by a big margin of 10.45, even though his skating was outstanding as always, spins were great and all of the jumps were really consistent (85.60).
Tatsuki Machida also showed a wonderful performance to the music of Dark Eyes. All of his jumps were done well. He received minus GOE for his Lutz, though. His excellent footwork suited well with the music, which gradually picked up speed, and the audience really enjoyed his passionate performance. He surpassed Hanyu and ended up third in the short program (74.64).
Yuzuru Hanyu, a rising new star, failed on his quadruple toe-triple toe combination and only did a solo quad toe. He added a double toe to the triple Lutz but it was not enough to make up for the lost points (74.32). It seemed like the mistakes at the beginning of the program scared him a little but thankfully he recovered quickly and managed to hold himself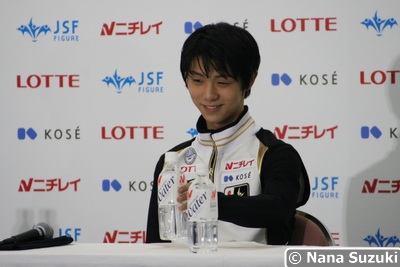 together to the end. His last spin was outstanding.
Kento Nakamura fell on his triple flip but collected +GOE with other elements to end up in the fifth place. His performance was graceful and very expressive. Daisuke Murakami, who many expected to be a threat to the top skaters, fell on his first jump as he attempted a quadruple Salchow-triple toe combination, stepped out of the triple Axel and couldn't add a second jump to his triple flip. And so he finished just ninth with 62.65. Still, his spins were pretty well executed.
Day 2
Men – free skate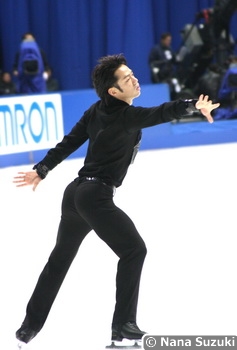 Just like in the Grand Prix events earlier this year, Takahashi had several problems in his free skate. He fell during the opening quadruple toeloop, during a triple Axel in the middle and during a triple flip at the end. His performance was as charming as usual but didn't have the same kind of impact as he his short program had. Although he was only third in the free skate (158.55), he managed to hang onto the first place overall (254.60). Of course, Takahashi received a standing ovation.
Takahashi :"I aimed for a better performance than ever but tried not to think about the result this year. I skated two relatively good programs – a pretty good short program and a so-so free program – and I was quite satisfied. (After the medal ceremony) From now on my goal is to skate a flawless free program. I will work on that."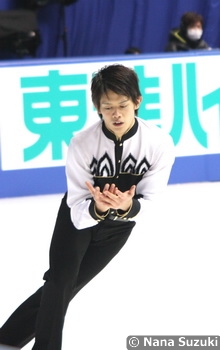 Kozuka came second with a solid performance. He fell on the second triple Axel and received an edge call on his triple flip. But other than that his outstanding skating skills and the flow of his movements enchanted the audience and he received a standing ovation (165.37). His total score was 250.97 and that gave him the second place.
Kozuka :"I think I was nervous during my free skate because I felt my knees trembling during spins. But finally I got myself under control. I felt a bit afraid in my heart but my body moved very well and didn't reflect what I was feeling inside. That was somewhat mysterious. But it gave me more confidence for the future."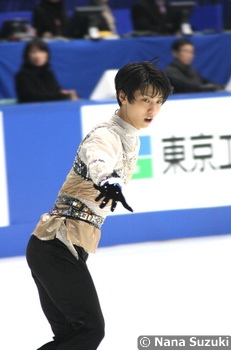 Hanyu bounced back to third place from the fourth place in short program with a powerful and dynamic performance (167.49). He looked pretty much perfect until popping a Salchow, the last jump of the program. Still, the spirit he showed during his skate elicited a standing ovation from the whole arena. His total score was 241.91.
Hanyu :"In previous years I have prepared my condition for each competition. But I changed my mindset this year. I started to think the competitions are a part of training. So I tried to control my condition with the use of the competitions. I'm in a really good shape right now, so I try to do as many quadruple jumps as I can, so that I could get a feel for it. I know I still need to work on everything – skating skills, presentation, consistency, etc. So I will do my best in training."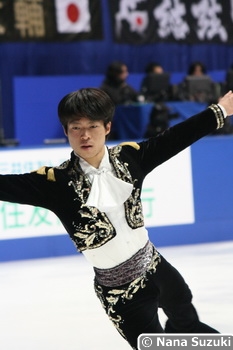 Machida, who didn't do a quadruple toe loop, aimed for a perfect performance but unfortunately made three major mistakes and couldn't gain enough GOE points to get the third place (138.48/213.48). However, he performed his free program, choreographed by Stephan Lambiel, with a lot of youthful energy and liveliness, just like his choreographer had taught him to. Most of the people in the arena loved this program.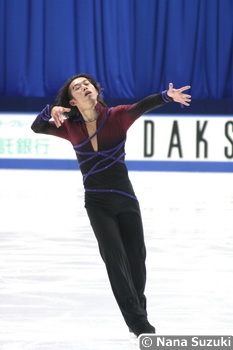 After a disappointing short program, Takahito Mura managed to climb to the fifth place with a strong performance. His jumps, including a quadruple toe loop, were so big and high that the audience gave him a generous applause (144.16/204.21). His only visible mistake was the popping of the triple loop.
Murakami also showed a much better performance than the day before (140.76/203/41). He landed a quadruple Salchow beautifully but then popped his triple Axel and also fell on a triple loop. Nakamura also made several mistakes and came in ninth in the free skate, finishing eight overall (127.36/195.94).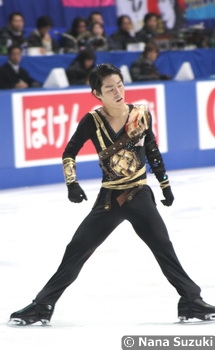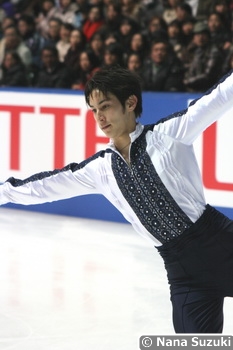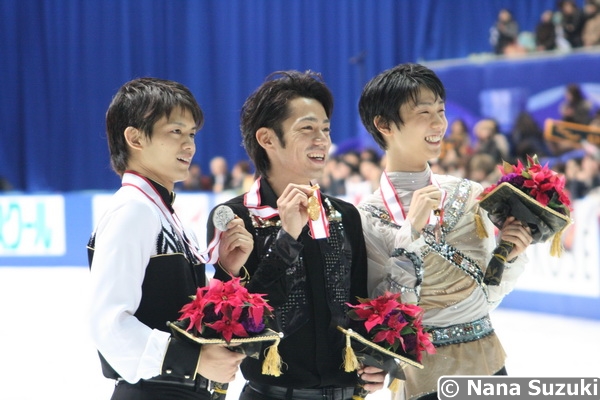 Go to part 2!