Japan Nationals 2012
Part 2
February 18, 2012
By Atsuko Kuryu
Photos © Nana Suzuki
Day 2
Ladies – short program
Kanako Murakami showed her improvement with a beautiful and dynamic performance and grabbed the first place (65.56). All judges gave her +GOE for every element with just one exception – she received a zero for the triple flip from one judge. She demonstrated her high level of technique with pretty big and consistent jumps, such as triple lutz-triple toe combination, triple flip and double Axel.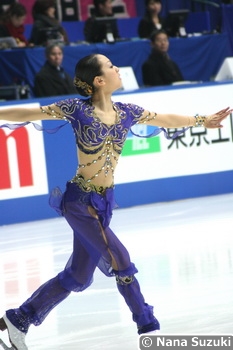 All her spins were level 4, making the audience very excited. While her skating was very strong and powerful, Mao Asada performed an elegant and graceful short program and went to the second place with the score of 65.40, just 0.16 behind Kanako. She also collected a lot of +GOE.
Akiko Suzuki popped the second jump of her opening combination and got an edge call on the triple Lutz, which left her in the third place (59.42). However, her straight-line step sequence was as gorgeous as usual and her layback spin at the end was fast and great.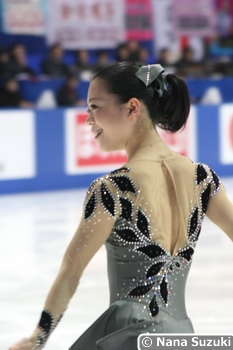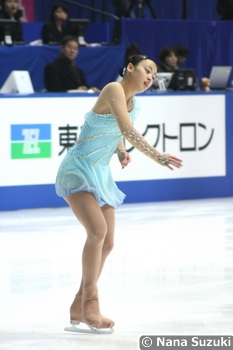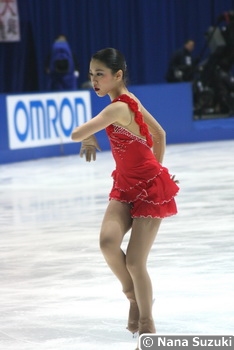 Yuki Nishino showed the best short program of her season, which was not only graceful but also very fast (58.52). It seems like the emotions in this programs touched the audience's heart as she received a warm applause after her performance.
Fifth place belonged to Haruka Imai and her flawless short program. She glided over the ice with very fluid movements. Especially her last two spins – a layback and a combination were as beautiful as ever.
Both Muramoto sisters, Kana and Satsuki , skated wonderful short programs. Kana's performance was quick, light and sharp, while Satsuki's was clean and elegant. Kana got 54.20 and sixth place, Satsuki received 53.16 and eighth place.
Day 3
Ladies – free skate
Ladies' free skate shook things up. Kanako Murakami, who was the leader after the short program, was sixth in the free skate because she made several mistakes. She ended up third overall (107.13/172.69).
Murakami: "I don't think that being in the first place after the short program added that much pressure. But I was not used to skating last. It took too much time for my turn to come, so I got flustered. I think I messed up a lot during this event but I can learn from it. At the last Worlds I was eighth and so I will go for a better result this time."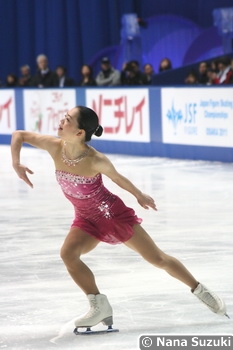 Instead, Akiko Suzuki bounced back and won the free skate, ending up second overall (119.67/179.27). She made some mistakes on her jumps. She got two edge calls on her Lutzes, one of which she popped. She also popped her Axel combination, had two under-rotated jumps and stepped out of the triple flip. Still, her musicality was outstanding. People were so delighted to watch her wonderful footwork. Akiko herself looked disappointed after her program was over.
Suzuki: "Well, things don't always go as expected. I can usually jump very well in the practice but not during competitions. I struggled to build up my form after the Grand Prix final was finished. But anyway I think I have improved a lot from last year's disappointment and I aim to get more points for my technique during the Worlds because I know that the judges rate my program highly."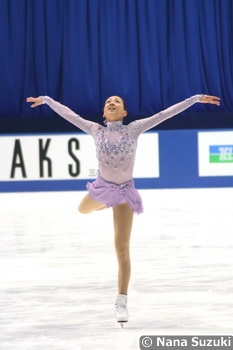 In the end it was Mao Asada who won the title, though she was second in the free skate (118.67/184.07). Even she made some mistakes – two down-graded jumps, two popped jumps (Salchow and loop) and an edge call. But I think not doing the triple Axel added more elegance and beauty to her performance. She skated so brilliantly that the audience showered her with praise. Nevertheless, I felt like she still needs to improve technically if she truly wants to become a prominent figure on the world stage again.
Asada: "I'm really happy that I was able to win. I think my mother (who passed away at the beginning of December) would be very happy, too. I was proud of myself that I could skate as usual under these unusual circumstances. After my mother's death, I feel like my mother is always by my side, which has made me even stronger."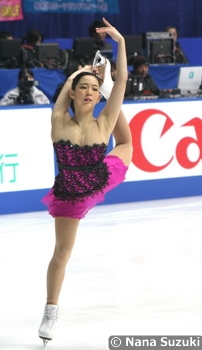 Haruka Imai was fifth, same as in the short program. She performed a joyful program to jazzy music. Although she made some mistakes on her jumps, the overall impression was very good. She ranked fourth overall (108.85/166.67).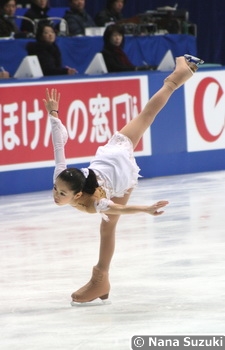 The free skate in general saw a remarkable emergence of junior skaters. The biggest standing ovation that night was given to Satoko Miyahara, who received the highest technical score. She landed one difficult jump after another and the crowd was busy ohhing and ahhing over them. When she was finished, people spontaneously stood up for the applause. She was third in the free skate but because of a poor short program remained sixth overall (116.79/163.85).
Miu Sato, who received the best score out of the junior female skaters in the short program, also showed a spectacular performance. She was fourth in the free skate and ranked fifth overall (109.72/163.86). Senior skater Kana Muramoto showed a solid performance and was ninth in the free skate (99.91), while her sister Satsuki also showed a beautiful performance but ranked only thirteenth because of two uncounted spins (93.74). They were tenth and twelfth overall but fifth and sixth among senior skaters respectively.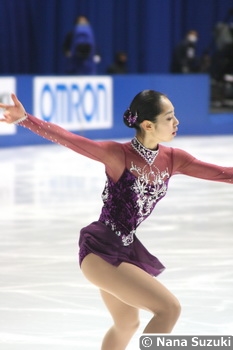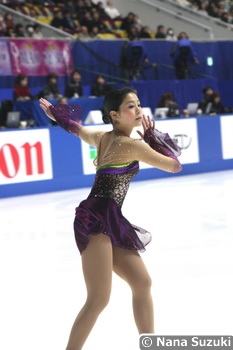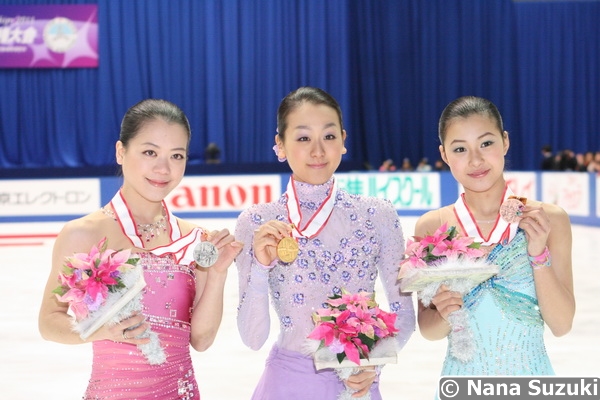 Go to part 3!