Japan Nationals 2012
Part 3
February 19, 2012
By Atsuko Kuryu
Photos © Nana Suzuki
Ice dance
Three couples competed in the senior ice dance competition and one couple in the junior's one.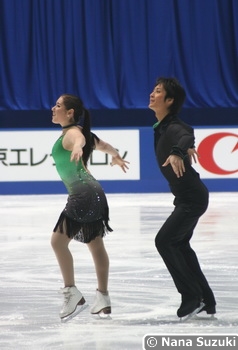 Bryna Oi/Taiyo Mizutani won their first title (114.21 total). They dominated the other couples. They had a good flow and they skated nicely in unison. Since they started to skate together just half a year ago, we can expect that they'll still improve in every area.
The same can be said about other couples. Emi Hirai/Marien De la Asuncion's presentation was very good; Marien looked especially nice (106.99). If they learn to skate more in harmony, they will make a wonderful couple; however, I think Emi needs to put in more effort in order to maintain their partnership.
Anna Takei/Yuya Tamada's free skate to Romeo & Juliet was good in terms of interpretation (75.16). The junior couple – Misato Komatsubara/Kaoru Tsuji – was also a new couple. Their total score was 73.92. I hope they continue to skate together and make a good team.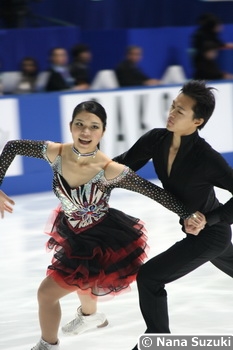 Pairs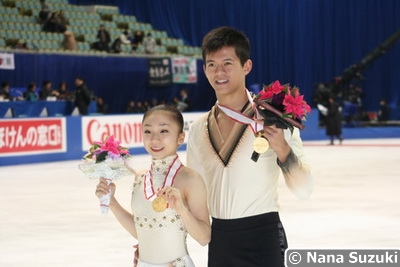 Only one pair, Narumi Takahashi/Mervin Tran, took part in this competition because we don't have any other pairs in Japan. This Japanese/Canadian team has improved much more rapidly with every year than we have expected. Their performances in both the short program and the free skate were graceful. Each movement was accurate and light; however, their program wasn't very exciting. They skated a solid short program but their free skate was a little disappointing. Their jumps and SBS spin were not really good but the lifts and the throw twist were wonderful. Their gracefulness has always been highly evaluated and so was it also that night. Their total score was 164.97.
Juniors
In this report you can find several familiar names that I also talked about in my previous report "Japan Junior National Championships". Six juniors from both discipline appeared here in Namihaya Dome. All of them did pretty well.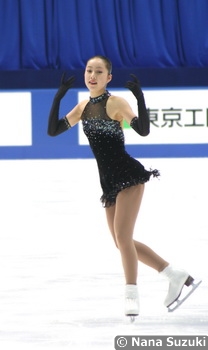 As I mentioned above, Satoko Miyahara and Miu Sato showed good programs. Besides these two, some other female juniors received a place in top ten as well: Risa Shoji was seventh, Yuki Nishino eighth, Haruna Suzuki ninth.
Furthermore, Kako Tomotaki came in eleventh and Miyabi Oba thirteenth. They all stood out with something – Satoko and Miu were very fast and technically outstanding; Shoji, who is only 15 years old, was artistically accomplished; Nishino and Suzuki's ballet-like movements were very eye-catching; Tomotaki and Oba's consistency was also very promising.
Men junior skaters were as good as, if not better than ladies. Although none of them made it into the top six, most of them were ranked above the twelfth place. Keiji Tanaka, silver medalist at the World Junior Championships, came seventh since both of his programs were relatively good. Shoma Uno, who is 14 years old, also had two good programs and he ended up ninth.
Ryuju Hino was tenth, Yoji Tsuboi eleventh and Ryuichi Kihara twelfth. Sei Kawahara became a little disappointed 16th but still good enough as a junior. The reason why juniors didn't rank higher in the men's competition was because there were simply too many big guns in men's singles. I think men's field is now much deeper in Japan than the ladies' one.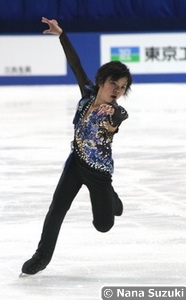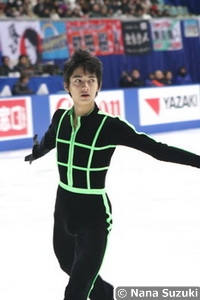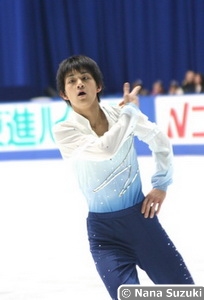 Annex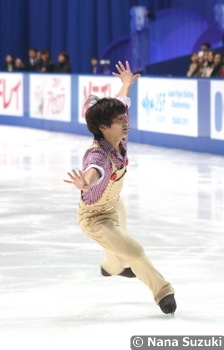 Let me introduce you to some unique skaters who didn't manage to get a good result at the Nationals but are still worth mentioning.
Akio Sasaki (you can read an interview with her from here) demonstrated his unique talent to entertain people in both programs. He showed great musicality in the short program and his performance was full of joy. Even though he fell four times and messed up on most of his jumps in the free skate, other aspects of his performance were outstanding and he managed to cheer up the audience and make them happy.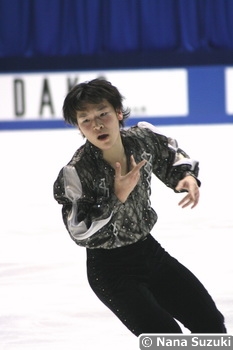 Yukihiro Yoshida, who was thirteenth overall, showed the audience that he has stepped up his game and reached a new stage in his development because he had finally included a triple Axel into his free skate. His footwork was good and he was able to add a lyrical touch to his program. If he keeps improving like that, you will soon have a chance to see him on the international stage.
Some of you may already be familiar with Tomoyuki Koriyama who has appeared in several competitions overseas. He is a good skater who can get the audience excited but he needs a better jumping technique. Mari Suzuki, who was once was selected as a 'rank A' skater by the JSF, but didn't get good enough results to stay in that rank. However, she has good skating skills, beautiful movements and good musicality. You'll be lucky if you'll have a chance to see her skate.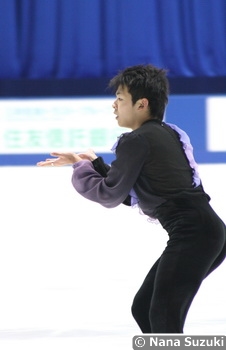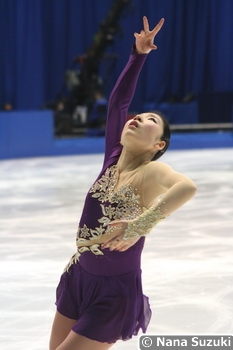 Shoko Ishikawa is a beautiful skater, too. She has a good body for figure skating and wonderful skating skills. But due to of an injury, this season was not satisfying for her. So I hope she will bounce back next season. Shion Kokubun and Ayumi Goto, who both had good results last season, couldn't live up to their potential this year.