The Japan Senior Figure Skating Championships 2012
March 1, 2013
By Atsuko Kuryu
Photos © Keiko Kasai
One of the hottest competitions in the world, the Japan Figure Skating Championship was held from December 21 through 24 at Makomanai Ice Arena in Sapporo, Japan. Fifty eight single skaters and four ice dance teams joined the events. Yuzuru Hanyu won his first title in Men's singles (285.23), while Mao Asada won her sixth title in Ladies' singles (193.56). As for Ice Dance, Cathy Reed/Chris Reed won their fifth title (133.92).
Day 1
Ice Dance short dance
Four teams competed in this category. Cathy Reed / Chris Reed skated a flawless performance and won the short dance by a big margin of 11.29. (53.41) Bryna Oi / Taiyo Mizutani and Emi Hirai / Marien De La Asuncion had pretty a close match, and Bryna/Taiyo led by 0.12. (Bryna/Taiyo 42.12 and Emi/Marien 42.00) Misato Komatsubara / Kaoru Tsuji made several mistakes during their performance and stayed in fourth. (34.27)
Men's Single short program
Yuzuru Hanyu once again gained an astonishing score of 97.68, which was just 2.32 points less than 100, and won the short program. He landed his opening quadruple toe perfectly and piled up level 4 elements, except for his last combination spin, to collect about 10 Grade Of Execution points (GOE+ points). Quite a few judges gave him over 9 points for his program components score. His performance was not only powerful and strong but also well choreographed.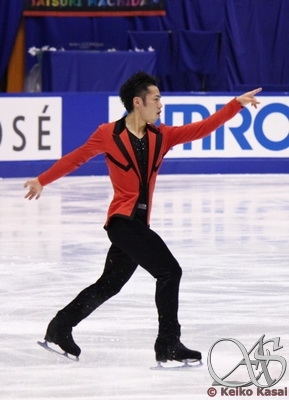 Daisuke Takahashi under-rotated his opening quad for which he got only negative GOE from the judges. He got an edge call for his triple lutz but it didn't affect his GOE points. Five of seven judges gave him over nine points for his program components score against Yuzuru's four of seven. Even though Takahashi's score of 88.04 was about 10 points less than Hanyu's, his performance was so appealing and exciting that most of the audience gave him a standing ovation. Hanyu also received a standing ovation.
Takahiko Kozuka skated a solid performance (84.58), however he stepped out of his opening quad toe which was regarded as under-rotated. His short program for this season was a fan favorite, and they were delighted with his fluidity on the ice.
Takahito Mura showed flawless execution of his piece, "Malagueña". He was so full of spirit that the audience gave him lots of applause and a standing ovation. His technical elements score, 45.58, was second only to Hanyu's 53.78. He was just 0.1 point behind Kozuka and stayed in fourth (84.48).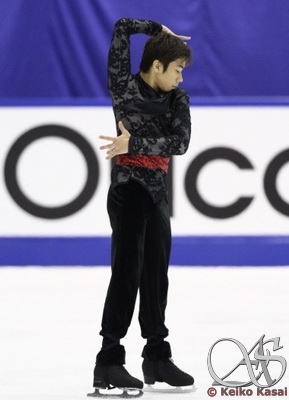 Nobunari Oda reached 80 points by a hair (80.75). He stayed fifth because he fell on his opening quad-toe and also couldn't get the good level he usually had for his elements. What the judges loved was his triple axel for which he got GOE+ 2.0, which was the second highest in this category.
One of the most impressive performances was skated by Kento Nakamura. He didn't include a quad-toe but a solid and beautiful performance gave him 76.54 and let him stay in sixth.
The most impressive performance came from Akio Sasaki. He landed a triple axel and three wonderful triples and got GOE+ for all of his elements. His danceable performance enchanted the crowd so much so that they gave him a standing ovation. He got 74.92 to stay seventh which meant he couldn't perform in the last group in the free skate as he had expected.
Tatsuki Machida had had spectacular success this season so far, however,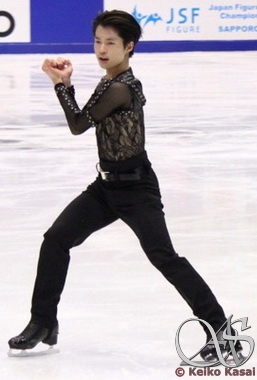 it was not his day at all. Stumbling on his triple axel and triple lutz, he only got 68.48 for his short program and ranked eighth. He couldn't even get good levels for his spins; one level 1 spin and two level 2 spins.
Three medalists of the National Junior Championships took ninth, tenth and 11th. Ryuju Hino got an edge error for his triple flip but that was his only mistake through his short program (68.28). Shoma Uno's flawless performance impressed the audience a lot. It's hard to believe he's only 14 years old when you see him skate like this. He got 67.56 for his program. Since he didn't include a triple axel, it was quite a high score. Keiji Tanaka got 62.54 for his effort, which might be a disappointing result for him. He stepped out his triple axel and stumbled when landing his triple lutz.
Day 2
Ladies' Single short program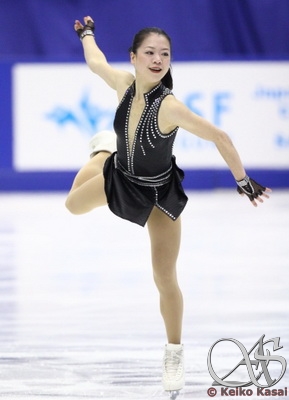 Akiko Suzuki won the short program (65.09). She didn't make her triple-triple combination but landed triple toe-double toe, triple flip and double axel perfectly. Adding to those jumps she showed two level 4 and one level 3 spin and a level 4 step sequence. Her passionate "Kill Bill" enchanted the crowds.
Mao Asada followed Suzuki with a perfect performance except she popped the attempted triple loop, making it a single. She got level 4 for all of her elements and the joyfullness of this program "I got rhythm" really delighted the fans who had been anticipating her lively performance.
Satoko Miyahara, the 14 year old Junior Champion, ranked third with a score of 60.19. She skated to the music 'The Swan' so well and was so graceful. The second jump of her lutz-triple toe combination was regarded as under-rotated, otherwise her performance was really amazing.
Another perfect performance came from Yuki Nishino. Even though she didn't include a triple-triple combination in her program, she got GOE+ for all of her elements. Her balletic performance was a wonderful gift for the audience. Her score of 58.53 was her season's best.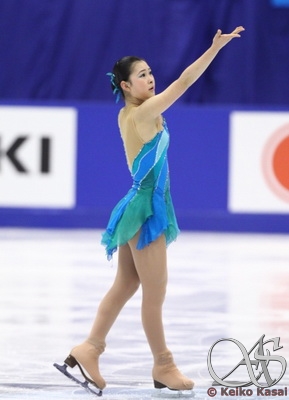 Kanako Murakami managed to stay in a disappointing fifth (57.26). She doubled her attempted triple toe and couldn't make the combination. It was her only mistake through this performance, but it cost her a lot.
One more perfect performance was skated by Rika Hongo, bronze medalist of the Junior National Championships (56.61). Her amazing speed and powerful jumps were really impressive. Riona Kato also skated flawlessly and took seventh place (54.88). Her performance was fantastic, too.
Even though such talented junior skaters scored technically high, Satsuki Muramoto stood out with her mature and feminine style of skating (53.63). She enchanted the audience with her graceful movements.
Risa Shoji landed in a disappointing 14th place. Her score reached barely 50 (50.45), however, her performance was so beautiful, as usual. She got level 4 for all of her spins and level 3 for her step sequence. Haruka Imai, fourth at 2011 Nationals, gave a lackluster performance to end in 18th place(47.30).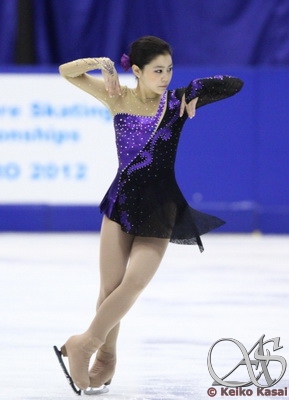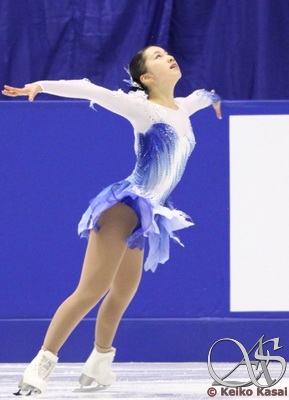 Men's Free Skating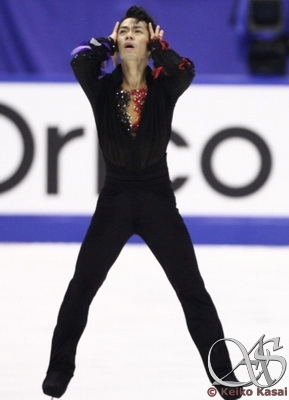 Takahashi won the free program with a stunning performance (192.36). Takahashi has given amazing performances several times in his career, and this was one of them. This performance was the perfect example of collaboration between musicality and technique. He landed the opening quadruple toe loop. Though his second quad was regarded as under-rotated, he landed 2 triple axels and 5 triple jumps to show a strong presence before the young superstar, Hanyu.
Hanyu's performance looked lackluster in comparison to his short program. Although he denied it, he seemed to be suffering from the consequences of his sickness at Grand Prix Final in Russia. Still, he got a slightly better technical score than Takahashi. He landed a quadruple toe, quadruple Salchow (he stumbled a bit on the landing), 2 triple Axels and 5 triples. Hanyu got 187.55 for his free skate. Thanks to the big margin in the short program, he won the first title in Men's Singles.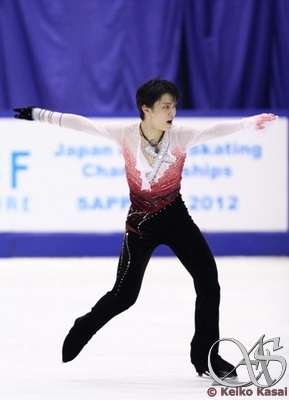 Oda bounced back to third place in the free skate, but couldn't reach the podium, nor did he get a spot on the team for the World Championships. He failed both of his triple axels (stepped out of one and fell on the other), which was very rare for him, and stumbled when landing his triple loop. His last combination spin only got level 1. His score for the free skate was 159.81 which meant it was some 30 points less than Takahashi and Hanyu.
Even though Mura didn't skate as well as he did in the short program, he managed to get the bronze medal and a ticket for London, Canada. He stepped out of his opening quad and popped his attempted triple axel into a single. He managed only one combination jump. Even though he made mistakes, his enthusiasm came across to the audience. He fought bravely and realized his ambition to go to Worlds.
Nakamura showed his full potential, except for falling on his solo triple axel. He also popped his attempted quadruple toe into a triple, but other than that the performance was fabulous. He landed a triple axel-double toe combination and six triples to get 150.10. He burst into tears after his performance, and the audience gave him generous applause.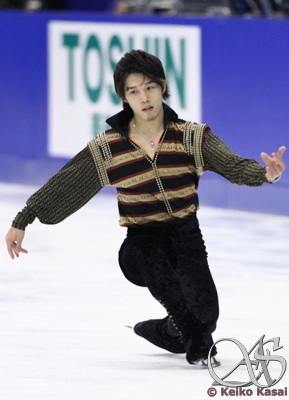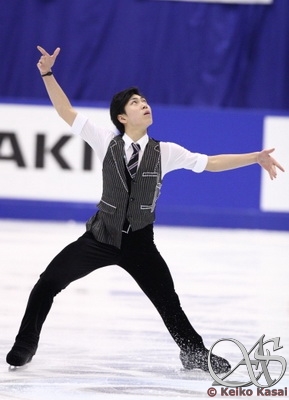 Keiji Tanaka skated a consistent performance to take sixth in the free skate and seventh overall. He didn't do the second triple axel combination. It was his only clear mistake. 2010 World Junior silver medalist performed at his full potential.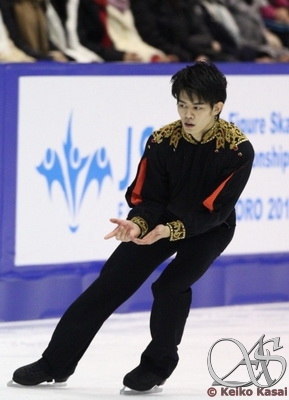 Kozuka's disastrous performance shocked and worried the fans. It was not announced to the public, but it was said that he injured his ankle. He fell on his opening quad and the second jump of his triple lutz triple toe combination. He also singled the second jump of his triple axel combination and popped his attempted triple Salchow into a single. He only got 143.98 and became seventh in the free skate. He was fifth overall and was selected as the substitute of both big events, the 2013 Worlds and the Four Continents.
Machida, who many people count on as a dark horse this year, made so many mistakes and ended up eighth both in free skate (137.69) and overall. Maybe he was a little tired because he was not used to participating in so many intense international events in such a short time.
Junior National Champion Hino landed his opening gorgeous triple axel-triple toe combination but fell on his triple lutz. He also put his hand down on his second triple axel which was regarded as under-rotated. He scored 134.02.
Sasaki's performance was welcomed by the audience. He has something to attract the crowds. He landed two triple axels but couldn't rotate the second toe fully. He also under-rotated his triple Salchow and triple flip. He was tenth in the free skate (133.60), but eighth overall.
Uno was 11th overall but got 199.03, just 0.97 less than 200. This is the reality of Japanese Men's singles. We see lots of stunning performances. It is sad that you can't see more Japanese skaters on the international stage.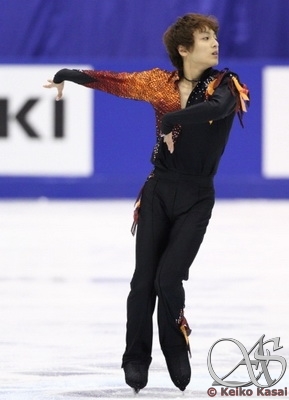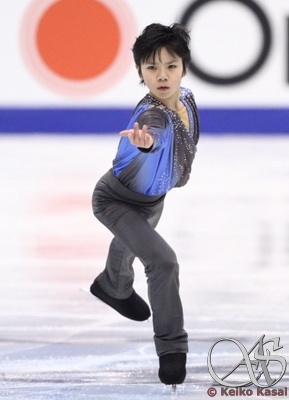 Day 3
Ice Dance Free Dance
Cathy Reed / Chris Reed won the fifth title by a big margin. They skated a flawless performance and got 80.51 for their effort. They both had been suffering from injures for two seasons, but they are finally healthy. Their program ranged from upbeat to quietly refined and they delighted the crowd. They got all level 4s for their lifts, except a level 2 for choreographic dance lift.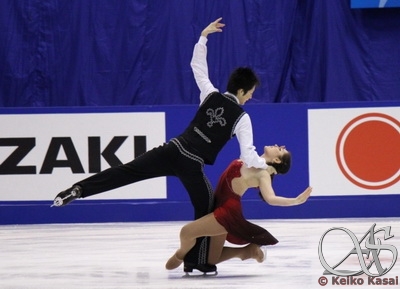 To our surprise, Bryna Oi / Taiyo Mizutani finished fourth in the free dance because of two falls and took third overall. They scored only 57.20.
Emi Hirai / Marien De La Asuncion landed in second place. Marien led Emi nicely and they made their presence known. They got level 4 for their set of twizzles and two of their spins to earn 68.31.
Misato Komatsubara / Hajime Tsuji seemed to enjoy their performance. They only got one level 4 for their set of twizzles though they got GOE+ for most of their elements. They scored 57.90.
Ladies' Singles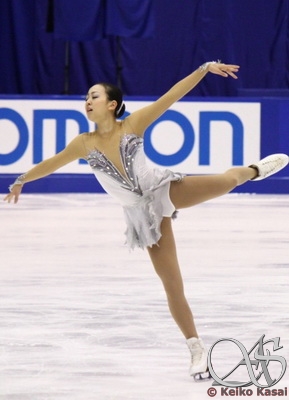 Asada won Free Skating and then consequently, won the title. She landed her opening triple loop so beautifully and continued a graceful performance until she popped her attempted triple flip-double loop-double loop combination into a solo double flip. Her amazing and carefree step sequence delighted the audience. She scored 130.75 for the free skate and 193.56 overall.
Murakami bounced back to end in second place. There were no significant mistakes in her performance, but she got an edge-error for her opening triple lutz. She seemed to focus on technique, but not so much on artistry. She scored 126.41 on her free skate, which was enough for her to get the silver medal. Skating a solid program, an amazing 14 year old reached the podium.
Miyahara fell on her triple loop which was regarded as a down-grade, however, she combined speed and gracefulness and went on to receive 120.36 for her free skate and 180.55 overall.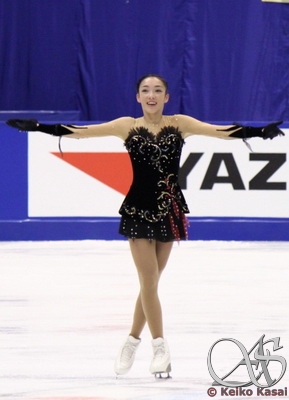 The most impressive performance of the day was skated by 16 year old junior skater, Rika Hongo. Please remember her name because you will see her soon at the top level of the international stage. She was so powerful and strong. Her jumps were big and high. She also had amazing speed; she reminded me of Yuna Kim in some ways. Her score was 115.82 and took fifth with an overall score of 172.43.
The overnight leader, Suzuki, lost her power in the free skate. She popped the first jump of her opening combination, an attempted triple flip into a single, and fell on her triple flip in the middle of the program. She made some more small mistakes and only got 114.94 to stay in fifth in the free skate. She didn't make the podium but she could get the spot for Worlds.
Kato had a brilliant performance to take sixth in the free skate with the score of 112.74. Despite getting some GOE- for her jumps, she piled up level 4 for all of her spins and did a beautiful spiral. The one who took seventh in the free skate was also a junior skater. Yura Matsuda, 14 years old, skated freely and easily. Her vivid performance was an unforgettable part of the day.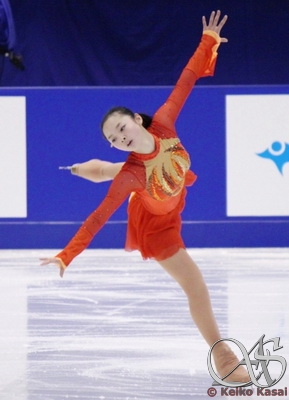 This was Satsuki Muramoto's last Nationals because she will graduate from university this coming March, and she will retire after that. She skated divinely. The score was not so high (104.84), but the audience who saw her skate today won't forget her for a long time. Despite several mistakes, Nishino's performance was enchanting, too. Although the audience loved her, ninth in free skate and tenth overall wasn't a satisfying result for her.
Miyabi Oba skated much better than her short program, where she was only 23rd, and bounced back to tenth in her free skate. She took 11th place overall.
Shoji, who had some under-rotated or down-graded jumps, was 12th in the free skate just behind Rin Nitaya, a junior skater who had two falls. In spite of making such a mistake at the beginning, Rin skated the rest brilliantly and took 10th overall.
Imai skated a devastating performance. She failed most of her jumps, and finished 13th in the free skate. All her fans hope she will bounce back very soon.
Exhibition
All the Nationals medalists and Junior Nationals medalists appeared in Medalists On Ice, which was held on the day after Nationals.
The skaters who attended the exhibition were:
Mao Asada, Kanako Murakami, Satoko Miyahara, Rika Hongo, Akiko Suzuki, Riona Kato, Yuzuru Hanyu, Daisuke Takahashi, Takahiko Mura, Ryuju Hino, Shoma Uno, Keiji Tanaka, Cathy Reed/Chris Reed.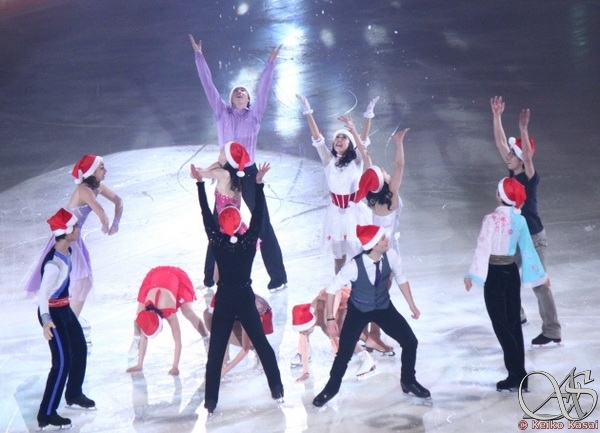 Special guest:
Stephane Lambiel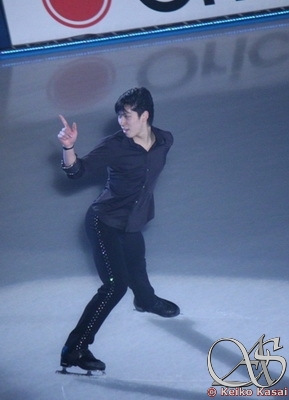 Makomanai Ice Rink which had been a battlefield for Japanese competitive skaters now changed into a happy, festive arena. There were six senior single skaters, an ice dance couple, and six junior skaters who were selected for the world championships and the world junior championships respectively.
Six junior skaters skated in Act I.
Keiji Tanaka, the bronze medalist of the Japan Junior Championships, skated to rhythmical number "Rise" and did it in a cool way. Rika Hongo, the bronze medalist as well, gave a vivid performance to "Party Ride Anthem". Young silver medalists, Shoma Uno and Riona Kato brought out their personality. Shoma showed off his showmanship, while Riona's cuteness and loveliness were so appealing. The two champions'performances were contrasting. Satoko skated beautifully and gracefully to the music "The Swan", on the other hand Rhyju skated strongly and rhythmically. Her white hooded coat was so cute; she looked like a snow fairy.
Act II started from ice dance champions, Cathy Reed / Chris Reed. In contrast to the young and vivid performances of the junior skaters, they absolutely showed their maturity. "The Prayer" was sensitive and delicate. Their encore was "Beatles' Medley". By the way, all the senior skaters skated encore numbers because the number of skaters were less than usual at Medalists On Ice.
Akiko Suzuki who was not a medalist of the competition, but chosen for the Japan world team, skated to "Les Parapluies de Cherbourg". Her skating showed the bittersweet story unfolding on the ice. Her encore was from her free skate: "Cirque du Soleil". Takahito Mura skated a mellow program, "Talking to the Moon", instead of his masculine competitive programs. He showed a different side of his talent.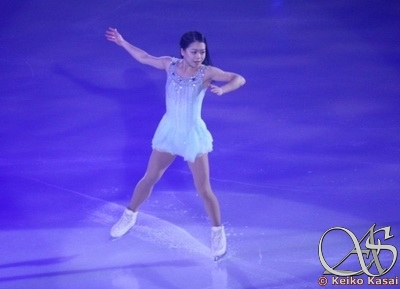 Kanako Murakami's exhibition program had the most mature style of all her programs this season. It seemed to be much improved since the last time I saw her at the show in September. Her encore was "Astor Piazzolla Medley".
Takahashi skated to "Primavera Porteña". His performance was amazing as usual, but the audience was more excited for his encore when he skated the SP of 2010-11 seaso
n, "El Manbo".
Stephane Lambiel was again invited to this event. His "Puttin on the Ritz" was really fantastic. What a story teller he was! His spins were awesome. The audience was delighted and they roared with pleasure.
Yuzuru invited a singer named Fumiya Sashida and skated to his live performance. This lyrical and gentle program suited him very well. He looked like a different person than when he skated his competitive programs with such vigor. He skated the free program from last season "Romeo and Juliet" at full throttle.
The last skater of this exhibition was Mao Asada. She skated "Mary Poppins" sprightly and lightheartedly, but refined. The crowds enjoyed this fantastic program. Mao chose the step sequence from her short program "I Got Rhythm"; the liveliness delighted the audience so much.
Quotes: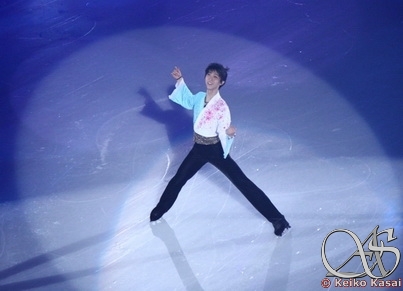 Yuzuru Hanyu
"I still can't believe that I won the title. Because Takahashi was so amazing and I felt like I had lost after free skating. I want to have a strong spirit."
Daisuke Takahashi
"It was a tough battle. I was satisfied with my free skating. I want to contribute to gain three spots for Japan for the Olympic games next year."
Takahito Mura
"I think winning a Grand Prix gave me confidence. I went to the Worlds four years ago but it was just a fluke. But this time I won the right on my own. I'm proud of that and I think this is the second and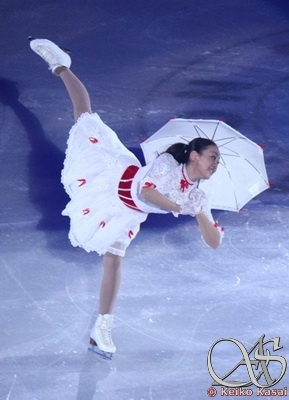 real chance for success."
Mao Asada
"There are pros and cons during this competition, but anyway I won! I'm very happy about it. My jumps haven't achieved the targeted level. I want to include triple-triple and triple axel in my repertoire. I would be really happy when I have accomplished those goals."
Kanako Murakami
"I'm so happy because my free skating was so good. I haven't gotten a compliment from my coach, Machiko Yamada in a long while. The word that I keep in my heart is 'redeem myself'."
Akiko Suzuki
"Although I'm so frustrated about my performance, I know I have to face the reality. I want to start from this place again. I just have to believe in myself."