Some spectacular skating in the heart of Europe -
20th Ondrej Nepela Memorial
October 24, 2012
By Titanilla Bőd
Photos © poggi

Figure skating competitions are connected in my mind with travelling. You have to pack your bags, arrange your transport and accommodation; you have to get used to a new city.
The Ondrej Nepela Memorial is so special for me. This is the time when I'm not going to the skaters, but the skaters come to me and the city that I live in. This city seems sometimes kind of grey and boring, but during these few days it is like heaven for a skating fan.
Ups and downs
Just imagine: competitors like Kaitlyn Weaver and Andrew Poje, Tomáš Verner, Kevin Reynolds, Zoltán Kelemen, Jenna McCorkell, Stefania Berton and Ondrej Hotarek who are eager to start off the season, show their new programs but with none of the unbearable tension of big competitions.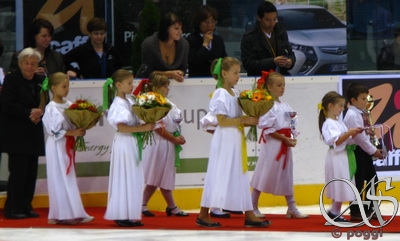 So the skaters are even more approachable than usual; they make friends with flower girls, they talk with fans and they enjoy the spectacular October sunlight.
I know I'm biased, but having a skating competition just 800 metres from my home makes me LOVE this event no matter what. But I have to admit, it also has some flaws. However, these flaws are mostly also really loveable. You can't help smiling, when the announcer lady says "ninth" as nee-eenth, and somebody by mistake presses replay when the Russian anthem is played, so we have to listen to it three times. Kerstin Frank also laughed when the wrong music started to play at the beginning of her free program, and said to the judges: "I can do it also to this music!"
There are some annoying mistakes as well, though. Justus Strid of Denmark wasn't very enthusiastic that he had to wait four hours at Vienna airport, because the car that should've picked him up went to Bratislava airport instead. The fans, who missed the entire pairs' short program because its start was announced incorrectly, were not over the moon either. And even though 5 euros for such a line-up isn't much for a diehard fan, it might be too much for an ordinary four-member family to waste on some skating competition in an almost empty arena, when for 8 euros you can watch the ice hockey team Slovan Bratislava playing in KHL and enjoy the atmosphere of a fully crowded rink.
But the last thing I want to do is sulk. The Ondrej Nepela Memorial is a great competition at a great rink – which would be a suitable arena even for bigger competitions.
Yay for Jenna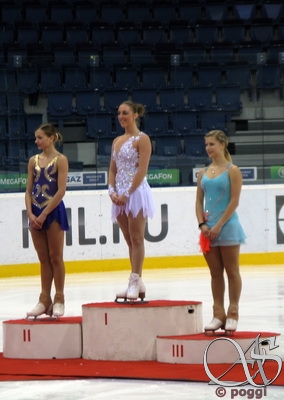 The ladies' competition was ruled by British Jenna McCorkell – it was her very first international victory. She looked like a grown-up amongst kindergarten children, maturely elegant and confident. In her free program she landed five triples, even though some of them were downgraded. She won both the short and the free and she won the competition by an almost 10-point margin.
The silver medal went to home-girl Monika Simančiková, who was 15th at the last Europeans and is progressing quite quickly. She attempted triple lutz and triple flip, along with her usual salchow and toe-loop.
In third place was Eliška Březinová, sister of Michal Březina. She seems to have forgotten all her troubles with the triples and just like her brother she is a born fighter – she was only 9th after the short program, but with the second best free skating she climbed onto the podium.
Only three pairs
Due to withdrawals there were only three pairs competing in this segment. The victory went to Russian Anastasia Martyusheva and Alexei Rogonov. They were second after the short, but they won the free program. Italian Stefania Berton and Ondrej Hotarek had some mistakes in their new free program, but their new short program to Rolling Stones' Paint It Black was impressive and at bigger competitions it has the potential to bring down the house. Nicole Della Monica and Matteo Guarise placed third.
It's a pity for the competing pairs that their results don't count in the world rankings, because in the world ranking they consider only competitions, where there are at least five pairs out of three different ISU member countries.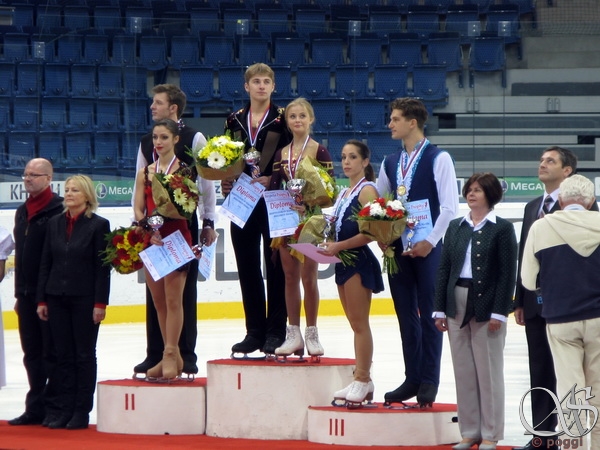 Flying instead of dancing
The biggest names of the start lists were ice dancers Kaitlyn Weaver and Andrew Poje and they really showed us performances worth their level. Their short dance to Sound of Music soundtrack was very entertaining, and their free dance, a modern Pygmalion story to the Legion of Extraordinary Dancers music was just out of this world. As if they were flying instead of dancing – even the young ice hockey players who ended up at the rink probably by accident realized that on the ice some magic was going on. Kaitlyn and Andrew won the competition by 35 points.
Last year, when it was announced that the compulsory dance pattern in the short dance would be Yankee Polka, many of the skaters complained. But as it turned out in Bratislava, polka can be actually fun! We saw Irish Polka, Austrian Polka, Country Polka and many more interesting interpretations.
Italian Lorenza Alessandrini and Simone Vaturi skated to Mary Poppins in the short dance, and they portrayed a young couple just having fun dancing in the free dance. In the end they placed 2nd.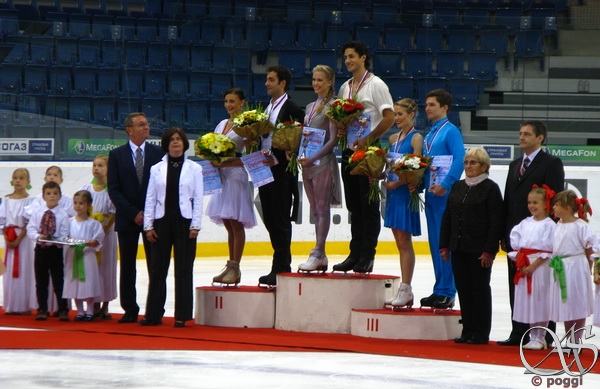 The bronze medals went to British couple Charlotte Aiken and Joshua Whidbourne. They brought some wild-west atmosphere to Central Europe with their short dance, and they immediately caught the hearts of the spectators with their music choice for the free dance: Singing in the Rain.
One of the highlights of the competition was the free dance of Lucie Myslivečková and Neil Brown (representing Czech Republic), who skated to electro, used many interesting elements and totally pulled the audience into their performance. You wanted to stand up and dance watching them! Georgian Angelina Telegina and Otar Japaridze also had a very impressive free program, with many unusual moves.
Victorious Firebird
The men's competition was framed by Tomáš Verner – he was the first to skate in the short program and the last one in the long. But the winner was someone else, Tatsuki Machida from Japan. He skated to Firebird in his long program and landed a quad toe-loop in it. Although he fell on a triple Axel and a triple loop, he regained his composure very quickly and deservedly won the Ondrej Nepela Trophy.
Last year's winner Daisuke Murakami, Machida's countryman was only second this time. The 2008 European champion Tomáš Verner was second after the short program, skating to Dracula soundtrack, but in the free he missed the first three jumps (fall on the quad toe loop, popped the lutz and the axel) and he simply couldn't save the program after that. He saved the podium placement, though, even if Kevin Reynolds of Canada (6th after the short) put out a very strong performance attempting three quads, one of which was a flawless Salchow (his two toe-loops were downgraded).
One of the most entertaining programs was Justus Strid's funny free skate, and the audience loved Maverick Eguia's short program as well. The 19-year-old guy representing the Philippines skated to Eye by Koba, music that perfectly worked for Daisuke Takahashi, with cute confidence.
You can see the detailed results here: http://www.slovakskating.org/onm2012/
This was the 20th year of the Ondrej Nepela Memorial and it really offered some spectacular skating for an affordable price to the fans. Let's hope it would be the same in the upcoming years, too.