Switching Skate America: On/Off the Ice
October 25, 2012
By Anna Zeitlin
Photos © Keiko Kasai, Anna Zeitlin

This season's first Grand Prix event, Skate America, has just ended. We wanted to take a closer look at it and recall what exactly has happened during those three days, both on and off the ice of the ShoWare Center in Kent, WA.

[Skate America: mode ON]

Venue: On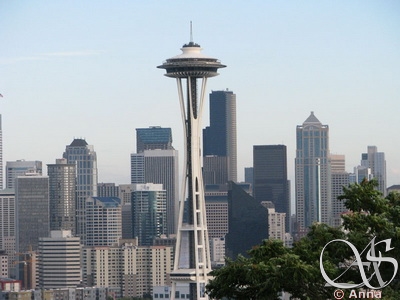 This is the fourth time in 10 years that Skate America is held in the Pacific Northwest area – previous years saw the American GP event in Spokane, WA (2002), Everett, WA (2008) and Portland, OR (2010).

Venue: Off
The host city, Kent, is part of the Seattle metropolitan area. Seattle is home to companies like Amazon, Starbucks and Getty Images. Its landmarks include the Pike Place Market - one of the oldest public markets in the US, the two longest and oldest floating bridges in the world and many more.


Men's competition: On

The men's competition heated up in the short program when Yuzuru Hanyu got a world record score of 95.07 for his skate, beating his teammate Takahiko Kozuka's result by almost 10 points. Both Yuzuru and Takahiko skated clean programs, unlike Jeremy Abbott, who fell on his opening (under-rotated) quad but still delivered a delightful program afterwards, finishing third.
Things turned around in the free skate, where nobody managed to avoid mistakes. Yuzuru fell three times, off both of his quads and a triple flip, losing 18 points to Takahiko, whose skate was the cleanest of the night, with only one "almost fall". Jeremy devastated himself and his fans with a program that included multiple falls and under-rotated jumps and finished 8th that night and 5th overall, leaving the bronze medal to a third Japanese, Tatsuki Machida, who skated two solid programs.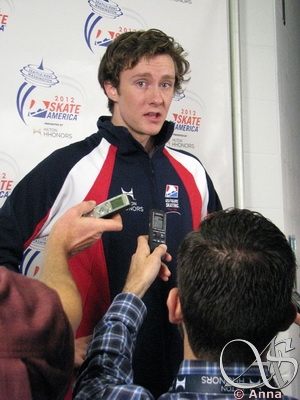 Men's competition: Off

Hanyu attributed his World record score to the fact that now there is a 10% increase in the score for jumps in the second half of the program and praised his choreographer Jeffrey Buttle and coach Brian Orser for putting the jumps (triple Axel and combination) in the second half. After the free skate he was asked whether his skate was affected by a pressure he might have felt after such a high score in the short program. His answer was: "I don't think I was feeling pressure at all. I'm not sure if I was too nervous to feel the pressure or too relaxed to feel the pressure. The mistake was the mistake and I need to look back and see what went wrong to prepare for my next competition." A happy Takahiko said that he is focusing on skating alone this season and hopes to be injury free. An upset Jeremy told the press after his skate that all the problems might be in his head and he's working with a sports psychologist, since there is just something missing that nobody can put a finger on.
Pairs competition: On

No surprises here – Tatiana Volosozhar & Maxim Trankov won their first Skate America event together (Tatiana has won silver at SA 2009 with Stanislav Morozov and Maxim got bronze at SA 2008 with Maria Mukhortova), having skated a somewhat wobbly short and falling on a throw triple Salchow in the free skate. They were followed by Qing Pang & Jian Tong, who delivered two beautiful, but not error-free programs, with Jian falling in the short program and both of them making mistakes here and there in the free skate. Bronze went to the happy Caydee Denney & John Coughlin, for whom this is only the second season together.

Pairs competition: Off

At the press conferences, Maxim Trankov attributed their bad performances to a tricky competition schedule, while Jian Tong revealed that he had knee pains which made them do some changes in the free skate; and that he also was taking medications for the pain and against a fever he had before the free. Qing & Jian, arriving first to the press room after the free skate, didn't sit at the table in the front, but rather quietly settled at the very back, resting after what had been a tough competition for them.
Tong had told us in a short chat before the official press conference what makes their team special: "We've been working with each other for a long time and we're also emotionally attached to each other and it helps our programs and the performance. There's a connection between us. Before she was only my partner and now she is my [other] half." He also said that they are assistant coaches on the national team and after they gain more experience they would gladly coach anyone who trusts and values their experience. This might be interesting news for John Coughlin who praised the longevity and the class of Pang & Tong: "As he [Tong] was talking and the translator said how much they want to teach youth, we were thinking how much we would love to know how to do that. They are definitely role models, not only for consistency, but in class. If we were to skate together for that long, we would definitely model ourselves after them."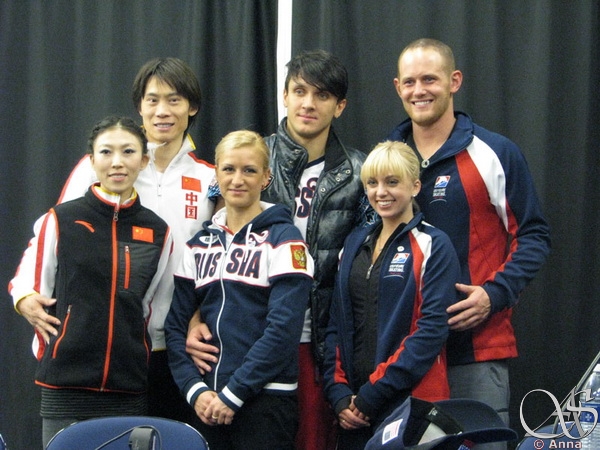 Ice dance competition: On


A surprising rotation happened in the ice dance section of Skate America. Not a sensation – Meryl Davis & Charlie White took the gold as expected, although their free dance didn't impress like some of their past dances. But Ekaterina Bobrova & Dmitri Soloviev took silver, overtaking Kaitlyn Weaver & Andrew Poje, whom they were trailing after the short dance. The Russians finished 7th at the Worlds, where the Canadians were 4th, and it still means a great deal in nowadays ice dance, so the fact that Bobrova & Soloviev beat Weaver & Poje only a few months later is not to be taken lightly.

Ice dance competition: Off

Davis & White were quite pleased with their skating and explained the choice of specific musical parts for their free dance to "Notre Dame de Paris": "In cutting the music, it's tricky because, with this musical in particular, there are several leading male roles. We wanted to make sure we were keeping the consistency of the story. We don't want Quasimodo singing to Esmeralda and merging it with one of the other male characters singing to Esmeralda and having a disconnect".
Bobrova & Soloviev were delighted to place second in the competition. They attributed their success in large part to their move to Alexander Zhulin and said they discovered a completely different figure skating since he started coaching them. The disappointed Weaver & Poje said they will need to look closely at what happened and why did they get such scores, but they will try to make sure something like this won't repeat itself.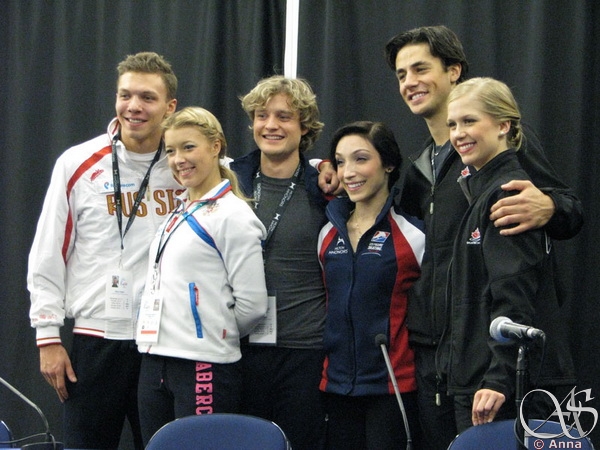 Ladies competition: On


Great result for the American ladies – the gold and silver Skate America medals stayed home. Ashley Wagner confidently won both programs, landing jumps that sometimes seemed impossible to land. She seems strong now, having won Japan Open just a few weeks ago beating Akiko Suzuki and Alena Leonova, who placed above her at the Worlds. Christina Gao had a brilliant skate, beating Adelina Sotnikova; Adelina skated well in the short program (even with a missed flip) and at the beginning of the free skate, landing a triple Lutz - triple toe combination, but then fell on a flip and added an unnecessary combination, losing points and placing 3rd overall.

Ladies competition: Off

Ashley was really happy with her performance, saying that her coach taught her to never give away jumps and that's what helped her landing some of the tricky ones in the free skate. Christina beamed as she recounted how this summer she had thoughts of leaving figure skating but decided to hang in; she also said that studying at Harvard actually balances her: "When I go to the rink, it gives me a good opportunity to get away from school; when I go to school, it gives me a good time away from the rink."
Adelina was very pleased with landing a triple-triple combination and very not-pleased with her mistakes. She said this second year in seniors actually feels less stressful than the first one, as she realized there is nothing to be afraid of; and she will do everything possible to make it to the World team in this first eligible year for her.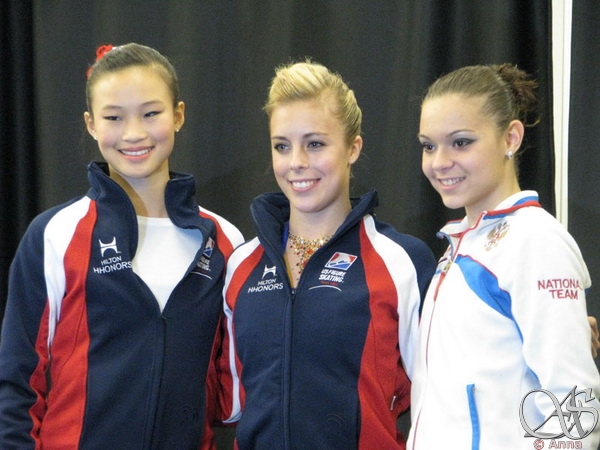 [Skate America: mode OFF ]

Last year's Skate America became the starting point for three Grand Prix Final champions and half of the World champions in the culmination of the season. Will history repeat itself? To find out we will have to sit back and watch as the season unfolds.